One of the most awaited moments in a parent's life is when your baby has its first dip in the pool. Along with this momentous occasion comes the eternal deliberation about which life jacket is the best one for the baby.
As time goes on, the same research gets applied to the toddler phase. If you are anything like me, you have probably found the sheer number of options available online intimidating.
Take a deep breath and let me help you through the process of selecting a life jacket that is best suited for your child. We tested various with my both kids.
Infant Swim Survival Classes
With the first child, we thought that baby swim survival training (also known as ISR – Infant Swimming Resource, which promotes infant "self-rescue" swimming skills) would be best as we were frequently traveling to places with pools and oceans. I saw plenty of videos online of babies and small toddlers self-rescuing themselves in the water and swimming I wanted this, the best and safest, for my child as well.
ISR offers swim lessons starting as young as six months, the AAP is firm in its stance that lessons should wait until a child's first birthday. There's no evidence that swimming lessons before the age of one are beneficial. According to the AAP. "Infants younger than 1 year are developmentally unable to learn the complex movements, such as breathing, necessary to swim".
We started when Dylan was about 1 and I still think we made a mistake as ISR is NOT for everyone and it was a huge mistake for my child. Despite my second child being literally born by the pool and beach, we didn't pursue any swim survival classes for him, because of what happened.
ISR swim lessons focus on skills needed to stay alive until help arrives in the event that a child accidentally ends up in a body of water. Little did I know that these classes can be traumatizing for parents and babies, as babies learn how to flip over and float on their backs when placed in the water face down.
The first part of the class was putting the baby's face underwater or face down, then the second part of the class involved blowing bubbles and jumping (or throwing them) into the water to float on their backs.
Every time we came for a class we saw many parents saying they were not bringing their children back. Every child, without exception, cried and many were throwing up during the class due to the amount of water drank. After the third class my own son was beginning to run away and scream the second he realized we were even by the pool.
One could think that he obviously hated it because no one likes to be thrown into the water so we continued, but I didn't realize how much trauma that would bring to him. We finished the classes and he was literally terrified of any pools. For almost a year it was even impossible to put him in a bathtub to the extent it took 2 people to wash him and another year to convince him to even sit down in a bathtub. Years later he still freaks out when any water gets on his face so won't go near any showers.
That said, get your baby a lifejacket instead of scaring them 🙂
Best Baby Life Vests
Let's first take a look at baby life jackets. It may seem hard to decide on the best life jacket for your baby, but the following points will help you understand what your baby needs.
Your small baby might not control its head well. If that's the case the life jacket needs to ensure that the baby's head is up at all times.
Life jackets on babies tend to slip upwards so make sure that there is a crotch strap that buckles the baby into place. You don't want the baby to disengage midway in the water.
Check the weight requirements and make sure that it is suited for your baby's weight.
Remember that babies can get apprehensive or scared in the water. You want the life jacket to fit comfortably and yet be easy to remove.
Baby weight: 9 – 25 lbs
The Salus Bijoux baby vest is my top pick and you will find that it comes highly recommended among the parenting circles. There is a reason for this.
The life jacket follows a three-piece design. This makes all parts of it easily detachable for the parent. I find this highly useful when my child panics in the pool. Additional flotation on the sides cradles the head of the baby which ensures that the baby is comfortable.
The baby life vest uses a dry-aerospace liner which improves the breathability of the device and makes the baby comfortable as it's not too bulky. It also aids in temperature control and drainage. The whole system is adjustable to fit the baby snuggly.
You can see why everyone loves this particular life jacket. On a side note, the life vest comes in three different colors. Both of my kids used it from birth up until about 16 months.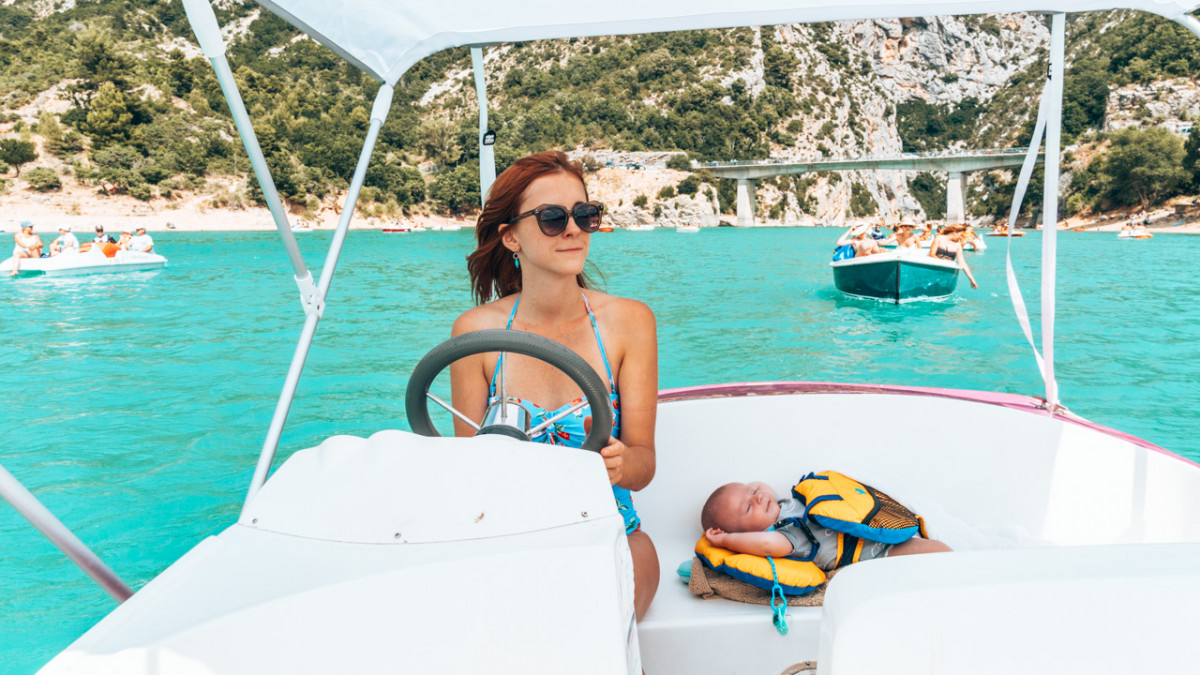 ---
Baby's weight: below 30 lbs
The Stearns Infant Classic series vest is a great buy if you are searching for a budget life jacket. Approved by the US Coast Guard, this particular brand is meant for babies under 30 lbs.
It comes with a durable nylon shell and PE flotation foam. You will notice that it has attached neck support.
The leg strap secures the baby in place with a clip-on buckle. The front of the life jacket is secured with a zip and a buckle for added security and the waist strap can be adjusted according to the child's size which gives the life jacket a nice snug fit.
This Stearns Infant Classic series vest is closely modeled after the adult life jackets so you know exactly what to expect. Modifications however have been made in the design to accommodate the needs of a baby.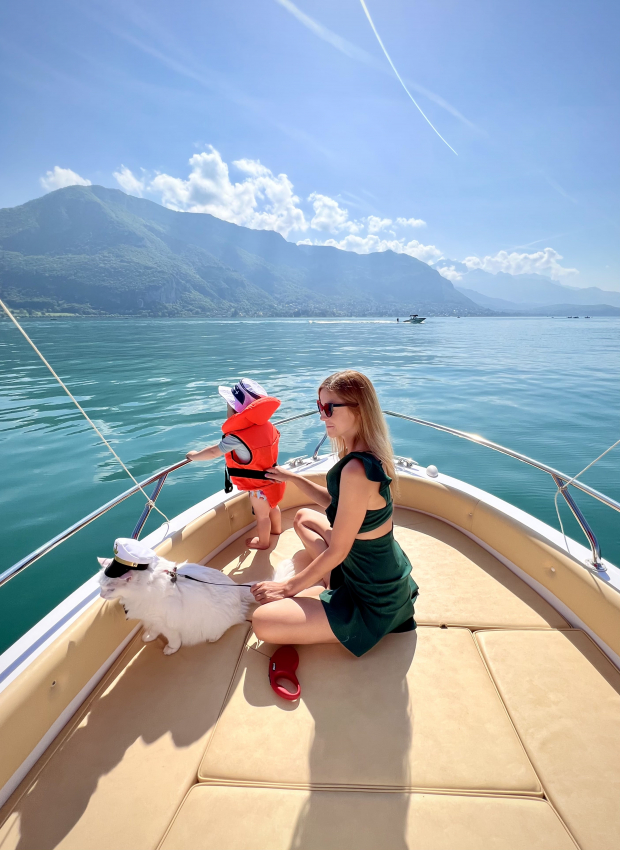 ---
Baby weight: less than 30 lbs
I know that I have already talked about one life jacket from Stearns but I just had to mention the Stearns Infant puddle jumper. Keep in mind that this is an infant puddle jumper which is not like a toddler version!
While the Classic series is made of nylon and PE flotation foam, the Puddle jumper is made of a soft hydroplane shell and durable Crosstech flotation foam. This means that the latter is softer on the skin and a whole lot more comfortable.
The Puddle jumper has dual leg straps for security (as compared to one in the budget model). One interesting facet of the model that I like is how it fastens up on the back of the child for extra safety.
This means that the baby can't accidentally disengage itself from the life jacket. It even has oversized head support which is designed to encourage face-up flotation.
---
Best Toddler Life Jackets
Toddlers need less out of their life jackets than babies because toddlers can hold their heads up and have more control over their bodies. Some will even swim or begin learning how to swim. You will find that there are broadly three types of life jackets available in the market.
Inherently buoyant: These use foam or neoprene for buoyancy. The inherently buoyant life jackets are the most reliable and are the ones we recommend for toddlers.
Inflatable: Inflatable life jackets sound cool (many of us used water wings as kids in the 90s, right?), because they do not take much place and are easy to store but they are not always entirely safe, as they can deflate. They require frequent checks for leaks, are high maintenance, and honestly are not always worth the stress.
Hybrid: This is a combination of both the above. It however still requires frequent checks for leaks.
Most Economical
Made of neoprene, the Kids swim vest life jacket wraps around the child's torso and is secured first with a zip and then with three buckles.
The chest straps are adjustable so that you can ensure that the life jacket gives the child a perfect fit. The neoprene used not only provides buoyancy but it also keeps the child warm.
The life jacket has two leg straps that loop between the legs and are secured at the waist. It is designed in such a way that the child's arms are free to perform its range of motion unobstructed making it perfect for children who are learning to swim.
Note: it's not the most popular choice, but we got it as it's US coast guard approved. The GoGo one while popular is not.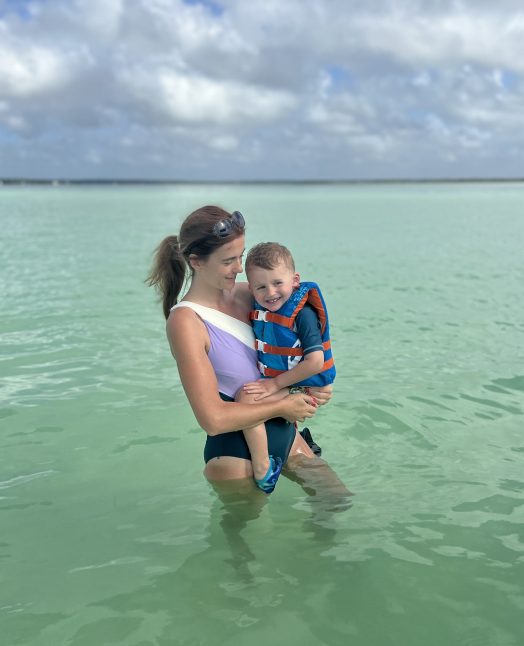 ---
Best for Boats
Baby weight: 30-50 pounds
The New Oceans 7 kids life jacket type III comes in two colors: pink or berry. It is US Coast Guard approved and is rated for children between the weight of 30-50 pounds.
This life jacket has a different design compared to the previous one. Here the life jacket has two sides. It's pulled over the head and both ends of the life jacket are secured together with two adjustable chest bands. A third chest band ensures that the neckline is secured.
This particular design is great for kids with a slender build because it allows you to secure them better. The New Oceans kids life jacket however has only one leg strap, but it's adjustable and is secured with a buckle.
Best for Pool Play
Child's weight: 30-50 lbs
The original puddle jumper is great for kids who are confident in the water. While this is not officially a life jacket it's a step up from the life jackets that we were looking at in the sense that it is smaller and kids can play by themselves while supervised. The soft woven polyester is designed for maximum comfort and to reduce chafing.
The fastening in the puddle jumper is at the back which means that the child needs adult assistance to put on and remove the jacket. The jumper is great for children who are learning to swim or playing on the beach.
Keep in mind that it's not a life-saving device, so you shouldn't use it for open bodies or water on boats but it's been working perfectly for pools while my little guy was getting more comfortable with water.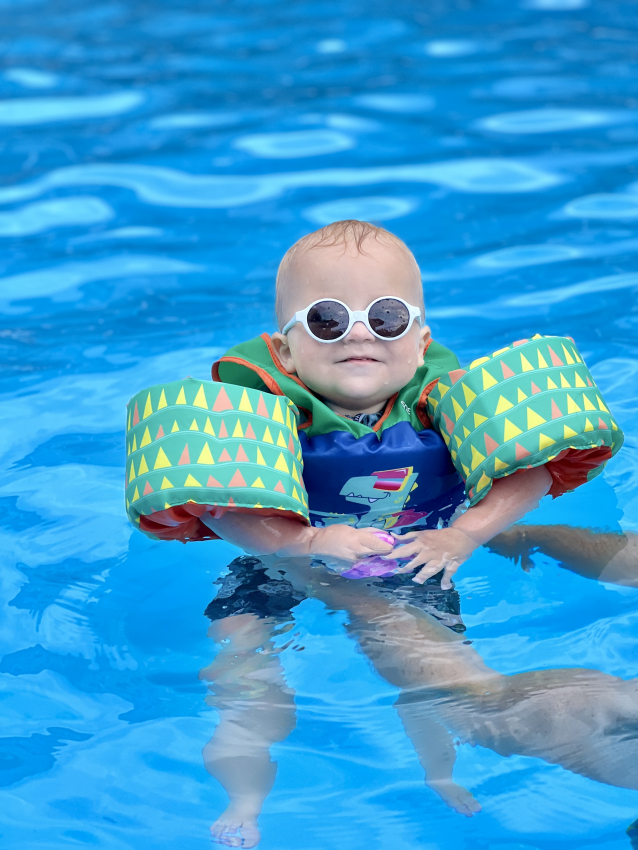 ---
FAQ About Swim Vests for Babies and Toddlers
Let's go through a couple of commonly asked questions that most parents have when it comes to life jackets for babies and toddlers.
What kind of life jacket should a toddler use?
The choice of the type of life jacket should depend on your child's swimming ability and comfort in water. Children who aren't used to being in the water, cannot keep their heads up easily, or are scared should be given life jackets.
These life jackets are more buoyant and sometimes even come with neck support. More confident children can be transitioned into type III life jackets which require more involvement from the child's end. These usually come with a flotation device around the waist and hands.
How do I care for the swim vests?
The idea is to treat your life jacket like your life depends on it and it does! Life jackets need to be dried well before storing. Ideally, they should be stored in a well-ventilated area.
Avoid using harsh detergents to clean it and ensure that you check the life jacket before each use. This is particularly important when it comes to the inflatable versions which can spring leaks.
What certifications should I look for in a life jacket?
The most common certification that you will find is the US Coast Guard certification. Life jackets need to go through rigorous testing to meet their requirements and otherwise, you might get a ticket if you're using an unapproved one on the lake or ocean.