Going camping with kids or sending your little one for a first sleepover? There are hundreds of sleeping bags for kids on the market and they are definitely not all created equal – or serving the same purpose. If you are planning a camping trip and looking for sleeping bags for kids, there are a lot of things to plan for and consider. 
You may think the most important part of camping is getting outdoors and having the biggest campfire, making delicious smores, or having epic adventures. While these things are memorable, the key to the whole trip being a success is everyone staying warm, and comfortable, and getting sleep.
---
How often do you intend to use the sleeping bag?
Sleepovers indoors, backpacking, tent camping? You don't want a bulky or heavy sleeping bag if you are going to be backpacking with kids and you will be carrying the equipment in your backpack. Along with a child as well in their hiking carrier, because if you're planning on venturing into miles of hiking your kid might not be cooperating.
A good sleeping bag is a crucial part of your camping gear with kids set up. You don't need to worry about warmth if you are sleeping indoors in a van bu you will in a tent, so you'll want to think about these things when making your purchase.
Sleeping bags, as with everything you purchase, come in various price points. Are you looking for something fancier that will be lightweight, ultra-warm, and last a long time, or staying within a certain budget is more important to you?
The less expensive bags are still great quality and come in warm ratings, but they are usually bulkier and heavier. If this doesn't bother you at all and you don't have restrictions because your car or van is big and you don't need to hike much, then it may not be worth it to splurge on an ultra-lightweight bag.
If you are planning on using the sleeping bag often then I would highly recommend shedding a bit more money and going for a really high-quality bag. It will pay for itself in no time. If it's something that will be used occasionally then buying high-end gear just for it to spend most of its time in a box in your basement isn't really the best idea.
---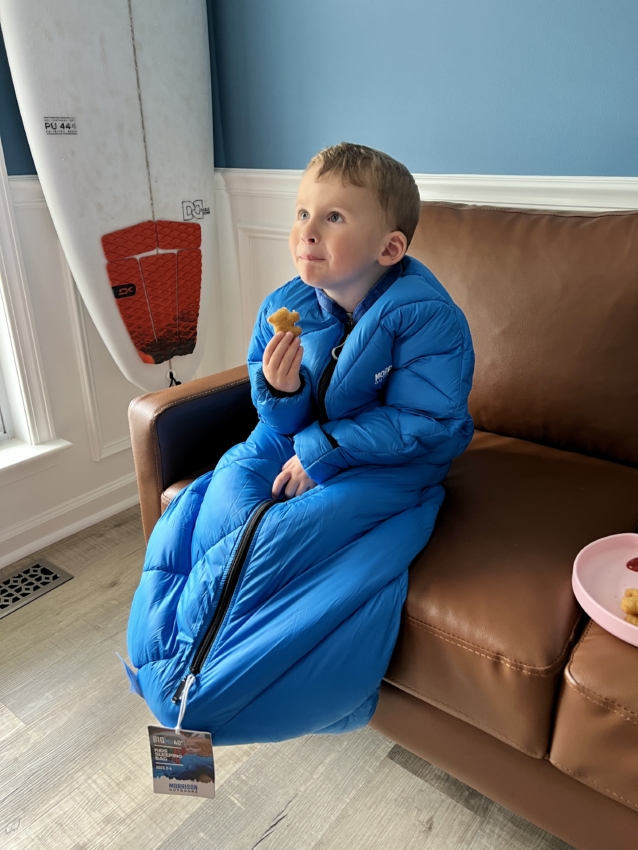 Best Sleeping Bags for Kids of All Ages
Once you go through the decision process check out my below recommendations for the best sleeping bags on the market intended to be used by kids, toddlers, or babies.
---
Best Overall Sleeping Bag for Kids: Kelty Mistral 20
If you are looking for a great bag at an affordable price, the Kelty Kids Mistral is what I would pick.
You can purchase it at either a 20 or 30 degrees Fahrenheit rating. It weighs almost 3 lbs, so whilst it's not the most ultralightweight choice which I will get to later, it is still lightweight enough to be very portable.
We love this sleeping bag for its signature offset quilting that prevents pesky cold spots and its spacious foot box which gives legs and feet more room, which can sometimes be a problem with some mummy-style sleeping bags.
Comes with a stuff sack for easier storing and transporting
Comfortable hood providing warmth to the head
Best Kids Camping Sleeping Bag: Bhttps://amzn.to/3XynVs4ig Agnes Little Red
The Big Agnes is rated for 15 degrees, which is what I buy for my kids to ensure maximum warmth. It is also the coldest approved sleeping bag on this list.
Each size has a strap that allows you to adjust width and length, which is really handy if you want to size down or up and make it snugger.
One of my favorite features is a sleeve on the back of the sleeping bag that fits over a sleeping pad to ensure it stays on the pad. Genius! The Big Agnes is lightweight and the different sizes vary in weight from 1-3 lbs.
---
Best Sleeping Bag for a Baby or Toddler: Big Mo
While babies will use their regular sleep sacks at home, if you're going camping they might get cold, even in the thickest sleep sack.
The Morrison sleeping bags are a must-have if you have a baby or a toddler and will be sleeping in colder temperatures. They will keep your little one toasty all through the night.
They take their design after the sleep sacks that are so soothing and comforting for babies and toddlers, but thanks to the materials used for their manufacturing they fall under a sleeping bag category.
The design will ensure your baby or toddler will stay inside the bag
Trade-in program rabat offer that allows you to exchange your smaller size bag for a bigger one, once your toddler grows out of it.
---
Best Summer Lightweight Sleeping Bag for Kids: Coleman Kids 50
The sleeping bag used in the summer doesn't need to be as snug as the ones used in colder weather.
Sleeping bag quilts are a good option for summer camping. They can open all the way turning the sleeping bag into a duvet allowing your child to control the temperature and avoid overheating. Waking up sweaty in your sleeping bag is not very pleasant.
Coleman is a well-established brand that offers great camping products at affordable prices.
Cool design with glow-in-the-dark features
The Comfort Cuff design ensures only soft fabric around the child's face while they sleep
Best Kids Sleepover Sleeping Bag: Ace Camp
The Ace Camp sleeping bag has one feature that will make your kids fall in love with it. It glows in the dark! Just leave it out in the sunlight for a few hours and the material-integrated dots will give out some light during the night.
The bag is also travel-friendly and its unique wavy design allows for many comfortable sleeping positions without constricting the movements of your kid.
No cord design making it very safe for children
Equipped with anti-pinch and easy front access zipper
---
Best Budget Sleeping Bag for Kids: Yordawn
The Yordawn bag is one of the most budget-friendly sleeping bags on the market, but it definitely reflects in its rating.
It claims to be a 3 season sleeping bag, but I would be a bit careful with this statement. Its 50-degree Fahrenheit rating will be more appropriate for late spring, summer, or very early autumn.
If you do not need something for colder weather, this is a great buy!
Comes in a lot of fun and bright colors
Unbeatable price-to-quality ratio
---
Best Ultralightweight Sleeping Bag for Kids: Marmot Trestles
Marmot is one of my favorite outdoor brands. I already own a few of their products including one of the best hiking child carriers.
The Marmot Trestles sleeping bag is a practical sleeping bag that can grow with your child. At just below 2 lbs it is the lightest sleeping bag on this list.
Weighs almost nothing
Ergonomic contour hood with an extra soft bead
Low-maintenance synthetic fill
---
Best Wearable Sleeping Bag for Kids: Selk Bag
A sleeping bag doesn't get any more snug if you can literally wear it around. This sleeping bag is perfect for hanging around the campfire.
This is a great option for kids who move around a lot in their sleep. A regular mummy-type bag might be uncomfortable for them constricting their movements. The Selk wearable bag will rid of that problem.
Machine washable
Cool colors and design
Comes in medium and large size
---
---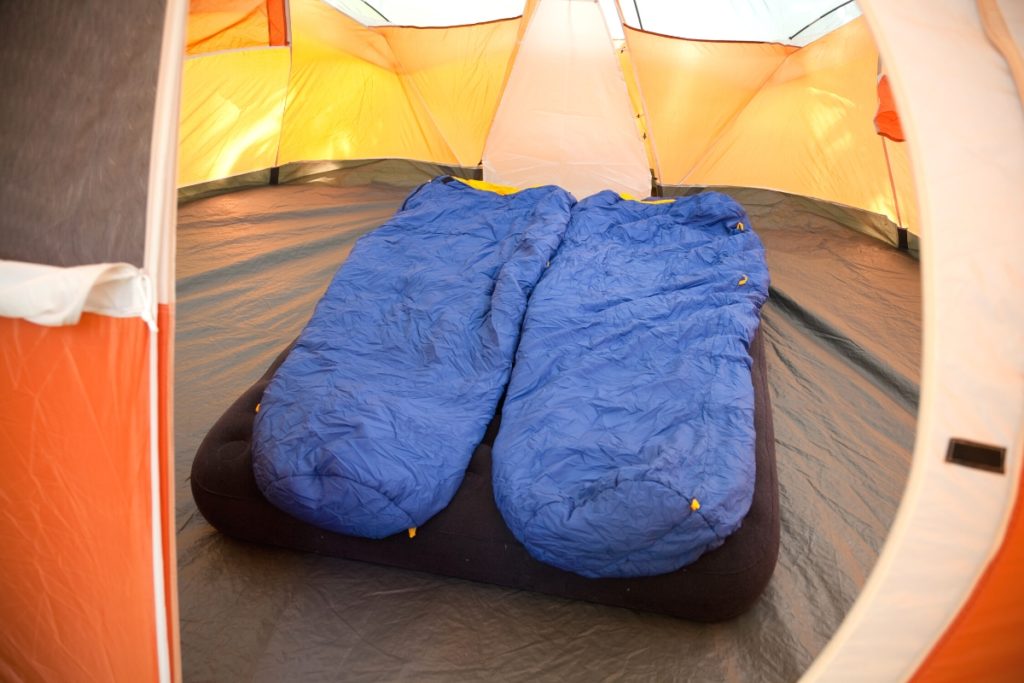 Frequently asked questions about sleeping bags for kids
Make sure when looking at these recommendations you are keeping in mind what you need the sleeping bag for, the temperature you will be using it in, and the size of the child using it.
What temperature should a sleeping bag be for kids?
First, what is the low temperature at night where you are going? Sleeping bags are rated by weather, going from -40 to +55 degrees Fahrenheit.
In my experience, it's better to be prepared for colder temperatures when it comes to camping with kids. You can always unzip the sleeping bag to let more air in or take off layers of clothes, but it is harder to add warmth.
We have found sleeping bag ratings to be relatively generous and therefore always favor colder ratings. Since we used to live in a mountainous area and don't want to buy more than one sleeping bag per family member, we only purchased sleeping bags with a temperature rating of 20 degrees or less.
Make sure when looking up sleeping bags that you always check the rating! Some descriptions will use terms such as "cold weather camping" but when you look at the rating it is designed for, it is most definitely not cold weather appropriate.
How big should a sleeping bag for kids be?
The ages/sizes of your kids are also a consideration. You won't want the same sleeping bag for a toddler as you will for an older child. You may not want to purchase a child-size bag for an 8-year-old, but you probably should for a 3-year-old.
The idea is that they should stay as snug as possible to keep the warm air close to the child's body. Investing in a good sleeping bag means an investment in your child's comfort and that should never be underestimated.