Guava Lotus travel crib is the top item for traveling families and as a travel crib, it can make your life away from home a whole lot easier.
Admittedly, I didn't buy Guava Lotus travel crib with my first child and I thought I wasn't going to need it. We traveled all the time and used smaller bassinets at first and then hotel cribs, before transitioning the "big brother" to his own bed before the second baby showed up.
I bought Guava Lotus once the second child was a few months old, outgrew his foldable bassinet, and everyone kept telling me that "we need it", as it's considered the best on the market. Let me tell you, we did indeed need it after all…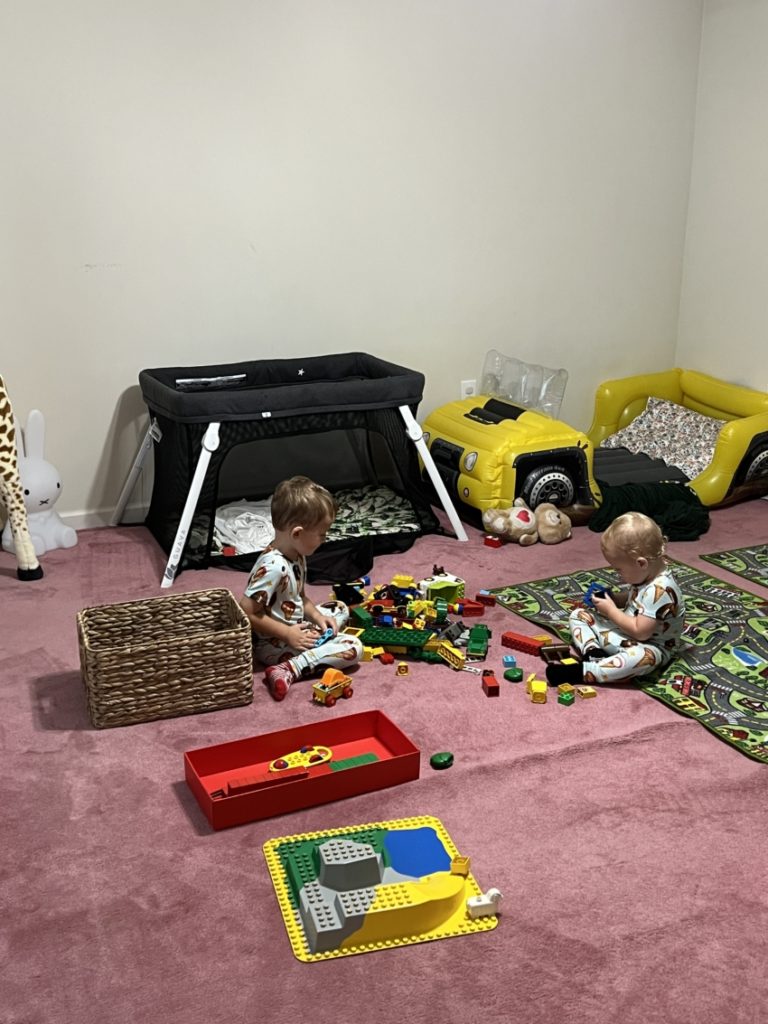 Folding, Transport & Set Up
The general idea behind the Guava Lotus is the portability and ease of traveling with it. You don't want to be lugging around a big heavy stroller, crib, car seat through the airports. And if you do, it might make you hate traveling with kids – understandably, because carrying that much big and heavy baby stuff isn't fun.
While Guava crib cannot fit into checked baggage, it packs small and easily and has straps that can turn it into a backpack. It's useful when you carry a ton, but personally, we check it with luggage.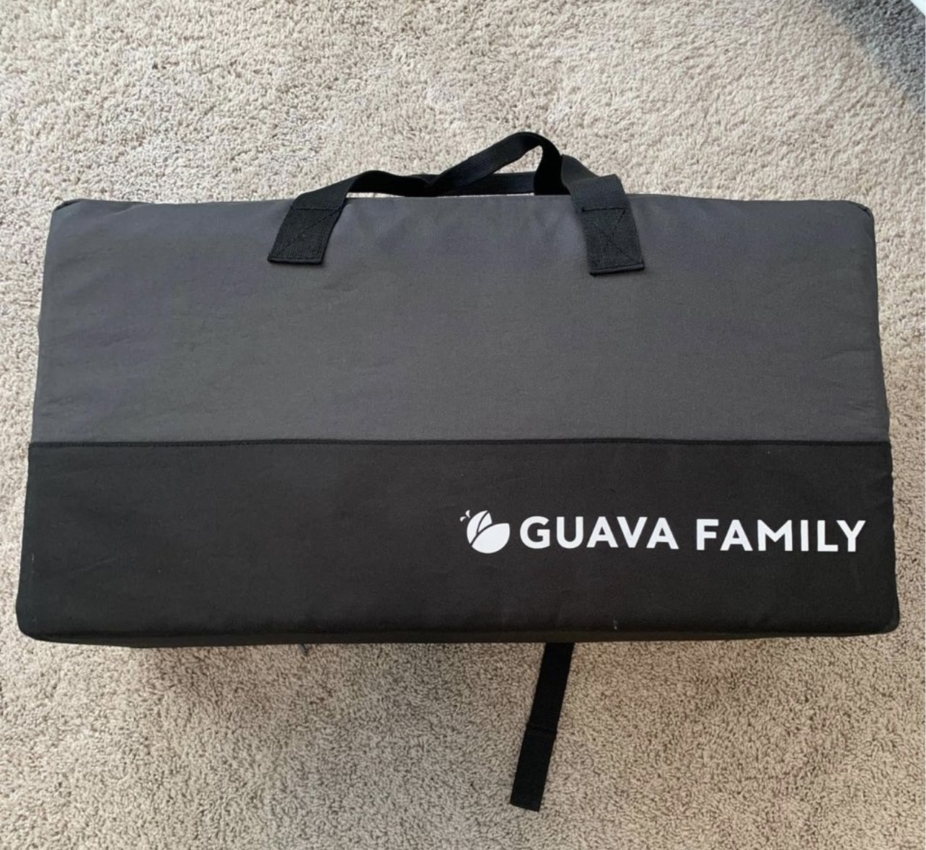 Guava Lotus Travel Bassinet Convention Kit
The company sells a convention kit that can turn the crib into a bassinet for kids who aren't sitting just yet. We never purchased it, not because I thought it was bad but because I didn't think it was very practical for our family.
While it has some cool features like you can have it in stationary or rocking mode, ultimately it's an extra thing to lug around at an unnecessary stage as you can easily buy a foldable bassinet that fits in the suitcase, or just get a bassinet for the stroller (either travel stroller or full-size stroller). Much healthier for the baby than using a car seat on the stroller (I explain why here), less things to carry and is approved for overnight sleeping.
Guava Lotus Features I Love
Extremely Stable
First and foremost Guava Lotus travel crib meets basic safety standards for infants and it's GreeguardGold certified, which means it has been independently tested to meet standards for low chemical emissions.
One of the issues I had with some other portable pack and plays and playpens was that they could tip over easily (I also had a little Houdini child who mastered tripping every playpen over at 7 months).
There's no way this travel crib will trip over or fold on the kids. Trust me, my 2 year old was climbing all over it and it didn't even move – that part we loved the most!
Set Up
Setting up and folding down the crib is easy. There are two hidden safety releases that must be squeezed at the same time to make the lightweight metal frame fold up for packing. Then the folded crib goes inside the bottom pad and slides into the nylon carrying case.
It takes about 3-5 minutes and you only need one person to do it which is nice. This might not seem so long, but it's an extra step to add every time you pack up and change hotels and with little kids you don't want to deal with it all the time.
Easy to Clean
A lot of people prefer to bring their own cribs, because of the sanitary issues. Lotus is extremely easy to clean and the vinyl pad makes cleaning up spills and pee. The mattress has waterproof cover that come clean with a quick wipe.
The sheet doesn't come with it, but you can purchase it as an accessory. Obviously, you'll want at least one and as I preferred other sheets I fit a stretchy bamboo changing pad cover on it instead.
---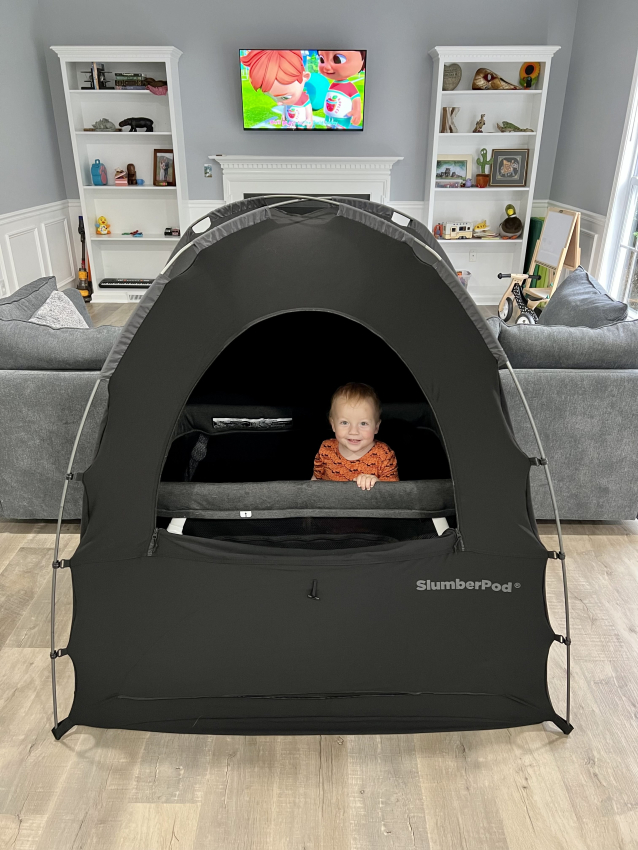 ---
---
Guava Lotus Features I Don't Like
Side Opening
One thing that I began to dislike when using it with an older sibling was the side opening. Yep, you heard it right. Most people love it because it's absolutely amazing when it comes to transporting from a lap to the crib or lying down next to the baby and putting them to sleep.
However, as you can see in the photo below with 2 under 2 it was a challenge especially when kids had to share a room in apartment rentals and absolutely awful when the baby started crawling. The older brother would wake up in the morning and unzip the baby out to play with him. You might think it's amazing, but not all apartment rentals can easily be babyproofed and it just wasn't safe for the mobile baby to be on the loose.
(And before anyone asks… yes, of course we told the older brother not to do it, but he was 2 so listening wasn't always the strongest suit.)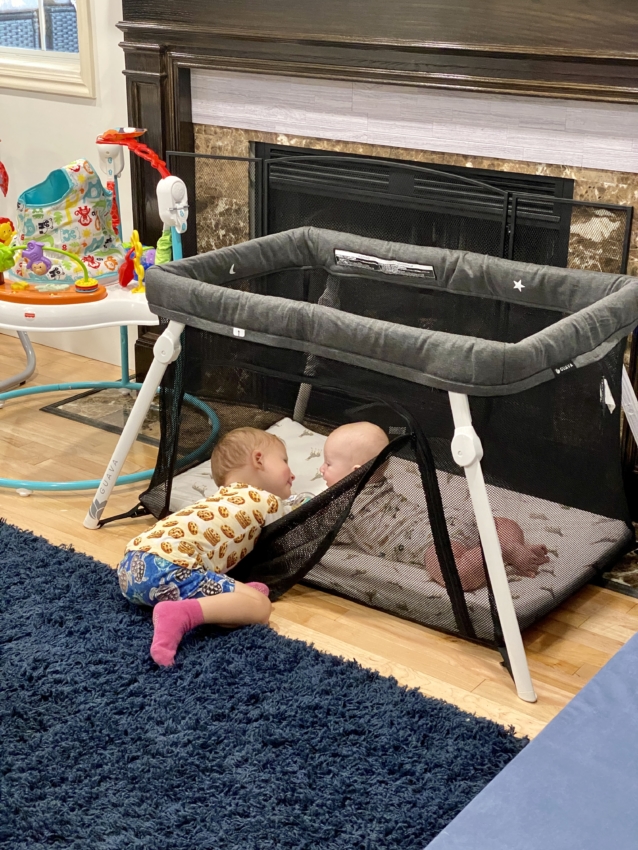 The Size
While it's small, it's not something you can take on board with you like you can with a travel stroller. You can gate check it on some airlines, but it requires dragging it through the airport and it might get lost, or you can check it with luggage at the counter (which requires spending time waiting in line quite often), so there's no win in these situations.
Velcros
Setup takes me less than 2 minutes, but then there are velcro straps. With time and dust the velcros tend to get gross and loosen up. They became super nasty as we have a fluffy cat and these velcros catch all his fur and while they still did their job, I'd rather have anything but velcro.
---
Guava Lotus Travel Crib vs BabyBjorn Travel Crib Light
Both are leading brands on the market, so let's see how Lotus Travel Crib and Baby Bjorn Travel Crib compare as they are actually fairly similar. The Bjorn is Oeko-Tex certified, but they're both free of flame retardants which is important.
The BabyBjorn is super easy to set up and takedown, much easier than the Lotus. Closing up the Lotus is definitely more complicated as you need match up the symbols, while everything just snaps and unsnaps on Bjorn.
They're both small in sizing, but Guava is more of a rectangular backpack while Bjorn looks like a little suitcase. Both are lightweight and easy to carry, but Bjorn doesn't have backpack straps.
In terms of size, both are comfortable but the mattress on Bjorn is significantly thicker which might matter to some if going to cold destinations.
Babybjorn has no side opening, which some might want to have to soothe a baby to sleep. For us, the side opening on Lotus was a downside (read further down), so it's up to you what you prefer.
The Lotus is convertible to a bassinet (purchased as a separate bassinet conversion kit) while the BabyBjorn is not.
Overall they're both good choices but it depends on what your specific needs are.
---
Final Verdict – Guava Lotus Travel Crib
Did I like our Guava Lotus travel crib? Yes, it was very useful. It's a well-made and convenient product and I do believe that it's one of the top travel cribs on the market. However…
Would I buy it again? That depends. If I weren't going to spend extended time living abroad or moving houses with the kids then I probably wouldn't buy it. We had it for 2 years and apart from a trip to Seattle we never brought it on shorter trips.
It was always "we can get a hotel crib", "we don't want to drag so much luggage around", or it wasn't allowed (on smaller planes where luggage was limited) and then by the time the younger child turned 18 months we began the process of transitioning him out of the crib and used floor bed to make out travels easier and the kids just shared a sofa bed or double bed since he turned 2, so it wasn't useful anymore.
It worked great with Slumberpod and that would be an advantage over a hotel crib, but my little one wasn't a fan of the complete darkness so we didn't care for it much.
We used it in our long-term rental in France and when we were moving houses and buying new furniture, but that said – we mainly used it as a safe place to put the baby to play in the living room and use it as Guava pack and play.
However, you can buy something much cheaper for this purpose, so I think Guava Lotus crib is great, and if you think you'll use it a lot then I highly recommend it. It just wasn't a necessary item for our family.