My kids love the pool. I on the other hand am always worried about the unpredictable explosions that can occur when a the younger is placed in the water. The reusable swim diaper is a savior for parents like me and with good reason. Easy to use, does not generate trash, and is low in cost, in the long run, I have found this is perfect for all our tropical getaways or basically anyplace with a pool!
What is the difference between swim diapers and regular diapers?
The key to truly understanding how swim diapers work is to understand the key difference between them and regular diapers. Take a regular diaper and toss it in a bucket of water. It will swell beyond any recognizable size, because of the absorbent layer. Your child will be dragging a heavy thing on his bum and it will work like a weight in the water.
Swim diapers aren't designed to absorb water. They are designed to only contain solids. In case you're wondering this also means the pee will go through them.
As a result, remember that whether it's a reusable or single-use one, doesn't hold any pee (for your knowledge, all these kids pee in the pool). If you want to dress your child beforehand and then drive to the pool put a regular diaper on top of the swimsuit and swim diaper, so when you get to the pool or beach all you have to do is to remove the top layer. That way, it will catch the pee on the way.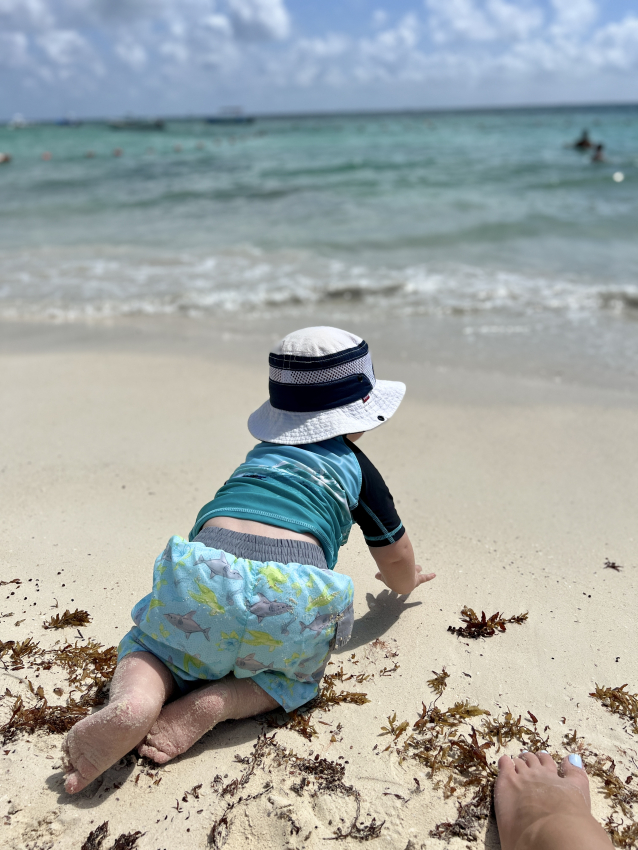 Benefits Of Using Reusable Swim Diapers
Because swim diapers don't hold any pee there's no point in getting them single use… especially since the possibility of your baby pooping in a swim diaper is small (we lived by the pool and beach and I swear it only happened once and honestly, we could have avoided it).
Eco-Friendly: Reusable swim diapers are very eco-friendly. Think about the mounds of trash that disposable diapers contribute too. Using reusable diapers is a small step towards reducing that.
Less expensive: When you look at the cost of a reusable swim diaper online, you are going to wonder what I'm talking about. What you need to factor in is that this diaper will be used again and again and again. In fact, a single good quality diaper costs significantly less than a bag of disposable ones.
It's less bulky: You just have to carry one or maximum two diapers per child. If you choose to go the disposable way, you would be hauling more than that.
More comfortable: The lining of the reusable swim diapers is cloth and designed for comfort – less diaper rashes.
However, if you have a cute swimsuit you want to put on the baby then your only choice is a disposable diaper underneath. Keep in mind that these is the only items I recommend bringing with you for a baby because swim diapers are harder to buy in beach destinations – anything else like regular diapers, formula, or wipes you can buy at your destination.
---
Most Comfortable Reusable Swim Diaper – Greensprouts
Greensprouts is one of the most comfortable brands and never fails when it comes to "solid accidents".exceptions and it is probably one of the reasons that this brand sells out so fast. The diaper has a soft absorbent lining and is waterproof.
We had many greensprouts over the years and I must say that they tend to run small so I recommend ordering two sizes up. Otherwise, they're cute, comfy, and practical – even have boy swim trunks with a built-in diaper version.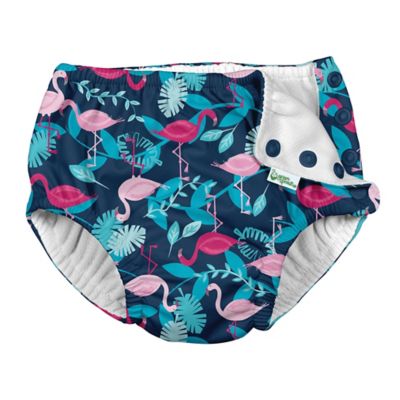 ---
Best Reusable Swim Diaper With Leg Seals – Splash About
I'm usually very paranoid because my kids keep fidgeting with their swim diapers. This is especially true when it is at the beach and sand gets added into the equation and it's hard to get it off later.
That is why I love diapers with a tight leg seal. Splash About diapers are perfect for the beach. The elastic leg bands keep the system sealed and they are still easy to remove in case the child does poop.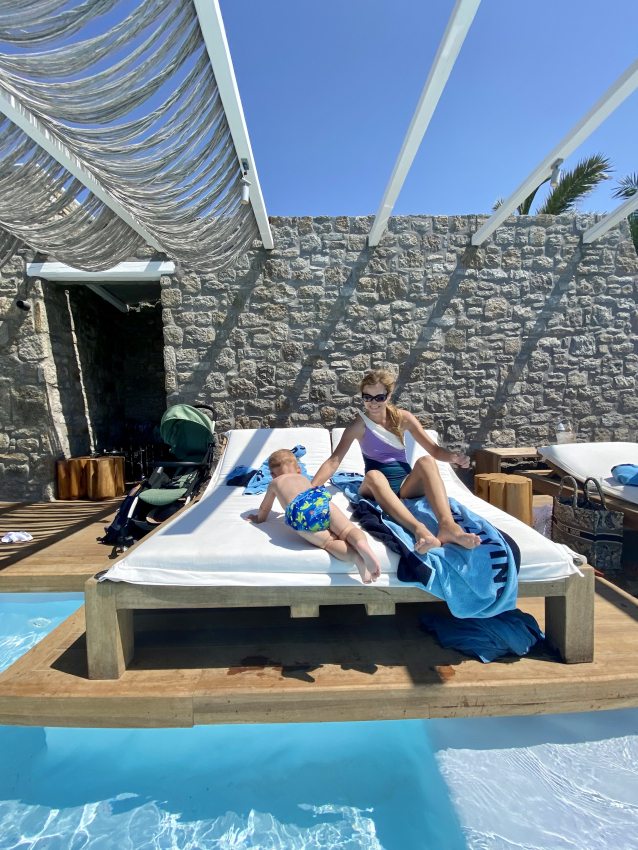 ---
Best Reusable Swim Diaper For Convenience – Alvababy
I really look for things that are convenient especially since I travel a lot. The same holds true for reusable swim diapers. The best alternative that I have found is the Alvababy model.
It has snaps that can be adjusted if the child suddenly grows or for easy opening when wet. Thanks to these snaps, it can also be closed with a surprise no.2 inside if needed.
---
Cutest Reusable Swim Diapers – Babygoal
One of the great things about buying an adjustable model is that it grows with the child. This makes buying a reusable swim diaper, even more cost-effective.
The adjustments also meant that the seal at the legs always remained intact irrespective of how big or small the child was.
Babygoal brand makes the cutest designs and patterns, especially if you have a girl. I just love their style and quality.
---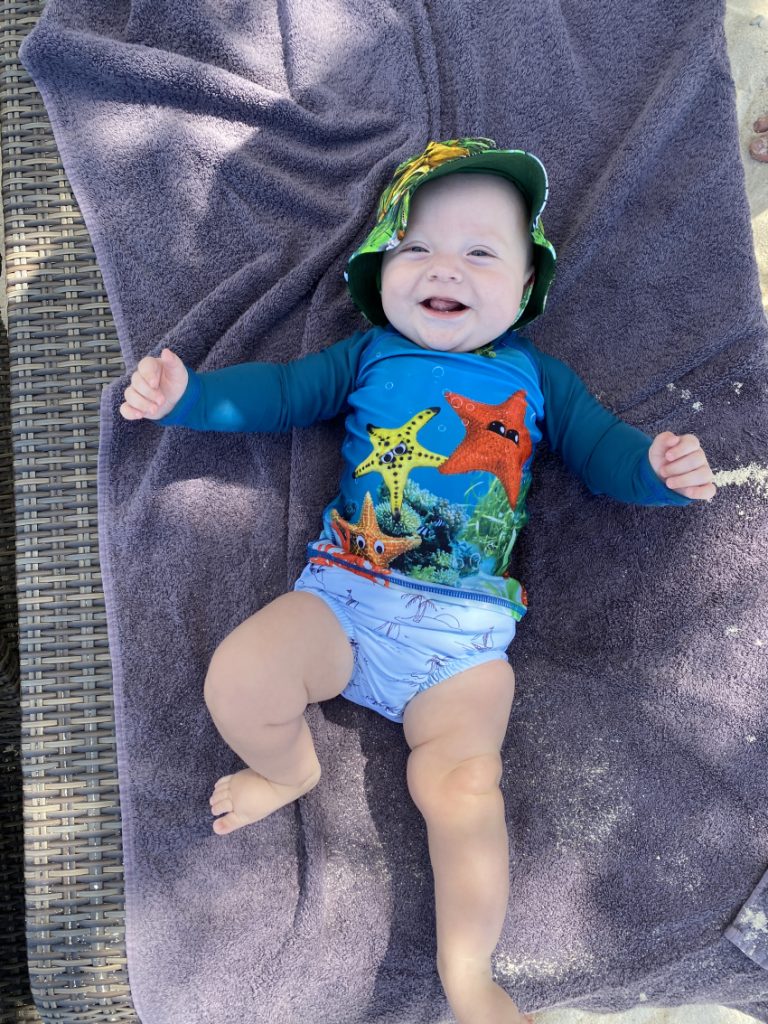 Frequently Asked Questions
Do you put diapers under reusable swim diapers?
No, using diapers under reusable swim diapers would defeat the whole purpose. It would also pose a huge safety issue since the regular diaper would weigh the baby down as soon as he/she entered the water. Do not use regular diapers as swim diapers.
Once your baby is out of the pool or water, you must change him into a regular diaper. Alternatively, while getting to the pool or beach you can put a regular diaper on top of the swim diaper to hold the potential leaks.
Can a swim diaper be used as a regular diaper?
No, unless your child is on the beach. The swim diaper is designed to contain solids and not liquids. So if your child pees while wearing one, the pee will wet their clothes and their surroundings including potentially you.
How do you get poop out of a reusable swim diaper?
Reusable diapers are designed to contain poop. You would want to remove your child from the water body as soon as you realize that they have soiled their diaper.
Simply knock the solid poops into the toilet and rinse any poop stains out with soap and water afterward or throw it in a wash on a cold delicate setting. Just remember not to put it in the dryer.
Are reusable swim diapers worth it?
Reusable swim diapers are definitely worth it. They reduce expenditure, are easy to use, and dry quickly! Plus it is a great environment-friendly option when compared to disposable diapers.