If you're a parent of a toddler who is eager to learn how to ride a bike, but you're not sure where to start you came to the right place. Most parents will start searching for the best tricycles at first. While a tricycle can be a great solution for a younger toddler, once your little one is about 2.5 years they can start riding a balance bike.
I'm sure you've heard about balance bikes before, but maybe you're still on the fence about them. Balance bikes are a fantastic way to introduce your child to the world of cycling. They are designed for young children and are often recommended by pediatricians and therapists as a great way to improve gross motor skills. Most importantly, they're incredibly fun for kids. Watching your little one zip around on their new balance bike is sure to bring a smile to your face. And, as an added bonus, you'll get some great exercise chasing after them!
What Is a Balance Bike?
A balance bike is a bicycle without pedals that helps your child learn to ride by using their feet to push themselves along. It helps them to develop a sense of balance and coordination as they learn how to control the bike.
Balance bikes usually have 12-inch wheels of the same size and no chain, they are made of lightweight materials like aluminum or wood which makes them very easy for young children to maneuver. Once they've mastered the basics of balancing and steering, they'll be ready to graduate to a regular pedal bike in no time – often without training wheels.
Balance bikes are the perfect outdoor activity for kids. They can be used on any type of terrain, and they're a great way to explore the outdoors.
What is the best age for a balance bike?
There is no one-size-fits-all answer to this question. Every child is different and some kids will be ready to ride a balance bike at 18 months, while others won't be ready until they are almost 3.
The best way to determine if your child is ready to ride a balance bike is to observe their behavior. If they are constantly trying to climb on your bicycle or scooter, or if they seem interested in riding but are afraid of falling, they might be ready to give a balance bike a try.
When we're spending a few months a year in Europe similar to most Europeans we just take a single stroller with a buggy board and hang a balance bike off the stroller. Once we get to a safe spot, my older son can zoom around without fussing.
Is a balance bike safe for my child?
Yes, balance bikes are safe for kids. In fact, they can be safer than training wheels because they help kids learn how to balance before they learn how to pedal. This can reduce the risk of injuries, such as scrapes and bruises.
It provides a sense of stability that is not found in traditional bicycles. Since there are no pedals, your child's feet can touch the ground at any time which gives them a sense of security.
However, as the kids learn to zoom on their balance bike they will go fast. Some will say that a handbrake is a must on a balance bike, but honestly, it depends on your preferences. Dual hand brakes will give your child more control over their speed and help them slow down or stop more quickly.
Best Balance Bikes
Best Budget Balance Bike: Besrey
The besray 5 in 1 is a great budget tricycle that turns into a balance bike. It has a longer wheelbase for stability, solid tires, and folds small, which means tou can easily take it with you in the car or even travel (fits in a suitcase!).
It's also very lightweight, making it easy to maneuver. For a budget balance bike, this is a pretty impressive resume. However, just keep in mind that it's not built to last for generations. If you're looking for a bike that will last your family for years to come, you'll need to spend more money. But if you're on a budget and just need a bike that your child can learn on, this is a great option.
---
Best Off-Road Balance Bike: Co-Op Cycles
The Co-Op bike is a classic balance bike with thick bike wheels for off-roading. If you order it for pick-up at the store you might even get it fully assembled and ready to go! It's durable and works for kids as little as 2 years up to 60 lbs.
---
Best Balance Bike with Brakes: Joystar
The Woom 1 is the popular choice for toddlers who are just learning to ride a balance bike with brakes, but while it's great it's definitely an expensive model. This is why I recommend Joystar instead because I have it and can vouch for it.
Joystar is a top-of-the-line balance bike that provides a smooth, easy ride with a hand brake. Its handlebars place the rider in a natural, upright position with their weight centered over their hips, which helps toddlers feel less hesitant about balancing. Plus, it's available in multiple colors!
Best Balance Bike to Transition Later: Strider
Strider is the most popular brand as their bikes are designed for kids ages 2 to 5. It features all the benefits of the traditional balance bike, but in a larger size and the possibility to add pedals later on.
The bike has comfortable, upright body positioning, large 14″ air tires, and a removable "surfboard" footrest, making it the perfect choice for timid kids starting out on their balance bike journey.
If your child isn't tall enough to fit on the 14′
---
Balance Bike Buying Tips
1. Size Matters
Balance bikes come in a size that fits babies and toddlers, with a seat that can be adjusted as your child grows. This means that they will be able to use the bike for several years, making it a great investment. It makes no sense to buy something only for a few short months.
I bought one for my firstborn when he was two years old and it still fits him perfectly at almost 4. When he's finally ready for a pedal bike, I can hand the balance bike down to his little brother.
2. Materials
The best material for a balance bike depends on your child's needs and preferences. If you are looking for a lightweight bike that is easy for your child to maneuver, an aluminum or steel frame might be the best option. If you are looking for a durable bike that will last your child for several years, a wooden balance bike might be a good choice.
Another thing to consider is the type of tires on the bike. Balance bikes typically come with either air-filled tires or foam tires. Air-filled tires are usually made from rubber and are filled with air, just like the tires on a regular bicycle. These types of tires provide a smoother ride and are more puncture-resistant.
Foam tires are made from EVA foam and do not need to be inflated. They are lightweight and easy to maneuver, but they don't provide as smooth of a ride as air-filled tires and can wear off easier.
3. Price
The most expensive balance bike doesn't always mean the best! Balance bikes range in price from around $59 to $300. The type of material the bike is made from, the features it offers, and the brand will all affect the price.
Keep in mind that you usually get what you pay for when it comes to balance bikes. The more expensive ones tend to be made from higher-quality materials and offer more features than the less expensive options. If you are looking for a bike that your child can use for several years, it's worth investing in a higher-quality, more expensive option with optional conversions.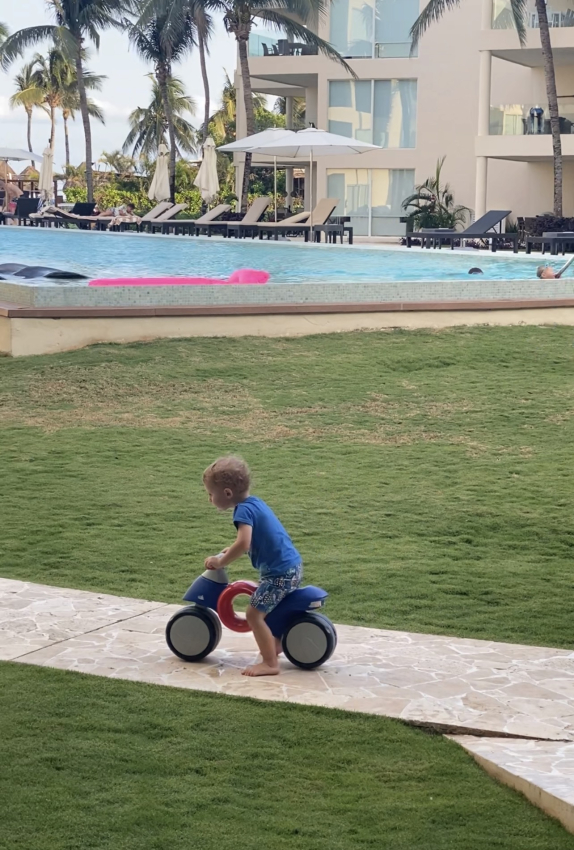 Other Frequently Asked Questions about Balance Bikes:
Where do kids put their feet when riding a balance bike?
There is no one correct answer to this question. Some kids prefer to keep their feet on the ground at all times, while others like to put their feet up on the footrest (which is why it is available to some models). Ultimately, it is up to your child to decide what is comfortable for them. Kids naturally want to put their feet up when they are going fast, so don't worry if they do this from time to time.
What if my child doesn't like a balance bike?
Every child has a will of their own, and in fact, my own son appeared very uninterested at first when we gifted him the bike at 2 years. It often takes younger toddlers several months to be consistently interested. Miraculously one day, he just picked it up and started going and we haven't been able to stop him since!
If your child doesn't seem interested, keep the bike around so they can see it and use it. It can also be helpful to take your child somewhere that they can see other kids riding balance bikes because peer pressure always works as you might have noticed at daycares. When they see other kids doing it, they realize that it's not that hard!