Montessori learning tower, also called a kitchen helper, might be one of the best practical items to have around the house when you're surrounded by a toddler's growing interest in, well, everything around the house.
From the moment they can stand up, toddlers are so eager to experience the world around them with all their 5 senses. It's only a matter of how you organize yourself and your home to make that happen for them.
This is when a Montessori kitchen helper comes in handy. Whether you're raising your bub according to Montessori education or not, I highly recommend this item.
---
What is the Montessori Learning Tower?
The learning tower is a piece of furniture that allows your child to stand higher, so they can safely reach a kitchen counter, sink, or climb to see a dinner table.
You've probably already noticed your toddler's interest in what you're making for dinner or how confidently they are grabbing the toothbrush to brush their teeth.
That's where a Montessori learning tower could be of great help. It provides a safe space for the child to explore and be involved in all sorts of home activities, like cooking, personal hygiene, or cleaning. We've used our learning tower for the sink since my son Dylan was 12 months old.
It also gives you a chance to finish some of your tasks, while your baby is safely engaged in a captivating activity as they can get in and out of there on their own.
Unless a regular stool it's safe and you can definitely leave your little one unattended for a bit.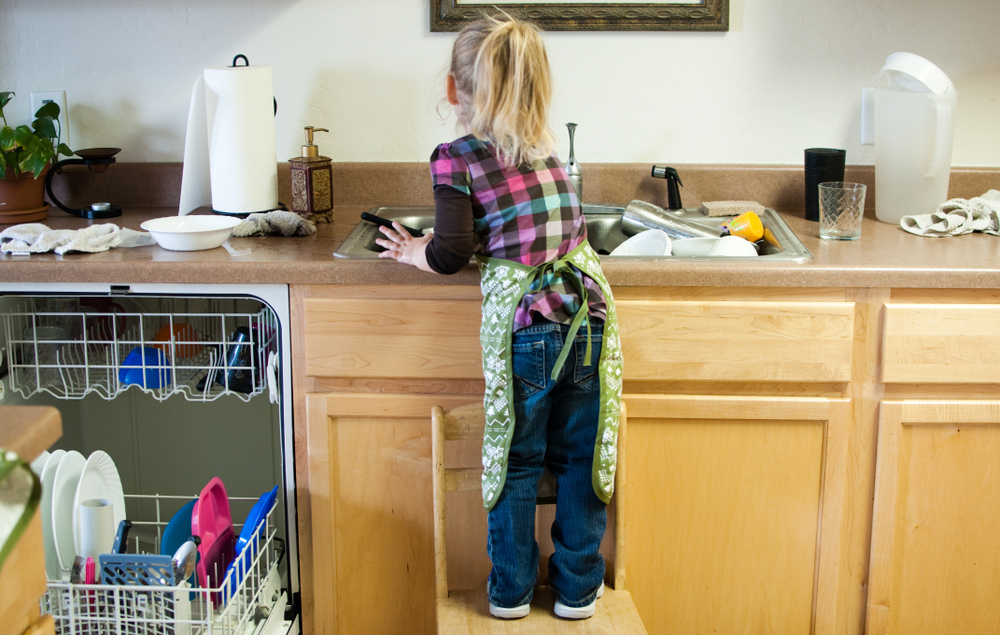 What Are the Benefits of Learning Tower vs Regular Stool?
1. Learning Tower is SAFER
While a stool or chair can also bring the child up to a higher spot, toddlers can easily fall from them. The little helper tower has been built with this specific feature in mind in order to provide safety. It's steady and it has a wide base, with 4 legs, that offers good stability.
Some of them are either completely covered on all sides with wooden or felt planks to prevent the child from falling (personally not recommended, more on this further).
Others have a wooden bar placed at the back of the child to provide better protection. It just depends on your safety and comfort zone to decide which design works better for your family.
The kitchen tower also gives you a better overview of your toddler's access to some kitchen appliances.
P.S. Especially when you start using the kitchen helper some kids might take this opportunity to start climbing onto the counter. It's a phase and it's totally normal. Mine got bored of being taken down and stopped doing it after about 2 weeks.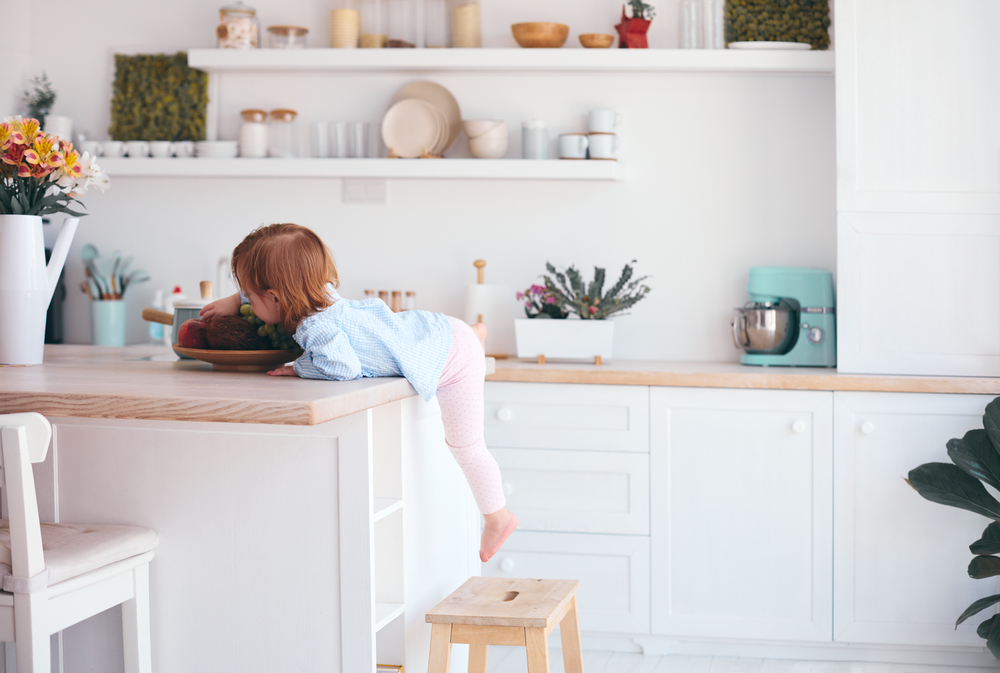 2. The Kitchen Helper Teaches INDEPENDENCE
The learning tower is an item greatly recommended by the Montessori method of education, because it supports the child's instinct to do things independently.
Most of the learning tower models out there are designed to allow the child to climb in and out of the tower by themselves. They have one or more steps, that make the climbing safe.
While it may seem tempting to get a foldable one, no foldable tower provides step access to it for your child and it makes your toddler lose his independence.
In addition to that and most importantly, the toddler benefits from individual playtime, even if they are right next to you. Using the little helper tower gives your toddler the chance to explore food, personal hygiene items, or even toys in their rhythm, without any "be careful" interruptions from parents.
The fact that toddlers learn that they can do these things by themselves, builds in them great confidence and self-esteem. And at the same time, both small and large motor skills develop.
---
One great feature I discover is placing it in the bathroom. Many Montessori parents just set up special stations for toddlers in the bathroom, and buy extra sinks and shelves. It's absolutely not needed, especially on a budget, because with a learning tower, my son can reach the sink and use the same exact setup as adults.
---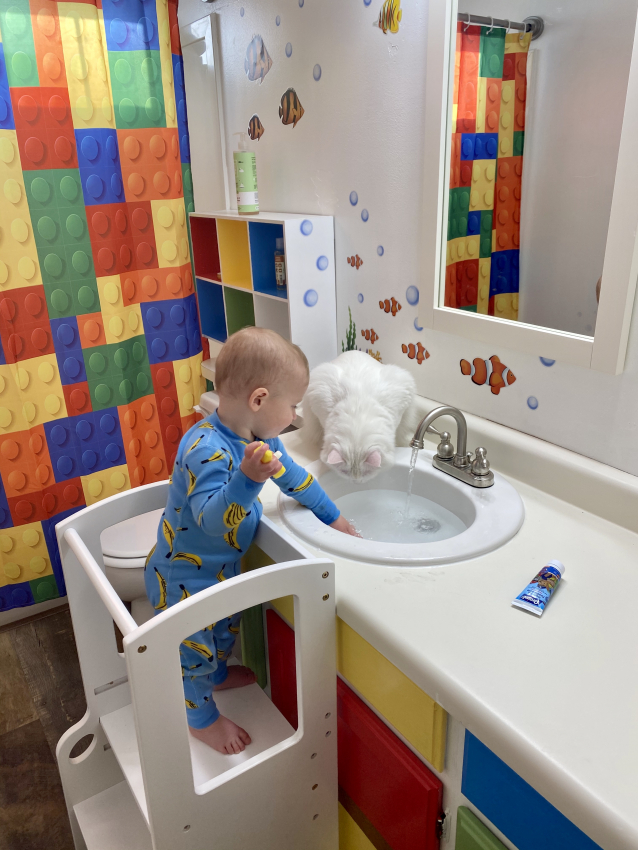 ---
3. You Spend More QUALITY TIME TOGETHER
I mentioned before that toddlers get so interested in what we're doing around the house that they can drop everything and run to us when they see you're peeling a potato.
You still need to make dinner and it's a bit hard to do that while you're holding 18 months almost-not-a-baby-anymore in your arms.
Time spent in the kitchen is actually a great opportunity for connection. While in the tower, the toddler can safely reach the kitchen sink and you can ask them to wash the potatoes.
Or even hand them an age-appropriate peeler so they could try and peel the potatoes themselves. Or chop some veggies.
And while you prep some other dinner food items, they can season the potatoes with salt and pepper.
It's a win-win situation, dinner is ready and you've spent some quality, fun time with your child.
---
---
4. The Kitchen Helper Creates an Opportunity for EXPOSURE to New Foods
Having your child around in the little helper tower while you're cooking could bring amazing benefits concerning their appetite and willingness to try new foods.
The fact that a toddler gets to explore the veggies on their terms, might get them to be more open to trying them later at dinner.
Repeated exposure and sensory learning are some of the best strategies known to increase the intake of unfamiliar food items. It's a protective instinct to be careful with new foods.
So the more your toddler gets the chance to see, touch, and explore the ingredients you're using for dinner, the better chances are they'll accept what is on their plate.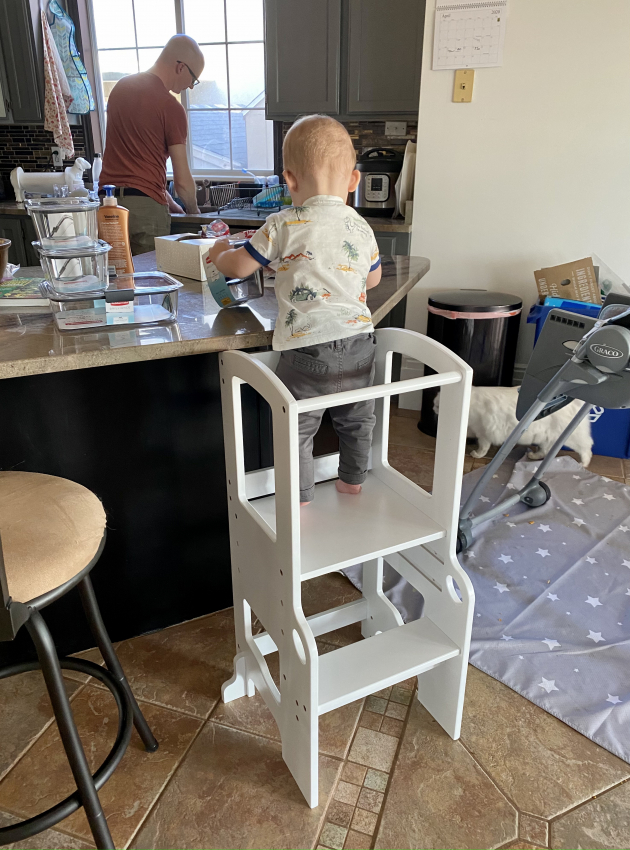 ---
5. Use the Learning Tower for MANY ACTIVITIES
The kitchen helper can be used for other activities as well. You can get creative with it. Throw a blanket on it and turn it into a tent or have a puppet show.
There are Montessori learning towers that have add-ons, such as a blackboard, a slide, or an activity board, that turn them into playing items. Others are even convertible and can become a table.
---
To make it easier for you, here are a couple of the best learning tower to buy, that cover everything I've mentioned in this article.
Best Learning Towers for Toddlers
Features: adjustable height, allows independent climbing, optional fun accessories
---
Features: convertible, cute AND practical design, easy to move around the house, allows independent climbing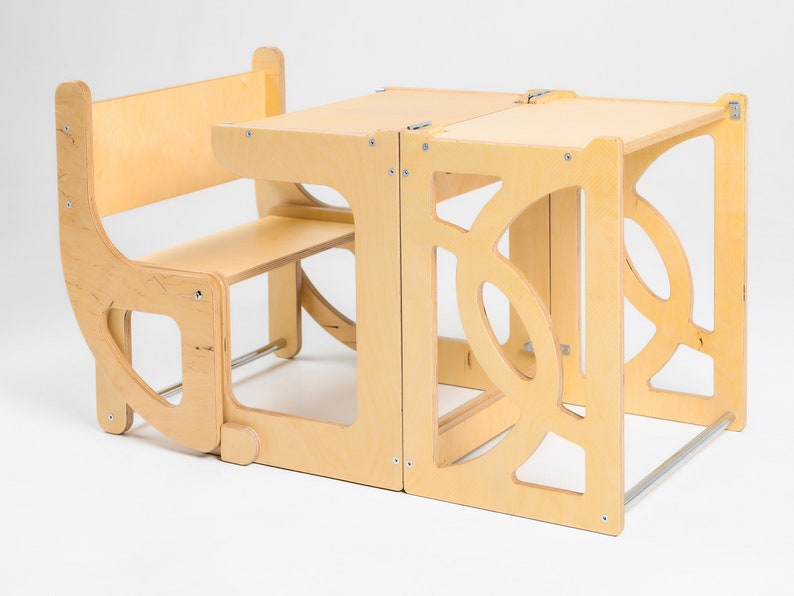 ---
Features: foldable, adjustable height, non-slip mat included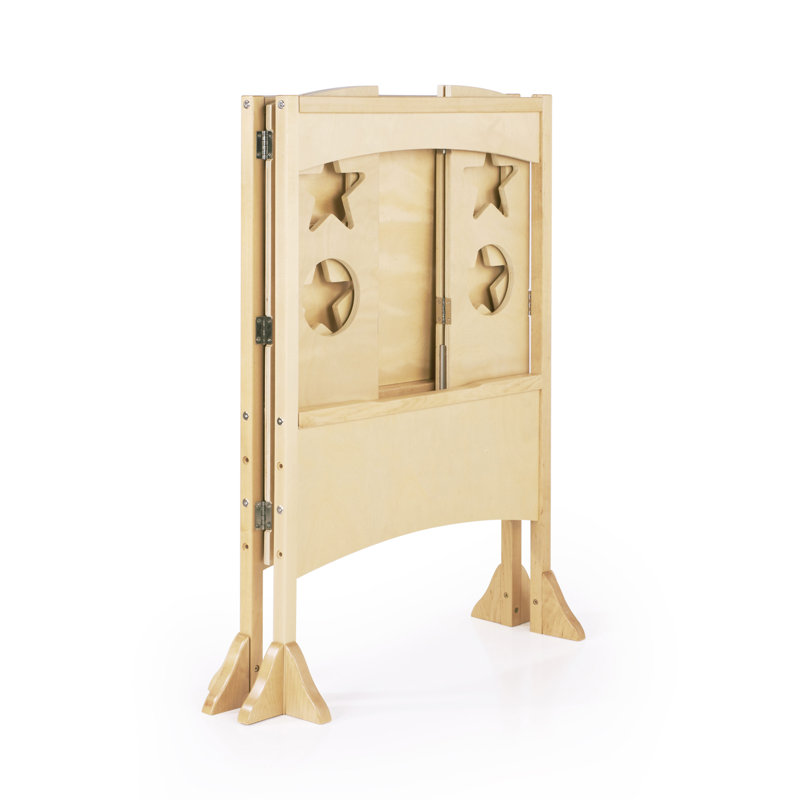 ---
Features: adjustable height, natural material, easy climbing
---
Features: well-priced, slick moder design, free shipping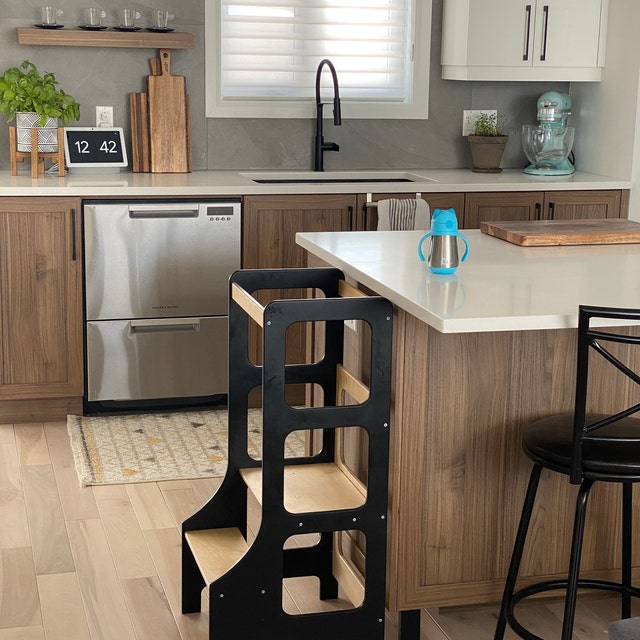 ---
Features: perfect for 2 children, height doesn't adjust, acrylic glass covers all 3 sides for safety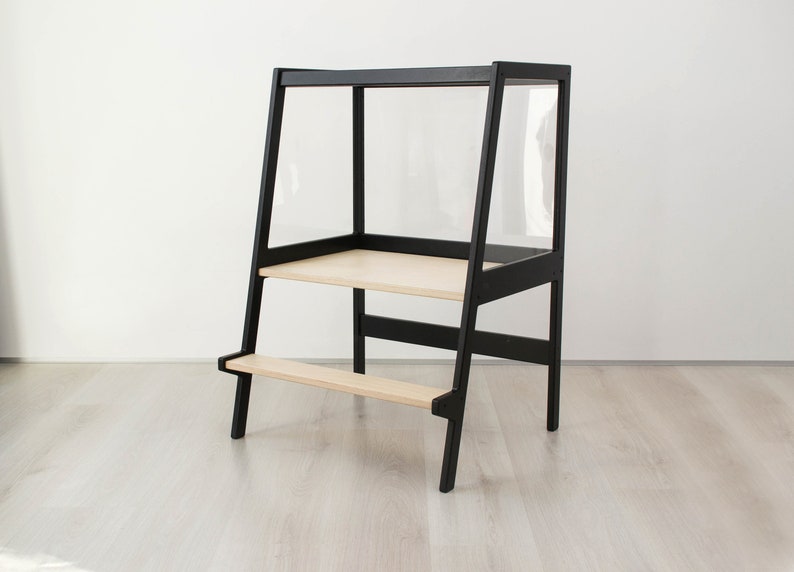 At What Age Should You Start Using Learning Tower?
You can start whenever your toddler is comfortable standing on their own. I put Dylan in mine at 12 months and he's been loving it ever since.
He's a very active bub falling off everything in sight all the time, so I wouldn't be comfortable letting him use a chair or stool.
We actually did take it away for a few weeks at around 18 months since he started climbing on top of the kitchen counters nonstop. However, we did bring it back since he was dragging a chair and climbing on counters anyways and it was way less safe than him climbing via the learning tower.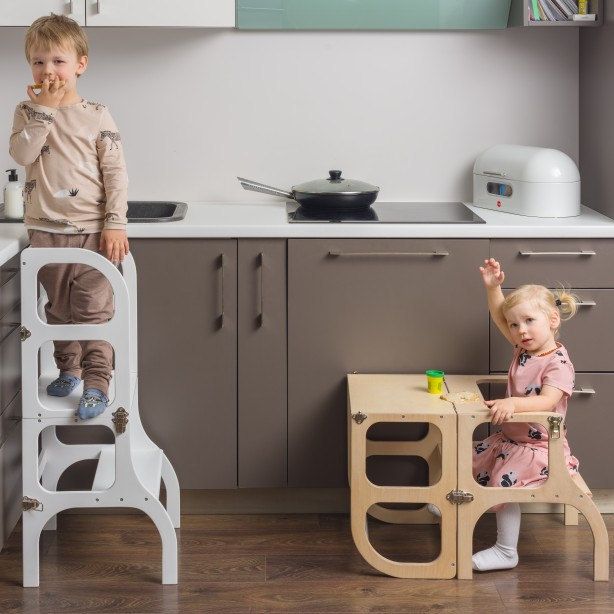 ---
What to Pay Attention to When Buying a Learning Tower
If you made up your mind and you do want to invest in a Montessori learning tower, my recommendation is to pay attention to these criteria:
Adjustable height: as the child grows, you want to be able to change the height, this way you will use it for a couple of years.
Check the safety standards and quality of the materials.
Not essential, but it is helpful if the board on which the child stands is not slippery. Otherwise, just avoid socks or buy a non-slip mat.
A good height is if the top of the tower is somewhere between the child's belly button and his ribs. Check the size of the kitchen helper as they vary depending on the brand.
Depending on your safety comfort zone, your child's age and developmental pace, agree on a Montessori learning tower that's more open or closed. Personally, I advise against closed towers as they're too confining.
The tower's weight. If you plan to move it often from room to room, then a lighter one might be a better choice.
If you would like a multifunctional one, there are multiple models on the market with accessories and add-ons.
You can make a priority list of these criteria to understand better your needs and narrow down your search.
---
How to Make a Learning Tower
If you feel like making things yourself or have a grandpa who's good at woodworking jobs, you might consider making a DIY learning tower.
The most popular hack is converting an Ikea BEKVÄM stool into one. It's an easy way to make a toddler learning tower without many tools or skills.
If you feel like a fancy one, these plans are the best out there (click here).