We all want to keep our children safe whilst traveling, so if your child uses a car seat at home, why sacrifice that safety whilst abroad? There are so many choices for toddler car seats out there that it can be super overwhelming to choose one that will be great for travel as well. You want to find the perfect balance between convenience and safety whilst also staying within your budget.

Luckily for you, I have tried and tested all of the travel car seats on this list and can give you an honest run down of all the best and worse bits of each one. I'm pretty confident you will be able to make the best decision for you and your children pretty easily by the end of this post!
Things to Consider When Choosing a Travel Car Seat for Your Toddler
Before we begin, here are some quick things to think about while trying to decide on the best travel car seat for you.
1. Will Your Car Seat be Compatible with Any Car You May Rent?
Learn from our mistakes and before you haul a bulky car seat halfway across the world, make sure that it will actually be compatible with the car you plan to rent.
I can tell you from personal experience that it's not fun to discover that the car seat you have been struggling with for the last 10 hours of transit won't work in the rental car because it requires a top tether (which many cars abroad don't have).
2. Is it Really Necessary to Bring a Car Seat Where You Are Going?
Even though a car seat might be a part of your everyday life back home, this doesn't necessarily mean you will need to use one that often whilst abroad.
There are many ways to navigate not bringing your own car seat while you travel such as taking public transport, renting a car seat on arrival (from your rental car company), or ordering taxis with a car seat already installed.
Honestly, if you are organized and can pre-book a car seat for the times you will specifically need it, traveling without having to lug your own on flights and travel days is so much easier.
For example, when we traveled to Nuku Hiva island, a very remote destination we opted not to bring a car seat as it was an extra charge to bring it on a very small plane and we knew that there are barely any cars on the island. As it's a very remote place my older toddler actually had to sit on our lap anyway due to the shortage of seats on the minibus, so if we brought his car seat it would have been a waste of energy basically.
3. Can You Use Car Seats on Planes?
If you are flying on US airlines, you can install a car seat on the plane without a problem if you pay for the seat. However, this is not a blanket rule worldwide.
Many non-US airlines don't allow you to use a car seat on board or have restrictions in place. Often you will be restricted by width (which usually means you can't use Doona), or only allow front-facing car seats which basically excludes infant car seats.
4. Does a Toddler Need a Car Seat for Flying?
The short answer is no. The Federal Aviation Administration (FAA) does not require a child safety seat to be used, however, the FAA and the American Academy of Pediatrics (AAP) both recommend using a child seat or other restraint system on planes.
One rule you need to remember is that if you're flying solo with two infants under 2 you MUST purchase a seat for one of them, as you cannot have two lap babies. As the baby will be under 2 you also MUST bring a car seat for the baby, otherwise, you won't be able to fly.
5. What are the Different Types of Travel Car Seats?
There are four main types of car seats to choose from:
Rear-facing car seats: For young children, sitting facing backward is the safest option as these types of car seats provide protection for your child's head and neck. Even though they are the safest, they can be hard to install and quite big, so they don't necessarily make the best option for travel.
Forward-facing car seats: A great option for older toddlers who have outgrown rear-facing seats or reached the age of 2 (for most places legally), forward-facing car seats are much easier to use and install.
Convertible car seats: These are the best of both worlds as they can be used in both positions, rear and forward facing.
Booster seats: For children who are too big for a forward-facing seat but still too small for regular seat belts, a booster seat raises your child up so that the belt sits properly across their body. Different countries have different rules about the use of booster seats but it is usually 3 or 4 years.
6. Learn How to Install Your Travel Car Seat like a Pro
As I mentioned earlier, different cars and countries have alternate ways to deal with child safety and car seats in particular. We've found cars that don't have an ISO fix and others without a top teeter option, so it's important to know exactly how to install your car seat with different types of attachments.
Trust me when I say that you don't want to be dealing with an instruction manual whilst trying to get going after a long day of travel. Learning how to install your car seat quickly will save you a lot of time and stress on your trip.
Another thing to consider is that each country has different rules about travel car seats. We've found some places which require toddlers to ride on a booster seat earlier than we are used to and others like France, where taxi drivers won't even let you install your own car seat as they are exempt from the regulations.
---
Best Travel Car Seats (in short):
---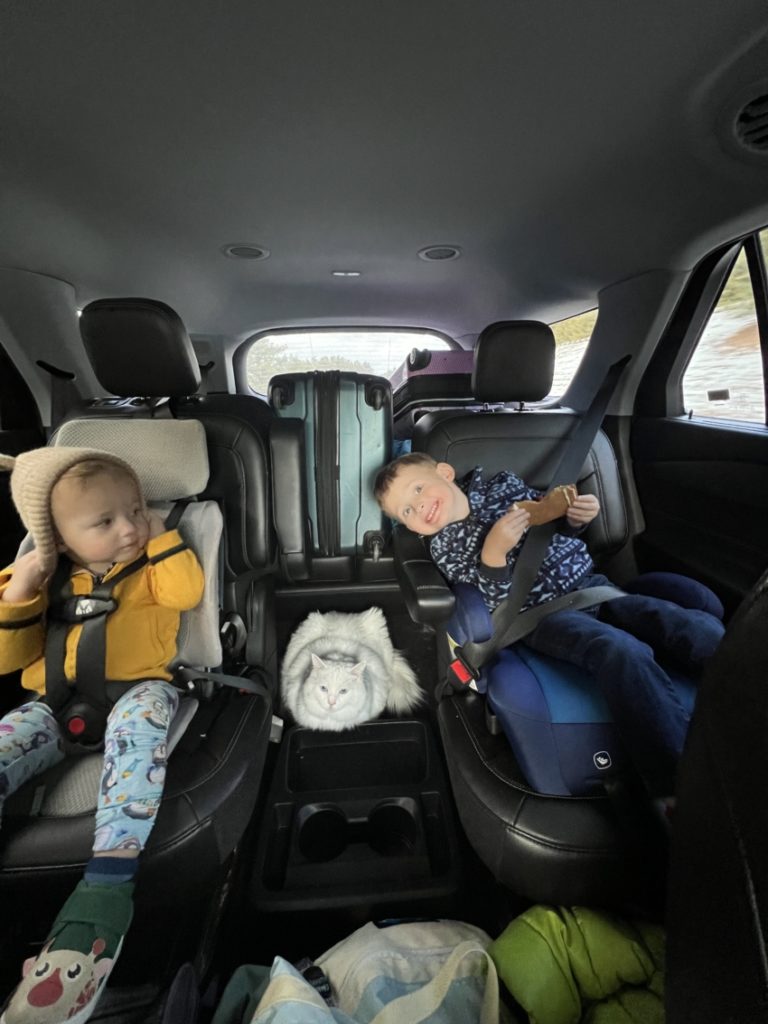 ---
The Best Travel Car Seats for Toddlers
You may notice that some of the most popular car seats for toddlers are missing from the list below. While I did try many of them like Graco Extend 2 Fit, Safety 1st Guide 65, and Tribute LX 5, I would never recommend them for travel since they don't fit in many different cars and planes.
Some other car seats were excluded because they were simply too tall, too bulky, too heavy, or required top tethers which you simply don't find in all countries (making them incompatible with many cars).
I have also tried the Doona car seat stroller which is super popular at the moment, but I don't personally recommend it either. Both of my boys were too tall for the Doona before they were even toddlers!
If you're heading to Europe then my best recommendation is: to buy a car seat in Europe, because there are many fantastic lightweight options that the US is lacking.
---
Price: $$$
Type: Front-facing
Weight: 8 lbs
Width: 14.75″
Ages: 1+
Being one of the smallest and lightest options on this list, The WayBPico is a great choice for traveling as it easily fits in overhead storage lockers on planes and is easy to fit into a variety of different cars.
Adjusting the harness system is easy and the design provides great air circulation. Plus you can easily remove the seat from the base for easy cleaning or storage!
PROS:
✔ FAA-approved to use on flights
✔ Easy to install
✔ Works without the top tether
✔ Compact to fit in an overhead bin
CONS:
✘ Crotch strap too short for some kids
✘ Low height limit
✘ Expensive
---
---
Price: $
Type: Convertable
Weight: 8.6 lbs
Width: 16.5″
Ages: from birth
If you are looking for a budget-friendly car seat, the Cosco Scenera Next is your best bet!!
This lightweight car seat is super portable and easy to store. Install is simple, plus it can be used in both forward and rear-facing configurations.
Note that this car seat is recommended to be used in the rear-facing position for children 5-40 lbs & forward-facing position for children 22-40 lbs.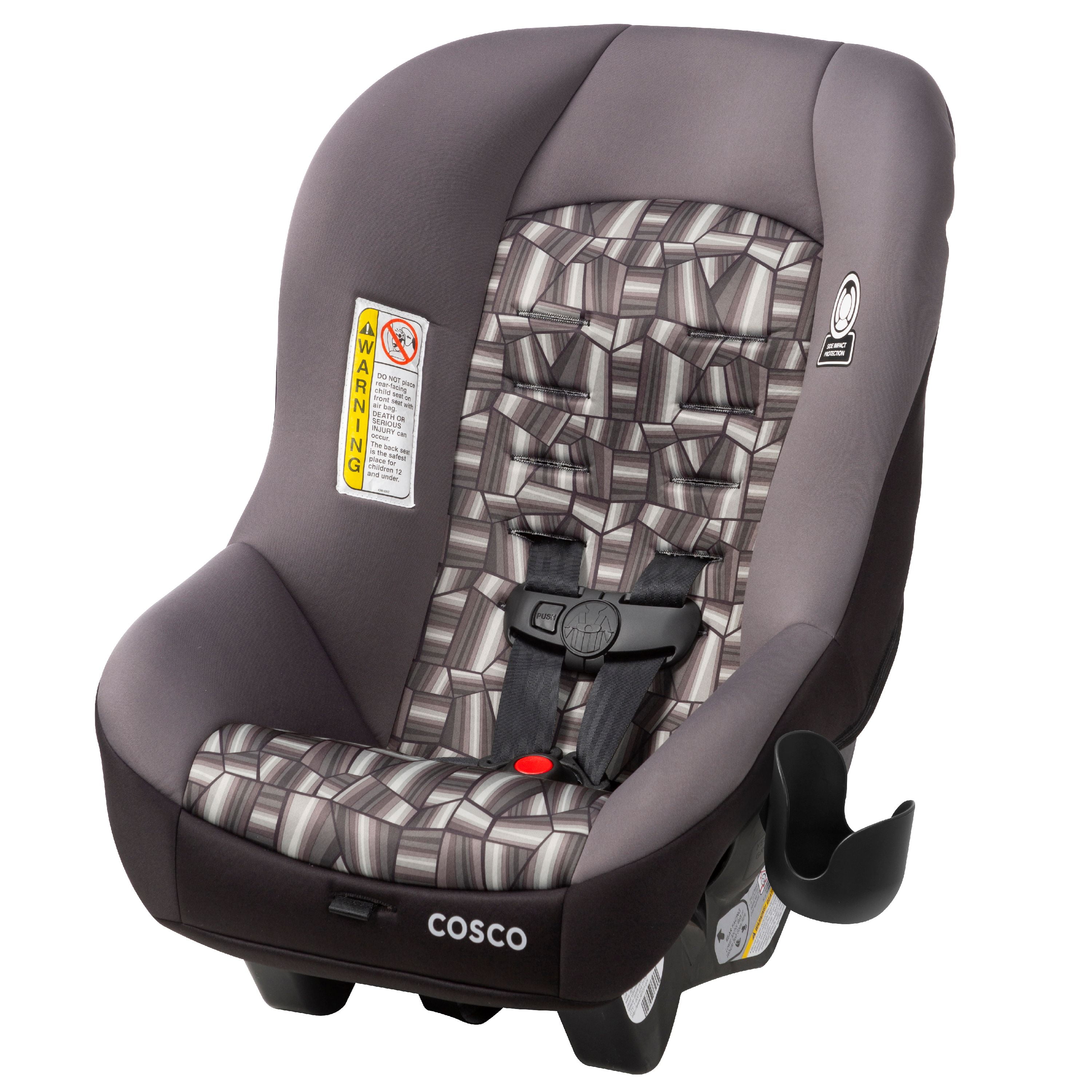 PROS:
✔ Low price
✔ Can be used from birth (I wouldn't recommend it though!)
✔ Compact & lightweight
CONS:
✘ Requires top tether for forward-facing
✘ Hard to install in some cars
✘ No extra side and head protection
✘ Limited padding for patterned covers
✘ Low size limits
---
---
Best Travel Car Seats for Preschoolers & Up
Price: $
Type: Booster
Weight: 1 lbs
Ages: 4+ who are 40-100 lbs and 38-57″
The best booster seat for travel on the market has to be the BubbleBum thanks to the fact that it inflates and deflates within seconds!
Being able to fit in the middle seat in most cars, it's a great choice whether you need to use it for taxis, carpooling, or car rentals. However, since you aren't supposed to leave this seat inflated for extended periods of time, I don't recommend this one for long road trips.
If you prefer different colors, another option that is very similar is the Hiccapop.
PROS:
✔ Legal all over the world!
✔ Affordable
✔ Compact & lightweight
CONS:
✘ Only for older kids
✘ Not super comfy on long rides
✘ Can't be left inflated in a car
---
Best Lightweight Booster Seat: Diono Solana XL
Price: $$
Type: Front facing
Weight: 6.6 lbs
Width: 11″
Ages: 4+ who are 40-100 lbs and 38-57″
Diono Solana is a lightweight, yet comfortable booster that has latches so it won't move around the car when the child isn't sitting in it.
The seatbelt guide included in the seat helps you to easy to make sure you have correctly positioned the belt on your child, and the booster seat is extra wide providing more comfort.
There are built-in cupholders and the cover is washable, so it's easy to take it with you on many trips. My son can sit safety and comfortably in it.
PROS:
✔ Built-in cupholder
✔ Comes with a shoulder belt positioner
✔ Compact & lightweight
✔ Comfortable
CONS:
✘ Nothing I can think of
---
---
FAQs about Travel Car Seats for Toddlers
What are the advantages of using a travel car seat?
Travel car seats are more convenient than regular, bulky options you may use at home. Being lighter and easier to install, it makes them much more portable and easy to use on the go.
Are there any downsides to using a travel car seat?
Since they are generally lighter and more compact, travel car seats may not be as comfortable as regular seats and will have restricted support.
Does my toddler need a special car seat?
It's important that you use the correct car seat for your child's age, weight, and height, but it doesn't have to be any special seat in particular.
When should my child start using a regular seat?
Most kids are ready for a regular seat around age 4 or 5 if they weigh more than 40 pounds. But you should chat with your child's doctor to decide when is the safest time to make the change.