My kids love all kinds of different vehicles but there is something about excavator toys that really catches their attention. I think in part it is that they are very interactive. Plus they can be used in a variety of settings both indoors and outdoors.
One thing that I have realized is that the market for digger toys is huge! No longer are there just one or two options like back when we were kids. Now you have every kind of toy excavator imaginable. From the simple remote control-operated ones to large ride-on toy excavators!
I picked up the best toy excavators for toddlers and preschoolers that your kids will dig. I had an earful within seconds which included second-hand reviews from other kids they interacted with.
What is the difference between a bulldozer and an excavator?
Excavators are usually larger than bulldozers and can be used on uneven terrain. Bulldozers move slower and work on level ground. The excavator's bucket allows it to transport materials, but a bulldozer cannot transport materials in the blade.
Best Excavator Sets
As I mentioned before, there are loads of excavator sets on the market. They range in size, interaction, utility, etc. Some are great for indoors but others work best in playgrounds, in sand pits, or on the beach! The trick to choosing the perfect one for your child is to factor in where they will use their excavator the most.
Best Excavator Set For Indoors: iPlay
Many of the outdoor excavator sets can be used indoors too. Some sets are however best used indoors because they aren't designed for the sand and the mud.
One great example of this is the iPlay Construction vehicle set. It's a cool interactive set that has excavators, tractors, diggers, and cranes.
While it does require some assembly in the initial phase, you will find that it is aimed more at role-play. One thing that I really really like is that the storage box converts into a play mat. It makes the set portable, interactive, and fun to use!
Best Excavator Set For Outdoors: Little Tykes
Excavators are great in sandpits and on beaches because children love to cart sand around in them. It is highly entertaining and the best part is they get exhausted from all the work (play!). One of the most ideal ones in this section is the Little Tykes (https://amzn.to/3S88aFI) sit-and-dump excavator. Fixed in one spot, it is huge and it can be operated while a child is sitting or standing. You do need to be careful and not sit too close to the activity though. I've had mounds of sand dumped on my head when I've not been paying attention.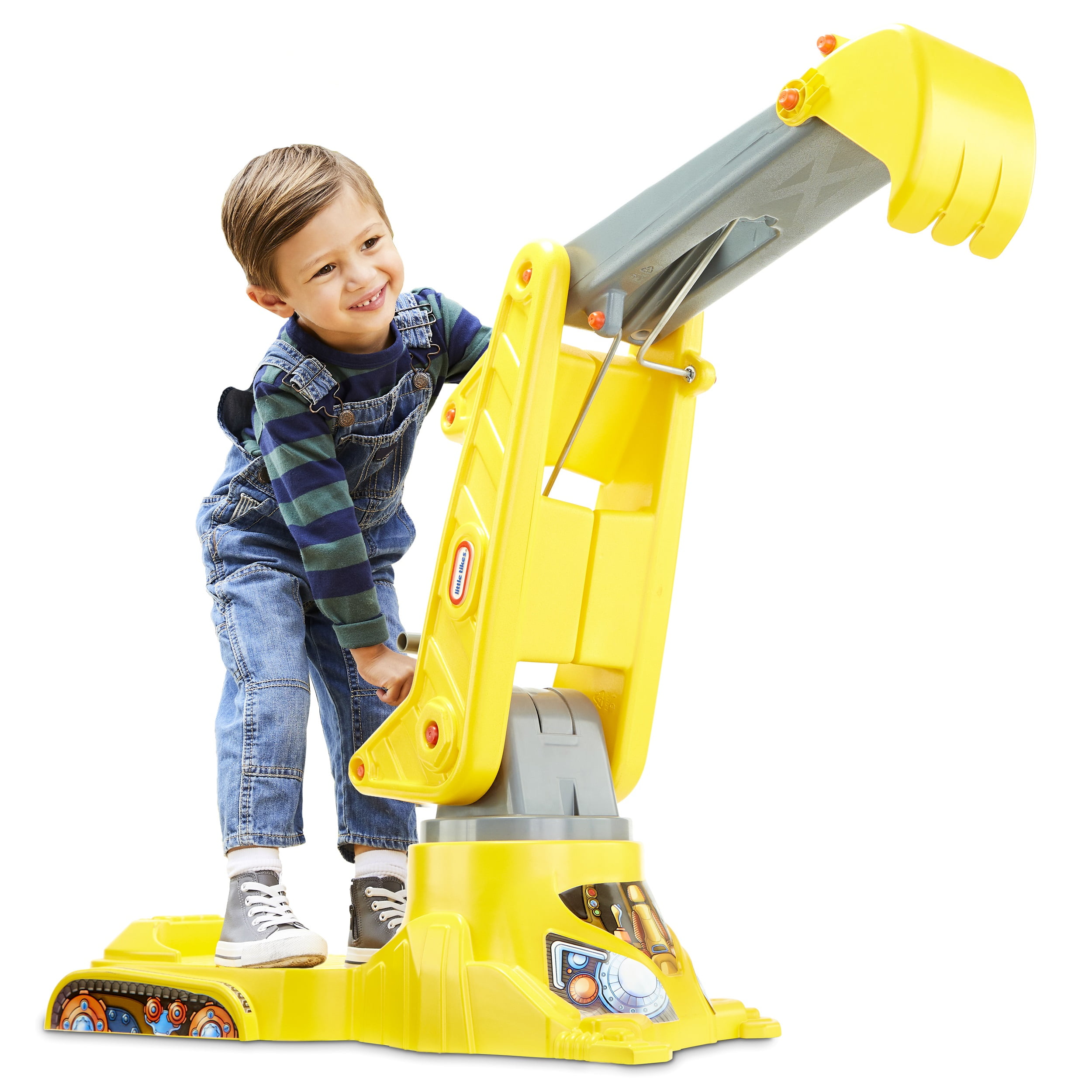 Another simple excavator set that does well outdoors is the one from Cat Toys Official. It's a simple excavator with a movable arm, a hard hat, and a few spades.
The excavator itself can be used indoors too but it is definitely more fun with sand. One great thing about the way this set is packaged and cheaper than buying all these items separately.
Best Excavator Building Set: Lego Duplo
When it comes to building sets you can't go wrong with Lego Duplos. The blocks are designed to be safe, and engaging and encourage critical thinking.
The thing about Duplo however is that they're highly addictive (especially since my husband is a big fan too!). Turns out you can't just get one Duplo set, you get a collection. One of the best sets that we have is the Duplo construction truck and tracked excavator.
The set is designed for kids to figure out that each piece has a specific slot that it has to go into so that they can form their excavator. It helps them understand and plan when it comes to construction.
It also has high role-play value since it comes with a truck and stones to move. The arm of the excavator is also movable, which you don't see in many Duplo sets (It is usually reserved for the more advanced lego sets!)
Best Remote Control Excavator: Double E
One thing is certain, excavators hold a kid's attention for years. Sometimes you just need to up the complexity of the toy. One great example is the remote-controlled excavator.
It's a product that is loved by both adults and children. I know because I love it too! With full rotation and moving arms, this toy helps a child learn more complex engineering techniques and the power of patience! The best part is that once it is ready, you can control the excavator with a remote!
Best Ride On Excavator: Play22
One of the best ride-on excavators in the market is this version pedal excavator. The child can maneuver through the area with his excavator, operate the arm to lift something, and take it elsewhere. The kids love it!
Play22 excavator makes kids occupied for hours of engaging play both as a solo child and as a group of children!
An upgrade from this model is XXXX with an accumulator battery. It also has attachments both in the front and the back which move and can be used to pick up objects. While it does have more functionalities, they make it very bulky. This particular model works best if you have a yard for your child to play in.
Best Battery Ride-On Excavator: Costzon
One of the best among the kids is the battery-powered ride-on excavator from Costzon. It's easy to drive with a pedal (my 1.5-year-old could do it) and the bucket can be operated with a handle too.
The product itself is fast and sturdy and holds a charge for a long time. The 6V is perfectly fine for younger kids, but if you're looking for something for slightly older kids 3+ then this 12V option might be better.
---
Frequently Asked Questions
What age are excavator toys good for?
Most excavator toys are aimed at children above 2 years of age. I would recommend checking the instructions and warnings on the toy before handing them to a child. Watch for any choking hazards involving small pieces, especially in excavator sets that need to be built.
What Skills Do Toy Excavators Work On?
Toy excavators are fun but they also provide a wide variety of educational benefits. If you look into it a little deeper, you will also realize that a child picks up some basic principles of engineering and technology. For one thing, they understand the utility of the excavator. The simple act of being able to pick up heavy things with it is actually a learning curve! These are the very core basics of STEM learning.
As they start using it, you will notice that the next step in play will be to move dirt or even small toys from one location to another. It may seem like an easy task but it's important to understand that a child has not developed the same critical thinking and motor skills as you have. This interactive play with the excavator toy also helps develop these areas which are vital tools in the later aspects of life.
My favorite skill however is social interaction. Children really need to develop social skills. Interactive toys like the toy excavators help children interact with each other and try to develop their problem-solving skills together too!
How do you choose the right excavator toy?
The best way to do this is to understand that toys like ride-on need space. While they can be used in the playground, it does become bulky to cart around. Space constraints have always been one of the factors that I look at when buying a toy. Another thing that should bear importance is the complexity and potential for long-term use.
For example, a remote control excavator may not be used well by a child under three, but a simpler one can be and it will also be repurposed for older kids.
What should I look for in an excavator toy?
Make sure that there are no sharp edges or small parts that can be a choking hazard. Ideally, look for a toy that has a long battery life (if it has a remote), is made of non-toxic plastic, and is durable!