If you have hit that phase where you transition from feeding your baby to the baby eating themselves, you are going to find yourself questioning what kind of spoons and utensils work best for self-feeding. Obviously, you might start spoonfeeding the baby yourself in the beginning or practice baby led weaning when the baby uses hands to shove everything into their mouth.
But, sooner or later you might want to introduce the baby to the spoon or fork, and later even a knife (around 2 years). Both of my kids grasped the idea of feeding themselves with a spoon around 7 months respectively. At first I thought cute items were the best, but I quickly learned that even something like a spoon can be designed to help a child be more independent.
Considerations When Buying Spoons & Utensils For Self Feeding
Before we start off talking about all the different kinds of spoons and utensils for self-feeding, let's take a peek at what you should look for when buying one. After all, you want the item to be safe and easy to use.
Sharp edges: It should go without saying that any utensil or spoon should have smooth surfaces. This is particularly true when it comes to forks. Baby and toddler forks have wider (and duller) spokes and are built that way to avoid injury.
Size: One important thing that you should note is that a child's hand is smaller than your own which means that they would require crockery that is sized appropriately. The spoon also needs to fit into their mouth easily or it will discourage the child. They can eventually graduate to your normal silverware, but that will take some time. If you are wondering what a child-sized spoon is then think about a teaspoon size or slightly bigger.
Easy to clean: Many of the cool-looking spoons have a lot of ridges which make them difficult to clean. I prefer simple smooth-edged cutlery.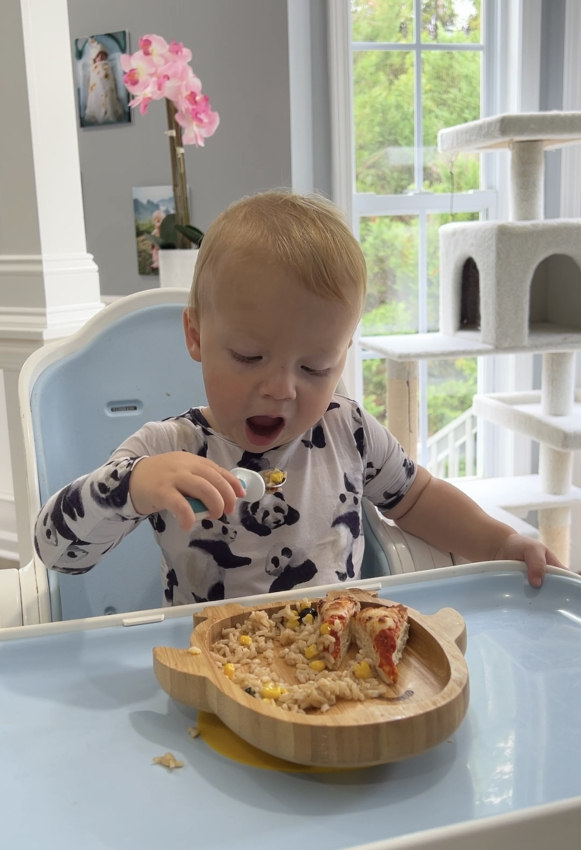 I absolutely love this spoon for more reasons than one. It meets all the requirements that one would want with a feeding spoon and it is aimed at children 4 months and above.
The deal sealer however is how it can be used as a teether as well. My babies loved rubbing their gums with it and it was a great way to start them self-feeding. They initially dipped it in food which added flavor to the spoon (I only realized this later!) and kept rubbing it along their gums. Plus it is easy to sterilize too!
Best Spoon With A Looped Handle – Itzy Ritzy Silicone Spoon
You know how kids always drop things? Extremely smooth edges spoons tend to have this issue which is resolved with a spoon with a looped handle.
I usually don't like patterned spoons but I make an exception. The looped handle helps a child develop coordination and grasp. I usually use a brush for the handle when it comes to cleaning. To date that has worked remarkably well.
Best Parent Led Weaning Set – Olababy
If you are looking for something for that weaning period that works for both you and the baby, I highly recommend the Olababy weaning set.
It's a little unconventional in its design but it definitely works. It comes with a feeding spoon that is designed for the parent's hands, a training spoon that encourages self-feeding (or makes the child stop screaming when you feed them messy food because they're holding "the same" item) and a steamboat bowl. The bowl in this set has a suction base which is a must for a child under 18 months.
If you have already started giving your child a spoon you will immediately notice that a lot of the food gets dropped off during the move between the plate to the mouth. Lots of kids find it extremely frustrating and would eventually just give up.
The NumNum Pre Spoon was a great solution at this stage. They're designed to capture and hold the food so that the child only has to concentrate on moving the spoon to the mouth.
Balancing the food on the spoon is something that he/she can learn at a later date. This spoon also comes with rough edges that help with soothing the gums during the dreaded teething phase.
Best Stainless Steel Fork/Spoon With A Plastic Grip – Munchkin
At some point you will want to move the child away from silicone and onto something similar to traditional silverware. I tried moving my kids directly to it but the metal tends to slip out of their hands.
A great intermediate is a metal spoon with a plastic grip and if this is what you are looking for then I highly recommend the ones by a brand called Munchkin – it's my personal favorite. Easy to clean, no sharp edges and vibrant colors make it perfect.
The last phase before moving on to adult cutlery is miniature cutlery. Think of stainless steel spoons and forks in child-size.
My kids were extremely proud of themselves when they reached this phase. They call them big person's spoons. I find the Annova Kids silverware great for this stage.
---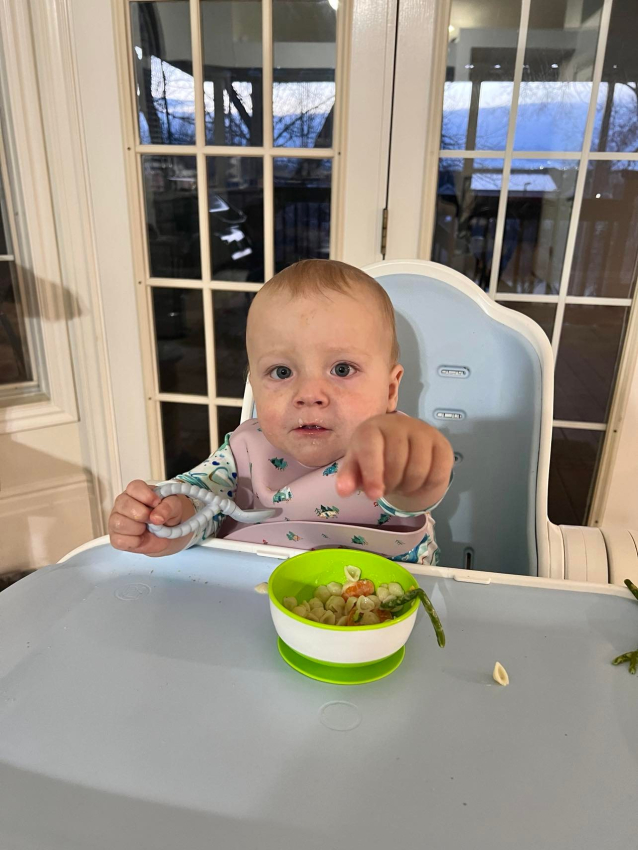 ---
Frequently Asked Questions
At what age should a child use a spoon?
I think that the child will give you an indication of when he/she is ready to graduate to a spoon. Most children start exploring the option at around 10-12 months, but some parents might want to give a spoon to try straight away and some children get it at 6-8 months. Some however prefer to continue to use their hands for a while.
One thing that you should keep in mind however is that at an early age don't expect perfection. It's all about exploration. You are going to have messes, dropped food, dropped spoons, chewing of the spoon etc. It's all part of the process.
How do you teach self feeding with a spoon?
This is a bit tricky. Most kids will automatically imitate an adult. My oldest needed a bit of encouragement, but my younger child was well on his way at an earlier age because he wanted to copy everything his brother did. 
Make sure your high chair has a footrest, so the baby can focus on eating more – read more about it here.
One great tip is to talk to your baby while using the spoon. Explaining how it works. You will be surprised how much a child picks up from verbal conversation. 
Can babies use metal spoons?
Babies haven't developed the requisite gross motor skills in order to use metal spoons. They can hurt themselves due to this. To avoid these, use silicone spoons which are easier to grasp and better suited for their age.