Finding the best high chairs for babies is an important part of keeping them safe and sound, along with keeping you sane. Once you start transitioning your baby to solid food, you will need a baby high chair that will help you keep your hands free to be able to focus on feeding your little one.
When there are so many options out there, it's hard to know what will work for your family – especially considering that high chairs range from $15 to $300. This list will help you decide what high chair is right for your baby.
---
Tips for Choosing the Best High Chair for a Baby
There are actually many high chair products on the market, but not all of them are created equal. We moved across the ocean twice with both kids, so I got to try many different high chairs as we had to rebuy one every couple of months.
Safety: The safety of your baby is the most important factor to consider when choosing a high chair. Look for chairs from a reputable company, that has a sturdy base, a secure harness, and a locking mechanism to prevent the chair from collapsing.
Comfort: Your baby will be spending a lot of time in their high chair, so it's important to choose a chair that is comfortable. Look for chairs with padded seats and backrests and adjustable footrests to ensure your baby is in a comfortable position.
Ease of Cleaning: Babies can be messy eaters, so it's important to choose a high chair that is easy to clean. Look for chairs with removable, machine-washable seat pads or those without pads, and trays that are dishwasher safe.
Adjustability: Babies grow quickly, so it's important to choose a high chair that is adjustable to accommodate your baby's changing needs. Look for chairs with adjustable seat heights, footrests, and tray positions.
Portability: If you plan on using your high chair in multiple locations, look for chairs that are lightweight and easy to fold for transport.
Durability: High chairs can be a significant investment, so choose a chair that is built to last. Look for chairs made from sturdy materials such as wood or metal.
Style: High chairs come in a variety of styles, so choose one that's timeless and fits your personal taste and complements your home decor.
By keeping these tips in mind, you can choose the best high chair for your baby that will provide a safe, comfortable, and enjoyable mealtime experience for both you and your little one.
If you plan on having more than just one kid, investing in a durable high chair will pay for itself in the long run, as you can pass it down to your younger child, once ready.
---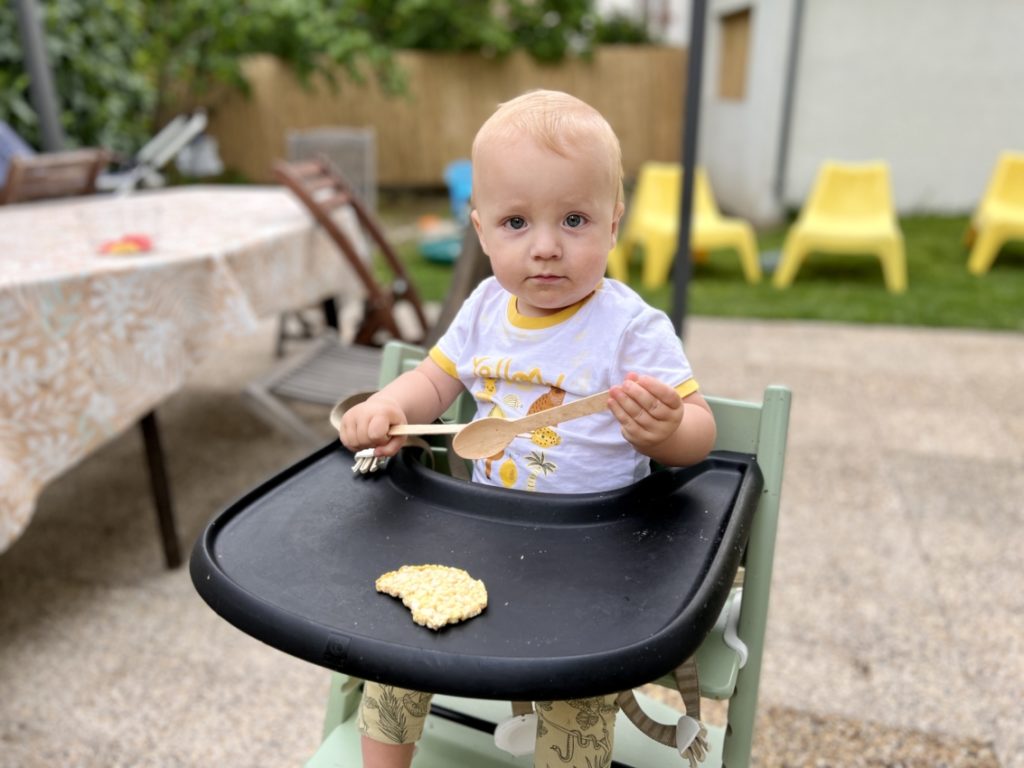 Best High Chairs for Baby
Picking a good, safe, and comfortable high chair for your baby is as important as picking a perfect baby stroller. I understand how hard those decisions are to make, especially with all the brands currently available.
All of the choices mentioned below are great options, each with its own unique positives. Be sure that you read reviews before purchasing a high chair. Reading reviews from real parents who have used the product is priceless. It will be a huge help in deciding what high chair to buy.
---
With an almost perfect review score, you'll see why parents agree that this high chair is a must. Not only is it modern and sleek looking, but it's designed to grow with your child as they grow.
From babies to toddlers, this can be their chair – and their chair only! Forget about having to buy multiple items and get everything you need for the next few years with this high chair purchase.
Even though it's a pricy chair and for a long time I thought it was simply not worth the price tag when I finally used it I realized that it's a great chair.
PROS:
Perfect for babies up to adults
It has a 5-point safety harness
Simple to wipe down and to keep clean
Timeless design
CONS:
Expensive & requires extra accessories like a harness
Heavy
Straps can be difficult to clean
If you have uneven floors this chair won't work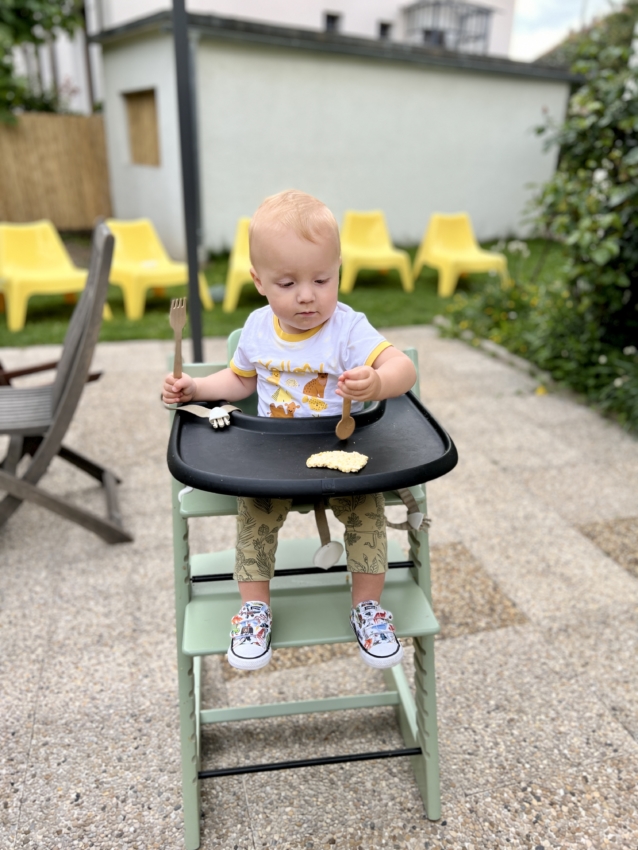 ---
Easiest to Clean Baby High Chair: Oribel Cocoon
Oribel Cocoon Z replaced the older model of Oribel Cocoon and added some improved option that was (and still is) a great high chair. I owned both versions so can attest to that.
It's been our second favorite high chair as it's much easier to move around than Stokke Tripp Trap. Nothing gets stuck between cushioning because there are no cushions (but you can buy one) and it's still been looking pretty slick after years.
Not only does it look high-class, but it's also very comfortable and versatile. It can be used from birth as it reclines like a stroller.
---
PROS:
Has different reclining positions to keep your little one comfortable
Toddler can get in and out by themselves
Simple to wipe down and to keep clean
Timeless design
Easy to move and lock in place
CONS:
Expensive
Heavy
Straps can be difficult to clean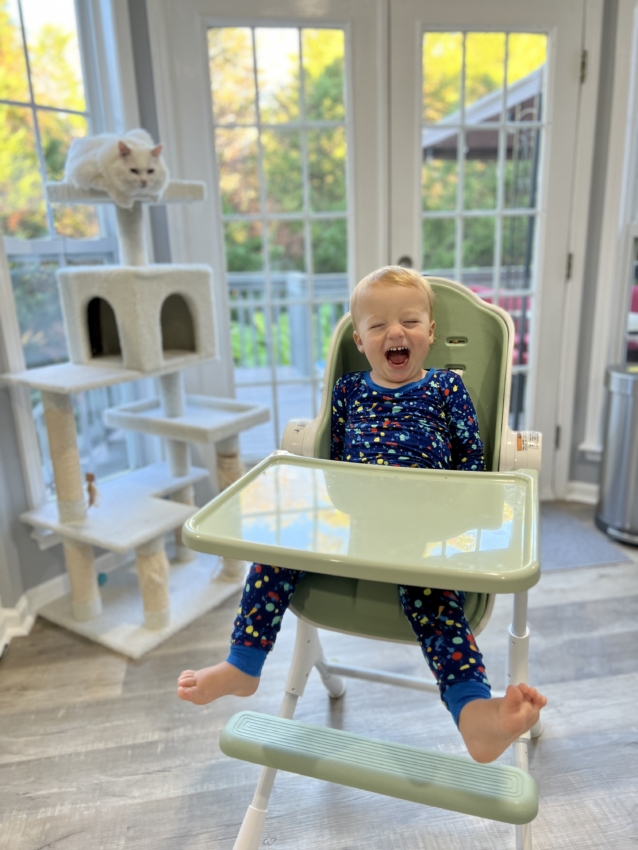 Best Affordable Baby High Chair: Ikea Antilop
Just like all Ikea products, they created a high chair that takes up as little space as possible while still being extremely efficient.
The chair is easy to assemble and clean, with a sleek and modern design that fits well into any home decor. Although the Antilop does not have as many features as other high chairs, its affordability, and practicality make it a great option for families on a budget.
Its lightweight frame makes it easy to move around, and its adjustable tray can be removed for cleaning or to allow the child to sit at the table.
It was our first high chair ever and worked great when the child was under 12 months. Late I felt that it became too small and didn't leave the option for a child to get in by himself so we switched out.
PROS:
Inexpensive price point
You can purchase an extra padded seat cover to add comfort to your baby
CONS:
Footrest has to be bought separately
Children can't get in and out on their own
Might be too small for chunkier babies quickly
---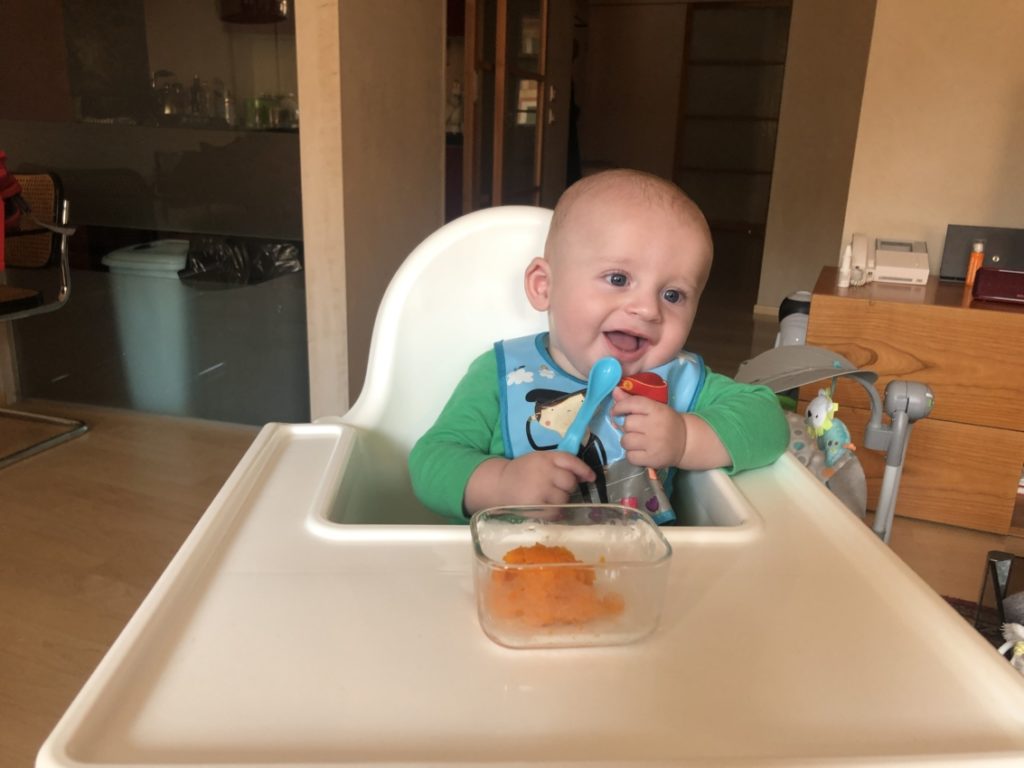 ---
The Most Versatile Baby High Chair: Graco DuoDiner
What I love about this high chair is its machine washable pad. That is a great option to add a fun look to the high chair with a color pad or print, but then be able to clean it right at home easily.
Although comfortable, crumbs do get stuck under the cushions so you need to remember to vacuum it all the time.
We personally loved that it was easy to get in and out for the child. It's also very simple to fold up and store so that it's out of the way.
PROS:
Adjustable size
Very comfortable and soft
Affordable and simple to put together
Toddler can get in and out by themselves
Perfect for toddler transitions by using it as a booster set for the table
CONS:
Expensive & requires extra accessories like a harness
Seems great at first, but can be replaced with a weaning table
Straps are difficult to clean and food can get under cushions
---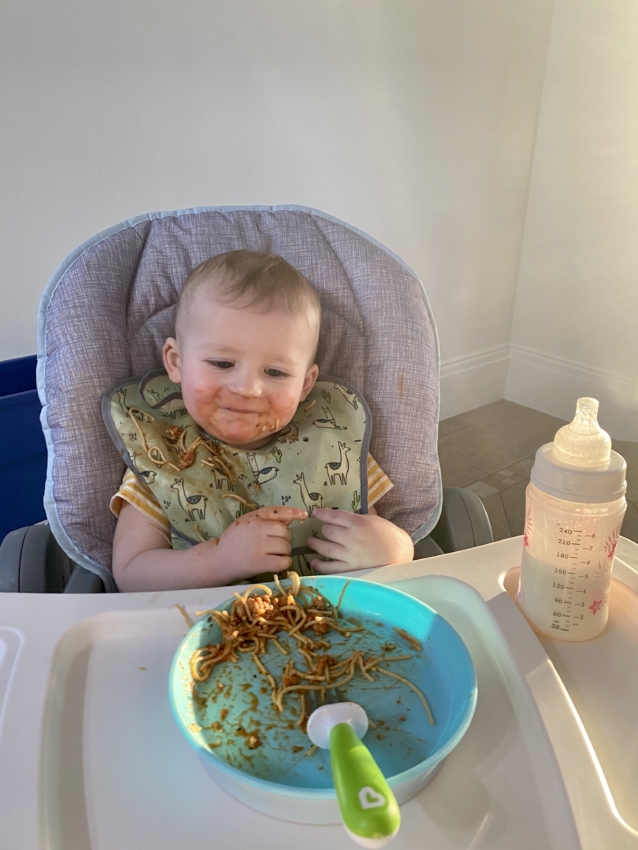 ---
Best Convertible Baby High Chair: Ingenuity 3 in 1
This high chair is really great to have in a home with all-wood floors. The added wheels on the bottom are great for mobility and easily move the high chair from one location to the next.
As your baby grows, it will transition from a high chair to a booster seat and then to a toddler chair. Talk about a great bang for your buck!
The soft seat and footrest add more comfort
Easy to move around the kitchen with 360° wheels
Great quality-to-price ratio
---
Trendiest Baby High Chair: Lalo
If you want to add a high chair to your space that doesn't look like a typical high chair, this is the one you need. It has a very modern and sleek look, with wooden legs that make it fit seamlessly with the rest of your home decor.
With the neutral coloring toned down, this high chair is anything but boring. It's a great shape for comfort and was created to be efficient and simple to keep clean.
It has a flip-up footrest for comfort
Supports up to a 3-year-old child
Can hold up to 200 lbs
---
Best Wooden Baby High Chair: Abiie Beyond
When it comes down to sturdiness, nothing beats plain old wood. I am a big fan of wooden toys and accessories for kids.
They are nicer to touch and to look at, and a lot more long-lasting. What's great about the Abiie Beyond Wooden high chair is its footrest which can be adjusted as your baby continues to grow.
It's basically a cheaper and more cushioned version of Trip Trapp high chair.
Comes in 8 different colors
A dual restraint system for extra security
Comes with s 3-year warranty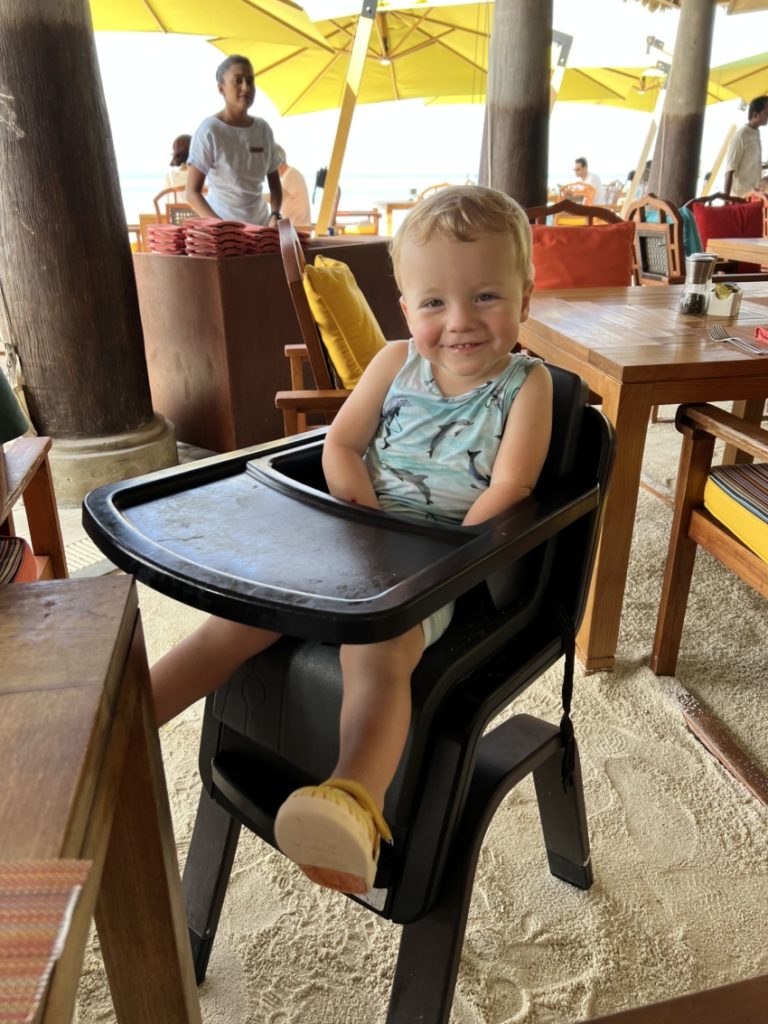 ---
---
The portable travel high chairs are a category of their own. This high chair is a great option for mums and dads who, like me, are often on the go.
The Contour 2-in-1 Baby Booster seat also works as a diaper bag and it packs small enough to fit into a carry-on.
Doubles as a booster seat and backpack diaper bag
The booster seat for the table is water-repellent and machine-washable
Grows with a baby and can also be used for toddlers
---
---
---
Frequently Asked Questions about High Chairs for Babies
Are 4 months too early for a high chair?
Typically, yes but it depends on how fast your baby develops – some babies can sit up at 4 months and some can't do it until 8 months. If you read the directions and manuals that come with the high chairs, most state that they're made for ages six months and above, but the timing is approximate (same with stroller seats).
This is because babies are still developing their neck muscles at a young age, and by 6 months of age, they should have a stronger neck and core to be able to sit in a high chair without slouching.
Can you use a Bumbo as a high chair?
The Bumbo seat is meant to be used on the floor surface for a quick feeding, not everyday feeding. It's also simple to take on the go and really easy to clean, too.
Bumbo did get a bad rep for a while because people were using it on the counters and putting their babies at risk, but I know many in-home daycares are still using Bumbo to feed the youngest babies in the class.
Why do babies need footrests on a high chair?
Not all high chairs have a footrest, but it's nice to have it as an option. It gives the babies a bit more support on their feet and an overall more comfortable seating position. That way, they can focus on eating more.