Sledding is one of the most fun (and cheap) winter activities you can do with your family. The great thing is that you don't need to pay for an expensive vacation to the Alps if you have any small, snowy hills in your surroundings where you can use toddler sleds. 
Kids of all ages can have so much fun sledding on their own or with an adult, and an added bonus is that walking up the hill each time is a great way to burn off some energy!
At What Age Can Kids Sled?
Children can start having fun riding sleds as soon as they can sit up on their own, so sometime around 8 months of age. Naturally, the sled for an infant has to be infant appropriate and they won't go far. Make sure your kid is properly secured in your grasp and rugged up in a good snowsuit to protect against the cold!
Toddlers and preschoolers can have fun sledding, but usually with an adult's help, or with an adult on bigger sleds.
Depending on your child's size and skills, most children can start sledding on their own from age 3 or 4. Most sledding places will let kids 4 and over sled on their own.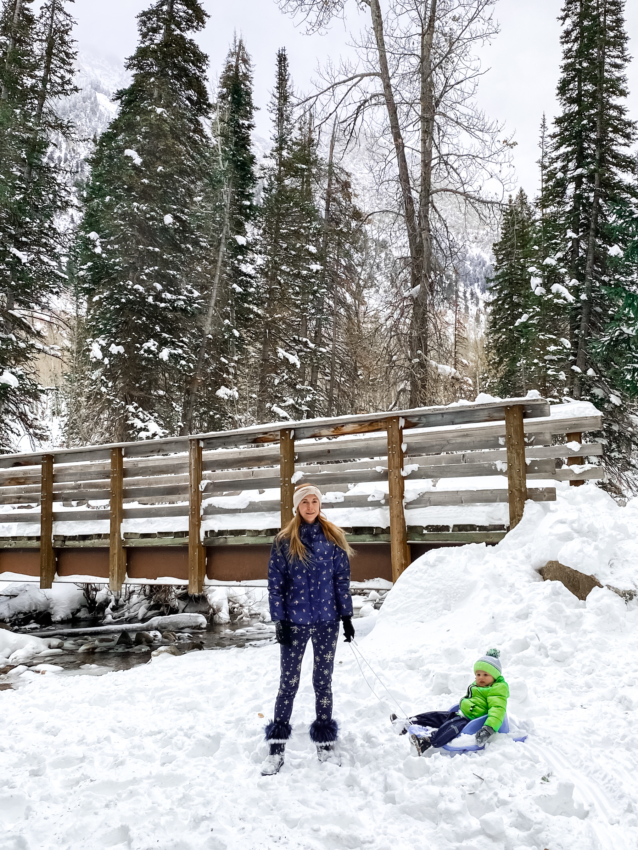 What Altitude is Safe for 1 Year-Old?
For babies under 1-year-old, it is generally recommended not to take them above 6,560 ft (2,000m) of elevation. This is because children exposed to high altitudes at very young ages are at risk of ​​subacute infantile mountain sickness.
It's particularly important to avoid altitude with babies in the first 3 months as their lungs are not yet developed enough to cope with the change in oxygen levels.
---
Best Snow Toddler Sleds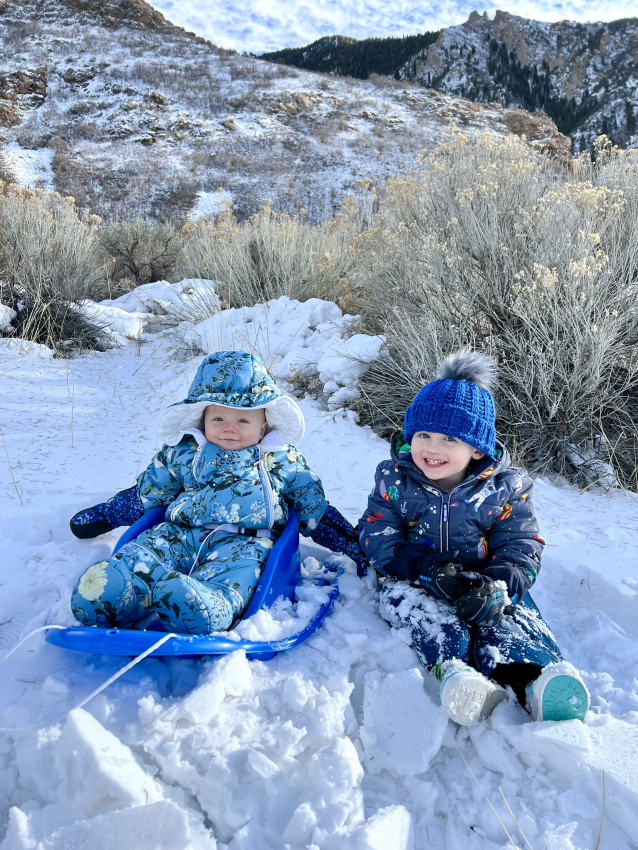 These inflatable snow tubes are super comfortable and incorporate a generous seat so the kids don't fall through the tube and have their bottom dragging on the snow.
Because of the seat, these tubes can be used by kids of all ages although they are mostly suited to older children who will fit in properly.
The handles make it easy for children to hold on as well as to drag it back up the hill themselves. Also since these are inflatable, they are pretty light making it much easier to transport to the top.
However, since these snow tubes are inflatable, it also means they are prone to leaks. They claim to have upgraded the material however some people mention their tubes deflating after some runs.
Light and easy to carry
Faster than plastic sleds
Can get an air leak
The molded seat and belt strap make the Flexible Flyer the best snow sled for the youngest kids as it can support them in the seated position. The seat even has a little padded section for extra comfort making it one of the best toddler sleds on the market.
While I wouldn't recommend sending your baby down a hill on their own, this is a great sled for pulling your younger ones around on the flat, giving them an early feel for the fun of sledding.
The suggested age on this sled is 0-2 however it's pretty small so depending on how your children grow, they may grow out of this one quite quickly.
Molded plastic, padded seat
Seat belt
Pull along rope
Slippery Racer – Best Snow Sled with Brakes
This toddler sled is for those kids who have a need for speed! 
Given that this one is designed like the race car of snow sleds, I would only recommend it for children who are around 4 and with enough dexterity to fully control it. 
The Slippery Race is based on a single ski which is controlled by a steering wheel. There are also two hand breaks that your kids can use to control the speed as they go down. But of course, these only work to a certain extent – don't go trying to fly down a vertical slope!
Being made from plastic, this sled is pretty solid in freezing temperatures. But, some people have reported that it's not really suitable for older kids (7 and above) as their weight may cause the plastic to become more flimsy.
It also includes a pull rope to help transport it to the top of the slope but I would avoid using this to pull the sled along while your children are sitting on it. The rope is attached directly to a hole in the plastic which can break under heavy stress.
Controlled by the steering wheel
Sturdy plastic which can handle cold temperatures
Includes 2 hand breaks
Best suited to 4+ years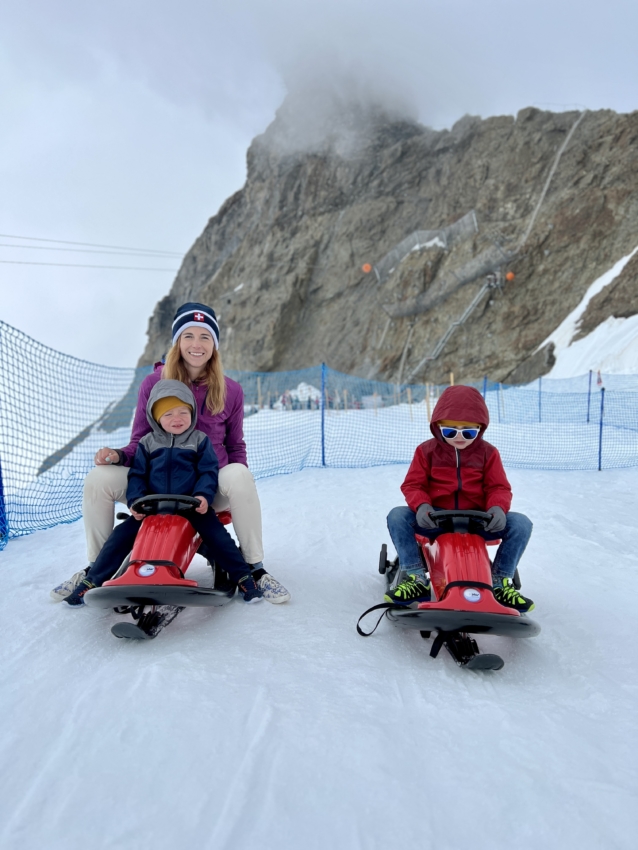 ---
If you're just looking for a cheap sled that will get you down the hill, the Slippery Racer Downhill is the best budget snow sled I found.
I'ts a simple design is light and can fit multiple children or even an adult with a child in front. This means that the sled can grow with you and your family throughout the years. 
The sled is made from a thicker plastic than many of its budget competitors meaning it will last much longer (thinner plastic sleds are prone to snapping very easily in cold temperatures).
It's also coated with a cold-resistant treatment which is meant to make it slide faster downhill no matter the snow conditions and people report that the Slippery Racer Downhill seems to be much more stable than other similar sleds on the market meaning you are less likely to flip over.
Made from durable plastic
Can fit multiple people
Cold-resistant treatment for better gliding
The thicker material and large size of the GoFloats Winter Snow Tube make it the best snow sled for parents. The outside is also coated with a special treatment that helps the tube slide better on all snow types so it's quite a fast one!
We love the variety of animal patterns to choose from and these sleds certainly turn heads on the slopes!
These tubes however are not really the best tube for younger kids, as their light weight will not be enough to keep them on the ground if they hit a bump. So this is best suited to older children or parents riding with their kids.
Cool animal shapes
Best for older children or parents
Thick material and large size