If you live in a cold climate, then choosing the best toddler snowsuits is an important decision. A toddler's snowsuit must be able to handle the wet and cold outdoors but it also has to be comfortable and stylish. Whether your child is in a stroller or walking around, they will need a snowsuit to keep them warm and cozy in cold weather.
---
Choosing the Best Toddler Snowsuits Tips
Naturally, size is the primary concern but here are some other criteria for choosing the best toddler snowsuits.
I think in the US people still associate a "onesie-type" snowsuit with babies and then move on 2-pieces with snow pants and a jacket, because when it's cold or wet kids don't spend much time outdoors unless it's for sledding and snow can still get inside for a clumsier child.
In Europe, it's pretty common for a child 3, 4 or even 7 year old wearing a one-piece snowsuit. I wore it myself when I was a kid. As we almost moved to Norway I noticed that 2-piece snowsuits are actually forbidden from many daycares, because in Scandinavia children play outdoors most of the day, regardless of the weather and must wear one piece snowsuit to stay dry.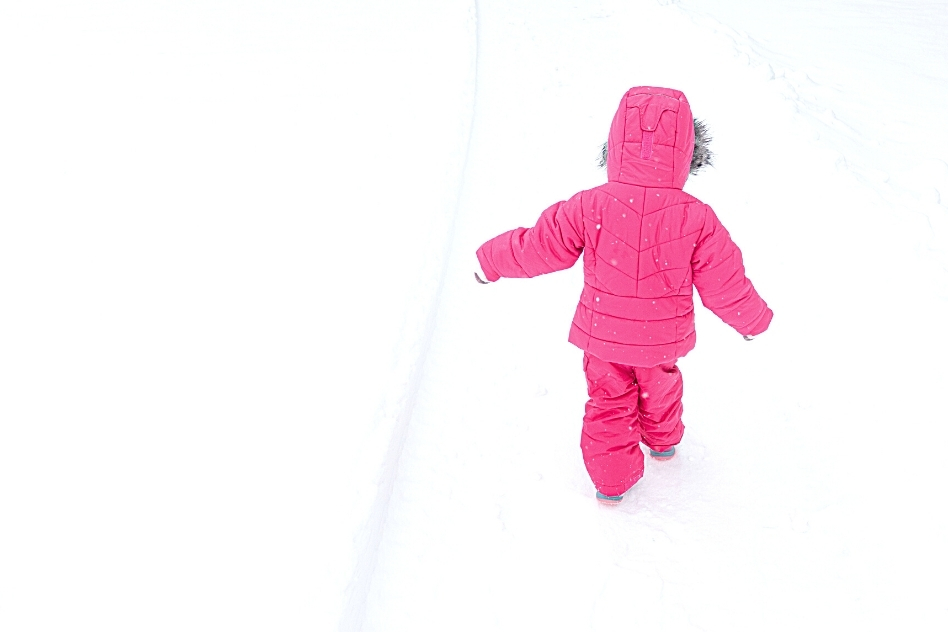 Type of Fabric
Snowsuits should be much more rugged than a jacket so that they can withstand the elements. Waterproof or water-resistant fabric is absolutely necessary. However, I advise again water-resistant fabrics, because in really wet and bad weather they might not work well enough.
The level of durability depends on the age of the toddler. Fleece works well for babies who are not walking because they're not rolling in the snow and will also be snuggled in a stroller, but that type of fabric won't work under full exposure.
Ease of Wear
You need a snowsuit that's easy to put onto your child. Most of the best models have a zipper that runs along the entire length of the snowsuit. This makes it easy to put on your child and easy to take off. Especially if your child is potty trained already.
Reputable Brand
I'm the last person to tell you to go for branded things, but unfortunately, it matters. All the time I'm finding snowsuits and other baby clothing items that have thousands of good reviews, but unfortunately, most of them are fake (so read the last ones from real people).
---
Age: 0 to 5 Y
Colorful designs meet a sleek trend that protects against the cold but isn't bulky.
And it won't break your budget either! This snowsuit comes with all of the quality you'd expect from a snowsuit without costing a fortune (it's similar to this one from Carters, but holds up longer actually).
The suit comes with a full-length zipper with flaps that fold over to protect your child's feet and hands.
It's perfect in the stroller for a baby or as an underlayer. Not for rolling in the actual snow, but keeping your little bub warm.
PROS
Affordable
Full-length zipper
Sewn-in permanent ID label to add your contact info
CONS
Not wind or water resistant
Zipper only unzips one side
Fleece Romper Bunting Suit
Check other reviews and current prices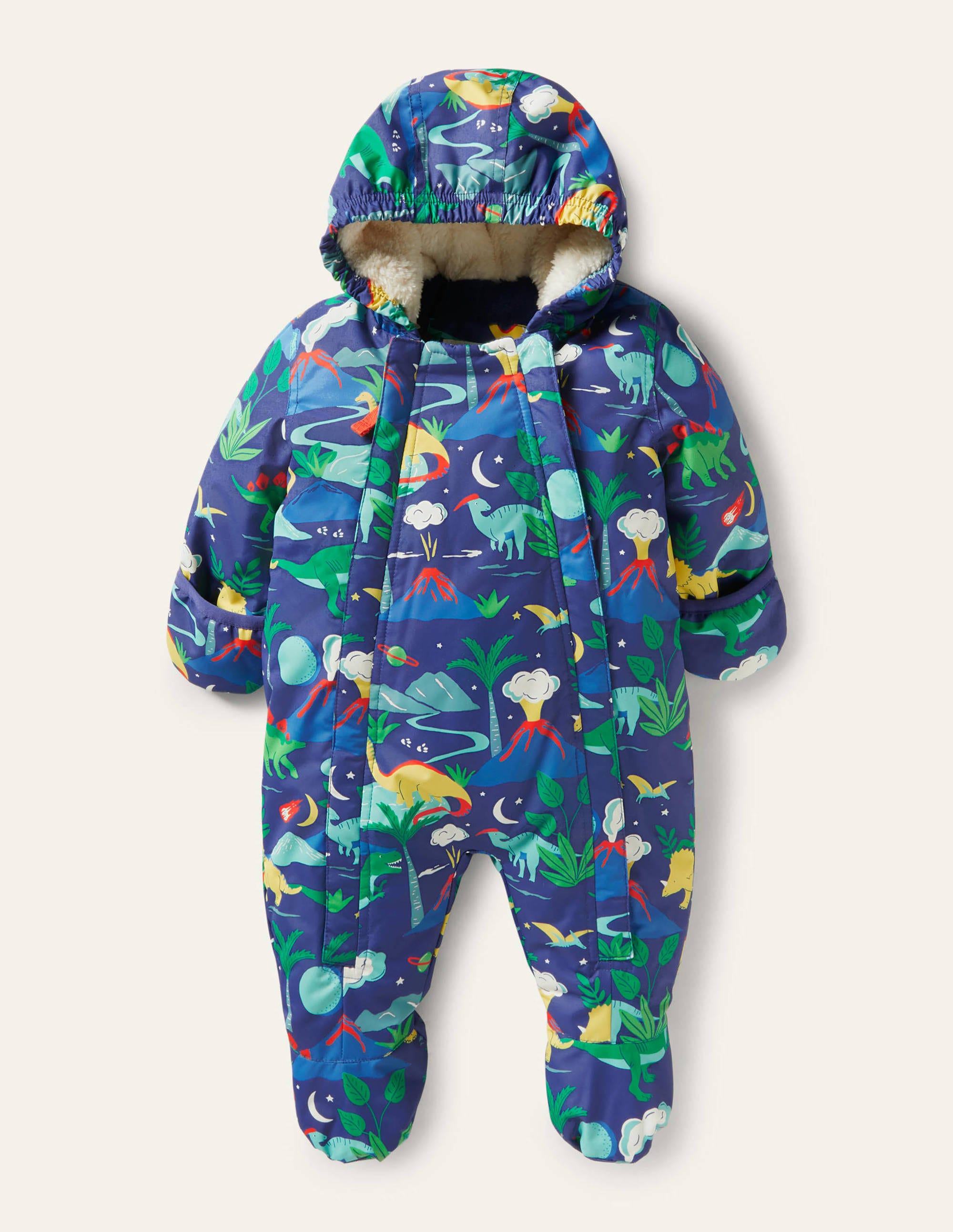 Age: 0 to 3 Years
The Boden Cub snowsuit is warm and snuggly so it will protect your child from the elements.
It's completely waterproof and very snuggly, so might not work for a milder climate.
With that said, this design comes equipped with attached mittens and a hood lined with fleece in smaller sizes.
Keep in mind that Boden runs slightly large. My very big 2-year old (who's an average size of a 4 year old) can fit into 18-24m comfortably, so I recommend sizing down.
PROS
Snuggly
Machine washable
Attached mittens and hood for baby sizes
Two long zips on the front
Boden Baby & Toddler Snowsuit
Check other reviews and current prices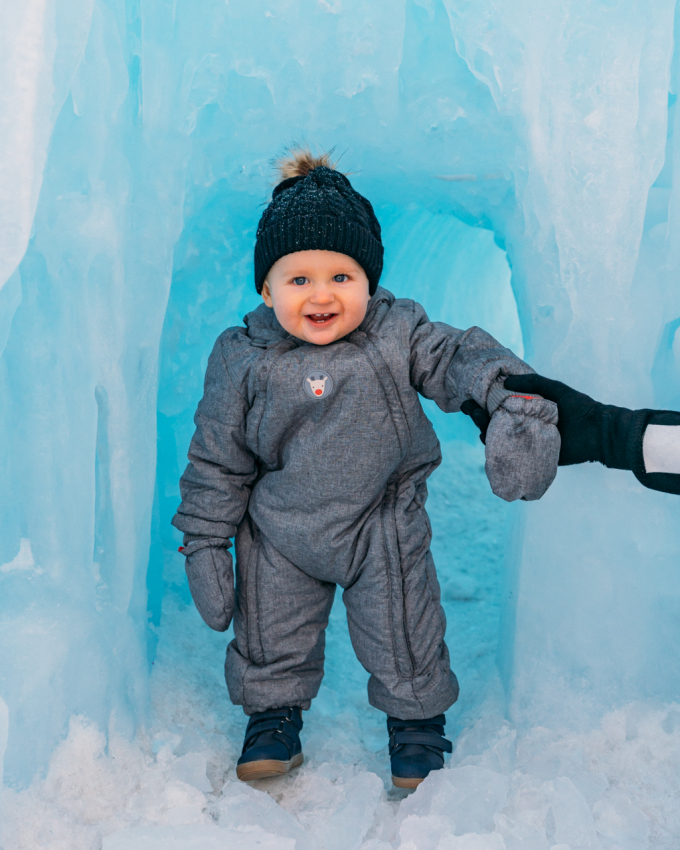 ---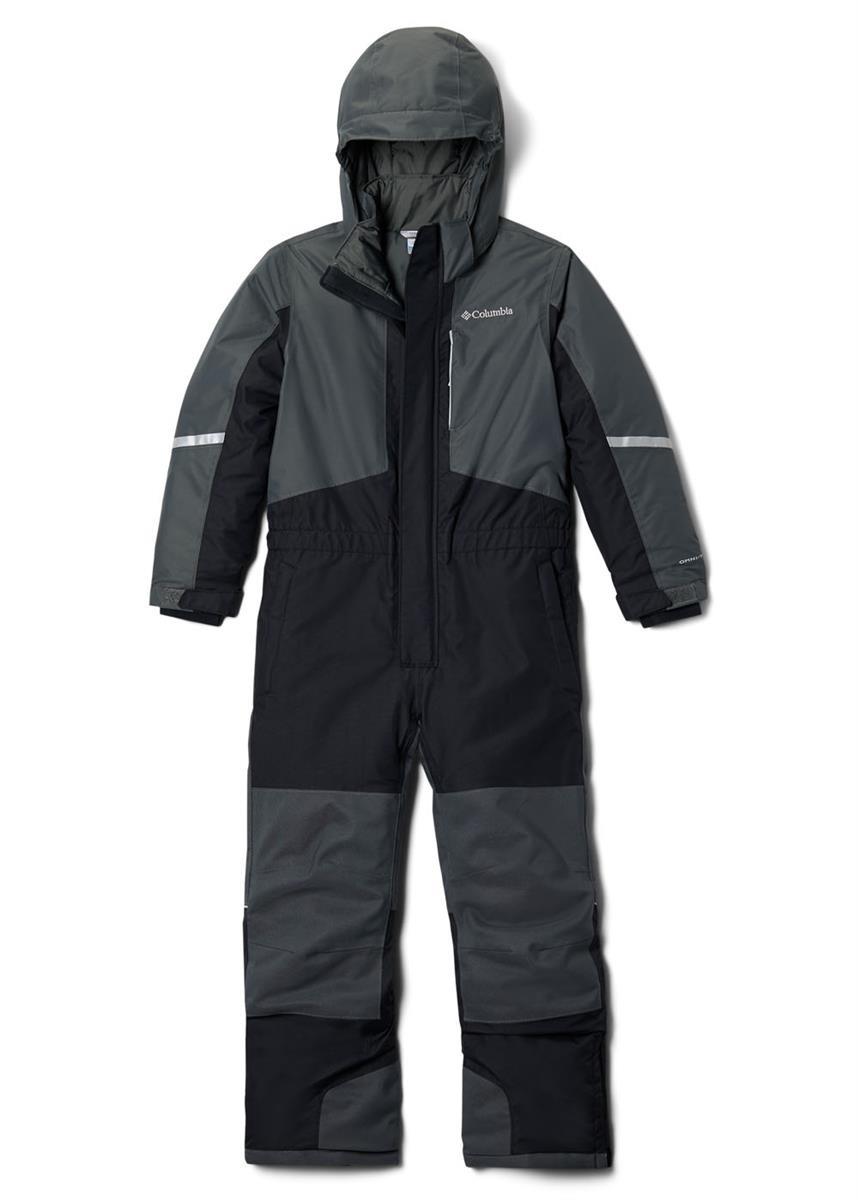 Age: 6 to 24 Months + 2T to 10Y
The Columbia Baby Buga is incredibly sleek and heavily resistant to the elements. Plus it's one of the most comfortable toddler snowsuits on the market.
It's equipped with a full-length zipper and hand pockets that make it a convenient choice.
The only downside is the price tag but for all of these benefits, you will get a bang for your buck! Plus, Columbia kids' clothes have insane resale value and you can surely get 50% back once your child outgrows it.
They have the same exact model as one for babies and small toddlers for older children with big sizing.
PROS
Extended outgrown hands and pants system
Hand pockets
Waterproof
Perfect for active weather
Columbia Baby Buga Snowsuit
Check other reviews and current prices
---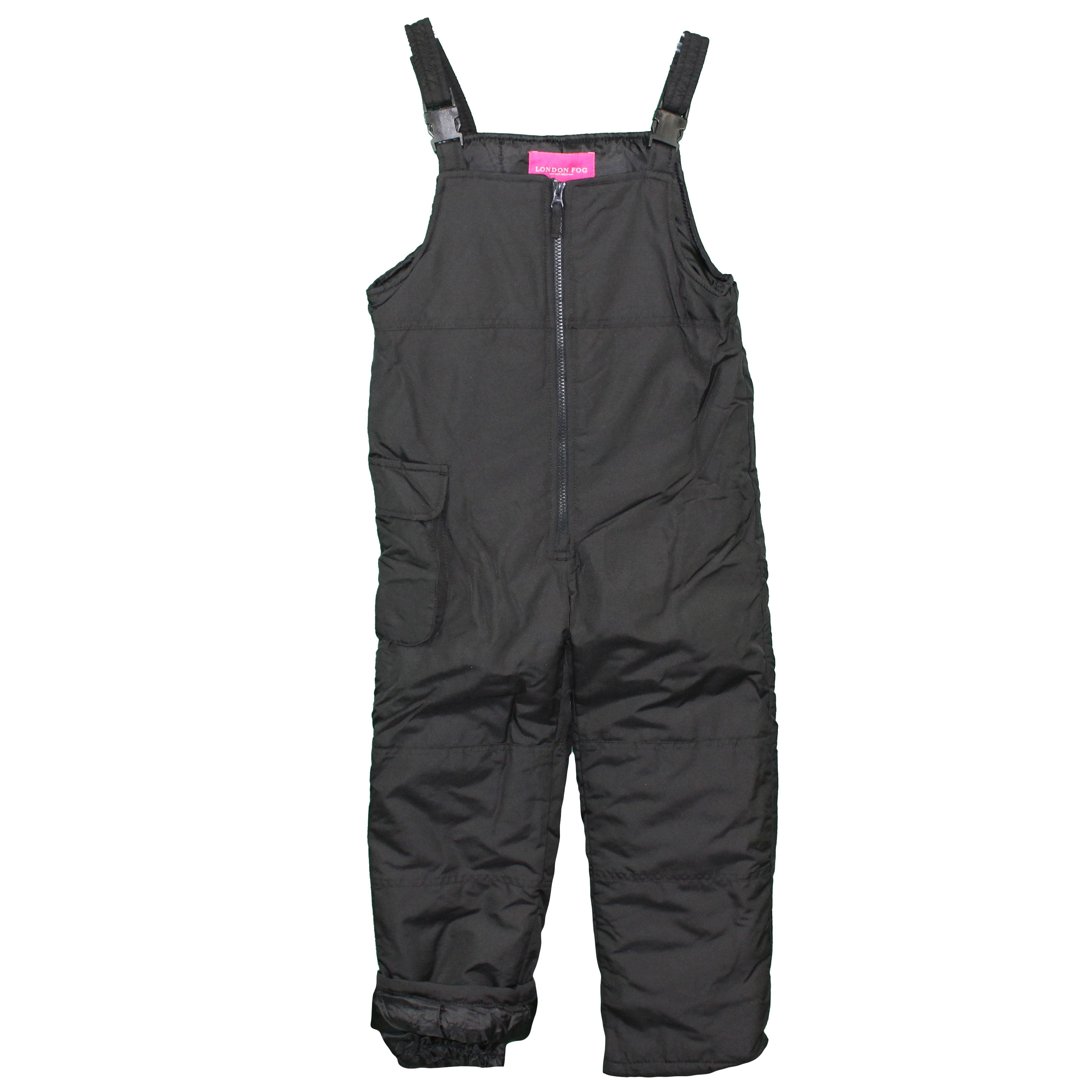 Age: 2 to 12 years
This is the most versatile snowsuit on this list and comes in a ton of different designs.
More importantly, it's comfortable and provides enough protection for your precious little one playing outside.
Keep in mind that knees are not reinforced, but they're enough for most kids.
This is the perfect choice for parents who need everyday snow pants at a price that won't destroy their budget.
PROS
Pull-on and off is easy
Machine Washable
Adjustable straps and ankle gaiters
CONS
Knees not super reinforced
Must be matched with a jacket
London Fog Toddler Snow Pants
Check other reviews and current prices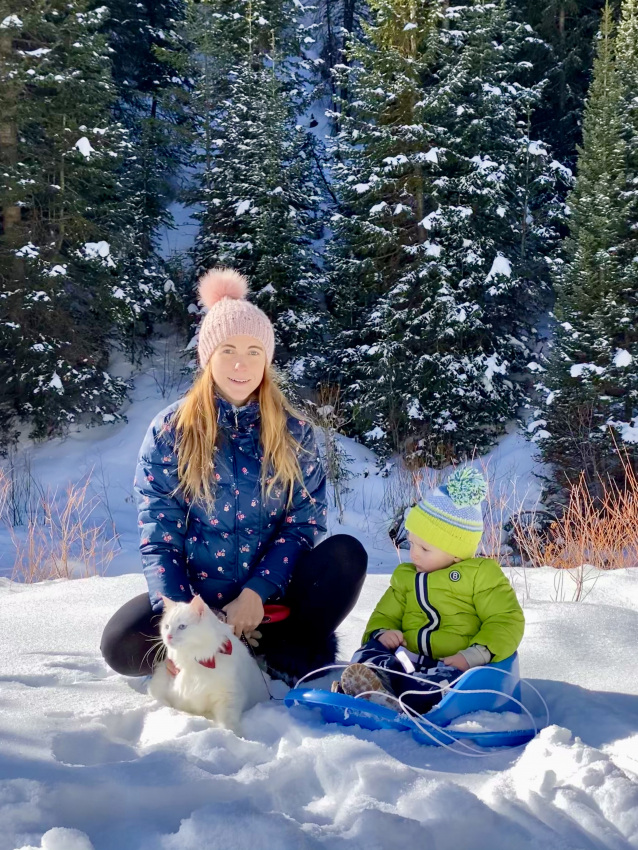 ---
Age: 3T to 12 Y
This snuggly snowsuit is highly waterproof without sacrificing comfort.
It's one of the most affordable on the market for the amount of quality you receive.
The Bluemagic snowsuit also comes in a variety of colors, making it a great fit for just about any wardrobe for boys and girls, as well as adult sizes.
Your toddler will love the way the fleece feels against their skin.
Fur detaches, it's easy to put on for the kid and has lots of pockets.
PROS
Adjustable sizing
Wide range of colors
Wind and fully waterproof
Butt opening on the back
Adults can match the kids
CONS
Only comes in larger sizes
Bluemagic Kids Snowsuit
Check other reviews and current prices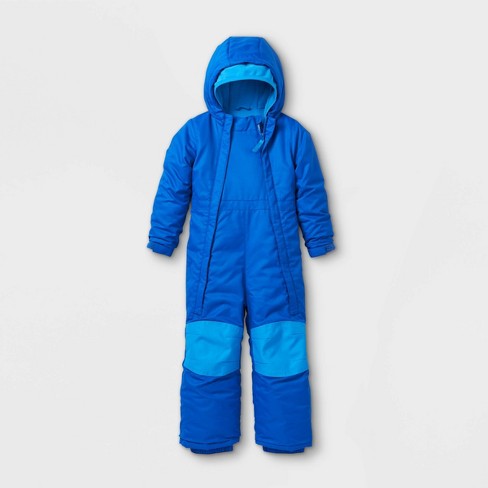 Age: 0 to 7 years
This snowsuit is perfect for those looking for an affordable option (everyone loves Target, isn't it right? 😉 ).
It's not going to provide a ton of insulation for babies & toddlers in extreme cold. But the price reflects this limitation.
Otherwise, this sleek design is quite comfy and is easy to put on and take off your child.
PROS
Both sides open
Reinforced knees and bum
Cheap
CONS
Needs underlayer
Sells out fast
Cat & Jack Snowsuit
Check other reviews and current prices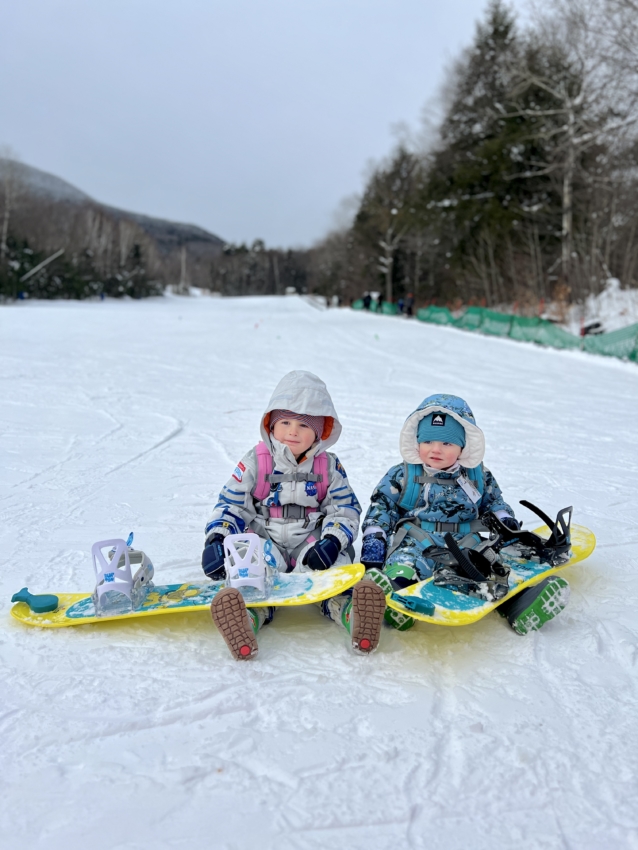 Molo Snowsuit – Designer Fashionable Suit
Age: 3m to 10 Years
This is a fantastic snowsuit for toddlers. It's beautiful, quality is unbeatable and designs are bold (it's one of the favorite organic brands actually!).
It adds more comfort but needs the added resistance that comes with being bundled up in a stroller.
This snowsuit can also easily be removed for diaper changes or peeing necessities.
PROS
Leg zipper for easy diaper changes
High-quality Indian made sherpa material
Waterproof, lined and organic
CONS
Price (but if you buy a year in advance there are good sales)
Molo Snowsuit
Check other reviews and current prices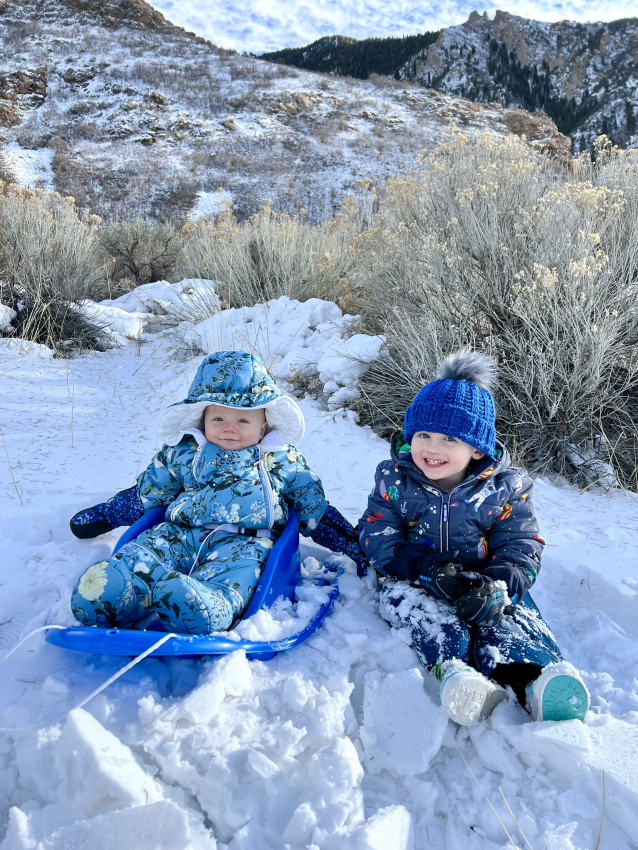 Frequently Asked Questions
Are There any Tips for Getting my Toddler Ready to Play in the Snow?
Toddlers should have a layer of clothing under the snowsuit so that they are completely protected from the elements. Snowsuits must be water-resistant so that they are protected from the elements. Even minor issues can lead to serious problems.
You'll also have to put on socks before the snowsuit, followed by boots and mittens. I also highly recommend mitten suspenders so that your toddler doesn't drop them.
Finally, help your child develop a routine for when they go outdoors in the snow. If they are old enough to walk, then they are old enough to start learning etiquette and safety.
What is the Most Affordable Snowsuit?
While there are a lot of affordable toddler snowsuits, you need to be careful because most of them don't provide enough protection. Target and Primary snowsuit is one of the cheapest toddler snowsuits that still provides enough protection to use. Most come with a hood and is quite cozy.
What Size Should I Get my Child?
The first step is to look at the size guide that the manufacturer of the snowsuit has posted. Then compare to your child. Pay more attention to sizes than age recommendations since toddlers grow at different rates.
It's also better to buy a size bigger than buy one too small. Worst case scenario you'll roll up the sleeves.
Is it Better to Buy a Waterproof or Water-Resistant Snowsuit?
This actually depends on where you live, the age of your child, and your budget.
If you live somewhere with a lot of rain and snow and your child plays outdoors for extended periods of time, then you need to invest in a waterproof snowsuit.
But activities should also be taken into account. If your child is going to be playing directly in the snow, then waterproof is necessary but if they are just having a snowball fight, water-resistant is probably enough if your toddler is a good walker.
Are There Safety Concerns?
According to professionals, toddlers in a car seat should not be wearing a snowsuit. They impair the safety design of the car seat. So if you are taking a trip, make an appropriate plan for putting the snowsuit on your child.
Also if the snowsuit is too bulky, it can lead to more tumbles from your child. So try to make sure the snowsuit is within 1 size of your child.
Final Thoughts
Remember that safety, protection, and comfort are the three most important factors to consider with choosing the best toddler snowsuits. Make sure you do your homework so that you find the perfect match for your child.