A stroller is one of the biggest baby gear investments and the first thing you buy as a parent. You and your baby will most likely use it daily for years. A stroller can make or break trips outside with your baby so it's important to pick the best stroller that works for your lifestyle.
Whether you're looking for a lightweight travel stroller, a stroller for a growing family, or something for the big city life, I created a list of the best strollers on the market as I personally tested almost all of them.
Why You Should Trust Me?
I have owned, researched and published numerous stroller, travel stoller & stroller wagon recommendation articles over the past few years, so I can easily compare them – it's not "I own one or two and love it" type of review.
I test everything on my own kids, and on friends' kids, and take other opinions into consideration as well. Plus, I also evaluate and take into account safety concerns, recalls, and rules all over the world as I believe just because something is trendy on social media, it doesn't necessarily mean that it's good or practical.
Best Baby Strollers of 2023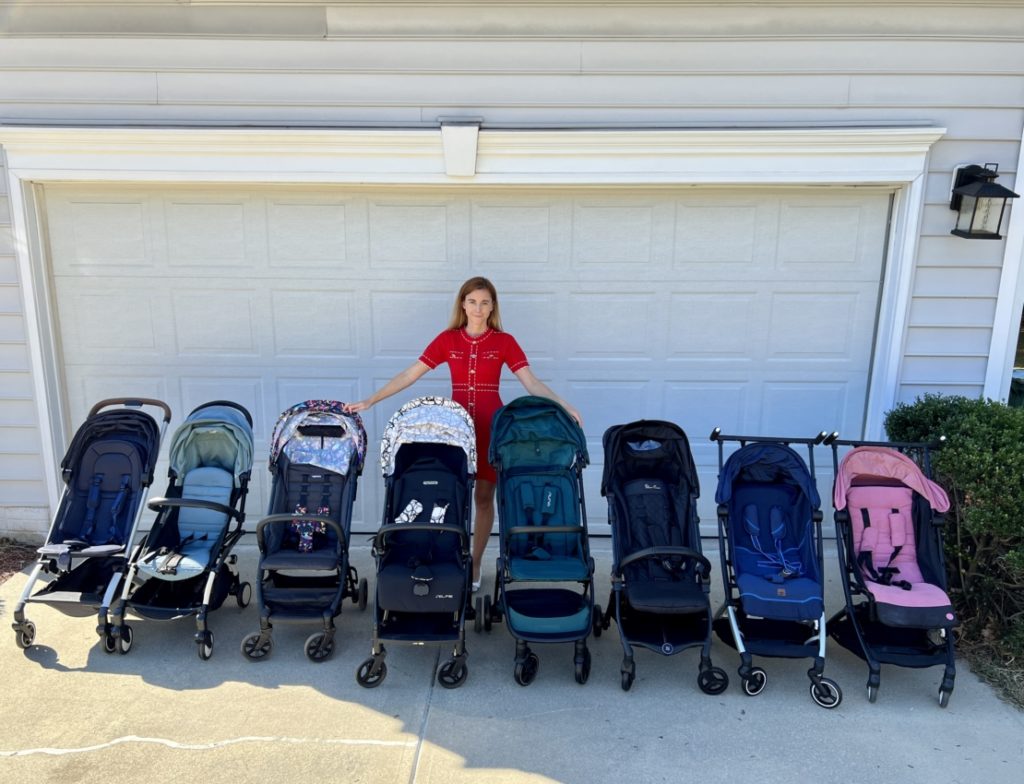 How old is too old for a stroller?
The modern stroller was intended for children from birth to 3 years when invented. When double strollers were later introduced, they were recommended for twins or two children younger than 3.
These days most manufacturers market strollers that carry children up to 5 years with increasing weight limits of as much as 50 pounds or 150 for some stroller wagons. It's simply because busy parents want convenience for running errands and don't allow their child to veer off the path or stop to explore something, which goes against the enjoyment of childhood.
Keep in mind that the American Academy of Pediatrics states that a stroller should be eliminated by the time a child is 3 years old. The transition out of the stroller might take a little patience and perseverance on your part, but it's the healthiest solution for your child.
---
Cybex Priam is a leading single stroller with everything you can ask for it. This high-quality piece of baby is durable, well-designed, and spacious enough to hold all of the necessities.
It's a pleasure to maneuver on any terrain and reclines comfortably for the baby. it can be used from birth with a cocoon option or car seat adapters if needed. It reclines flat without weird seat profiling like its competitors.
It's important to mention that Cybex Cloud Q car seat is compatible with this stroller and it's the only reclinable car seat on the market.
Cybex e-Priam is the same as Priam but electric. It might seem like a gimmick, but it's the best thing. It can rock your baby to sleep, help to drive up the hill with no effort, and stop when you let off the handle. It's THE futuristic stroller.
The Baby Jogger City Mini GT is a bestselling stroller and a parent-favorite year after year. It's a full-size stroller that can work great as an off-road stroller, but also as a day-to-day stroller for errands.
It folds small and comes with a bunch of accessories. It's fully car seat compatible but also offers close to flat recline.
See my full review right here.
Best Budget-Friendly Stroller: Chicco Bravo
The Chicco Bravo stroller offers many similar features to more expensive strollers like a big basket, UV canopy, or snack tray, but for a fraction of the price.
It has a sleek black or grey design with a large storage basket. The toddler seat comes off, turning the stroller into a travel system compatible with the Chicco car seat.
Best Lightweight Stroller: ZOE Tour+
Zoe is the ultimate lightweight, compact everyday stroller for parents with small cars or those using public transport or occasional travel.
This stroller has the biggest canopy on the market and folds quickly and small for carrying, getting in and out of the car or public transportation.
You can also make it a tandem by adding another stroller, turning it from a single to a double!
The City Mini GT2 Double Stroller makes it easy to get a baby and toddler (or two toddlers) around. It's compatible with an infant car in half a seat and features a one-step in-seat fold design.
This full-size double stroller fits through most standard doorways and is surprisingly really easy to push around on its forever tires, including uneven terrain.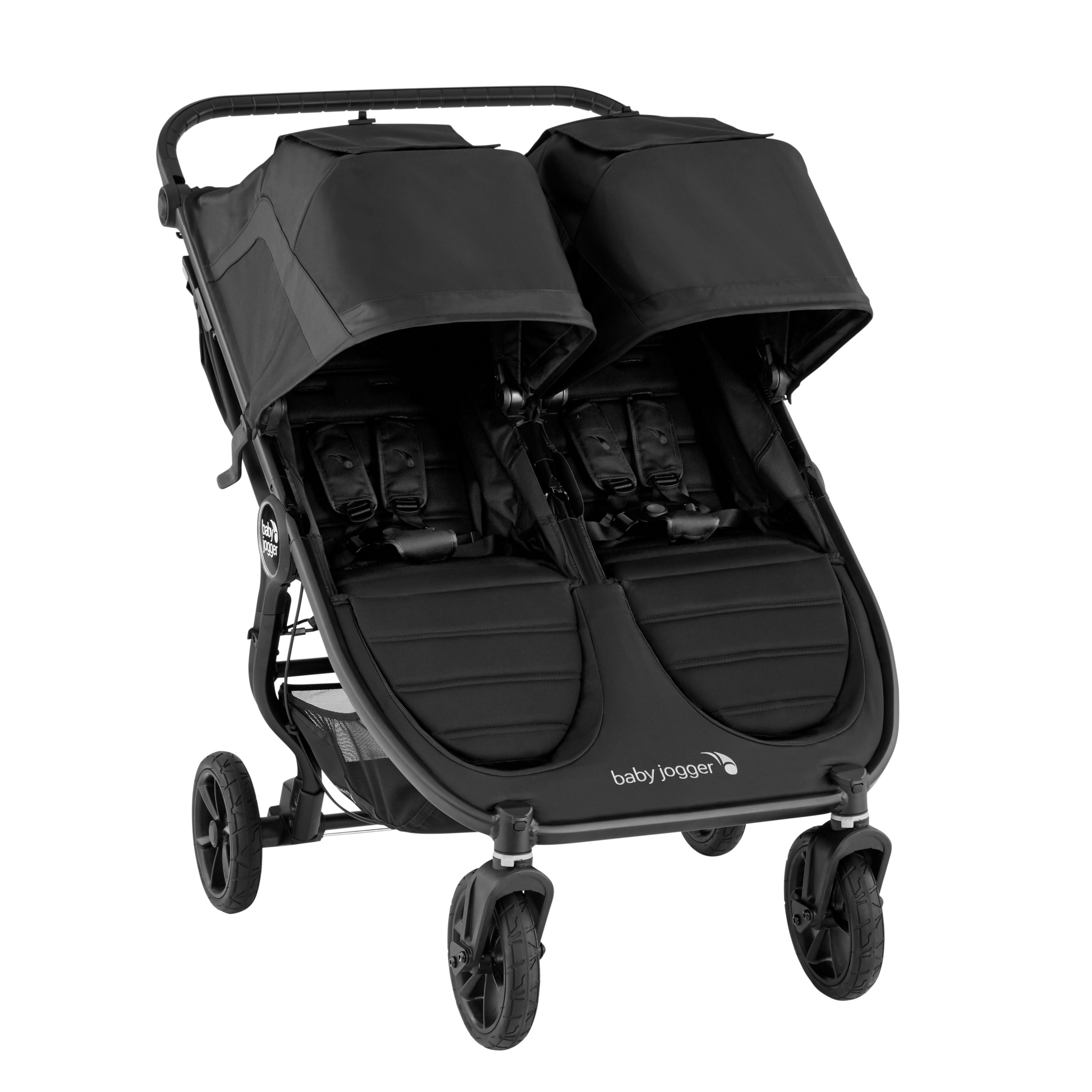 Uppababy Vista is a high-quality stroller that can be single or double in a tandem version. It's perfect for twins because it's one of the few strollers that offer an option of putting two bassinets – the only fully safe option for longer escapades with infants in two.
The stroller also offers car seat compatibility, giant baskets for all your twin needs and all-terrain wheels with suspensions.
View my full review here.
Best Lightweight Double Stroller: ZOE Twin+
Zoe Twin+ is a twin version of the amazing lightweight single stroller Zoe Tour+. It's incredibly lightweight and folds small enough for any car (even a small trunk of Tesla or hatchback!).
The recline is incredible and works separately, so even smaller infants can be comfortable when older kids sit upright. Wheels are durable and canopy is beyond amazing.
Zoe Twin is also very narrow for a double (it's the same width as Uppababy Vista!) and it's an approved double stroller for Disney, as it meets their standards.
See my detailed review here.
The Summer Infant 3D Lite stroller offers all of the features you'd expect from a cheap stroller. It's great for trips to the zoo, running errands, or very occasional traveling (because the wheels won't be as good for longer escapades).
It has a removable canopy and a decent storage basket and it's easy to fold and carry with an included strap.
Designed with travel in mind, Babyzen Yoyo is more than a lightweight stroller. It's THE stroller when it comes to travel and despite a lot of brands trying to outdo it, it's still the most respected stroller by parents and airlines.
It's the only quality stroller that's always guaranteed on board in the overhead bin. It's the only stroller that folds with a footmuff attached, and the best infant-compatible pack that also folds with a stroller to fit in the overhead.
Wheels are small but mighty and indestructible. See my full review here.
Thule Urban Glide is THE jogging stroller, because it glides when your run – kids can even nap peacefully in their reclinable seats because the suspension is so good. The swivel front wheel locks into place for jogging.
Kids have enough space and comfort due to its ergonomic design. It drives smoother than BOB Revolution stroller.
Wagons are the latest stroller trend and are great for carting around multiple kids and stuff. Evenflo Pivot Xplore wagon has dual canopies and can be pushed like a stroller or pulled like a wagon – both options are easy to maneuver.
It folds up easily, is more compact than the majority of double strollers and has an integrated child tray.
See my full review here.
Best Stroller Wagon for 3+ Kids: Wonderfold W4
The previously mentioned Evenflo wagon only works for 2 kids. If you have 3+ kids, or own a few dogs that like to tag along for adventures, then Wonderfold wagon will be your lifesaver. It's like a luxury truck of strollers and so easy to maneuver considering the size.
Wonderfold W4 has 4 seats, an adjustable canopy and plenty of storage bags and options to adjust it for every weather condition. It has the highest weight limit of 300 lbs, so you can even sit and rest in it if you wish. Perfect for days at the park or beach.
See my detailed review here.