There comes a time when your toddler gets fussy about sitting in a stroller. The same goes for the preschoolers who think they're too 'grown up' to sit in a stroller. They'd rather walk like a grown-up they say, only to end up getting tired soon and leave you the burden of carrying them.
What do you do in these instances? Depends on the situation. Either get a travel stroller that's small enough to carry or if you have multiple kids get a toddler wagon stroller!
Stroller Wagon vs a Regular Wagon (IMPORTANT!)
Kids wagons are pulled only. Stroller wagons give you the option to pull them or push them as if they were a stroller. I would never buy or recommend a kids wagon without the option of pushing as your main form of transportation.
If you're wondering why not, load 50lbs (which is still less than two kids and stuff) and try pulling in behind you on walks…
Plus, most stroller wagons have enough room for at least two kids, if not more, with enough space for snacks and lounging. But, not all of them will offer a sufficient amount of storage when kids are riding in it. For many parents they replace double strollers but most cannot be used for kids who don't sit upright on their own, so it's not a solution for all kinds of situations.
---
Why You Should Trust Me?
I have owned, researched and published numerous stroller, travel stoller & stroller wagon recommendation articles over the past few years, so I can easily compare them – it's not "I own one or two and love it" type of review.
I test everything on my own kids, and on friends' kids, and take other opinions into consideration as well. Plus, I also evaluate and take into account safety concerns, recalls, and rules all over the world as I believe just because something is trendy on social media, it doesn't necessarily mean that it's good or practical.
Are Stroller Wagons Worth It?
Toddler wagons are perfect for taking to the beach or picnics.
The added benefit of a wagon stroller is that you also have enough space to carry all the toddlers' essentials or to put your toddler backpack with portable toys, blankets, milk bottles, juice or water bottles, diapers, snacks, and everything else you might need.
Is a stroller wagon must-have? Absolutely not. I believe that many things became a must-have because of how it's been portrayed on social media (umm… Doona stroller for example), but a wagon is not a must-have. It is, however, very convenient for multiple children.
In all honesty, I think wagon strollers are definitely a thing for multiple kids, rather than just one. While they're totally a US thing (I'm yet to see one in the wild in Europe – and as a European in the US I spend an extended time in both places!).
When I used to live in Utah (where people have 5+ kids usually) wagons are THE thing and I've seen every single model in every single situation (and that helped me make up my mind). Now in North Carolina I see most people using wagons mostly to transport coolers and stuff, rather than children – either way, it's a useful item and it's easier to lug around than a double stroller. One hack I discovered is that wagons can surely work like a pack-and-play for sleeping babies when older siblings are playing.
---
You can find toddler wagons of all types, from simple daily-use wagons to tough all-terrain wagons that you can also take hiking. Here are some of the best toddler wagons currently on the market!
---
---
---
#1 Highest Weight Limit Wagon Stroller – Wonderfold
Dimensions: 41.5 x 19 x 44 inches
Maximum Capacity per Seat: 200lbs
Carrier Weight: 47 lbs
Made of polyester with an alloy steel frame, the Wonderfold W2 is more than just a wagon. It's THE wagon among parents.
The steel frame ensures it's strong while lightweight and easy to pull.
Front and back handles make pushing and pulling easy, while the 5-point harnesses ensure the kids are locked in.
The PU tires mean you don't need to pump it, and the foot brake makes stopping easy. Easy to fold down, this wagon can carry up to 200 lbs, so your children can use it for quite a few years. But…
Many parents opt for their 4-seater model, even if they "only" have 2 kids, just to have extra space (with 2 kids on the 2-seater the only space you have under their seats – or no space if it's an older model like W1 without the raised seats). Keep in mind, this monster is 57 lbs…
Now, if you actually have 3+ kids keep one thing in mind. Each seat can hold 45 lbs. I know kids who weigh this much at 3-3.5 years, but the average is 4 years for boys. So if you think this wagon might hold your entire family considering that the baby cannot ride in it until he/she can sit upright well it the oldest sibling might not be over the weight limit before the youngest joins.
For me personally raised seats are a must in the winter and autumn and Wonderfold has them. While many people don't go out that much when the weather isn't nice and sunny when kids get into the wagon without raised seats their shoes bring all the mud in. It can get pretty nasty inside and if you have a toddler still mouthing everything or a toddler who doesn't want to touch anything dirty (I have both, LOL!) then raised seats as a must!
This brings me to another point… to access the door the child needs to crawl underneath the seat to get out, which allows for storage only underneath the other seat and the child needs to crawl in on all the dirt from their shoes. With my clean-loving child, it's just not an option so we have the W4 even though we only have two out of 4 seats installed. If you don't want to insert your kids you might want to look into a new Jeep Deluxe instead.
Keep in mind that while it's great, it's a big thing to carry. If you have a smaller car or are petite it might not be the best choice.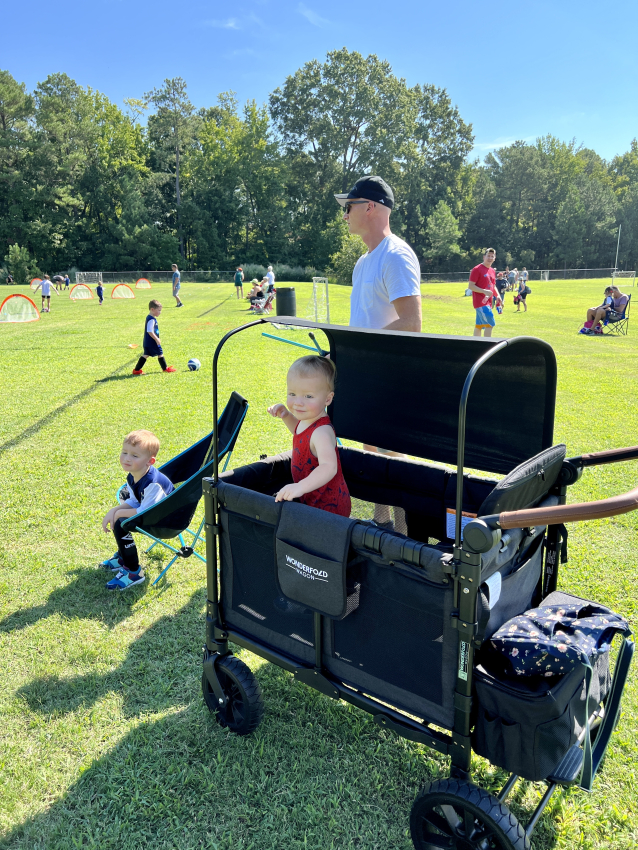 PROS
Removable seat pads & raised seats
5 point harnesses
Detachable rare basket
All-terrain tires on better models
Canopy
Reclinable seats
CONS
Child needs to crawl under the seat to get out
Big (even bigger if you get a 4-seater) & heavy
Cannot be used by infants (no bassinets or car seat attachments)
Wonderfold W1 2-Seater Wagon Stroller
Check other reviews and current prices
---
---
#2 Best All-Terrain Stroller Wagon – Veer Cruiser
Dimensions: 37 x 20 x 25 inches
Maximum Capacity per Seat: 110 lbs
Carrier Weight: 32.5 lbs
This sturdy all-terrain wagon stroller from Veer is perfect for use in mud, sand, or snow!
Made with military-grade aluminum that can withstand extreme adventures, front swivel wheels with suspension, and knobby rear tires for better utility on different terrains.
The Veer cruiser also has rear-wheel fenders to stop mud and water spray on wet days.
This wagon can be folded flat which is nice, but it still takes the same amount of space in length, so if you think this might be smaller than Evenflo Pivot Xplor or Larkdale Coupe it won't be – it's actually longer so takes more trunk space. Plus, you don't need to undo seat covers and canopies to fold them.
It has some drawbacks as well. You can buy an extra basket for it because there's not as much space as in other wagons. However, the basket makes the wagon really long and somewhat even harder to navigate.
Steering, with or without a basket, is this wagon's biggest complaint and I'm not the only one who thinks so – I once overheard someone say that this wagon lives up to its name because it veers, and there's a lot of truth to it.
My kids were very unhappy about how uncomfortable the seats were and frankly, can't blame them – seats are bare and bad for extended periods of time. There's a safety issue because as it folds it creates spaces that can make little hands stuck and disengage the wheel (that actually happened with my kid who always stuffs his hands into holes and spaces, thankfully no injuries happened).
PROS
ASTM compliant and JPMA certified
Car seat can be attached and has a bassinet
Perforated seats for ventilation
CONS
You need a big budget
Hard to steer as it's meant for pulling not pushing
Uncomfortable seats
Safety issue with disengaging wheels
Veer Cruiser Premium Wagon Stroller
Check other reviews and current prices
---
---
Dimensions: 45 x 27 x 39 inches
Maximum Capacity: 110 lbs
Carrier Weight: 35 lbs
Easily changing from stroller mode to wagon mode with the flip of a handle, the Evenflo Pivot Explore is every parent's dream.
These Evenflo wagon strollers with their solid beefy tires are perfect for every terrain.
The UPF 50-plus sunshades are retractable, the seats are well-padded to protect little bottoms, and there is a footwell for the larger kids. Each can decide whether they want a canopy or not, which is super cool!
The storage space at the back can be used for storing essentials while the tray table is made for two. It's easy to access and store everything without it having to fly around.
Be it a trip to the store, the beach, or a hike outdoors, this affordable wagon stroller is a bargain! It's my personal favorite wagon actually. Another plus is that it's car seat compatible with an adapter and it's hackable to a bassinet for an infant (but then the second child has to walk).
One thing that's unique is their dropdown feature – kids don't have to jump in and you don't need to put them in, because one side just lowers down allowing for easy access.
It also has a function to add a stroller seat on top of it, but quite frankly I don't get it because it sits above other kids so it's slightly odd. I did see a mom using the wagon for one child sitting in the seat and lugging a cooler and a dog underneath.
The biggest and only con of this wagon is that it's being strangely promoted for kids up to 5 years old. I noticed a small caveat – "it's only suitable for kids up to 39″ tall" – which is basically an inch taller than my toddler is now and he only turned 2.5. Unless you have very petite kids this can only be used up to 3 years of their age, 3.5 at the most.
However, many parents including myself still use it even though their kids are taller. The canopy will not work great once the child is 35″ tall even, but the wagon is still the best out of all in my opinion. My kid just wears a hat and puts the canopy behind him to protect him from the wind.
If you order directly from Evenflo you can get $20 off through this link, but also check Target as they're having occasional promos.
PROS
Easily convertible from wagon to stroller
Folds small
Handle converts from push to pull
Retractable and reversible sunshades
Car seat compatible
CONS
Only suitable for kids up to 39 inches (technically)
Handle can be too low for people over 6'3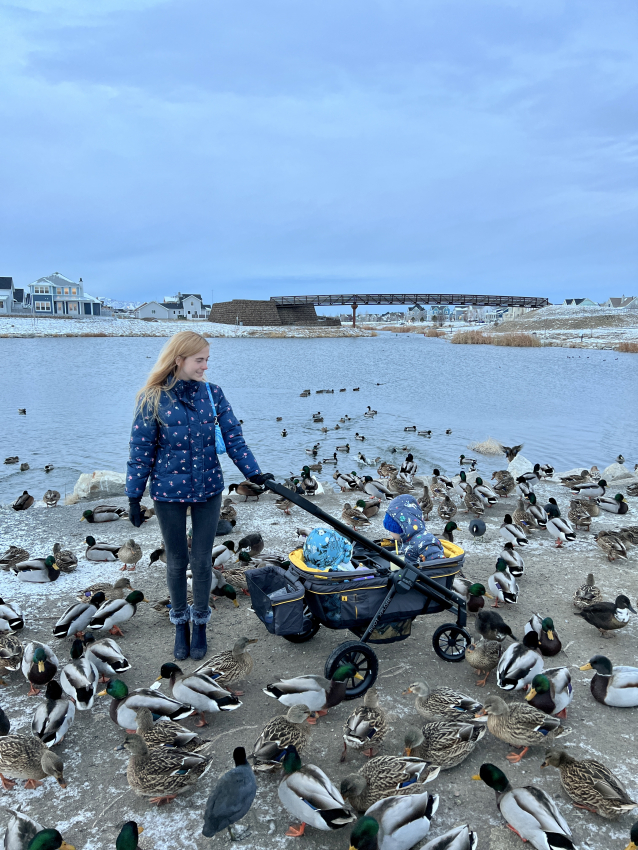 Evenflo Pivot Explore All-terrain Stroller
Check other reviews and current prices
---
---
#4 Budget Stroller Wagon with Canopy – Radio Flyer
Dimensions: 47.24″ x 41.34″ x 24.41″
Maximum Capacity: 120 lbs
The kids (and husband) love this one! Radio Flyer is perfect for two kids, sometimes even three when in bench mode.
It features a canopy for sun protection that's also waterproof, seatbelts, and a flat area that children can also use as a bed.
Since there aren't any seats, this wagon with a canopy gives the children a chance to move around freely.
It's also really easy to fold and put in the trunk of most sized cars and it's one-hand fold, which is a lifesaver in many situations. So it's really perfect for a low-budget toddler wagon (or those who don't like bulky items like my husband).
PROS
Easy to fold compactly
Converts to a bench
Duraclean seats
Handle magnet
All accessories included
CONS
Can't handle off-roading much
Lack of raised seats
Radio Flyer City Luxe Convertible Wagon Stroller
Check other reviews and current prices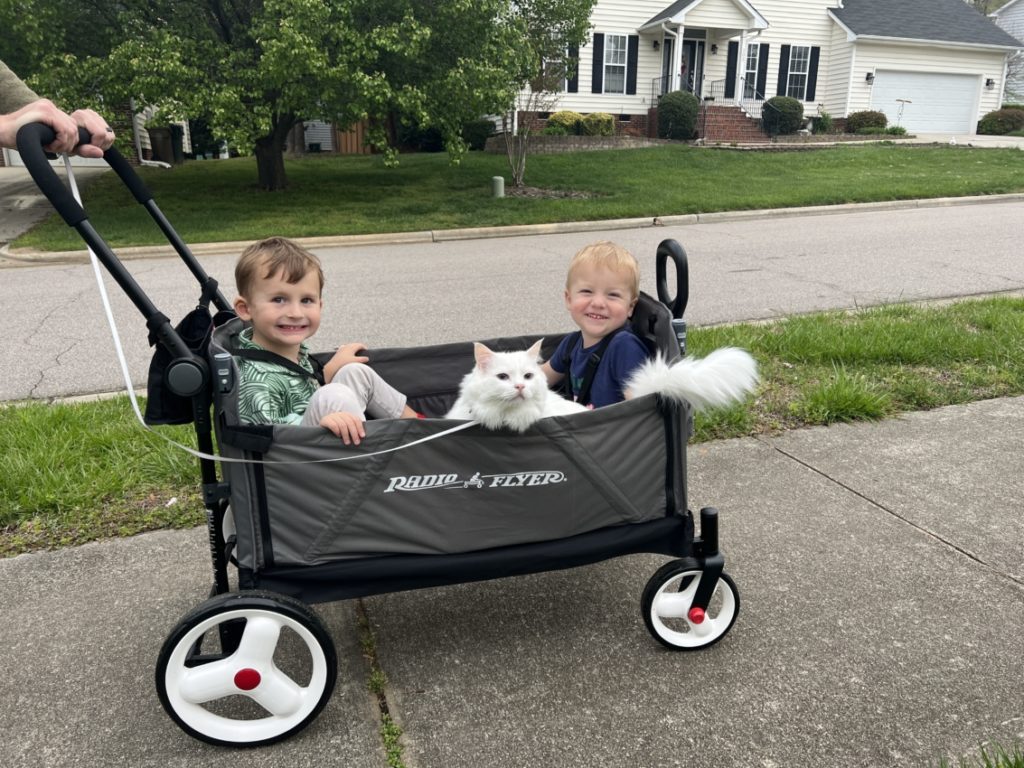 ---
---
Dimensions: 42 x 27 x 44 inches
Maximum Capacity per Seat: 65 lbs per seat
Carrier Weight: 52 lbs
Seats can recline on this wagon and considering how small it can fold it's an amazing feature.
The parental console and small side basket can be removed or used as storage for toys, water, snacks, and other items your kids might need.
The UPF 50+ canopy with peekaboo windows keeps your kids protected and safe.
Plus there's an extra pull-handle for when that bit of extra effort is needed!
PROS
Comfy and sturdy
Small fold
Seats can recline
Can be zipped into a bed
Already comes with accessories like parental console or canopies
CONS
Might feel small for kids over 5 years old
Not much storage option
Larkdale Coupe Stroller Wagon
Check other reviews and current prices
---
---
Dimensions: 34 x 19.4 x 34.6 inches
Maximum Capacity per Seat: 110 lbs
Carrier Weight: 32 lbs
This versatile wagon stroller is perfect for bigger children.
Features 5-point harnesses with 3 adjustable heights, adjustable handlebars, peaked roof with built-in sunscreens (even a drop-down mesh "curtains" for nap times), and washable interiors.
The Keenz 7S also has all the accessories you can think of – from a cup holder to a cooler bag, as well as a canopy storage bag and a storage cover.
With pivoting front wheels for added functionality, this durable and easy-to-clean stroller is reliable.
Although I do think Keenz is a fantastic wagon, the biggest cons of it are the lack of raised seats or any sort of footwell, so kids have to sit in their own debris from shoes.
It also folds gigantic – if you have an SUV it will take most of the trunk. Also, keep in mind that if you ever plan on traveling with it you might not be able to gate check it because it's too big to fit into the scanner. Various airlines will not allow you to go to the gate with it.
One thing to mention about it, along with Wonderfold actually, is that when you're shorter (below 5'3) you won't be able to see much when pushing it because the canopy is in the way. Which makes it a hazard.
PROS
ASTM certified
Durable and lightweight aluminium frame
Accessories are included
Easy to collapse
CONS
Pricy
No raised seats
Folds bulky
Keenz 7S Wagon Stroller
Check other reviews and current prices
---
---
#7 Most Comfortable Wagon Stroller – Larktale
Dimensions: 46 x 29 x 46 inches
Maximum Capacity per Seat: 110 lbs
Carrier Weight: 46 lbs
Larkdale Caravan stroller wagon functions in three modes – wagon mode, stroller mode, or car seat mode.
It has a footwell that you can zip to create a flat surface, but seats also recline individually. It's spacious enough for 2 kids to sit and play comfortably and the shades are fantastic.
With tons of storage space, easy-drive airless tires, and a one-step parking brake, the Larkdale is the perfect combination of comfort and functionality (and our favorite!). Especially considering that so many accessories like rain cover, cup holder, bug net, and basket are already included!
They also offer a smaller Coupe Model if you're looking for something smaller.
PROS
All-terrain tires
Seats can recline
Roll down shades
Car seat compatible
Plenty of storage spaces and footrest for kids
CONS
Bigger fold with canopies
Larkdale Caravan Wagon Stroller
Check other reviews and current prices
---
Points To Consider While Choosing A Wagon Stroller
Can You Take a Wagon to Disney World?
Many people replace their strollers with wagons or buy them specifically for extended trips. Unfortunately, in case of Disney, it won't work.
Disneyworld has banned all wagons regardless of the size and only accepts certain dimensions of double strollers – one of a few accepted side-by-side is ZOE Twin Stroller. However, I do know about people who got in with Veer and Evenflo ones because they're technically considering a stroller wagon hybrid.
Wagons are also banned in some amusement parks due to accidents when pulling. Truth to be told, I've personally seen a horrific accident at the local ZOO where everyone was pulling wagons with kids unstrapped and in a crowded spot two crashed making one of them fall and kids flew out hitting their heads on the pavement. Don't be that parent at a crowded spot.
Note that Legoland or Universal Studios still allow wagons.
Is It Easy To Assemble?
Some strollers may be easy to use but might take forever to fold and unfold. Take into consideration if it's going to be something that you or your partner can assemble on your own or whether you'll need to hire someone to do it.
Does It Have An Entry Door?
Most wagon strollers have entry doors for the children to get in, but some require you to pick them up and put them in, or for the children to climb in or crawl under the seats. Is this something you or your children are comfortable with?
What Is The Weight Limit?
Now, most strollers are made to take the size of at least two children, so the weight shouldn't be a consideration. But, these wagon strollers are really useful even after the kids have grown to ages 5 or 7. I've had friends use theirs for a lot longer. The weight you're allowed to port might not be a big deal now, but as the kids grow it will make a difference, especially when traveling long distances.
Does It Have a Canopy?
Who needs a canopy you'd think? We have umbrellas, raincoats, and hats. But really, try keeping the little one from taking those off in the rain. The canopy comes in handy to protect them from rain, as well as from the hot sun in the summer.
Does It Take Up Space?
Most toddler wagons are built to contract into smaller sizes for storage, but some are just bulky. Do you have enough place to store the wagon? And if you don't, does it fold down easily?
Can You Clean It Quick?
After a day on the beach or in the park, there's bound to be mud and sand on the wagon, not to mention the dropped food and juice. Is it easy to clean this out? Most wagons have easy clean or easy wipe seats. But I prefer the wagons that just need to be hosed off in the night and are dry again by the next morning.
However, I must say that wagons without raised seats are pretty messy in the winter or autumn when kids enter with muddy and wet shoes. It can get pretty nasty inside and if you have a toddler still mouthing everything or toddler who doesn't want to touch anything dirty (I have both, LOL!) then raised seats as a must!
---
There are so many features to take into consideration while choosing the best toddler wagon for your little ones. I hope this guide has given you a few points to consider while making your decision. If you have any other questions, comment and let me know!