A double stroller should be convenient to use and provide optimal comfort for your kids. More importantly, it should provide optimal safety and help you take care of your babies. Unfortunately, getting a stroller with such capabilities can be challenging.
When I was looking for a stroller that would help me get around with my two kids conveniently I realized that there's a difference between the best double stroller for twins and the best double stroller for a toddler and baby.
However, my extensive search and testing led me to develop this review about the best double strollers of 2022. If you're looking for travel strollers check my tests & reviews.
Best Double Stroller
---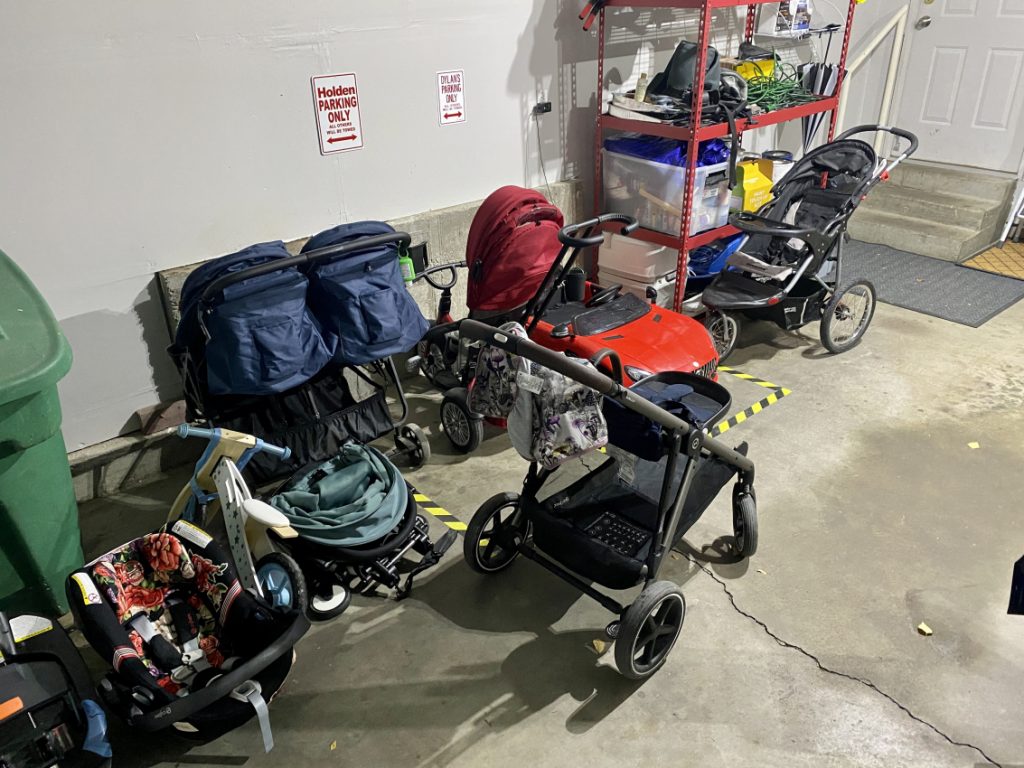 ---
Image
Stroller
Details (pros)
Price
Contours Elite
* Extensive canopy
* Tons of storage
* Affordable
* Sturdy frame
Check Price
Cybex Gazelle S
* Large storage baskets
* Extensive canopy
* Adjustable handlebar
* Easily converts from a single
* Ability to clip reclinable carseat
* Solid aluminum frame
Check Price
Bugaboo Donkey Duo 3
* Compact and narrow side-by-side
* All terrain wheels
* Adjustable handlebar
* Easy to convert from single
* Incredibly light
Check Price
Uppababy Vista
* Durable
* All terrain wheels
* Folds in one piece
Check Price
Joovy Caboose Sit-and-Stand
* Compact and lightweight
* Highly maneuverable
* Options of bench, carseat, straps
* Built-in snack tray
Check Price
ZOE Twin XL
* Affordable
* Compact for travel
* Large canopy with a peek-a-boo window
* Built-in drink holders
Check Price
BabyJogger City Select LUX
* All-terrain wheels
* Good storage basket
Check Price
Graco Ready2Grow LX Stroller
* Very cheap
* Good wheel suspension
* Option to keep younger sibling close to you
Check Price
Why Mockingbird stroller is NOT on the list?
If you go on Facebook you'll always find Mockingbird stroller advertisements and parents mentioning in mom groups a lot, asking for opinions. It seems tempting because it's cheaper than competitors and can work as a single-to-double stroller.
I don't recommend it. Apart from it being bulky and heavy, seating configurations is even worse than Uppababy Vista. I swear whoever designed this stroller has never had a toddler. More on Mockingbird here.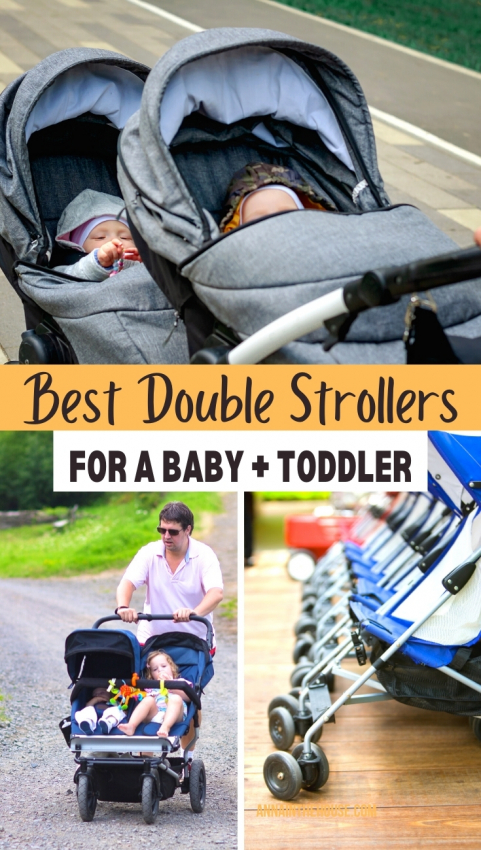 ---
• Best Double Stroller for Twins: Contours Elite
• Best Double Stroller for Baby + Toddler: Cybex Gazelle S
• Best Double Stroller for Baby + Older Kid: Joovy Caboose Sit-and-Stand
• Best Side by Side Double Stroller: Bugaboo Donkey Duo 3
• Best Lightweight Double Strollers: ZOE Twin XL
• Best Sit & Stand Stroller: Joovy Caboose
• Best Budget Double Stroller: Graco Ready2Grow LX Stroller
MOST IMPORTANTLY: Do I Actually Need a Double Stroller?
You may think you do if your kids are close in age, but it depends on the kid. I have two under two when the second was born and my toddler is just not a stroller kid. Once he turned 2 exactly he never wanted to ride in the stroller anymore and wanted to run around and walk everywhere, which was completely fine when he was an only child.
After 2 months we thought we would ditch the double stroller and get him a buggy board. He hated the buggy board and refused to ever ride it.
Then my husband quickly asked for a double stroller after a trip to the amusement park when getting from place to place took 10x as long, I ended up with a toddler running away when I was in the toilet (because of no place to strap him in) and many extended arms with a commentary "Carry me daddy!"
That said, if you ask me – you do need a double stroller for longer trips around the city if you need to actually get somewhere. Alternatively, once your kids are older you may opt for a wagon stroller.
Personally, for walks around the neighborhood or park I usually bring Babyzen Yoyo and toddler rides on his balance bike.
Side by Side Double Stroller or Single to Double Stroller?
Before the second kid I was a firm believer that single to double is a way to go. Mostly because the seat is removable when you need it and
We ended up purchasing a side by side (as toddler insisted) for a travel stroller and I'll say it was a game-changer, so it's safe to say that it completely changed my mind.
SINGLE TO DOUBLE
PROS:
seat can be detached
can be used when you only have one child
more accessories usually
CONS:
harder to push and manuver
many models have less storage space
limited recline unless you have twins
SIDE BY SIDE DOUBLE STROLLER
PROS:
kids can interact
easier to push and manuver
more recline options
---
---
Is There One Stroller That's the Best?
After testing several double strollers, I realized that none is 100% perfect. Choosing a baby stroller is pretty objective. Every product has its pros and cons, and you'll have to deal with the cons anyway.
UppaBaby Vista is great but cumbersome, which requires a little hard work to push. Bugaboo Donkey 2 Duo is another great option, notable for its side-by-side seat and all-terrain wheels but very expensive.
This is why if I was to pick once more I'd recommend Cybex Gazelle S as an everyday stroller and ZOE Twin XL for travel. If I knew I lived in a place where wide doors are common and had funds I'd also pick Bugaboo Donkey.
It's essential to get a baby stroller with the most vital features for your baby's comfort, safety, and convenience. This way, you'll feel more satisfied with your purchase.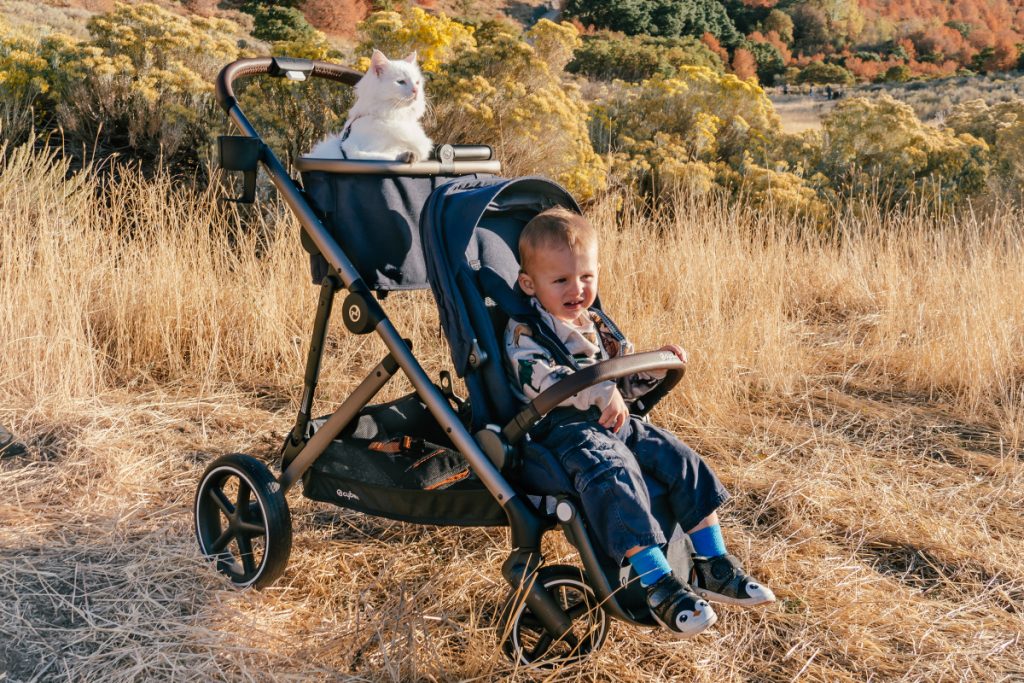 ---
Best Double Stroller for Twins: Contours Elite
Dimensions: 26 x 42 x 42
Maximum Capacity per Seat: 40 lbs
Best for twins, but can also be used for child with small age difference. The stroller comes in aluminum frames for increased longevity. Plus, it has a large basket to keep all your essentials.
The double stroller offers an easy folding mechanism. While I wasn't impressed with the canopy's adjustable position, it did its job of protecting the baby impeccably. Steering wasn't as smooth as with some competitors and the handlebar didn't quite provide that comfortable feel, but for this price it was expected.
PROS:
Extensive canopy with a peek-a-boo window
Easy to assemble
Basket is massive
Affordable
The frame material is sturdy
CONS:
Difficult to maneuver
The handlebar looks cheap
Contours Elite Double Stroller
Check other reviews & current prices
---
Best Double Stroller for Baby + Toddler: Cybex Gazelle S
Dimensions: 41.3 x 25.4 x 43.1 inches
Maximum Capacity per Seat: 50 lbs
If there's one thing I like about the Cybex Gazelle S, which easily converts from a single to a double stroller, it's the large storage basket at the back of the canopy. The basket can accommodate items worth 22 lbs – one of the biggest I've seen since my baby stroller journey began. It's my personal favorite single to double stroller.
Besides, the double stroller is superbly designed. With its premium aluminum frame, the stroller is stable all-round and sturdy enough to withstand everyday bustle.
The handlebar is super easy to adjust, offering better steering. The large seat is comfy and can recline almost completely flat. I also like the large extended UPF 50+ canopy with a mesh window designed for moms to keep tabs on their babies, as well as the ability to pick between the bassinet and Cloud Q car seat (the only one that reclines)!
PROS:
Solid aluminum frame
Large storage basket
Extensive canopy
Adjustable handlebar
Easily converts from a single
Ability to clip Cybex Cloud Q Carseat (reclinable)
CONS:
No one hand fold
Tight fit for carseat + toddler seat
Cybex Gazelle S
Check other reviews & current prices
---
Dimensions: 25.6 x 23.6 x 46.5 inches
Maximum Capacity per Seat: 45 lbs
Despite having a lightweight design, Joovy is a strong stroller. The stroller's sit-and-stand feature enables your older baby to take whatever position he/she deems fit while the younger one sits, but at the same time, you can strap them in if you wish.
I love the small snack tray at the back of the stroller. It enables me to keep some snacks for my two lovelies to eat when they get hungry.
The double stroller is compact and easily maneuverable with its 4-wheel suspension. With its rear extension canopy, your baby stays protected from dust, sun rays, and rain.
There's also a universal infant car seat adapter that's super easy to install, which means you won't have to pay extra. It easily converts the stroller into a travel system.
PROS:
Car seat adapter is easy to install
Compact and lightweight
Highly maneuverable
Offers a fully reclining option
Built-in snack tray
CONS:
Handlebar isn't easily adjustable
Joovy Caboose Ultralight Sit-and-Stand
Check other reviews & current prices
Dimensions: 33.9 x 23.6 x 33.9 inches
Maximum Capacity per Seat: 50 lbs
Donkey 3 has a few noticeable updates from the previous version: it finally offers peekaboo windows, rotating seats and more lightweight.
In duo version it has a width of 29 inches – regardless of whether you put two bassinets, bassinet + seat or two seats, so it fits through most doors, unlike most side-by-side strollers.
The main con is that the stroller is ridiculously expensive – over $1600, and when folded it's still gigantic so don't get it if you don't have a big car.
PROS:
Narrow enough for side by side
Navigates on all terrains
Comes with an adjustable handlebar
Easy to convert
Incredibly light
CONS:
Extremely expensive!
Folds gigantic
Bugaboo Donkey Duo 3
Check other reviews & current prices
---
Best Lightweight Double Strollers: ZOE Twin XL
Dimensions: 33 x 29 x 40.25
Maximum Capacity per Seat: 45lbs
If you need a lightweight double baby stroller, consider the ZOE Twin +. It's probably the best compact double baby stroller you'd find.
Twin XL's canopy is fairly large, big enough to shield your little ones from rain and harsh sun rays. There's the magnetic peek-a-boo window that enables you to watch over your kid when necessary.
You can push it with one hand, regardless of the number of kids inside and has a big enough storage compartment as well.
Read my full review here.
PROS:
Affordable
Compact
Large canopy with peek-a-boo windows
Comes with a storage bag
Built-in drink holders for kids and parents
CONS:
No one-hand folding
Wheels can easily wear out if used often on rough terrain
Magnetic peel-a-boo window close when windy
ZOE Twin XL
Check other reviews & current prices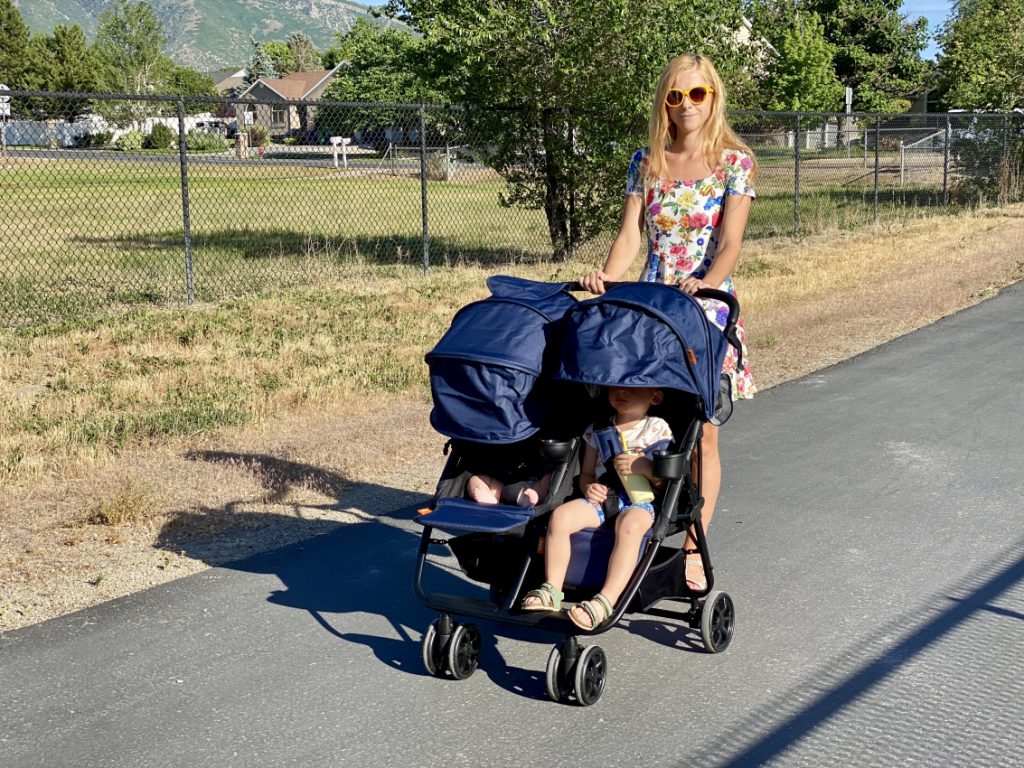 ---
Dimensions: 36 x 25.7 x 39.5 inches
Maximum Capacity per Seat: 50 lbs + 35 lbs (rumble seat)
Vista is a well-made sturdy all-terrain stroller, but gigantic, heavy and configurations for non-twins are simply not good at all. Because of the different weight for seats it makes the stroller pretty much unusable for siblings different ages.
I ended up getting rid of this stroller pretty quickly – read my full honest review here.
Uppababy Vista
Check other reviews & current prices
---
Dimensions: 30 x 23.3 x 31.4
Maximum Capacity per Seat: 50lbs
Nuna Demi Grow is a popular double stroller with 23 diverse configurations, but many are slightly odd – I mean, who would want their kid to sit by their feet pretty much on the ground? Or lie under the bassinet?
It also doesn't offer multiple recline positions and the sibling seat can only face forward.
While it's extremely easy to push the stroller and navigate on bumpy terrains, considering the configurations I don't think it's worth it overall.
However, Nuna car seats are one of a few on the market that aren't actually toxic, so I highly recommend it.
Nuna Demi Grow
Check other reviews & current prices
---
Dimensions: 30.31 x 21.7 x 10.24 inches
Maximum Capacity per Seat: 45 lbs
BabyJogger offers more than twenty configurations and it's relatively small when folded – which is what makes it popular for traveling parents.
Plus, it offers a decent basket and multi-recline seats.
It navigates on all terrains with its all-wheel suspension, which is awesome, but the seats feel slightly hard.
The stroller is also not suitable for infants under 6 months unless you get an extra bassinet, because there's no flat recline. The bassinet from BabyJogger is tiny and pretty uncomfortable. You also need to purchase a ton of extra accessories which makes it pricy.
That said, I think for this price tag you might be better off with a different stroller.
BabyJogger City Select LUX
Check other reviews & current prices
---
Dimensions: 30.31 x 21.7 x 10.24 inches
Maximum Capacity per Seat: 50 lbs + 40 lbs (second seat)
The stroller is extremely affordable and offers a simple step fold as well. It's long when folded, 53 inches to be exact but that's needed to fit a bench seat for an older kid and carseat.
I must say only buy this stroller if you're on a super tight budget. Not all car seats will fit into this it and the seat facing you (the one you'd likely put a younger child) doesn't recline and there's not much space for the toddler seat once you put a carseat instead.
Graco Ready2Grow LX Stroller
Check other reviews & current prices
---
---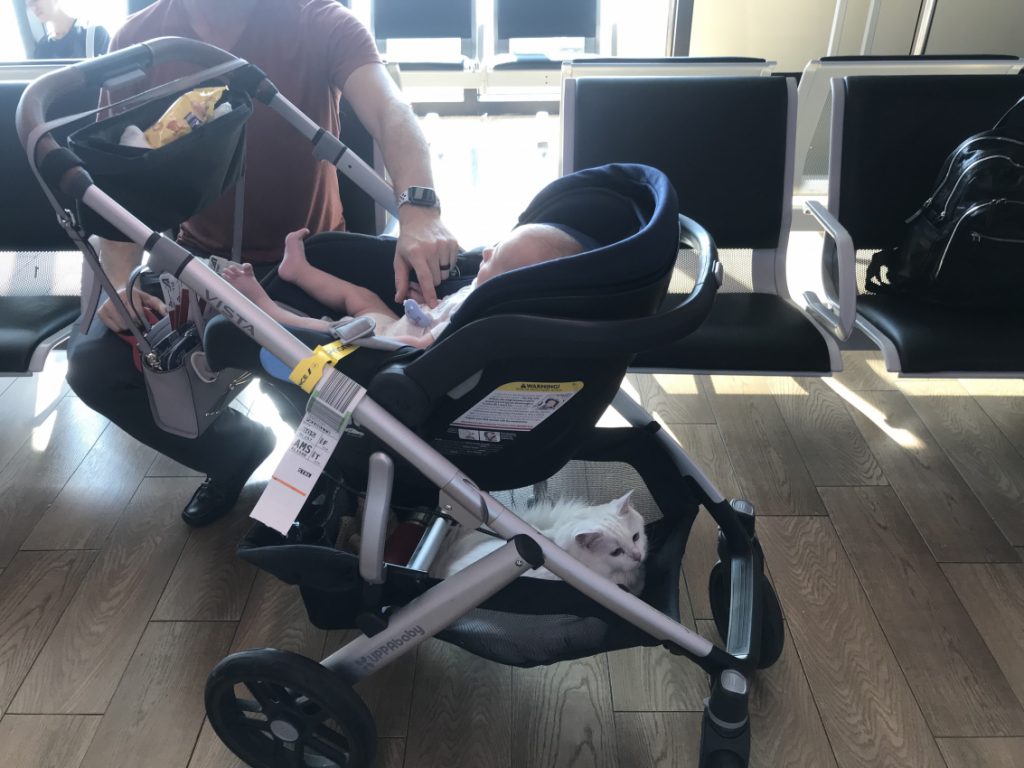 Questions to Ask Yourself Before Buying a Double Stroller
I've received many complaints and read comments from parents citing how dissatisfied they were about their purchases. While most double baby strollers look similar, keep in mind that each comes with distinctive features. You don't expect all the features in "Stroller A" to be in "Stroller B."
I had a few requirements in my quest for an excellent double baby stroller, such as an extensive canopy, reclining seat, big storage basket, and lockable wheels. After a long search, I found these features in a baby stroller I purchased for my kids.
So before buying a double stroller, you should ask yourself these questions:
What Is the Weight Limit?
All double baby strollers have specific weight limits. That means that they're required to accommodate a baby whose weight doesn't exceed the limit. Think about it if you have kids of different ages.
What Is the Reclining Power of the Seats?
The seat reclining power of double stroller brands differ. Some seats can recline completely, while others can't. Most babies feel more comfortable when they notice that they can lie down on their seats.
Does It Come with a Handbrake or a Footbrake?
I once had to choose between double baby strollers with a hand brake and a foot brake. The answer didn't come simply as both brake types have their merits and demerits.
Does It Have a Five-Point Harness Safety?
I find this the most underrated requirement in a double stroller. It's crucial to know if your stroller has a five-point harness, especially if you're a jogging mom.
How Large Is the Canopy?
Some double baby strollers come with fairly large-sized canopies, while others come with relatively small canopies.
How Affordable Is it?
Undoubtedly, the price factor will always come to play when making your choice. Make the best purchasing decision that will accommodate your budget.