If you're a Facebook user you probably saw an ad or two about the Mockingbird stroller. I didn't pay much attention to it at first as I already had my Uppababy Vista (spoiler alert: as trendy as it seemed I ended up getting rid of it fairly quickly), but it seemed like a perfect stroller.
Mockingbird stroller has been promoted as an alternative to expensive competitors. The price is half of what popular Uppababy is and it could be used as a single and expanded to double. Not surprisingly, many parents are debating getting it.
Is the Mockingbird too good to be true? Unfortunately, yes.
UPDATE OCTOBER 2022: I saw from the very beginning that the strollers were cheaply made and the company was always making customers wait for every response to a serious issue. Yet, I wanted to believe that they'll improve over time. But, it came to light after numerous posts from customers pushing the company to do something it's been proven that unfortunately, I was right.
The Mockingbird strollers keep on breaking with children inside for a while – both single and single-to-double strollers! Consumers Reports had been pushing the company to recall their strollers but the company kept calling them "isolated incidents" when it's hundreds of customers. Instead, they had been replacing the strollers that cracked with the same strollers & telling customers to check their frames if they've cracked. This is extremely shady.

The company finally recalled some strollers after a social media frenzy on November 10th, but the rest of their customers are forced to wait weeks now for a part that supposedly reinforces a frame. If you have kids you know that you cannot just wait and not use a stroller for weeks so they're basically forced to buy another one. Yet, the company still advertises its strollers on Facebook left and right…
Target originally took it off the shelves, but it's now back in stock with no information about the recall. For $450 it's not exactly the cheapest stroller and one would expect more from it.
Below I go into detail on why it's not a good double stroller and even as a single it's really a waste of money as there are so many better strollers out there. Also, a VERY important thing to note is that there are two Mockingbird strollers – Single & Single-to-Double. If you accidentally purchased a Single it won't convert to a double.
There are tons of opinions online from parents who haven't actually used this stroller yet or only used it for one child. This describes all options and functions.
For mean, the dealbreakers were (I explain in detail below):
seat configurations for infant & toddler
pedal brake and handlebar
canopy collapses
footrest design
lack of decent customer service (although as the stroller is now available for preorder at Target I guess you'd be dealing with their customer service)
Edit: Since writing this review I actually realized that I was "lucky" to even try this stroller through a friend. Just like the reinforcement kits after a recall, the company has always been extremely slow when handling shipping. Almost no one received their second seat kit which was supposed to ship in 1-2 weeks, then they got notified it will take 10 weeks and 4 months later they still haven't been shipped. The older version also got new adapters which again, are on backorder, so no customers have received it and cannot use their car seats.
Can you imagine paying for the stroller and then having no stroller for weeks or months when your baby actually shows up? I'd be furious.
Mockingbird Stroller vs Uppababy Vista
They may look similar, but Mockingbird is not even close to the quality of Vista. I compare it in my review below a lot, because many think it's pretty much the same thing for less money. The quality doesn't even come close and it's cheaply made.
While I also don't recommend Vista or other products by Uppababy (I wasn't happy with their Mesa car seat and in fact, they very quietly recalled their other car seat for safety issue), if I had to choose between Mockingbird and Vista only I would say pay the extra money and get a different stroller.
However, at the price range of Mockingbird, you can get a full travel system that has been around longer and has better reviews. Like Chicco Bravo stroller.
---
Pros & Cons of Mockingbird Stroller:
Mockingbird Stroller as a Single
Many parents want to buy a stroller for their first child that would adapt to a growing family. I wanted that too, as I thought it would save me a bunch of money.
Many reviews say how great a stroller (Vista, Mockingbird, any convertible ones), but then when the second baby actually shows you the reviews are suddenly bad. Why is that?
I was very wrong about that because not only you end up with a giant monster stroller from the very beginning (because most of them are giant and heavy) completely unnecessarily, but you also don't find flaws in a double design straight away and then when a second kid makes an appearance you realize "why didn't I return this stroller?".
I actually found a lot of threads about that in regards to Uppababy Vista and as I've done the same exact mistake by buying it and it's happening to parents with Mockingbird as well. Many loved it as a single, but then had a second baby and hated it.
If you don't believe me check Mockingbird stroller reviews on reddit from other real people or actually… their own Instagram account. Seems like every second customer is complaining.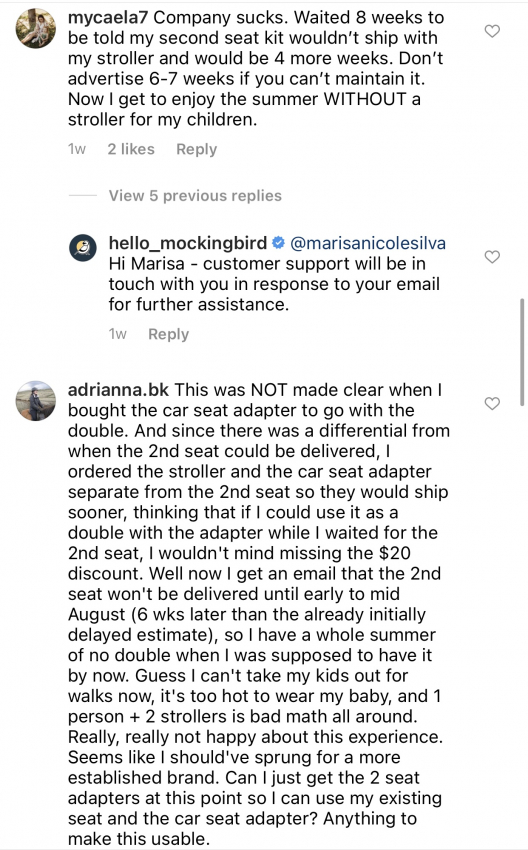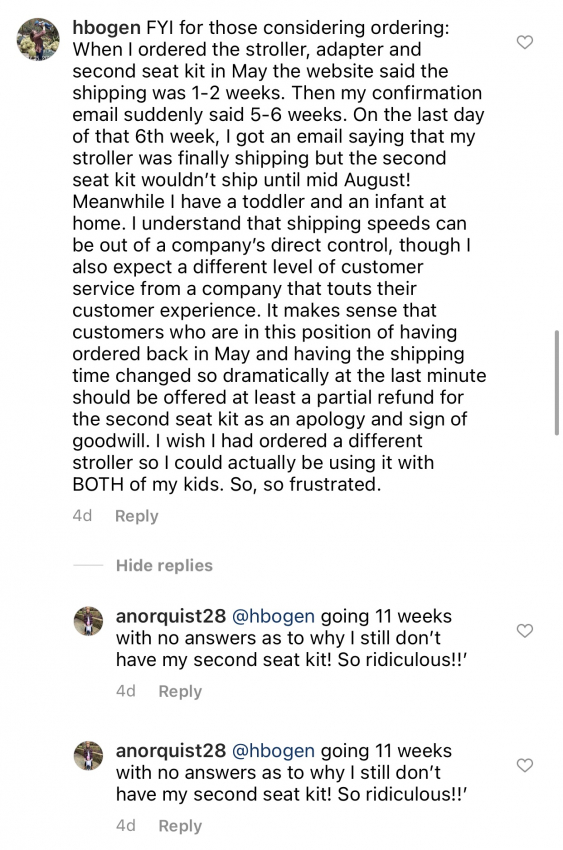 ---
Design
---
First things first, the stroller looks cute. It may not be important to some parents, but who doesn't want a cute stroller? After all, you are the one staring at it all day.
The stroller is sold exclusively on their website and Target (not on Amazon), but usually on backorder so unfortunately, takes forever to ship.
---
---
Maneuverability & Wheels
Smooth Ride?
You get what you pay for they say and with this stroller it's 100% correct. Mockingbird stroller cannot take bumps with two kids. Every single tiny crack makes this stroller almost fall, get stuck and wobble.
Despite being made from the same material as other similar strollers – polyurethane, the wheels on the Mockingbird are harder. While that does make them sturdier, it makes the ride feel worse for it.
The suspension is only on front wheels, because the back is frame suspension and not the wheels.
I've tried it all. Unless you're planning on using this stroller only on smooth floors or shopping malls this is definitely not going to work nicely.
Uppababy Vista or BabyJogger CitySelect or CityMini aren't ideal strollers, but at least you don't need to be afraid that the whole stroller is going to fall over after each bump that's more than an inch high.
Add a humongous weight to the stroller and good luck getting up and down the curb. It's a mission impossible to get unstuck from every single bump. I'm strong, but I know other women are saying they need help from another person with it all the time.
Pedal Break
First things first why is the pedal break white? It's a piece that's meant to be pushed with a dirty shoe, so on white it always looks dirty.
Break placement is also not ideal. The brake lock is in the middle of the bottom rung between the two wheels. If you're taller than 5'8 you will accidentally kick it and engage the lock.
Also, when you need to hop on the curb you need to make sure you're accidentally not engaging the lock which is very annoying.
Handlebar
Mockingbird handlebar is made of leatherette. When folding down the stroller the handle can scrape on the ground which might tear the leather.
While the Mockingbird's handlebar is adjustable, it can only be adjusted by being tilted up and down rather than telescoped out. It makes it flimsy and not adjustable by much.
---
---
---
Weight & Size – Big Con of Mockingbird
As I said before no single-to-double stroller is compact, but Mockingbird is even bigger and heavier than other full-size strollers.
We used to laugh with friends that Vista was a monster truck. Mockingbird is a bus in comparison.
---
---
Folding & Traveling with Mockingbird Stroller
---
I love that the stroller can be folded with one hand and that it stands on its own but only if the seat is in certain positions which is ridiculous. If you don't believe me, watch this guy's video.
The con with folding is that the seat has to be in the forward-facing position. This is not uncommon among reversible strollers, but many parents aren't aware of it. If you have it set to be rear-facing then you need to flip it before folding.
Folding it with two seats is possible, but it will fold to a gigantic monster the size of your trunk, so seats also need to be removed. It doesn't happen with BabyJogger brand for example. For gate-checking the stroller it's a deal-breaker.
If you think you can fit this stroller and your luggage in a rental car, thinking again – unless you're planning on renting a van. It barely fits in Toyota Camry trunk without luggage or groceries. It's a monster.
Now, the footrest of Mockingbird is designed in the same style as Vista. Which means it breaks easily (on top of not staying up issue). I didn't even attempt to fly with it because it doesn't take a detective to know it will arrive broken – in fact, as I was writing this post I spotted a huge thread of parents complaining about the same issue with both strollers.
These types of footrests break like crazy and keep in mind that not all airlines will pay you for a damaged stroller. You need to read the fine print – for example, spoiler alert, Southwest will not pay you a cent if you trash or lose your stroller.
I know that if Mockingbird breaks the company asks for $275 to replace a broken piece if they find you ordered it not directly from their website. This is actually WAY more than for Uppababy pieces (seat frame is $195) and absolutely ridiculous.
---
Storage Spaces
Similar to Vista, the basket is massive. The bottom basket is huge and holds up to 30 lbs. It's the best of the best if you ask me – durable, accessible, and convenient.
But, with a second seat facing inwards which is the only option with an infant you lose basically half of the basket, so it becomes much less convenient.
---
Mockingbird Carseat & Bassinet Compatibility
Mockingbird is compatible with some car seats:
Baby Jogger Go2
Britax (35, Ultra)
Chicco (Keyfit 30, Fit2)
Cybex Cloud Q
Evenflo (Embrace, Nurture)
Graco SnugRide (30, 35, 40)
Maxi-Cosi Mico (30, Max 30, Max Plus)
Nuna PIPA (including the Lite and Lite LX)
Uppababy Mesa
Snapping the car seats in and out quickly, similar to any other strollers. But, that's about where the pros end with this.
In the USA, unlike in Europe, many people aren't aware that infants shouldn't be riding in a car seat on top of the stroller all the time (which is also why Doona stroller isn't really used in Europe as a stroller, because it's actually not approved in many places). Newborns shouldn't be kept at 45-degree angles for more than 30 mins a day and a maximum of 2 hours.
The bassinet is the right way to do it. Safe sleep means sleeping flat on your back – not strapped in a seated and reclined position and naturally, that cannot be achieved in a car seat.
But wait, doesn't Mockingbird have a bassinet? Not exactly.
Bassinet on Mockingbird shouldn't really be called a bassinet (I saw a name change to "carriage"), because bassinets are safe for sleeping. Their bassinet is NOT yet certified for unsupervised overnight sleep.
Uppababy and Silvercross bassinets are sleep-safe approved. It's great when you come back from a walk and you can just leave the baby sleeping in the stroller without moving them.
We used Vista's bassinet for the first 2 weeks for my newborn to sleep in without any issues, it was wonderful. With Mockingbird, this is really useless.
---
They don't have any retailers, so no one can really help you straight away. That said, if something needs a replacement or breaks you're really out of luck for at least a week which is unacceptable.
Seat Compartment, Recline & Canopy
Seat
Both seats have a capacity of 45 lbs, when single or double. Which is a standard amount for double strollers.
Important: both seats have 45lbs capacity, but in reality, they also say the stroller will tip if your toddler sits there. It makes it just like the Vista when it comes to seats – very bad. The company says that if one of your child is over 35 lbs it shouldn't sit on the bottom.
The seats wobble on every uneven terrain, so if you plan on taking an infant out beware because his/her head will fly all over the place. It's also very weirdly designed and big kids will sit with their knees smashing onto the bar.
I'm not talking about wobbliness that makes the smoother ride. It's wobbly to the extent it feels cheap.
The stroller offers an infant insert for the seat in case you don't pay for the bassinet or car seat adapter. It's not that simple, because when you want a fully reclined seat (a must for infants younger than 6 months) it still won't make a baby lie completely flat, especially if it's a bigger baby as the seat is profiled.
Canopy
The canopy is questionable. To start, canopy is not height-adjustable so taller kids like my own are going to complain. Even at 2.5 a tall toddler will be touching the canopy, so the stroller won't work for your kid anymore.
There's space between the vent and sunshade so when the seat is flying down your baby's head might end up in the sun.
You have to secure the sunshade in with tiny elastics every single time unless you leave it secured in which case it dangles into the head area of the stroller for older kids. Not to mention the canopy folds back if the terrain is too wobbly.
Footrest
Mockingbird has a similar design to Uppababy. Which is great in theory, but in reality it's not. On top of the fact that with Uppababy it will actually stay up or down, but the adjustable footrest on Mockingbird does not stay in a locked-down position.
Read more on the footrest issue in travel above.
---
Customer Service
Gosh, if you really have a problem with this stroller you're on your own until they even bother to reply to you. It takes 4 days minimum to even start the conversation.
So if your stroller breaks, you're screwed. If something doesn't work or stops working, you're screwed for a few days and even longer.
---
Mockingbird as a Double Stroller
---
Mockingbird as a double weight 35 lbs without the kids. It's a LOT of weight. Even more, if you swap one seat for a car seat. Honestly, have fun taking it in and out of the trunk.
When unfolded, it's even wider than Uppababy Vista which already couldn't fit many doors and smaller shops aisles.
When your family grows, Mockingbird offers expansion, but really it only works well for twins when infants and two toddlers. Although it doesn't accommodate two bassinets, just two car seats, so if you want to put your twins safely in bassinets it's also not a stroller for you.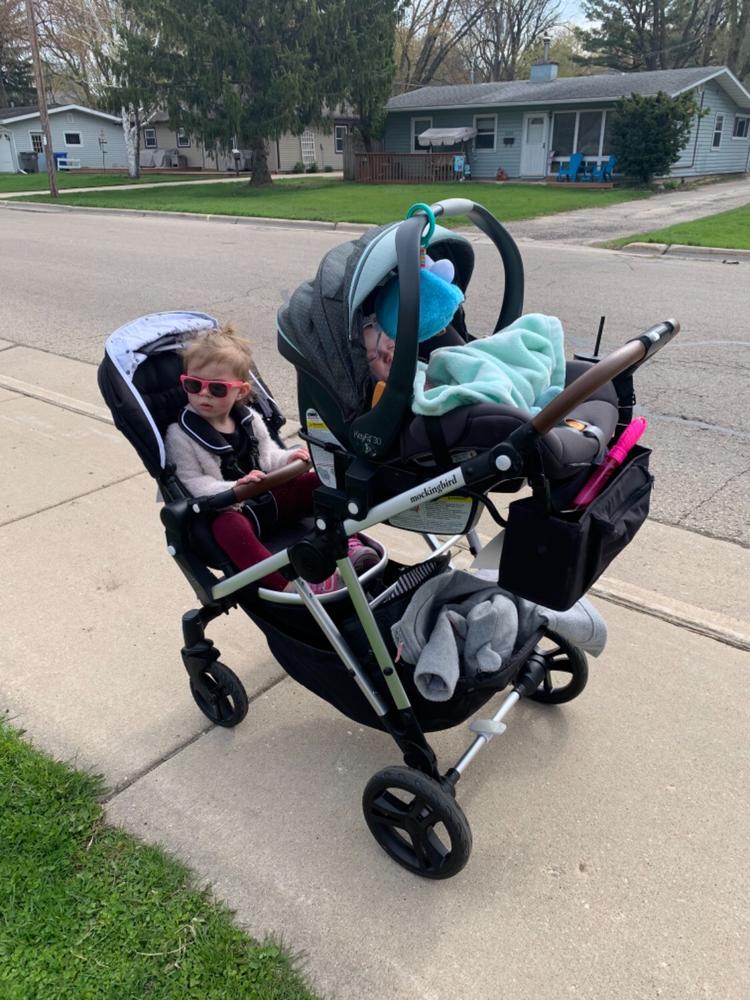 ---
Infant + Toddler Configurations
Update: After writing this review I received an email from Mockingbird team with recent updates (that are good) so this part is updated.
Infant + toddler configuration was the worst of any stroller on the market. With the Mockingbird, the lower seat had to face the parent (read: the back of the car seat or bassinet) when a car seat or bassinet is on top—which limits your toddler's view.
IMPORTANT: Some parents claim they were able to fit the toddler seat facing forward with a car seat, but unfortunately it only "works" with one type of car seat (Britax) and it's actually considered unsafe by the stroller producer because the car seat cannot be fully clipped into an adapter that way.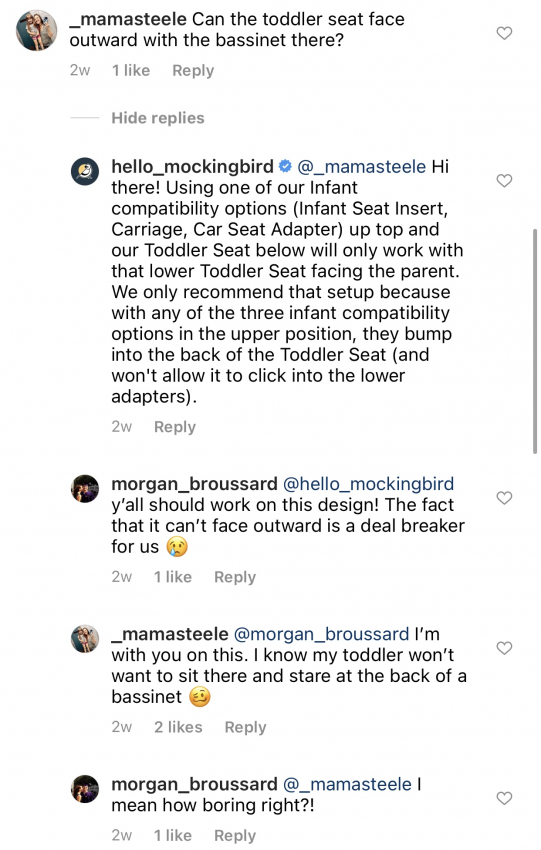 ---
An infant seat insert with a toddler seat offers an even worse combination than with a car seat. The toddler's head and eye-view is literally 2 inches away from the seat. It's actually laughable they'd even put it as an option.
For the record, Uppababy Vista isn't much better with infant configuration because their bassinet can only be on the bottom and then the toddler seat faces you, but honestly – who would want an infant at the bottom?!
Update summer 2021: The company created new car seat adapters this summer so the toddler can face the outside world with an infant in the car seat. Anyone who owned the stroller before June 2021 who is interested in this new seating arrangement, they can purchase the updated adapters, which we sell for $20 as a full set.
The second seat kit comes with an adapter already. Is it great news, but unless you own a Cybex Cloud Q car seat that reclines it's really not healthy to keep your infant in the car seat in a stroller nonstop. With the carriage ("bassinet") it's still not ideal because the toddler still needs to face the inside.
Now, let's get real for a second. The lack of bassinet configuration is not entirely Mockingbird's fault. The only strollers that allow bassinet up top + toddler seat on the bottom are Contours & Silvercross. Before you run to buy them keep one thing in mind… they're MUCH longer than Mockingbird or Vista. Which means they're harder to push and maneuver.
---
Accessories
---
Even though Mockingbird is sold for $395 it comes without accessories or a second seat. Some competitors even throw a cupholder for free, but Mockingbird comes "naked".
Carseat Adapter ($30)
Rain Cover ($20)
Bassinet Carriage ($100) or Infant Seat Insert ($30) – only works in a single configuration or for twins
Mosquito Net ($10) x 2
= total: $190 or more if you have twins. Add $395 for the stroller what comes down to $585 and it really isn't that cheap anymore.
Add a second seat for $120 and you're already at the price of the new Uppababy. More expensive than Evenflo Pivot.
Sponsored reviews tend to compare this with Uppababy which costs about $900. Yes, but at least Uppababy Vista or Bugaboo Donkey come with all the necessary accessories, including the bassinet.
Verdict
Apart from the strollers being super dangerous because the frame breaks…
To sum up, I think Mockingbird could have potential but at the moment it's not something I would recommend. it's too big, too heavy, too flimsy, and cheaply made for the price is not as great as it seems at first.
I was able to find an almost perfect single-to-double stroller after all – Cybex Gazelle S and Baby. It's roughly the same price as Mockingbird.
However, in all honestly, after trying various models and styles I must say that side by side double strollers are incomparably better.
I'm also very glad my 24-month-old doesn't want the stroller anymore, so we can go back to using our Babyzen Yoyo exclusively as on our last trip my husband and I looked at ourselves and decided we would buy another Yoyo, because double strollers are just too bulky for us.
My personal opinion is that for $500 you can find a used stroller of better quality on FB marketplace or Craigslist. Even on Amazon they have the option to get things for 2/3 of the price if someone opened the box and returned it. It's basically new. I know lots of people snagged their fancy strollers that way.