Most babies and small children can benefit from the inclusion of a humidifier in their nursery, as it helps with nasal congestion. But as with many baby products, it's always a good idea to do your research about which are most suitable for infants, as not all humidifiers are safe.
Firstly, you only want to buy cold mist humidifiers as warm mist machines come with the added risk of potential burns, should your child manage to tip it over.
As we used to live in one of the dryers spot in the US (Utah) we used humidifiers frequently, not just for baby but also for our bedroom. Ironically, now that we live in North Carolina we swapped most of our humidifiers for dehumidifiers 🙂
Where is the best place to put a humidifier for a baby?
Place the humidifier in a safe and stable spot away from the baby's reach. Ensure that it's placed at a reasonable distance from the crib to prevent any accidents or excessive moisture exposure.
The spout should also be facing up so that the mist rises into the room. Lastly, you want to avoid having the mist disperse directly at the walls as this created the risk of encouraging mold growth which can be very dangerous for youngsters.
What to put in a humidifier for baby congestion?
Nothing, just water. Adding anything else, such as medications or essential oils, may not be safe or effective for infants.
---
Best Humidifiers for Baby Nursery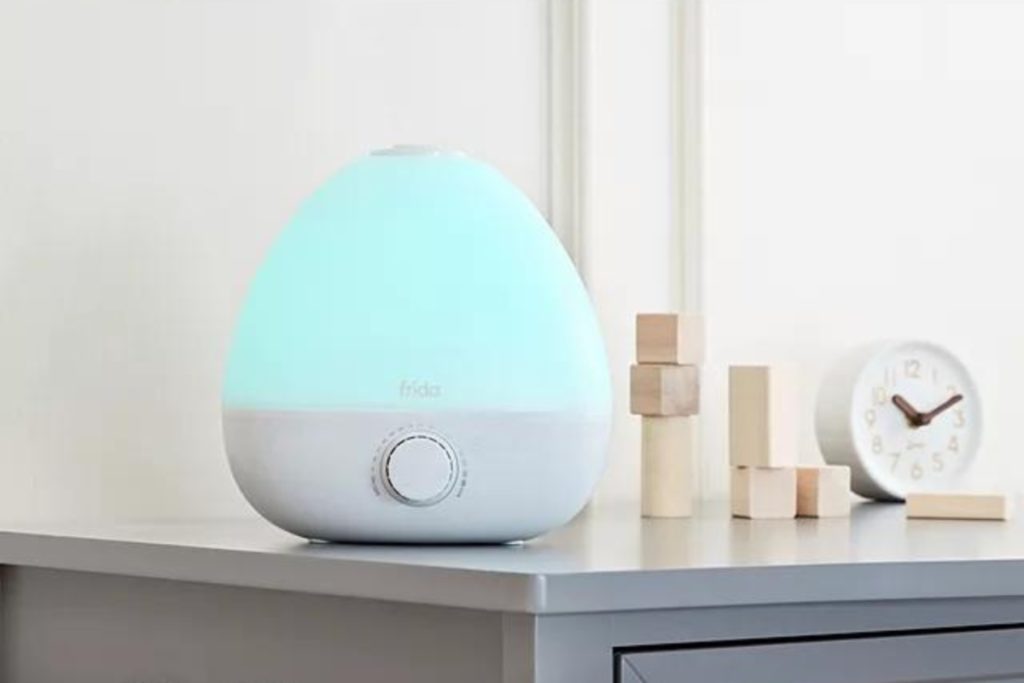 ---
The AquaOasis is a super quiet cool mist humidifier that is practically silent, making it great for any kids who struggle sleeping around noises, making it a great humidifier for baby.
You have a choice of many different mist settings plus the nozzle rotates 360 degrees so you can position the humidifier perfectly for your room and mist preferences.
The tank is a large 2.2L and they claim it can have a run time of up to 24 hours, but many people say it usually runs out by 16 hours on the lowest settings. However, there is also an automatic shut-off build so you don't have to worry about remembering to turn it off.
This adorable humidifier is shaped like a cloud and lights up in 8 different colors, so not only is it adding to the functionality of your nursery but it's a great piece of decor too.
The 1.8-liter water tank has a large opening making it easy to clean (unlike the Aqua Oasis) however the limited size would be suited to smaller rooms. So keep this in mind if you have a large nursery.
Another thing to consider with the PureBaby Cloud is that its cute design may also seem like an appealing toy to inquisitive toddlers. So make sure it's kept well out of reach if you don't want to find a messy surprise.
If you like products that serve more than one purpose, the Frida Baby 3-in-1 may be for you.
This ultrasonic humidifier has a 0.5-gallon tank with a smooth adjustment knob so you can easily find the perfect level of humidity for you. On top of this, it functions as a nightlight and also a diffused. 
You are able to add vapor drops or essential oils to your humidifier to enjoy nicer smells. However, you should note that generally adding anything other than water to your humidifier is not safe for babies. So this feature may only be suitable if you have older children.
With a large 3L tank, the Levoit cool mist humidifier is the best choice if you have a large nursery.
It also has a unique top-fill design which makes it much easier to refill than other humidifiers which is a huge plus if you are using it constantly.
While it does have a large tank with a decent size opening, many people complain that there are a lot of nooks and crannies which can still be difficult to clean.