Every parent probably remembers when they had tea parties during their childhood. This hasn't changed, as tea parties are still many kids' favorite activity and they can use their toy tea sets to sit down with their stuffed animals, parents or, in our case, even pets.
The biggest misconception is that tea sets are only for girls. Think about it: men go for afternoon teas as well, so clearly it's not a girly thing to do. Both my sons started playing with toy tea sets at preschool before requesting their own set for home.
What age do kids play with tea sets?
Kids tea sets are ideal for children starting at the age 2, as long as they're unbreakable. It might seem like a simple toy, but it can help toddlers practice drinking from a cup and develop their child's imaginative skills.
Once you're sure your kid is careful and can no longer break things, you can start thinking of a real tea set for kids made of porcelain. Some recommend that kids 8 years and older can handle it, but I'll say it truly depends on the child. Some might be ready for it at 5, some won't be ready at 7.
Best Tip for Buying a Toy Tea Set:
Buy your kids something that can work both as pretend play and for real liquids. My kids like to pretend to play with it, but at times they also want to have a "real tea party" with us. Obviously, they don't drink tea yet but we put apple juice in the pot.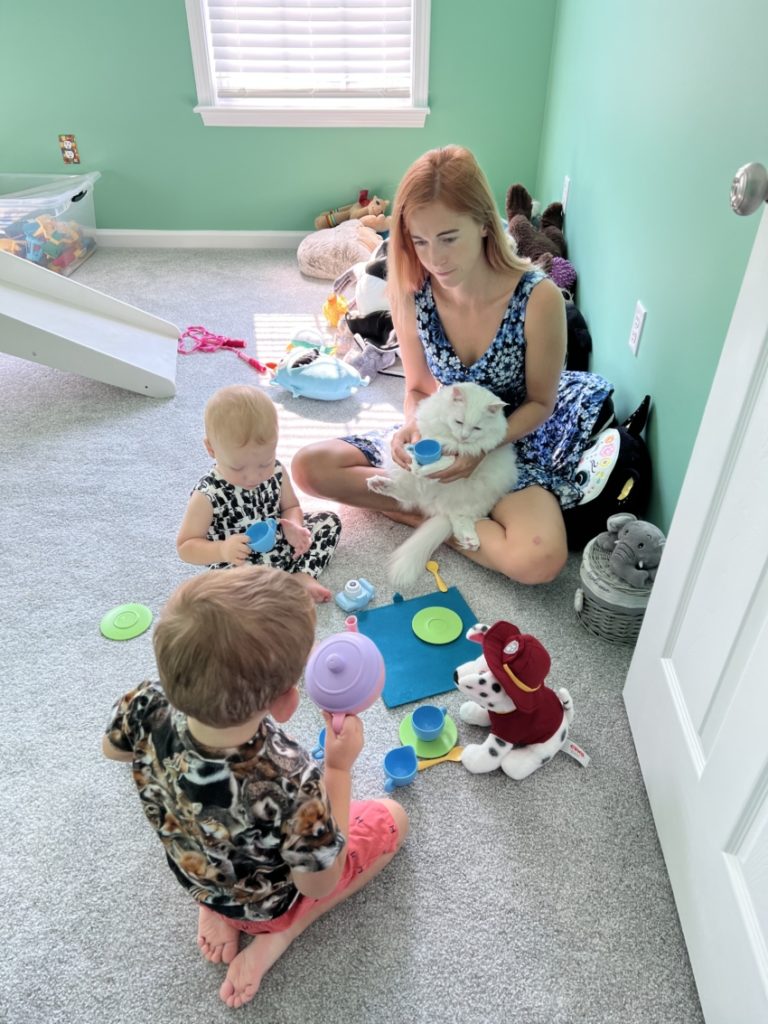 ---
Best Toy Tea Sets for Kids
This basic tea set comes with everything your child needs to throw their very first tea party.
4 colorful plastic cups, saucers, and spoons, milk and sugar containers plus the perfect size teapot for little ones to pour, make this a fun starter tea set for toddlers.
This set is made from recycled plastic but is also dishwasher safe and meets the FDA food contact standards so you can use it for real as well as play (as long as you glue a little hole in the sugar bowl)
Set with Food – Joyin
If you're looking for something a little more elaborate, Joyin sells a 44-piece tea party set which all comes in a cute picnic box.
In addition to the cups, plates, and teapot, you also get a selection of plastic food to really complete the tea party experience.
Kids love the pink princess design that is featured throughout all the pieces and can even give out special invitations to the event (included in the set).
If you're looking for a tea set that includes all the bells and whistles but won't break the bank, the Cheffun Tea Party set is your answer.
While it's still made out of plastic, the pattern mimics that of china making this set great for kids who want the real deal.
It comes with 4 cups and saucers, a teapot, large tray, cake stand, and plastic desserts so your little one is ready for a beautiful afternoon tea.
This porcelain set is the best tea set for older children as it is a bit more sophisticated than the others on this list.
All 13 pieces are stored in a beautiful sturdy case with specific places for each item to reduce the chances of breakages.
What's more, the porcelain is food-grade material meaning your kids can have real tea parties drinking from these cups,