Hiking with babies and kids can be challenging, and an uncomfortable carrier certainly does not help make things simpler. You need something that works for you – comfortable, practical, and strong enough to withstand a certain amount of strain.
Many baby carriers do not offer good back support and that is why we have analyzed some of the best camping and hiking backpacks you can buy for your baby here. We have analyzed these carriers according to gear capacity, weight, comfort, and pricing.
Best Baby and Child Carriers for Hiking
Before we begin, these are backpacks that can also carry a child. Not just baby carriers without any room to put your things in.
Keep in mind that naturally, due to its construction, baby backpacks are going to be more expensive and bigger.
While piggyback standing carriers or MiniMeis (mentioned last) are surely good products and for a hike around the block, kids will be fine. But, if you're going on a 5+ mile hike up the hill with a toddler then your child will not last an entire hike in it and naturally cannot nap or get super comfy in it, so unless you're going for a mile-long walk and have unlimited time I don't recommend them – I do recommend them overall, just not for actual hiking.
Your baby should also be comfortable so that they can also enjoy the hike, but you also need space to pack your gear so a baby carrier alone just won't cut it.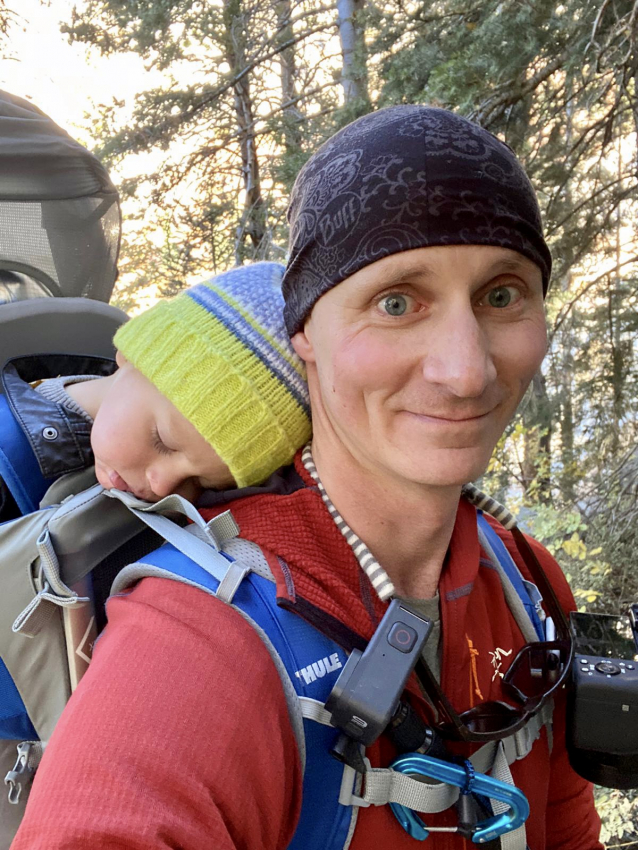 ---
Dimensions: 28 x 15.5 x 22 inches
Maximum Capacity per Seat: 50 lbs
Carrier Weight: 6 lbs 6 oz
This backpack is designed for kids who are not too heavy or too large especially if the parent is short.
Weighing just under 7 pounds and with a maximum weight capacity of 50 pounds, it's one of the lightest, most affordable and reliable carriers on this list.
There are 3 pockets to carry your other gear, both at the top and bottom of the carrier.
PROS
Integrated Sunshade
Padded aluminum roll cage
Zippered pockets to carry extra items
Multiple grab handles for good grip
Very lightweight
CONS
Not hydration compatible
Child must be 16 lbs to ride in it
The backpack compartment is behind the child, so you might feel like you're being pulled back
Kelty Journey PerfectFIT Signature child carrier
Check other reviews and current prices
Dimensions: 28 x 15.5 x 22 inches
Maximum Capacity per Seat: 48 lbs
Carrier Weight: 8 lbs 3 oz
This is a carrier designed for use by almost every parent, irrespective of their height. The aluminum frame provides for comfortable lumbar support and the adjustable straps keep the carrier on your back as you wish.
Because of the capacity to adjust the height, your child will comfortably sit on the carrier with their weight distributed equally especially with a chin soft strap, making it easy for you to carry the child for long distances without feeling the need to keep re-adjusting their position.
There are pockets to stash other items you will be using for the hike or even a sleeping bag for backpacking with kids.
PROS
Aircomfort mesh for ventilation
Removable daypack (upgrade from Kids Comfort model)
Integrated sunroof (upgrade from Kids Comfort model)
Rearview mirror to check on your little one (upgrade from Kids Comfort model)
CONS
Expensive
Not enough adjustments for short parents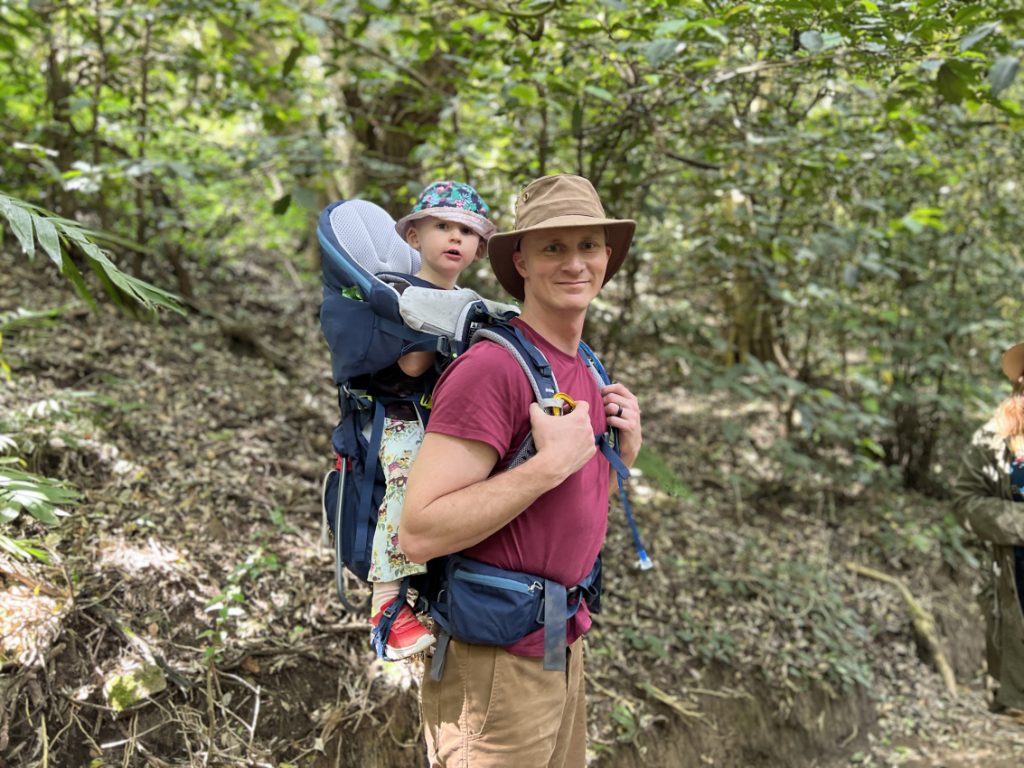 Deuter Kid Comfort Pro Carrier
Check other reviews and current prices
Best Premium Brand Carrier – Thule Sapling Elite
Dimensions: 13.75 x 12.25 x 28.75 inches
Maximum Capacity per Seat: 48 lbs
Carrier Weight: 7.9 lbs
Thule baby carrier has a lot of features, which make this carrier a very comfortable one for long-distance hikers. The adjustable straps place the carrier comfortably on your back. There are foot stirrups, large hip pockets for your items, a sunshade, and a zip-off pack.
It also comes with a viewing mirror which allows you to keep track of your child as you walk. A 3L hydration pouch on the carrier will keep you hydrated throughout.
We had an older version that still holds up just fine but it's not incredibly comfortable, so this "upgraded" version is even better.
PROS
Mirror to check on your child
Removable backpack
Space for water bladder
Stomp pad to hold bag down
Adjustable hipbelt with large pockets
Adjustable stirrups
Sunshade included
CONS
On the pricier side
Child seat keeps repositioning on its own sometimes
Thule Sapling Elite
Check other reviews and current prices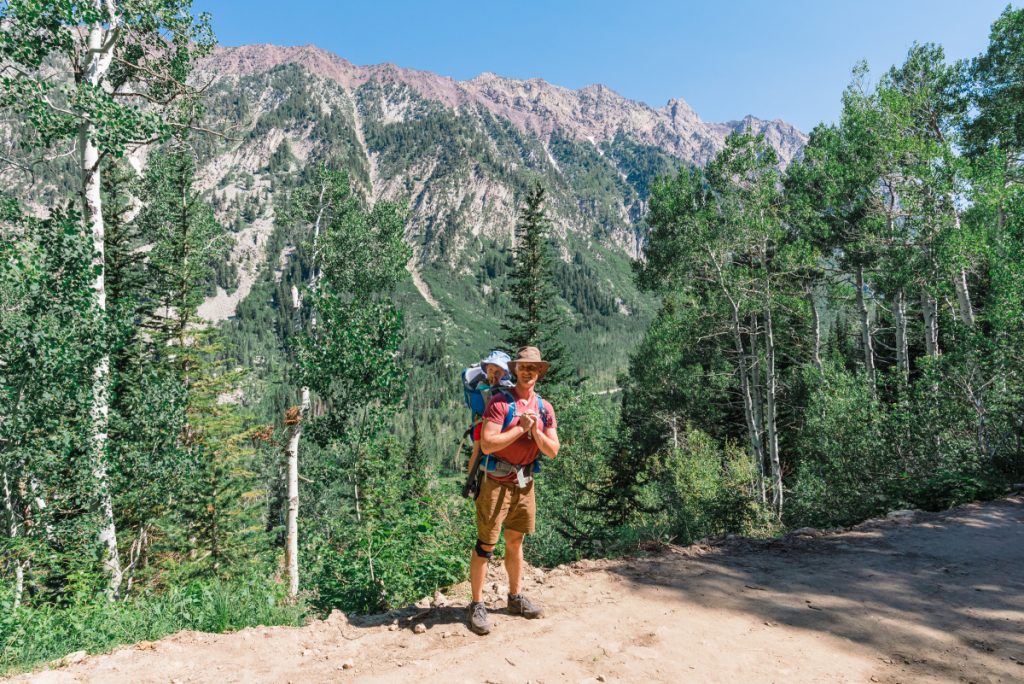 ---
Dimensions: 34 x 17 x 9 inches
Maximum Capacity per Seat: 49 lbs
Carrier Weight: 7 lbs
This is one of the premium and excellent carriers on this list and REI choice winner. The company spared nothing when they were designing this carrier and offers great suspension. The price also matches the effort.
The carrier is very comfortable and will keep your kid holding their head high, with a lot of room to wiggle inside the carrier. Plus, there's lots of space for overnight trips.
The hood protecting your child from the sun's rays is a waterproof and comfortable stand.
PROS
Ventilation
Sunshade included
26 liters of gear storage
Thick soft droolpad
Pivoting variflex hip wings for steep terrain

Osprey Poco Plus Child Carrier
Check other reviews and current prices
Dimensions: 30 x 10 x 16 inches
Maximum Capacity per Seat: 33 lbs
Carrier Weight: 5.5 lbs
This is the best carrier for hikers who do not spend a lot of time outdoors. If you are looking for a good carrier without having to spend a lot of money, this would be your best bet.
This is one of the lightest and best-selling baby carriers you can buy for hiking. It has a maximum load capacity of 40 pounds and also comes with a canopy and rain cover for your child. The straps are adjustable, allowing you to keep your baby in the right position at all times.
PROS
Weather canopy for sun and rain
Padded straps and hip belts for parents
Adjustable foot stirrups
Washable drool pad
Ultra-lightweight
CONS
Single stitched velcro
Zippers wear off quickly
ClevrPlus Cross Country Child Carrier
Check other reviews and current prices
Dimensions: 14.7 x 9.5 x 28.5 inches
Maximum Capacity per Seat: 40 lbs
Carrier Weight: 6.4 lbs
This carrier has the softest padding on the market, so your child will not complain. Like many other carriers highlighted here, this carrier has an aluminum kickstand for loading and unloading the baby.
There is a sunshade to protect your child from the sun's rays and hip pockets to store your other valuables.
Although it has been designed well, the shoulder straps do not have the padding you may love to keep yourself comfortable if you will be taking a long hike.
PROS
Waterproof fabric
Changing pad included
Insulated pocket for food and bottle storage
Height adjustable supports
Removable weather hood
Affordable
CONS
Stand is difficult to push and pull
No water holder
LuvdBaby Premium Baby Carrier
Check other reviews and current prices
Dimensions: 18.5 x 13.5 x 7.5 inches
Maximum Capacity per Seat: 48 lbs
Carrier Weight: 3.3 lbs
A head above, or was it shoulders? The Minimeis was named Invention of the Year in 2019 by Time Magazine.
Approved by both US ASTM and European Union standards, the Norwegian produced MiniMeis lets your child ride on your shoulders seeing everything you see.
The child sits on an elevated arch that doesn't hurt the parents' shoulders.
PROS
Light stainless steel frame
Shoulder straps, waist belt, and leg straps for safety
Collapsible to a bag form
Easy to store
CONS
No backpack part or pockets for longer hiking gear
No sunshade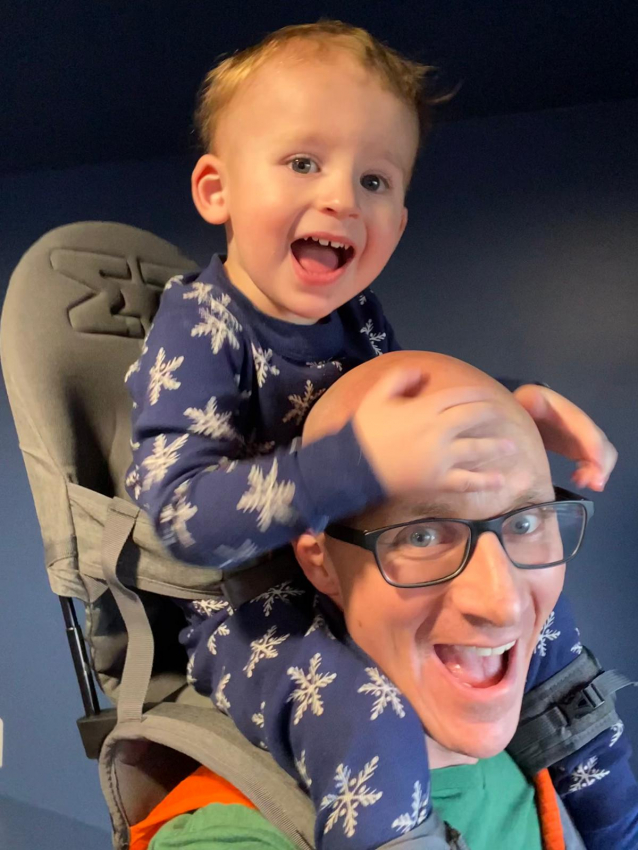 MiniMeis G4 Baby Carrier
Check other reviews and current prices
---
Questions to Ask Yourself Before Buying a Hiking Baby Carrier
Here are some of the requirements I looked at while deciding which baby carrier to buy for my little ones.
Does it include a sun shade or rain protector?
If you're spending a lot of time outdoors, it's important to protect your baby from the elements. Some carriers come with inbuilt sunshades or rain protectors that are convenient.
Which way do you want the baby to face?
If your baby is under 6 months, it's best to only have them face you. Once they're above 6 months old, you can choose from a range of options – back, front facing you, front facing forward or on the hip.
Does it have a stand?
Does the baby carrier have a stand for you to put it down.
How much does the carrier weigh?
Remember, you will already be carrying the weight of your baby. How much does the carrier add to that weight? This is especially important on longer walks and hikes.
How difficult is the carrier to wash?
Are the drool pads and chin rests washable? Is the entire carrier washable? This make a big difference, especially with the lasting smells of baby code browns and other baby outputs.
Does it meet safety standards?
Has the carrier met different safety standards and measurements? Check if the carrier has been certified by the International Hip Dysplasia Institute for babies or ASTM safety regulations.