If you haven't seen ads on Facebook promoting MiniMeis shoulder carriers as a perfect gift for dads you must have been living under the rock. They really pushed on their marketing campaign well.
When I first saw it I thought: this is so cool! Who wouldn't want a portable and compact baby carrier for hiking? Not surprisingly, we got MiniMeis for Father's Day from a relative (I'm guessing she saw the ad as well).
Husband tried it around the house and around the neighborhood when Dylan was about 16 months old and he really didn't want to use it. While Dylan enjoyed hitting his daddy on the head and pulling his ears, after 5 minutes he wanted to come down saying he's uncomfortable leaving the dad with an awkward thing on the shoulders.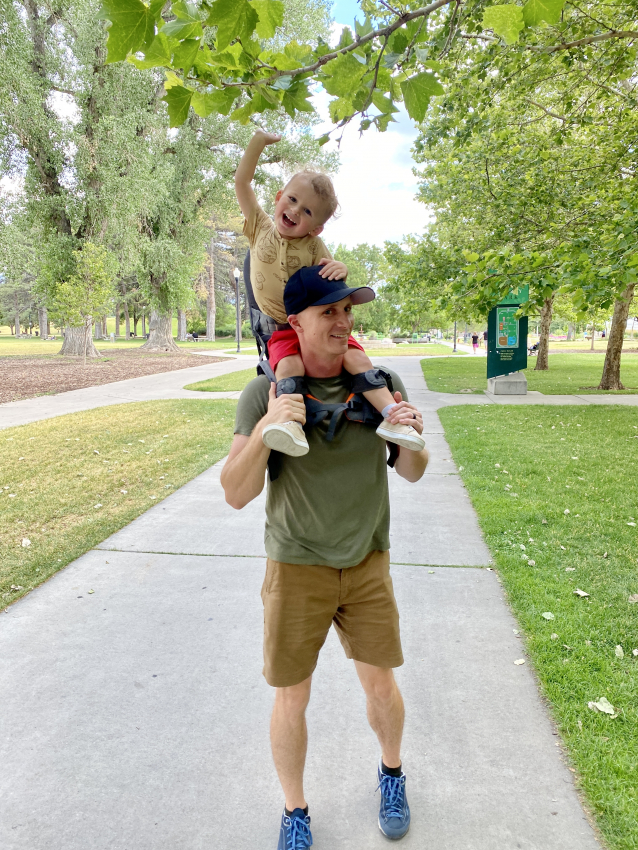 ---
While MiniMeis does come with a backpack if your child decides to walk and you have your own backpack as well you can't really take it off your shoulders because it's not as compact as regular baby carriers that you could smush and stuff into a regular backpack.
---
There were lots of other issues that made us not like it as much…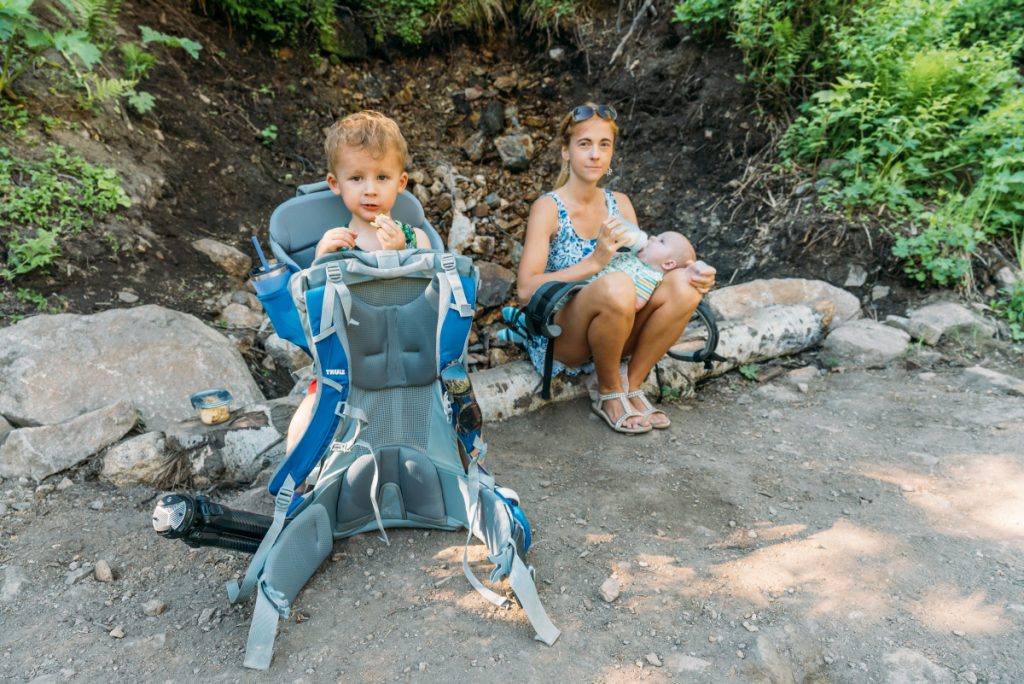 ---
Awkward to Get Baby In and Out
With a standard hiking backpack it's pretty simple to put a child into it. You can do it on the ground, strap the baby in and then put the backpack on. With MiniMeis it's not possible. You need to put the child on your shoulders and strap him in on top of you.
The feet part is really not an issue but the other strap is pretty awkward to do. If you have a wiggly child (we did), then good luck.
No Weight Distribution for the Shoulders
If you're thinking of it as a baby carrier for hiking, then MiniMeis is not going to cut it. There's no real weight distribution (even though it says there is), no matter how tight you pull the straps the child is always falling down and kills your shoulders.
It doesn't distribute the weight across much of a surface area of my shoulder and is pressed in on certain spots quite painfully. Including the neck.
Baby Cannot Sleep in MiniMeis
When we take Dylan on a long hike in a backpack, at some point he puts his head down and takes a nap. It's not possible with MiniMeis as his head can flop in all directions.
That's on top of the fact that in a standard carrier there's no sunshade – it's sold as an accessory. Anyone who's been on long hikes with kids knows it's a must.
There's no raincover for MiniMeis and while you're obviously not planning on going hiking in the rain, you know that weather in the mountains can change rapidly so you never know when you might get caught in the rain.
Pretty Annoying for the Parents
That might be specific to certain kids, but a child sits higher in MiniMeis than in a regular hiking baby carrier, which opens a possibility to hitting the parent on their head, pulling ears and doing other crazy things toddlers do. If you wear glasses – good luck 😉
Pictured below, haha! Dylan was about 18 months at the time.
They also sell "baby shoes" along with the carrier and I really don't understand why. Dylan is pretty tall for his age, but when I put his younger brother (7 months) in this carrier in shoes his feet could easily hit me in the chin. It's really a design far from ideal.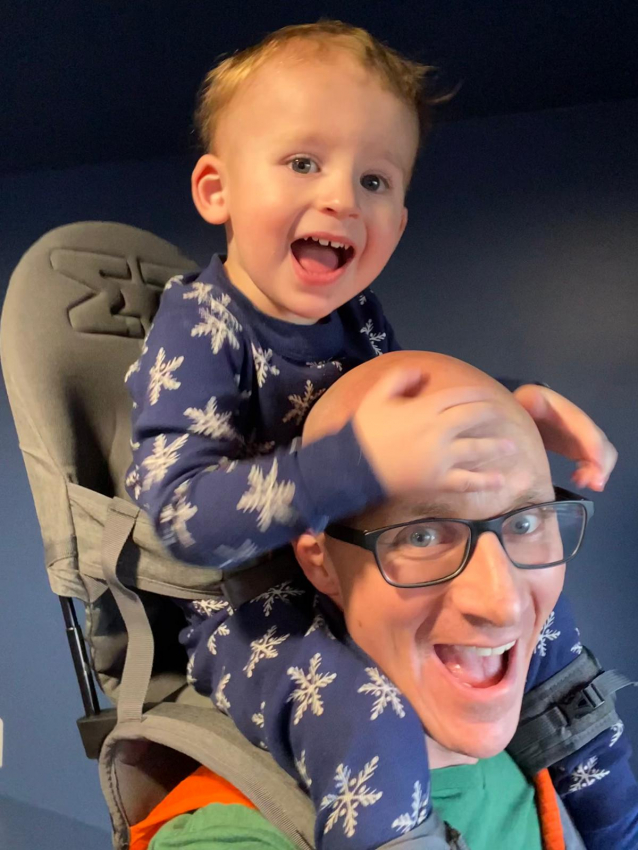 ---
Can You Wear a Backpack with MiniMeis?
You can wear a backpack with MiniMeis, but keep in mind that if your toddler decides to walk you're stuck with it on your back if you already have a backpack.
You're basically carrying double straps and it's really awkward in comparison to regular hiking backpacks for babies.
Not Great for Baby's Hips
MiniMeis is recommended for children 7 months +, it's really not a good position for a baby up to a year old. To prevent hip dysplasia babies should be sitting in a frog position – with knees higher than their bum. In MiniMeis it's not really possible.
What makes MiniMeis a popular gadget that's, similar to Doona stroller, not really good for the baby.