If you haven't seen ads on Facebook promoting MiniMeis shoulder carriers as a perfect gift for dads you must have been living under the rock. It's a relatively new product that turned into a very popular one within just a few years.
When I first saw it I thought: this is so cool! Who wouldn't want a portable and compact baby carrier for hiking? Not surprisingly, we got MiniMeis for Father's Day back in 2019 from a relative (I'm guessing she saw the ad as well). It was their first version of MiniMeis (the carrier got upgrades since then).
Husband tried it around the house and around the neighborhood when Dylan was about 16 months old and he really didn't want to use it. While Dylan enjoyed hitting his daddy on the head and pulling his ears, after 5 minutes he wanted to come down saying he was uncomfortable leaving the dad with an awkward thing on the shoulders. We did not like it at all… but keep on reading.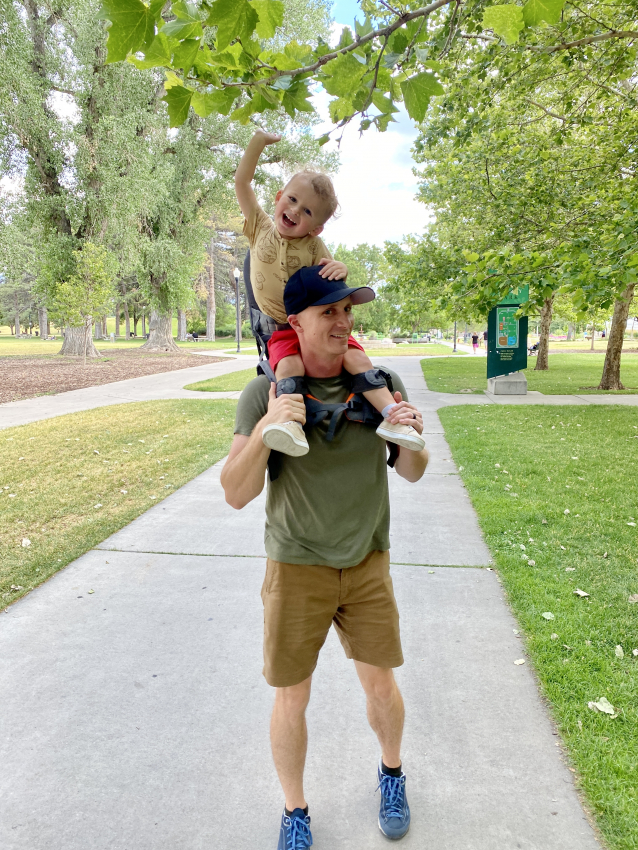 ---
There were lots of other issues that made us not like it as much… But, we gave it a try again when the improved version was released and also tried it with the second child and while I was very skeptical at first, I must say that it definitely works better for us now.
MiniMeis is just as compact as regular baby carriers (unless it's a sling you could smush and stuff into a regular backpack), but with an additional strap if your toddler decides it's time to walk instead of riding on your shoulders you can easily carry the folded carrier.
---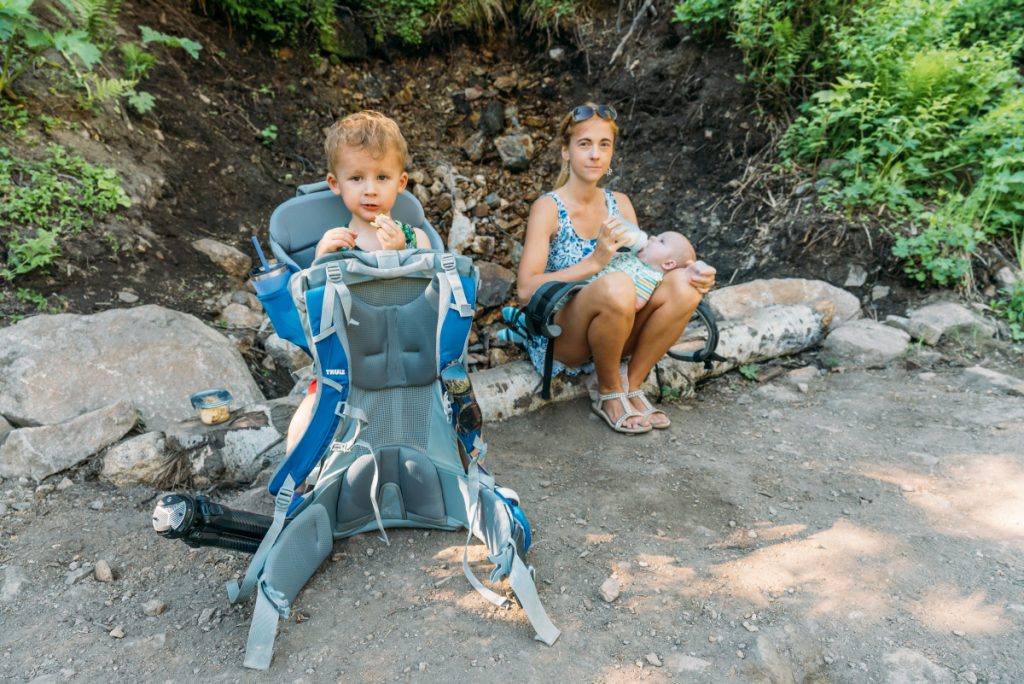 ---
Getting Baby In and Out
With a standard hiking backpack it's pretty simple to put a child into it before you put it all on your shoulder. You can do it on the ground, strap the baby in and then put the backpack on.
MiniMeis is a different concept. You need to put the child on your shoulders and strap him in on top of you, which does take time to get used to with a wiggly child, but it's not impossible. You can use a mirror that's attached to the carrier, which helps to check if you did everything correctly.
The feet part is really not an issue, and for younger children, there's also a body strap. We haven't used the additional shoulder straps as Holden was 11 months old already so he didn't need them, but that's an option the company offers.
Weight Distribution for the Shoulders
The weight distribution has been improved and it works but you need to adjust the straps accordingly every single time you put it on. If you don't, you will feel uncomfortable as it won't distribute the weight across much of a surface area of my shoulder and is pressed in on certain spots quite painfully. Including the neck.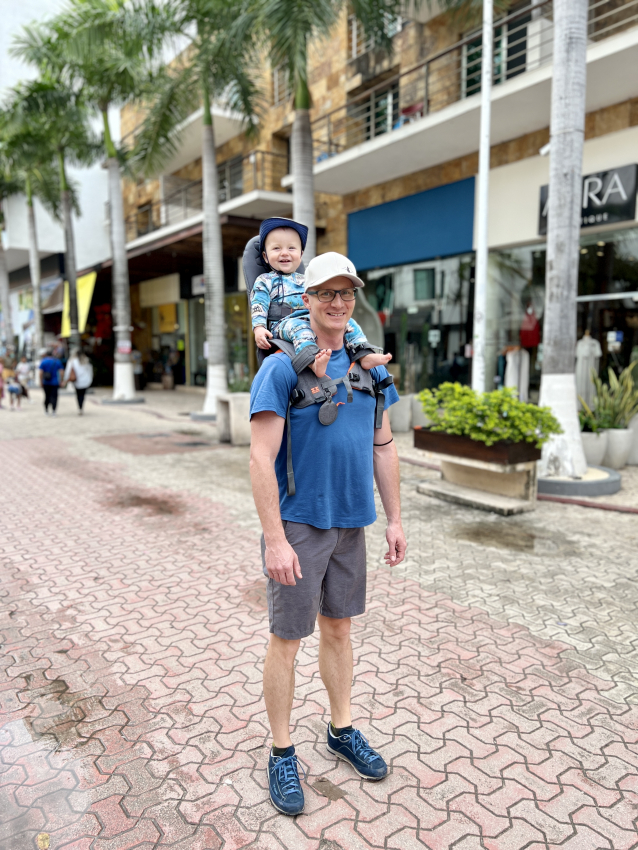 MiniMeis is Meant for Short Distances, not Long Hikes
If you're thinking of it as a baby carrier for hiking, then MiniMeis is not going to cut it. For long hikes, especially with bigger kids, you should get a standard hiking backpack.
MiniMeis is meant for short walks and works as a tool for trips under an hour or so. Think of it as a tool to use for a beach walk, country fair, quick trip to the mall, or stroll around the neighborhood. Your shoulders will hurt if you're planning on using it for longer than that on difficult hikes.
The child can easily get in and out within seconds with your help, so that's a big bonus of this carrier.
When we take Dylan on a long hike in a backpack, at some point he puts his head down and takes a nap. It's not possible with MiniMeis as his head can flop in all directions. So that's a drawback and another reminded that it's not a long-distance carrier.
There's no built-in sunshade – it's sold as an accessory. Anyone who's been on long hikes with kids knows it's a must, so do yourself a favor and get it.
There's no raincover for MiniMeis and while you're obviously not planning on going hiking in the rain, you know that weather in the mountains can change rapidly so you never know when you might get caught in the rain.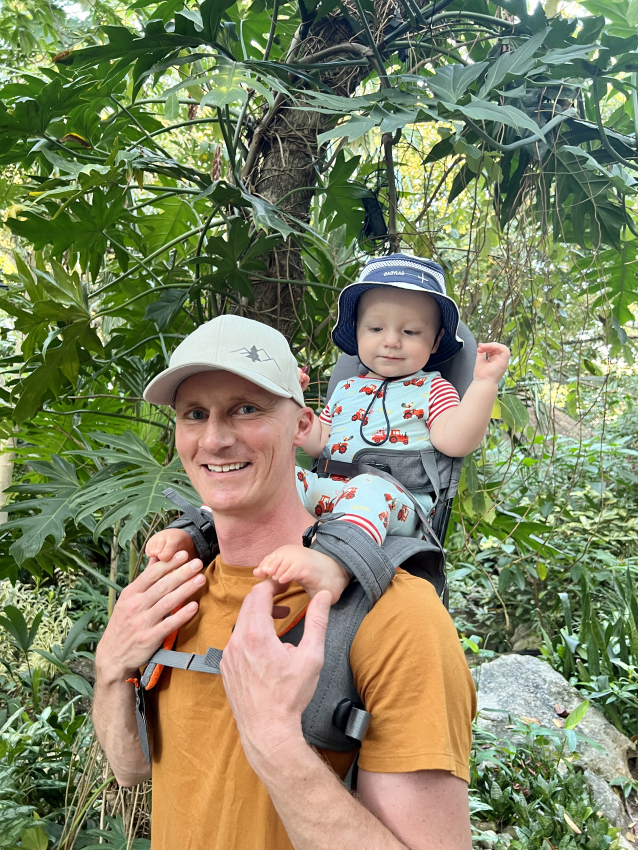 Is MiniMeis Worth It?
It all depends on your child and your needs. If you feel like you'll be using it enough then for sure it's worth it as it frees your hands when your child rides on your shoulders. Keep in mind that you need to pay attention when you enter doorways 😉
The child sits higher in MiniMeis than in a regular hiking baby carrier, which opens a possibility to hit the parent on their head, pulling ears, and doing other crazy things toddlers do. If you have a naughty toddler like our Dylan 😉 Pictured below, haha! Dylan was about 18 months at the time.
His brother Holden isn't a naughty child and for him, MiniMeis is just perfect.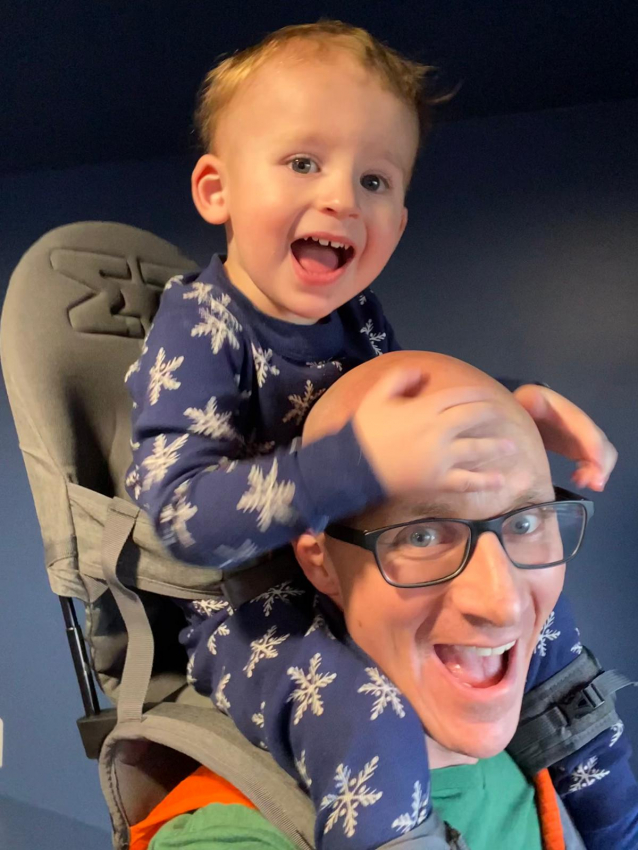 Other MiniMeis Accessories
I got to try the Game Change shoes that MiniMeis sells and I must admit that I kept thinking "what's so special about them?". They're using innovative SGL balance technology and honestly, I still don't understand what it means exactly but Dylan is a big fan of them and he's incredibly picky when it comes to shoes. If he's happy, I'm happy.
---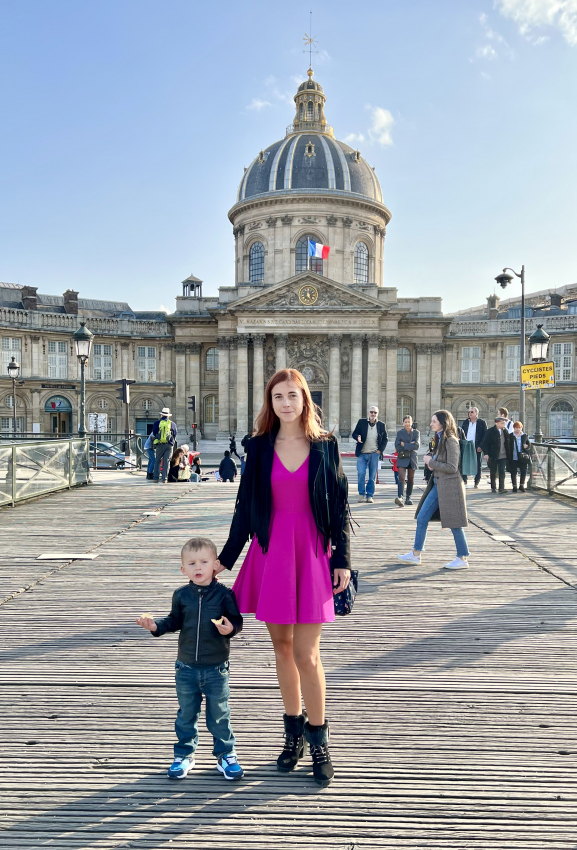 Can You Wear a Backpack with MiniMeis?
You can wear a backpack with MiniMeis, in fact, MiniMeis sells a backpack that can match the colorway of the carrier. Keep in mind that if your toddler decides to walk you will need to carry the MiniMeis carrier as well. Although it does have a strap so it's like a light version of a shoulder bag.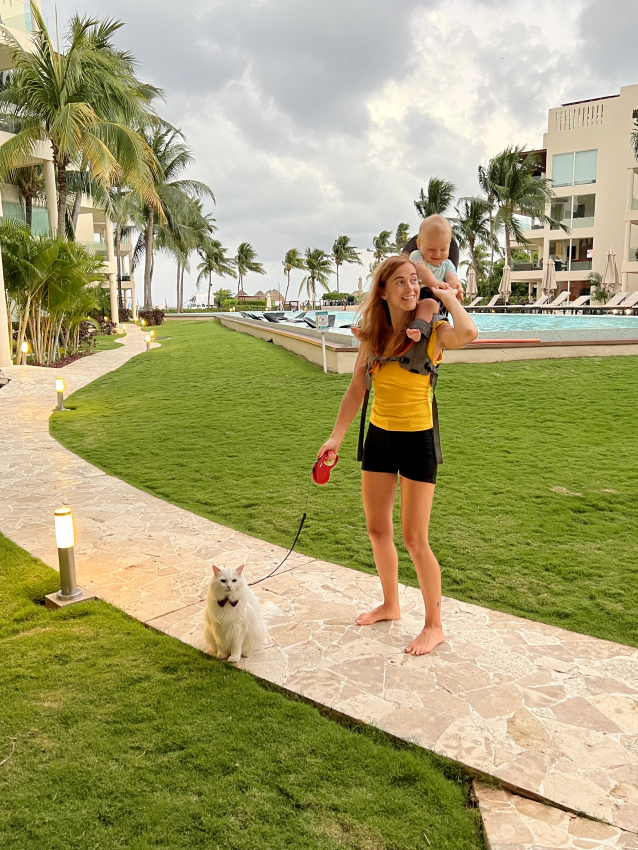 What Age is MiniMeis Good For?
MiniMeis is recommended for children 7 months + and I wouldn't try to use it earlier. To prevent hip dysplasia babies should be sitting in a frog position – with knees higher than their bum. In MiniMeis it's not really possible.
What makes MiniMeis a popular gadget that's similar to Doona stroller case, not really good for the baby under a certain age so wait till your baby is older to get it. Adding to the fact that a smaller baby is shorter so their feet could hit you in the chin.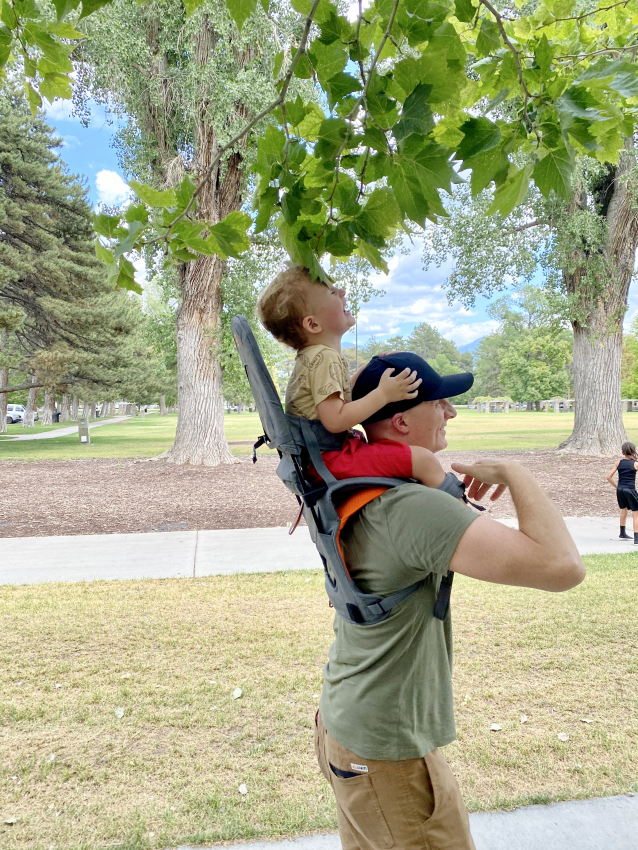 Final Verdict:
MiniMeis can be a useful tool, but it shouldn't be your only carrier as it's not meant for long-distance hiking. For longer hiking, get a proper hiking backpack. It is very fun for the kids, especially those who aren't walking yet as they can sit up high without you having to worry about them falling off.