Creative play is so important when children are growing up. This is where finding toys that provide fine motor skills and sensory learning is key. One of the best toys for creative play is magnetic tiles.
The most popular brand of magnetic tiles is the original Magna Tiles, but these days there are lots of similar brands and competing companies such as Picasso. Let's take a look at the difference between the two magnetic building block sets so that you can make a choice that's best for you and your child.
What are the educational benefits of playing with magnetic tiles?
This list could go on forever. Tiles are the perfect way to work on fine motor learning, sensory learning, color matching, and more.
The kids will love being able to create their visions and build structures, too. The great thing about building with magnetic tiles is that the kids can then use them in other areas of play. Creating a little house for other toys, making a rocket ship, or even just creating a space in their room to create their own magnetic city!
You can also play with them on magnetic walls of all sorts – fridges or garage doors!
When it comes to buying a magnetic tile set, consider what will work best for your child. There are differences in terms of cost and quality, but all options are great options to consider.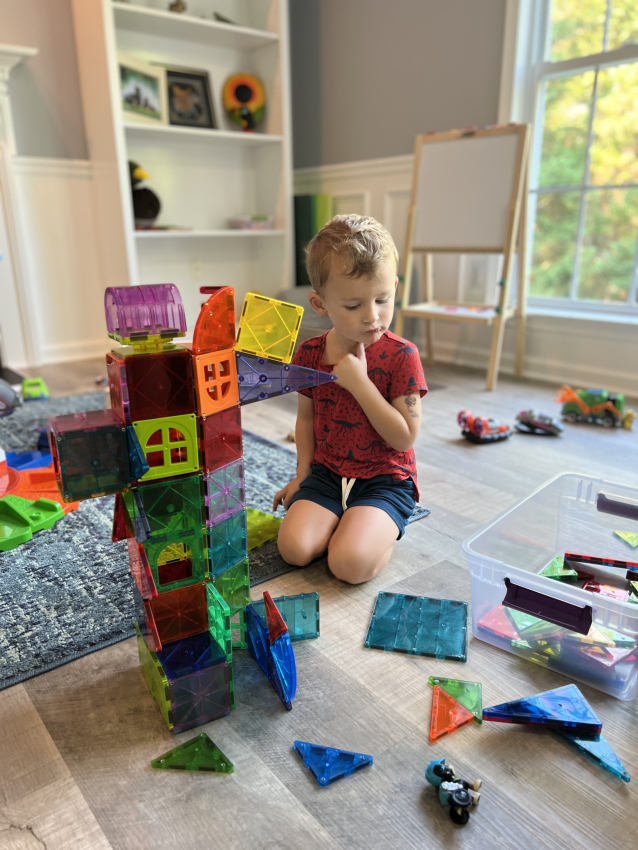 What age are Magna Tiles good for?
The tiles are rated for ages 3+ officially as they contain magnets inside, but if you dig deeper so are baby rattles. Always gauge the estimated age based on the level of maturity of your child. Make sure that they understand that they shouldn't be putting them in their mouth while playing and building with them.
In my case, we had magnetic tiles since the kids were about 12 months old and years later they constantly play with them. They can create things out of tiles in their own ways, developing imaginative skills as well as practicing fine motor skills, along with working on precision and patience.
---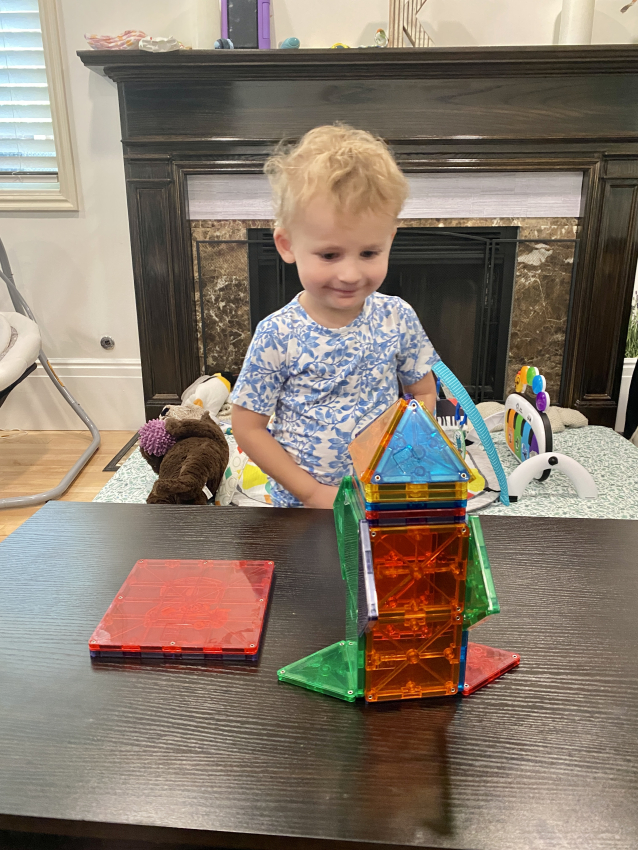 ---
What is the difference between Picasso Tiles vs Magna Tiles?
One of the biggest questions that people ask is: "Are Picasso tiles the same as Magna tiles?" and the answer is no. They are similar, but they're vastly different as well. Understanding the details between the two that are listed below will help you feel confident before purchasing a magnetic building blocks for kids.
To be honest, a lot about the two brands is similar but Picasso tiles are significantly cheaper.
They're similar in size, similar color, and similar-sized magnets. But, where the difference between the two starts to show is the way they're constructed.
Picasso tiles are constructed using glue to hold their corners and edges in place while Magna tiles are actually made using metal rivets in areas that reinforce and hold the magnetic blocks together.
While both are pretty sturdy, there is a strong argument to be made that metal is a better option for creating a sturdier block and tile than glue.
Do Picasso Tiles break easily?
I wouldn't say that they break easily, but they do have the ability to break. Since they're made of plastic and use glue as their connectors in corners, etc. – there is a chance that the tiles could break if thrown across the room.
When this happens, it's important to get rid of that tile so that it doesn't become a choking hazard to your child. You also need to toss it, because it could expose a magnet which isn't something that you want to have open around younger children.
---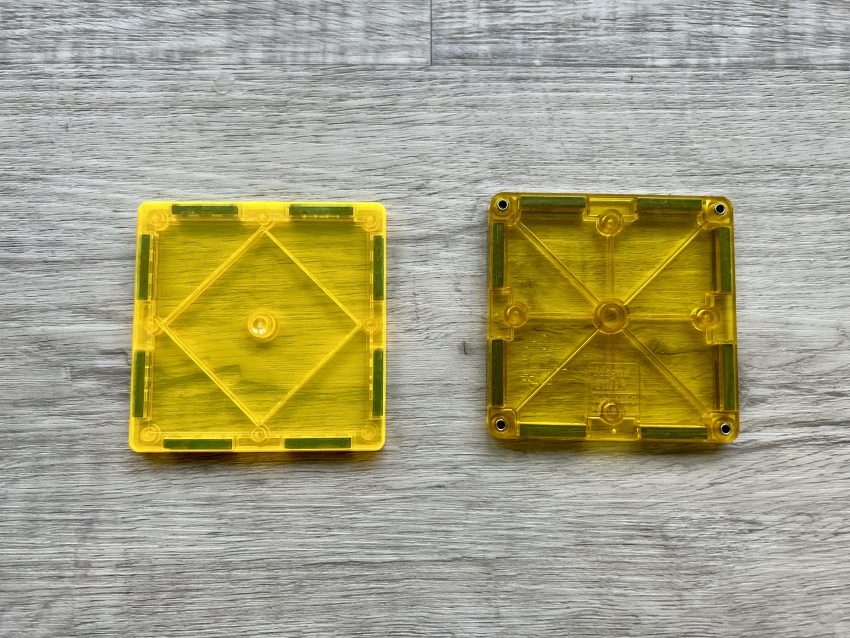 Pros of Picasso Tiles
Bright and colorful tile options
Big and easy to grab for dexterity and fine motor skills
Affordable and great for buying and growing a collection of tiles
Lots of options including figurines or magnetic Lego tiles
Cons of Picasso Tiles
Made with lesser quality than other options
The tiles can be too small for younger kids to safely play with
If the tiles break, the magnet can be exposed
Pros of Magna Tiles
Excellent for color coordination and imagination
Comes in a variety of shapes and sizes
Simple to increase your collection and continue building
Durable and hold together well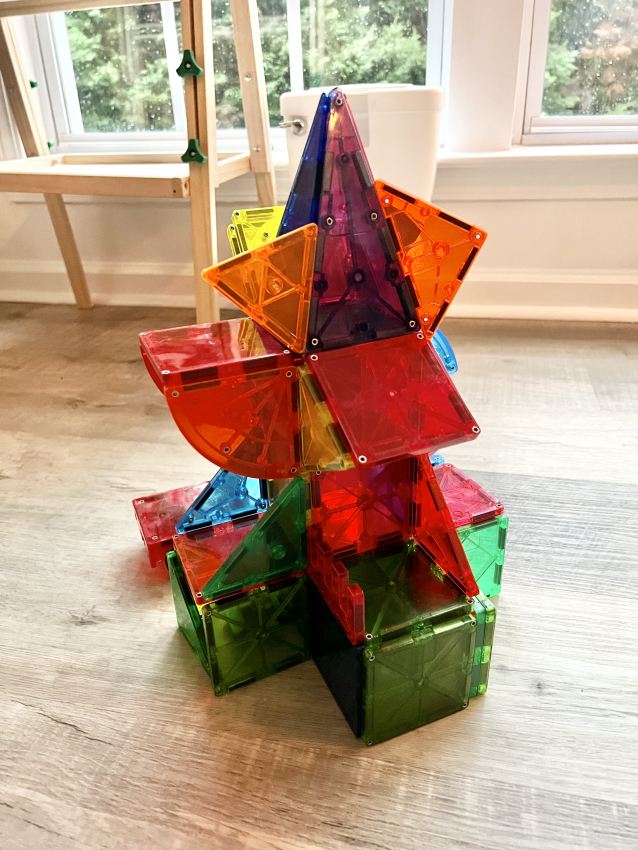 ---
Are Magna Tiles and Picasso Tiles compatible?
They are! This is another reason that it's totally cost-effective if you mix and match. You can easily add to your collection if you find more at a great price or are gifted or given some, too.
They're very similar in how they look, but it's fun to piece them together and see how well they flow.
This could also open up a great conversation with the kids about if they notice a difference between the two which helps with their critical thinking and analytical skills.
---
Tips for Purchasing Magnetic Tiles for Kids
Just a fair warning – buying and creating with magnetic tiles is addictive. This is because you can keep buying more and more tiles to keep creating bigger and bigger structures.
As the kids start to get creative, it's a blast to see their minds expand and create at the same time.
Encourage them to think outside the box and in a way that gives them free rein for building amazing structures. Be sure that they understand that not everything that they make will last forever, either.
One of the biggest takeaways from using magnetic tiles is that it opens up a world of learning. The kids will start to think like an engineer, coordinate colors like a designer, and plan out new designs like an architect – all on their own!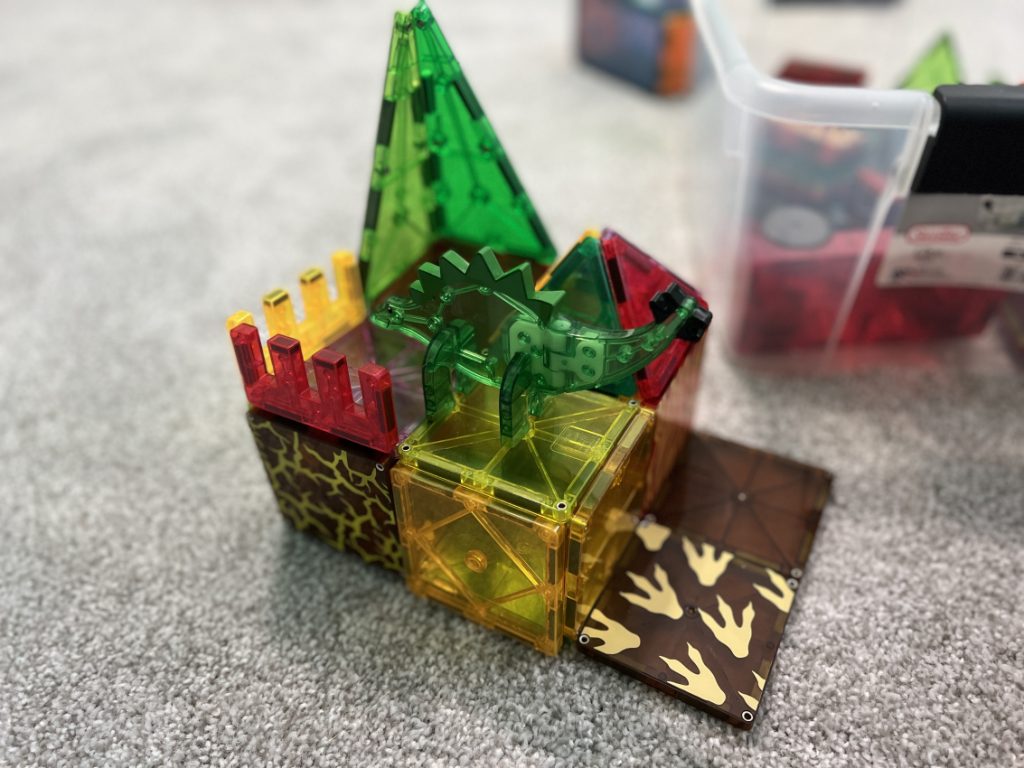 ---
Best Sets of Magnetic Tiles to Buy
The basic set that serves an introduction to magnetic tiles play. If you prefer Picasso Tiles this set is recommended.
With 100 different tiles, this is the perfect STEM starter pack for kids. This gives them plenty of options and shapes to create and build anything that they want.
Who says that you can't take the tiles with you on the go? This set is a great size and perfect for packing up for your next travel plans.
Just when you thought that learning tiles couldn't get any more fun, along comes the option to let the kids build in the dark!
The cool thing about this tile set is that the kids can use it to build rockets! Talk about a great way to have them think out of this world!
It's not a known brand, but it works great with both brands mentioned above (we have it and never encountered an issue). The tiles are durable and creative.
---
Magna Tiles Alternatives
Picasso tiles and Magna Tiles are usually compatible (the Lego tiles are smaller so they won't make perfect cubes even with other Picasso Tiles), but not all magnetic tiles will work together. You will need to look at their size and build to determine if adding in a different brand will work.
I will say that while I was originally excited about Picasso Lego-compatible tiles and magnetic figurines, they're not as great as they seem. They're extremely hard to separate and Legos we received in a set are very small. Little people barely ever stick to the tiles, so ultimately they're just free-standing figurines no on every use.
Truth be told, the new dinosaurs from Magna Tiles stick to the surface easier than Picasso figurines. They're also amazing btw!
I started looking for expansion sets and pulled the plug on a no-name brand set and honestly… they are much better than Picasso and quite often the only way I can set them apart from Magna Tiles are the colors. That said, I highly recommend this set of standard magnetic tiles.