The Montessori approach to child rearing is all about promoting independence. I really had not considered how storing a child's toys factors into this until a friend brought up the topic of installing a Montessori toy shelf in her house. It was only a matter of time till we got one for our house too.
Discover how to choose the best Montessori shelf for your space, and how to set it up, whether in a playroom or bedroom if you don't have much space. I got to try a bunch of Montessori shelves as I owned a wooden toy store, so if you don't see something featured ask me in the comments – there might be a reason why a certain model or brand isn't on the list 😉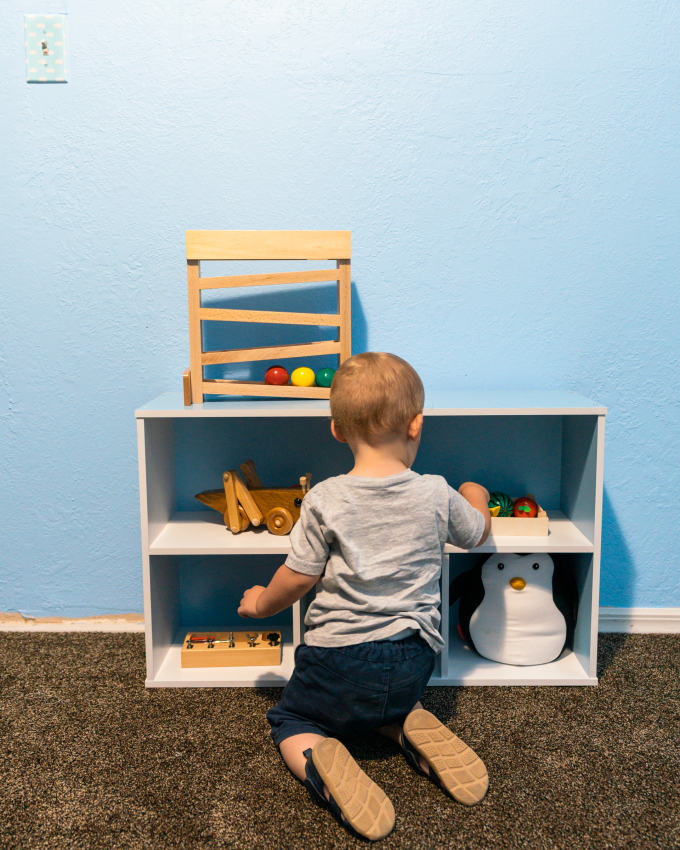 What Is A Montessori Toy Shelf?
A Montessori toy shelf is designed in such a way that it offers ease of access to a toddler, without any help from an adult. So what do you need to consider when you select a shelf?
I advise against purchasing a shelf without the back, unless your walls have no bottom trim or molding, and can put it against the wall entirely. Otherwise, toys might get caught between the wall and the shelf, making it frustrating for the child.
What's the best height of the Montessori toy shelf?
The idea is that the child should reach all items on the shelf with ease. Note that this means approximately 1-2 feet high. The width does not pose an issue when it comes to Montessori toy shelves.
Recommended Shelf Height by Age:
| Height | # of Adjustable Shelves | Age Range |
| --- | --- | --- |
| 13″ | 0 | 0-12 months |
| 24″ | 1 | 18 months -3 years |
| 30″ | 1 | 2-5 years |
| 36″ | 2 | 3-6 years |
Can you add storage cubes to the Montessori toy shelf?
Shelves without bins are preferred since it's easier for a child to use. Doors also have a lot of pinch points that you want to avoid with young children. Plus you have the added unintentional accidents when one kid slams the door into another kid's head.
Does it have sharp edges and corners?
Okay, so this isn't really part of the Montessori requirements, but I have to emphasize safety – especially when you're putting it in the same room where your child will sleep. The idea is that the child needs to interact with the shelf on his/her own.
That means that it needs to be safe. Now a shelf with sharp corners can be baby proofed so that isn't an issue but it's just one thing that you need to keep in mind when setting it up.
Best Montessori Shelves for Toys
Lovevery Toy Shelf is undeniably one of the most popular contenders when it comes to the best Montessori toy shelf market. It comes with a hefty price tag and I must admit, I originally thought it was pure insanity, but the more I looked at wood quality and its functions – if you have the funds, get it for sure. I'll also add that Lovevery toy shelf dupes aren't cheaper at all and don't offer a 2-year warranty!
One of the things that I really struggle with is space constraints. That's one of the reasons why I love the Lovevery Montessori play shelf. The shelf isn't too wide and yet it gets the job done. Made of Baltic birch, the Lovevery has a very aesthetic look and uses soft close technology to ensure that the child's fingers don't get pinched.
When I went through the details of the product, I was initially a bit confused. In a way, I think that the beauty of the design is the fact that you cannot see the hidden storage area at the back. The storage space is accessed by lifting the lid. Highly space-saving!
Montessori toy shelves are also best utilized by putting the toys in trays. If you do decide to get the Lovevery model, don't buy too many trays. The company provides two wooden trays and two storage bins with the setup!
Another highly rated model that I love is RAD Furniture toy shelf. It's a reputable company that has been around for year without any issues.
It comes in a wide range of sizes and is well stocked and of quality.
It's not as narrow as some other brands, so crafts and wider toys will fit on it just fine. You can mix and match smaller units to add as well.
Most Quality Toy Shelf: Sprout Kids
If you're a Montessori parent you might have heard of the brand already, as they offer a huge variety of practical life Montessori items for toddlers.
Sprout infant shelf is one of the best in the market. It has just one shelf aside from the top panel and it comes in two sizes (45" and 30"). If you wish, you can add more levels as your child grows.
Another intriguing part about the Sprout Montessori toy shelf is that it assembles and disassembles easily. Did I mention that you don't need tools for assembly?
Don't worry about babyproofing this shelf. The edges are burnished so there are no sharp corners or edges to worry about. No doors means no pinch points either.
The Guidecraft Montessori toy shelf is great if you are looking for simple aesthetics. One great advantage that this brand has when compared to others because it's smaller so while giant toys won't fit, it's perfect for small spaces.
This particular design has two large shelves which I find works well with my kids. The large shelf without cube-like dividers helps visualize everything at once and opens the possibility to put various items on the shelf Alternatively, if you prefer, they also have designs that feature three shelves or shelves which are partitioned to make it a bookcase at the same time.
The only con of this bookshelf is that you don't have a hidden storage compartment.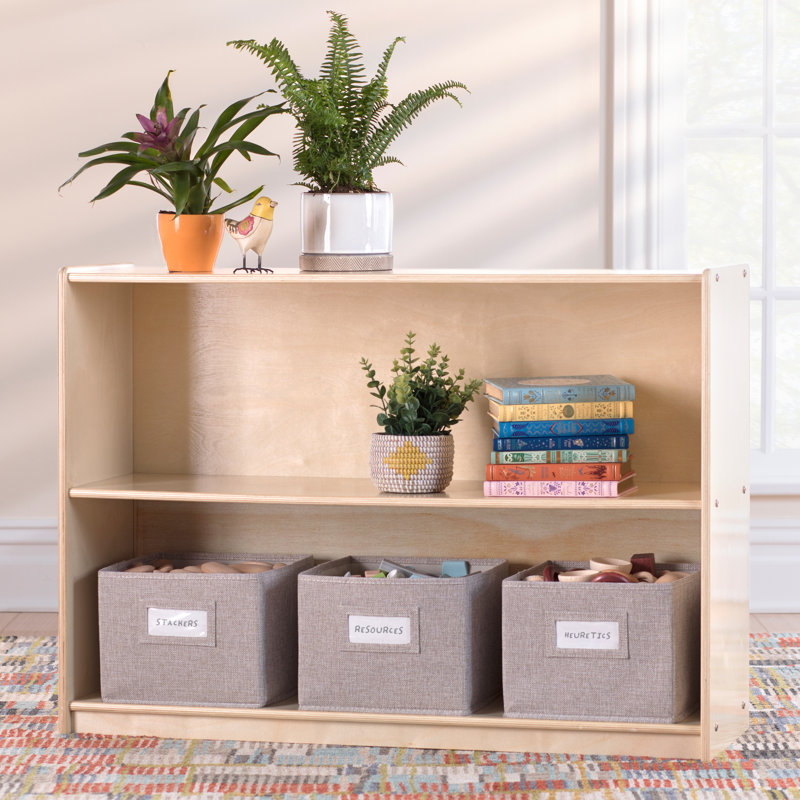 If you don't have much space constraints, consider the Montessori toy shelves brought that can later convert into a dollhouse or anything up to a child's imagination.
These shelves are really simple. They come in three different colors and are designed to complement almost any color scheme.
They're also extremely affordable compared to other brands and pretty durable (we sold our first one when we moved abroad and now got another one).
The top shelves won't be reachable for a crawler at first, but all walking children or those pulling up to stand can freely access all levels.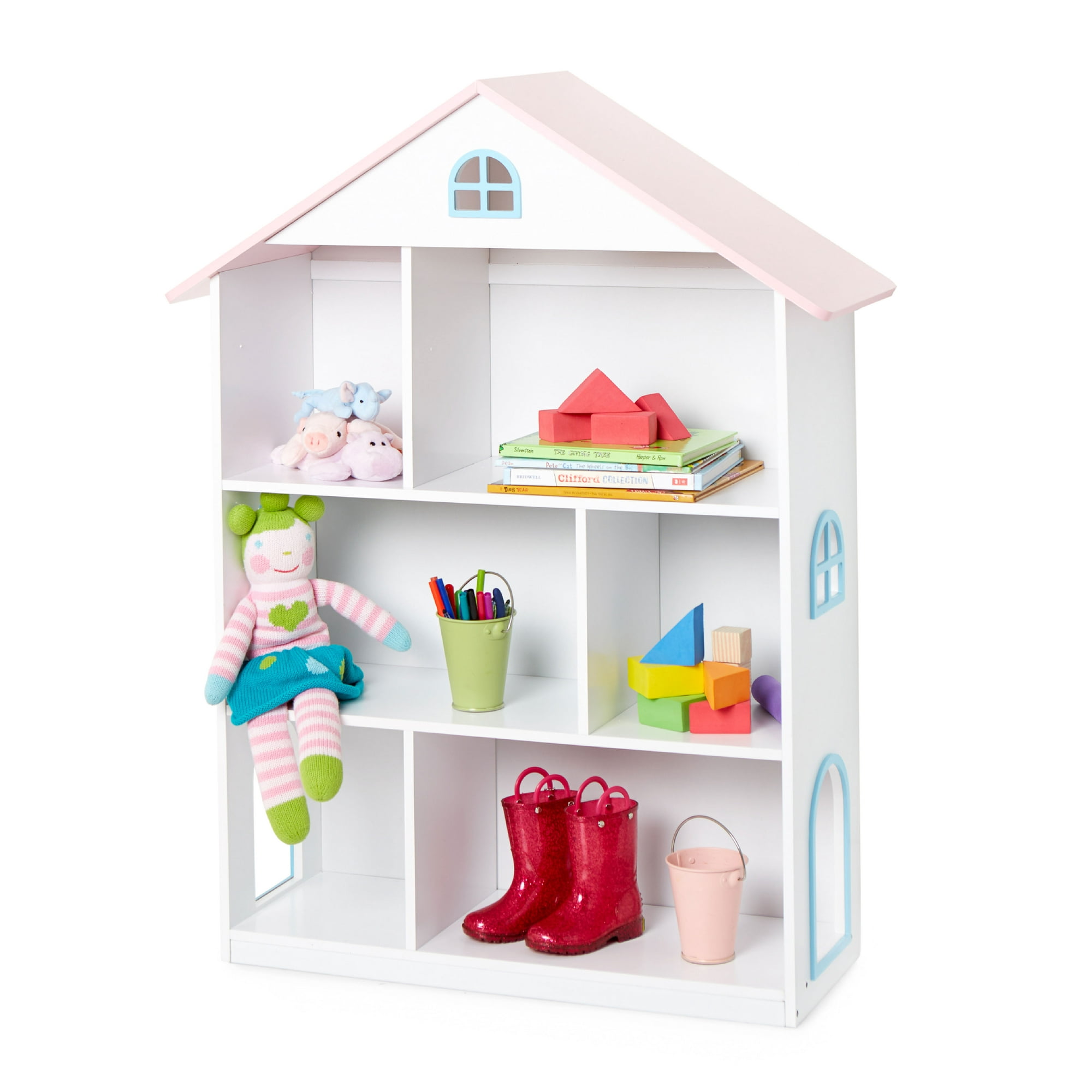 Best Budget Montessori Shelf: Furinno
Ultra space-saving and perfect for almost every nook in the house, I found the Furinno is designed for people who live in apartments and it can be set vertically and horizontally.
Flip the Furinno sideways and you have a shelf that is the perfect height with five spots for your child to stack his/her toys in.
It makes this design highly customizable and it is easy to pick either a plain white, blue, green or pink, based on the dimensions of your room and your decoration style.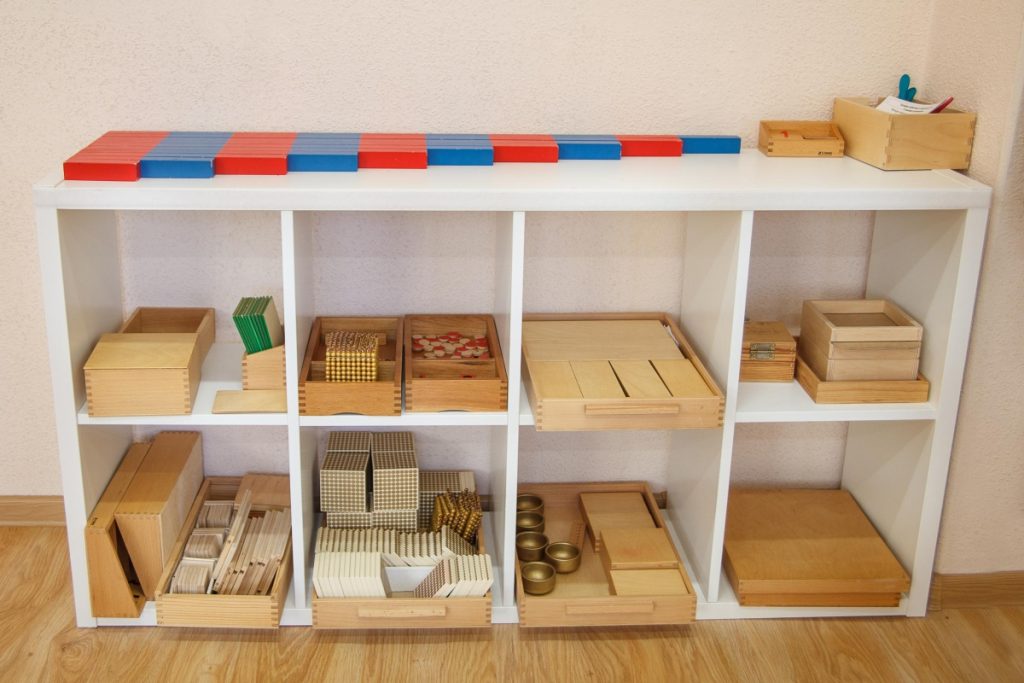 ---
Frequently Asked Questions:
Why should you use a Montessori toy shelf?
Montessori toy shelves are designed such that the youngest child can interact with it. This means that once children begin to crawl, they can approach the shelf and try to pick a toy of their choice. Not only does it encourage the child to make a choice (decision making), it also makes the child move so it encourages crawling/walking.
What should be on a Montessori toy shelf?
A Montessori toy shelf needs to be used as a display case for an array of toys. Ideally, you should rotate the toys every couple of days in order to provide the child with variety. Such Montessori shelf is attempting to use only the popular favorites, but the idea is to expose the child to new ideas to help them learn new skills.
How do you store toys on a Montessori shelf?
Toys that are stored on the shelf should not be crowded. It should be visually uncluttered. This is supposed to prevent the child from getting overwhelmed. Ideally place each set of toys in a tray. This helps the child understand that everything on the tray belongs to one set. I try to get my kids to put them back on the tray before they move to the next toy. Note that the keyword is try. It doesn't always work but hopefully as they grow, the concept will actually set in and work.