Sharing a hotel room with a baby or toddler, especially multiple ones, can be daunting. Kids get easily distracted by you moving around the room and you might not necessarily want to go to bed at 7 pm. In the past, many parents were hiding in the bathroom, but these days there are other, much more pleasant solutions.
The SlumberPod privacy pod claims to make traveling with babies and toddlers more enjoyable. You can read a ton of positive reviews about it on Amazon. Is it really worth it for traveling with babies?
What is the SlumberPod Privacy Pod?
SlumberPod is a very simple, yet well-thought item. It's a large canopy that assembles sort of like a tent and fits over your baby's crib or your toddler's travel bed. It's made of a stretchy black fabric creating a dark blackout baby sleep pod.
In the package, you'll get a SlumberPod with two ventilation flaps, a fan and monitor pouch, two tent poles, and a carrying bag. A fan is sold as an accessory, but a must in my opinion.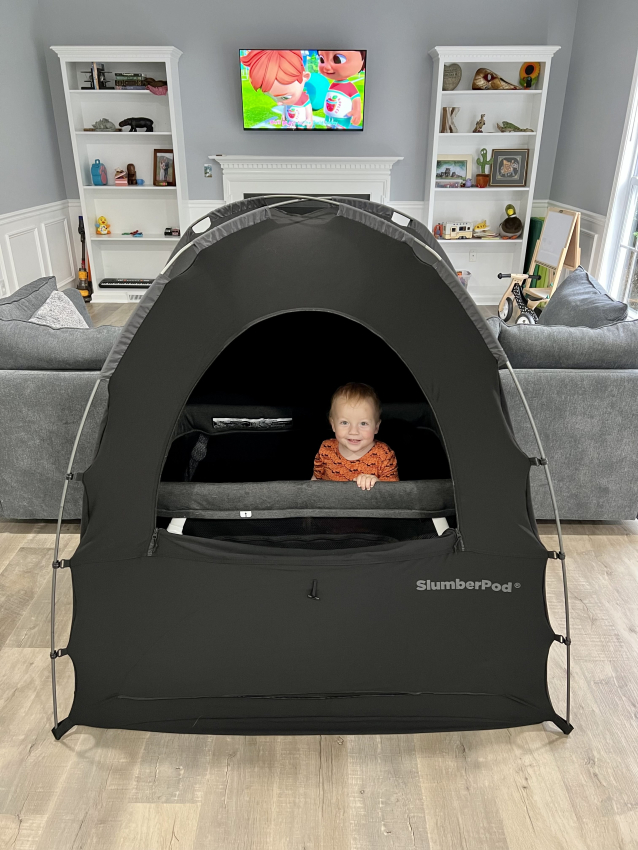 What Age is SlumberPod Good For?
This portable privacy pod completely covers the travel crib or portable bed to create a private sleeping area for your baby or toddler. You can start using it as soon as your baby turns 4 months old and until they fit in a toddler travel cot so realistically until 4 years.
However, keep in mind that because of the complete darkness it's next to impossible for a toddler to figure out how to unzip the tent from the inside. One can say that it's fantastic, but my own child was fully potty trained at night at 2.5 years and he started going to the bathroom at night quietly. If I put him in SlumberPod and he doesn't know how to get out of it to go pee he'll start screaming waking everyone up.
Before you start wondering whether the SlumberPod is safe, let me tell you. It's perfectly safe. It won't collapse on your baby, it won't fold itself and the material is perfectly breathable and tall.
Your child can stand up inside it if they want to. It's not possible to do with any other competing products which makes the whole product claustrophobic vs in a SlumberPod your kid will have some space.
If you're wondering why the price of SlumberPod is high, it's because of the material – it's truly a quality fabric you won't find in any SlumberPod alternatives.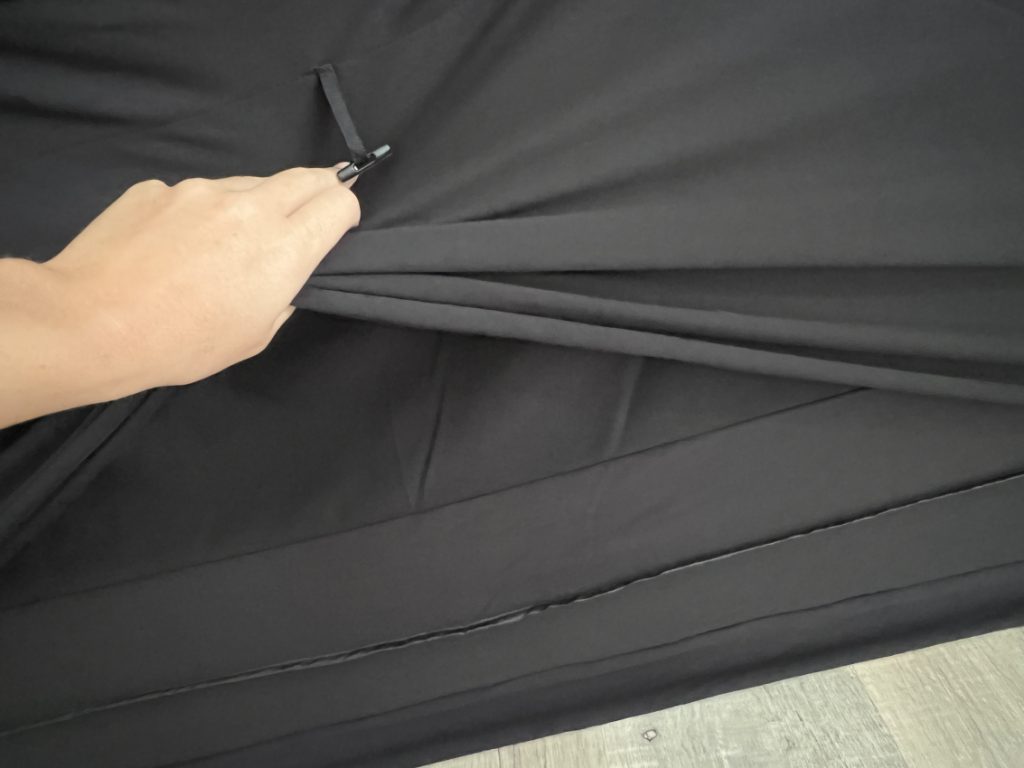 ---
SlumberPod has passed all kid's product safety tests in the USA, Canada, and Europe, and the brand has worked with Safety and Product Development experts, consultants, and a safety attorney to ensure its products meet all requirements.
There's also a spot you can place a baby monitor inside the pod, if you want to keep an extra eye on the baby.
---
Keep in mind that SlumberPod is only approved for use in indoor, well-ventilated areas. Please see the SlumberPod site for all safety information and precautions.
Does it get hot in SlumberPod? Babies can breathe in SlumberPod just fine. There are multiple ventilation panels along with a space to put a little fan that you can purchase as an accessory.
How to Set Up the SlumberPod
The SlumberPod can fit in your luggage and even in your carry-on. Its folded-down dimensions are 17 x 6 x 5 inches only. It's lightweight and easily packable.
Set up is easy, but requires space due to big poles. When you have a partner who can help you set it up you can quickly set it up in 2 minutes, but alone it takes maybe about 5 minutes.
When putting it together keep the ends of the poles not fully put together until you are ready to put them in the pole pockets, otherwise, it does take up a fair bit of room.
I did find it slightly weird to put the baby in and get him out of the SlumberPod because of how the opening is positioned. But honestly, it's not a deal breaker.
---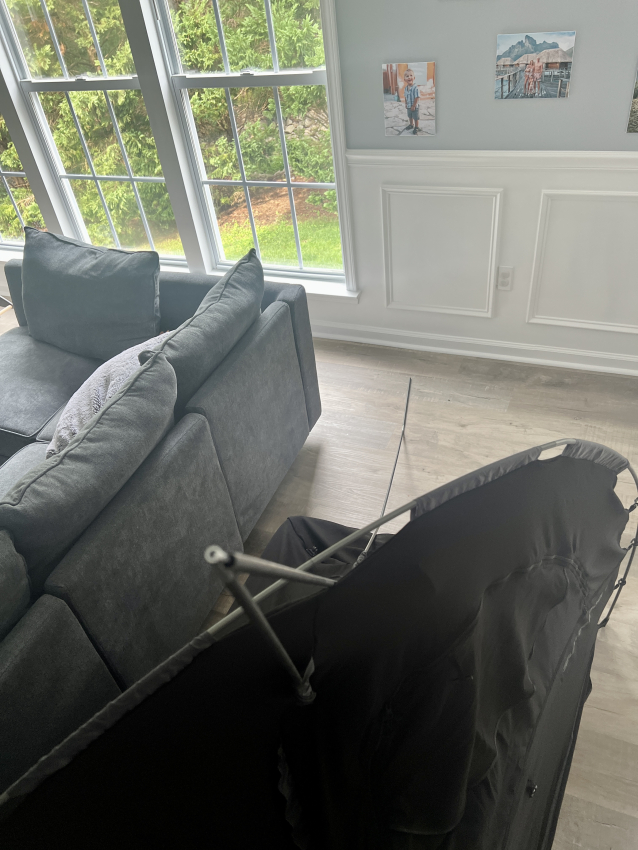 ---
Few Things to Consider Before Buying SlumberPod: Review
While SlumberPod is a great invention there are certain things to consider before making a purchase.
Keep in mind that SlumberPod takes more space than the crib in a hotel room, so you need to have space for it – rooms must be big. While it will work great for villas, suites and big rooms around the US, most hotel rooms in Europe are pretty small – even a crib is a tight fit in many places. That said, I don't see SlumberPod fitting in various hotels.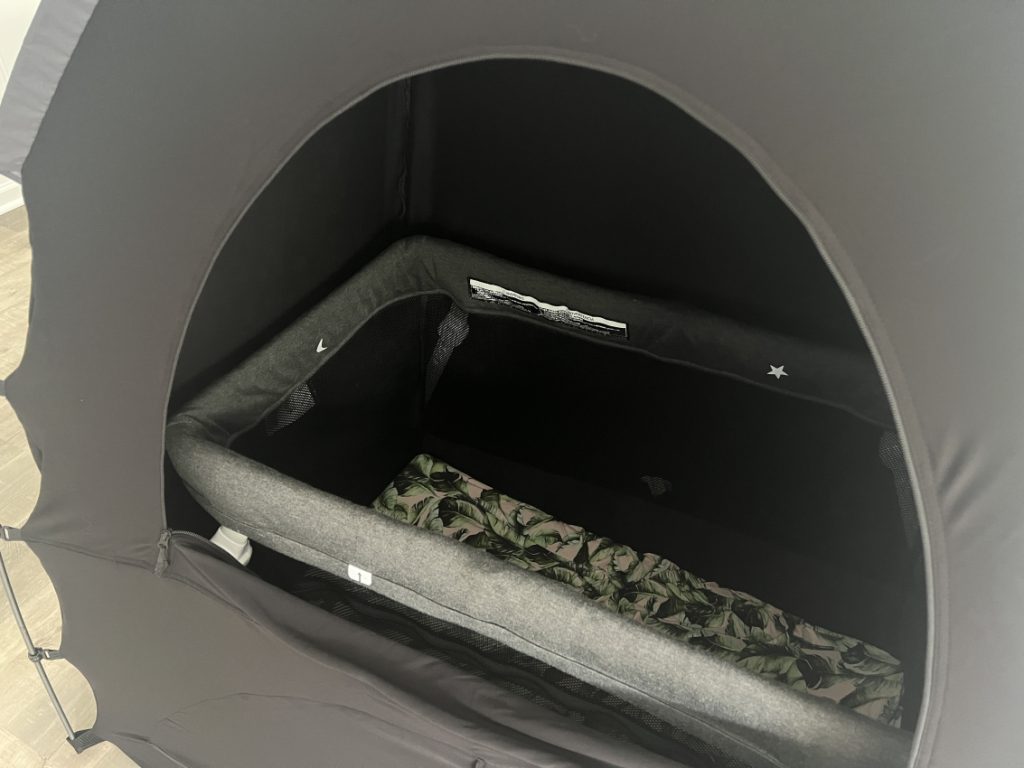 Another thing to keep in mind is that SlumberPod works over a travel crib or pack&play, but not a full-size crib. If you're always bringing your own travel crib for whatever reason, then it's not an issue. But, if you're like us and prefer to travel light and just get cribs from hotels SlumberPod might not always work.
Most hotels that have cribs available will often provide a portable pack-and-play, but this is not always the case as in many hotels, including very fancy ones I was given a big wooden crib that while amazingly doesn't work with a SlumberPod.
The most important tip is to make sure to get your child familiar with the SlumberPod before the trip. My son was pretty terrified of it when we set it up at home because it's very dark inside and it was naturally a new item to him. It took him a while to get in, play peek a boo and eventually fall asleep.
In our case, we did end up leaving the SlumberPod flap door open because my son usually sleeps with a night light at home and he wasn't liking the complete darkness. I sat inside and it does feel scary in complete darkness. However, if your baby likes complete darkness then you might as well close the door entirely.
---
There's no denying the need and effectiveness of the travel-friendly SlumberPod. People love it, and it's a good product if your kids are having issues with falling asleep in shared rooms.
The question you should ask yourself is whether is it worth it for you. In my case, with my first son I will say no, but with my second yes so my honest reply is: it depends.
Simply because the firstborn never cared for light or people in the room, while the second kid has FOMO and takes forever to fall asleep unless it's darker, quieter, and calmer around him.