Once the potty training journey begins, parents must be prepared. Those of you who travel a lot will be on the hunt for the best travel potty chairs. However, this might seem like an easy choice but it has a lot of potential obstacles. There's no wiggle room.
When your child has to go, then you must be prepared right away. Having the right portable potty will make it much easier to swing into action, especially during the first few months when they can't wait. If you're in search of the best portable potty chairs, then you've come to the right place!
Choosing the Perfect Portable Travel Potty
We used specific criteria to choose the best travel potty chairs so if you find a model that's not listed, then use these criteria to make your decision. The major factors to consider include:
Is it comfortable? Your child must feel comfortable enough to go on the potty.
How well is it designed? For travel, you want a lightweight, portable, and easily accessible potty.
Is it easy to clean? Portable potties must be designed so that it's easy to clean.
What materials are used? Choose a potty that will not irritate your child's skin.
---
How do you potty train when you leave the house?
Always do a toilet trip before you leave the house – even if your child says they don't need to go.
Bring multiple changes of clothes – obvious, but you might be surprised how many changes your child might go through at first.
Get your child to use the potty in a different room – many parents focus on only one scenario, have a ton of potties, urinals, rooms, and situations.
Prepare waterproof pads for car seat and stroller – these proved to be essential for accidents.
Get a good travel potty!
---
Best Portable Potty for Travel
This is something that can be used on an actual toilet – basically makes the seat smaller. You need this regardless of other potties honestly – especially when flying with a toddler.
It's designed with consistency in mind, making it a kid favorite and incredible portable – you can put it in your purse!
The legs collapse down to make it highly versatile. This is a great choice for parents who travel a lot. For hotels, planes, public bathrooms, anywhere really.
Fits in your purse
Non-slip padding and lock
Easy to clean
This model is also highly versatile since it can be used as either a toilet seat or a standalone unit.
What sets this apart from others is that the OXO comes equipped with three disposable bags. However, other plastic bags can also be attached using flaps.
The seat is designed using slip-resistant grips so your child will be comfortable and doesn't have to worry about slipping off.
Slip-resistant seat grips
Splatter guard
Legs lock for use on toilets
This amazingly versatile potty can be used in three ways – as a standalone potty trainer, a potty topper, and a step stool.
The topper can easily be removed so the unit is placed on a normal toilet, making this a great training tool.
Plus it's lightweight and designed using materials that are extremely easy to clean. This is definitely one of the best on the market!
Lightweight
Easy-to-clean
Can be used as a stool too
---
---
4. My Carry Potty – Best Potty for Travel Emergencies
This excellent model can be used as a standalone potty trainer or a toilet seat so it's quite versatile. Its legs are folded inward, making it easy to fit into a diaper bag.
This model is easy to empty and clean without any liners and comes with a cute penguin on top. Plus, a splash guard for boys and girls.
Its comfortable surface is also equipped with a leak-proof lid that can hold no. 1 & no. 2 until you have a place to dispose of it all.
Converts to a suitcase in disguise
Stable
Easy to clean
---
---
---
This is yet another potty seat designed using toxic-free materials. It's highly compact, provides high comfort, and is safe for your child. The bottom is anti-slip with a rubberized design.
It comes with 20 leak-proof and easy-to-use disposable liners for minimal cleaning.
The potty chair can be folded away for easy transportation, making it a perfect travel companion.
Easy to fold
Toxin-free materials
Anti-slip rubber bottom
See the cost of the Tinabless Banana Portable Potty Trainer here!
---
---
This potty trainer is amazingly designed with detachable legs that make it easy and convenient to travel with.
Its versatility goes above and beyond other potty trainers by using a stretch design that allows it to be attached to any size adult toilet seat.
Plus, it has a pee guard and easy-grip handles which makes this Potette Plus Premium one degree better than the Potette Plus mentioned earlier.
It even comes with its own carry bag and disposable liners, adding to an already impressive set.
Detachable legs
Pee guard
Easy-grip handles
Stretches to any toilet size
See the cost of the Kalencom Potette Plus Potty Trainer here!
---
---
---
This amazing urinal is designed with hygiene in mind so it's easy to clean and spill-proof. The silicone sealing ring ensures that there is no leakage or unnecessary odors.
Plus its versatility allows for use on the go. The leakproof funnel ensures that it won't leak even if it falls over on its side.
The Upgrade Baby Boy Pee Training Cup is also compact enough to fit into a diaper bag, making it convenient for trips.
Spill-proof and leak-proof
Silicone sealing ring
Lightweight
---
---
Another highly portable potty trainer that folds away for compact packing, the Honboom model also showcases its versatility with its two-for-one design: it can be used as either a standalone or a topper.
Plus, it takes more weight than any other potty so your child can use it up to 50 lbs. Your child's safety is also taken into account with rubber-coated legs that provide a ton of slip resistance.
Easily collapsible
Takes up to 50 lbs
Easy to carry
Easy to clean
---
---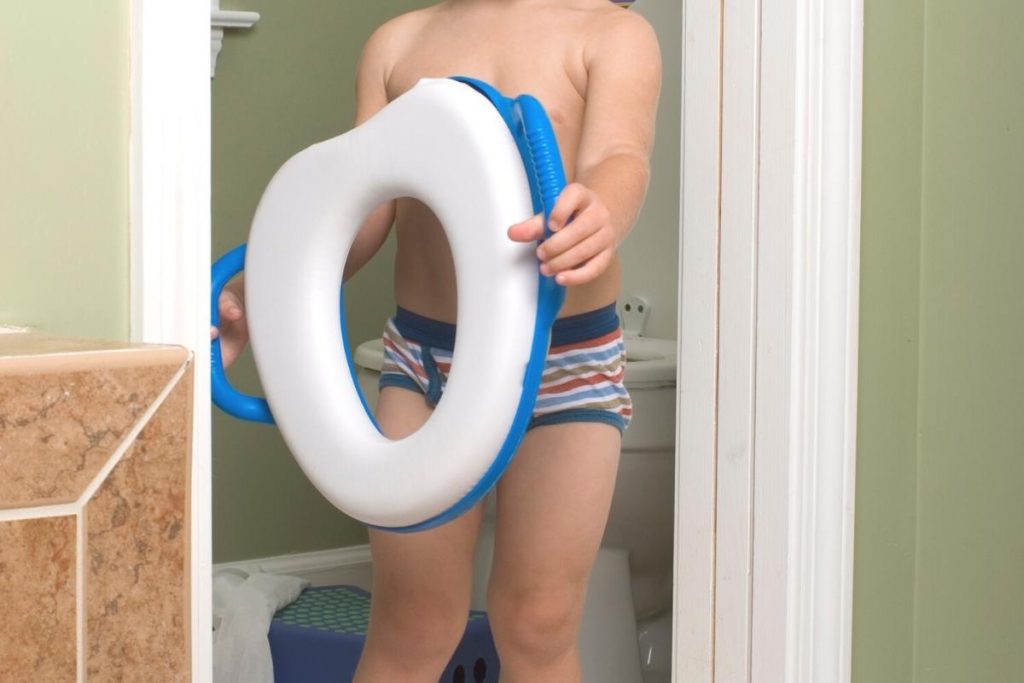 ---
Frequently Asked Questions
How Many Different Types of Travel Potty Seats Are There?
There are actually four specific categories that you'll find on your search for the best travel potty chairs.
Foldable Potty Chair: This type is designed using adjustable legs that give it the versatility to be used as a standalone seat or a toilet top seat.
Travel Potty Seat: Sits on top of the toilet seat so your child is able to use the adult potty.
Bag Liner Seats: This is common. Most portable potty chairs have a bag liner so that your child can use it anywhere. That bag can be removed and disposed of.
Disposable Potty Chair: Made from cardboard or another recyclable material that's sturdy enough to hold a child. These are used once and then thrown away. There are no disposable potty chairs on this list.
Should I Invest in a Travel Potty Chair?
If you have a toddler who is potty training and plan to travel, then the answer is yes. While some children might be comfortable on a toilet seat, providing a consistent place for them to learn helps tremendously. They are more comfortable.
However, if your child is comfortable with toilets, then you can spend less money on a topper rather than a full-blown potty chair.
What are the Top Considerations when Buying a Portable Potty Chair?
Travel seats are a parent's lifesaver but you have to choose the right one. The first thing you need to consider is how you'll be traveling. For example, if you're flying, then you will need something compactable enough to fit in your carry-on. If driving, then you have a bit more flexibility.
You also need to take your child's unique preferences into account. Make them part of the process. Let them help you make the decision.
---
Hopefully, this list helps you choose the best portable potty chairs. Make this journey as easy as possible for your child. Be prepared for the unexpected!