Why are wooden toys so expensive? Especially parents new to wooden toys keep asking this question.
Wooden toys are naturally more expensive than plastic ones, because materials and manufacturing them takes more time, effort and obviously wood is pricier.
However, the minute wooden toys are labeled Montessori toys the price tag increases, especially in the US. Montessori items really shouldn't be priced for upper-class parents, especially knowing that Maria Montessori created this philosophy in the slums of San Lorenzo in Rome.
I talked before about popular toy subscription services that they're simply ridiculously overpriced for no reason. I actually know the supplier of one of them and trust me – the mark-up on this is 400%.
---
Nowadays, toys manufacturers name anything wooden and vaguely educational Montessori – simply because many parents don't know much about it and Montessori means smart, trendy, sophisticated and quality to them.
Many toys, however, managed to sneak through the cracks and ended up on the Montessori must-have toys.
I'm talking about Grimms rainbow, pikler triangle, Nugget couch, busy boards or sensory bins filled with colorful things. All of these are extremely fun and my own child plays with everything a lot, but then again – we're not 100% Montessori. If you do or want to be, keep in mind that these items aren't totally aligned with Montessori education.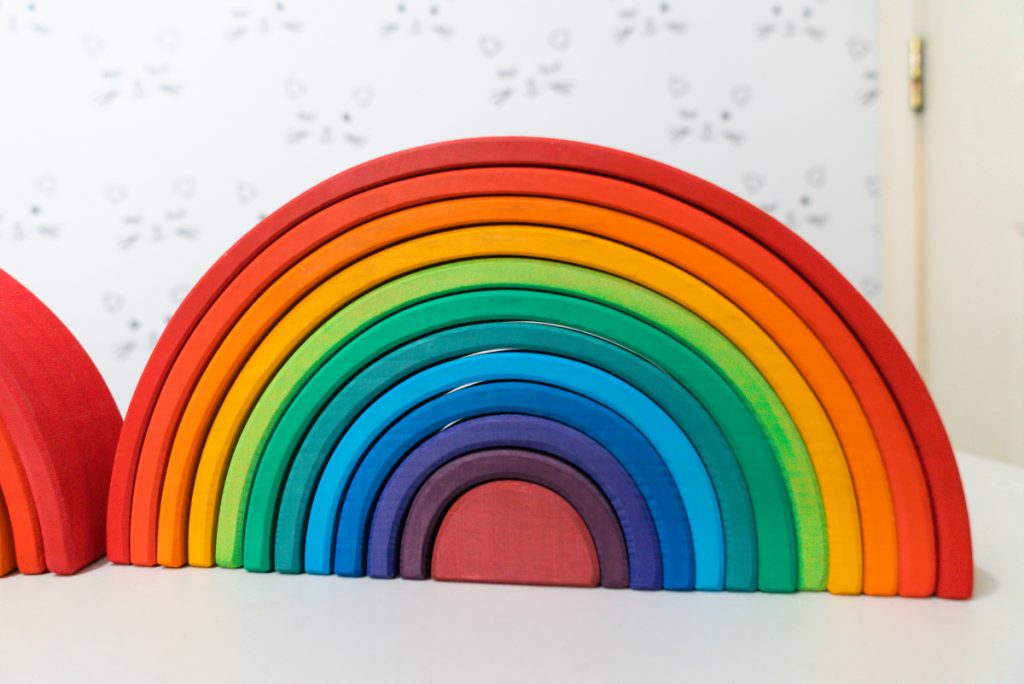 Grimms Wooden Rainbow – Why Is It So Popular?
If you join any Facebook groups for Montessori, moms or toys, you'll quickly find out about Large Wooden Rainbows. It's a simple wooden structure that at the first sight might get you think: What the heck do you do with it?! It looks like a nice decor.
Google "Grimms rainbow ideas" and you'll see why it's so much fun! It fosters play, imagination and creativity. The possibilities are endless with this open-ended toy.
It can be used it as tunnels for cars, houses for people, stables for animals, and cradles for dolls, just to name a few.
Rainbows are however more aligned with Steiner/Waldorf philosophy than Montessori. The Grimm's company clearly bases its design on the Waldorf ideas and Steiner himself was inspired by the blocks designed by Froebel. Why?
Montessori materials have specific purposes and practice a skill, but the rainbow is simply just for fun and imagination.
It comes in a few color options – unpainted natural wood, original rainbow, pastel rainbow and monochrome rainbow. There's also a slightly smaller 10-piece sunset rainbow.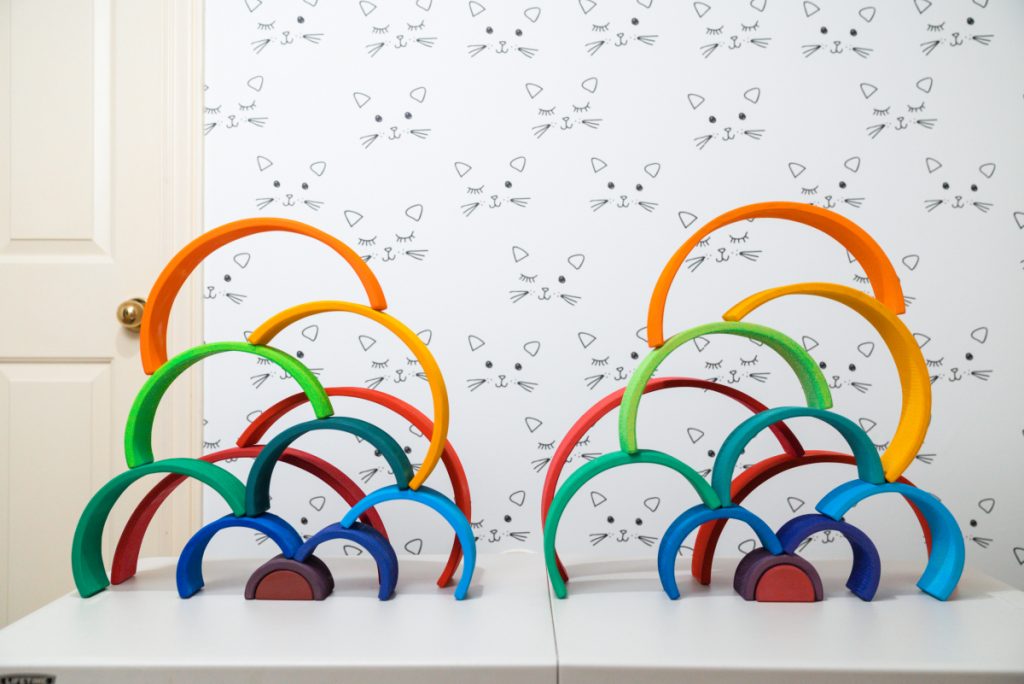 ---
Is Grimms Rainbow a Must-Have?
Many parents are under the impression that they need "the rainbow toy" for their Montessori shelf. Then they see a price tag on that and get sad that you cannot afford it. It's a pretty pricy toy!
You absolutely do not NEED TO HAVE a rainbow.
---
In some instances having Grimms toys became a bit of an obsession – not for the children, but for parents. When I was lurking at Facebook groups for moms many were proudly presenting their shelves stacked with toys worth a good couple of thousands of dollars.
If you ask me, this is absolutely ridiculous. I'm yet to see a kid who will play with an army of toys non-stop to make it worth a couple of months' salaries.
Many moms keep the Grimms sticker on the bottom of the small piece of the rainbow just to prove it's the original one. Not only it can be a choking hazard, but the child absolutely doesn't care about it.
I saw moms in groups writing angry posts that their toddlers played with the rainbows and now it got a crack or dent (because the wood is fragile due to thin cuts after all), just to have an army of other moms respond: "punish the child", "take the toy away as a punishment", etc.
This is absolutely not Montessori aligned behavior at all. These are toys and are meant to play with and might get damaged with time or destroyed. After all, it is a semi-fragile toy!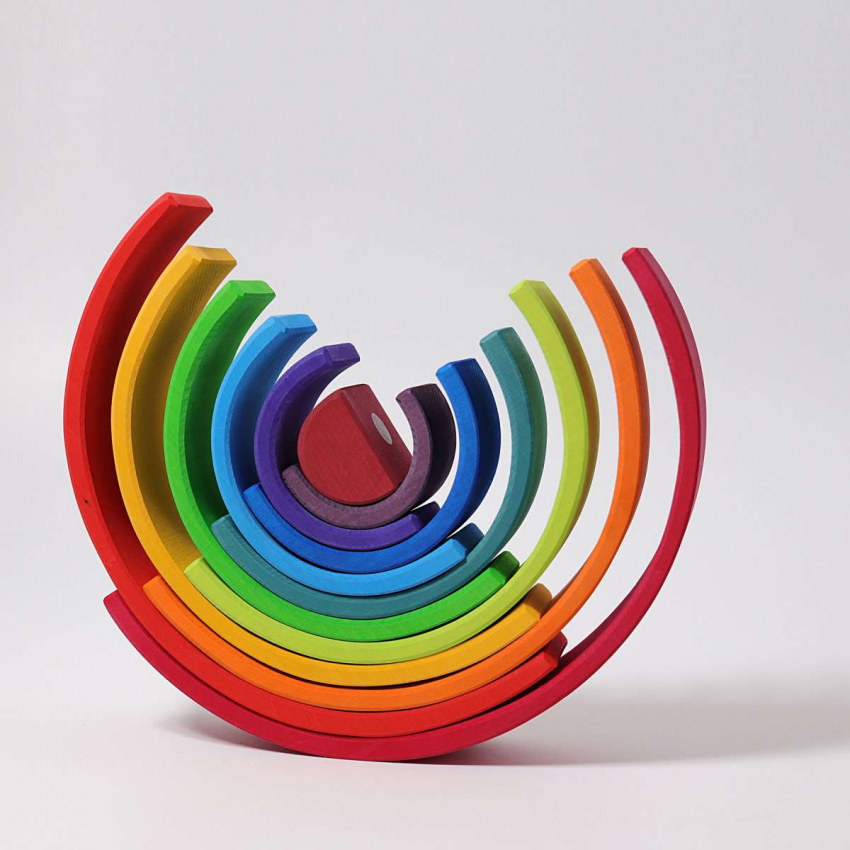 ---
Is the Rainbow Worth the Price?
It costs $99+ for a large rainbow, but as they're constantly sold out in the US there are some on Amazon and due to fees for sellers they're usually $150+.
The small rainbow might seem appealing as it's "only" $20+ (which isn't much comparing to a big one), but it's seriously tiny – not even 4″ wide.
Many parents are under the impression that European toys are safer and in the US there's a perception that "German quality" is the best.
The thing is, while Grimms is a German company their rainbows aren't made there. They're made in Eastern Europe – Bosnia & Herzegovina, due to the lower production cost. Similar to why most wooden toys are made in Latvia, Ukraine, Russia, Poland – costs are lower.
That said, as an Eastern European living in the US, knowing how much things actually cost to make things there, I think the Grimms is super overpriced for what it is.
---
The thing is, even if you scrape your savings and spend the money on the rainbow, ultimately your child will choose to play with it or not. Some kids cannot care less about it and some love it.
Don't feel bad if you don't have the budget for it! Your children are not going to miss out because they don't have the Rainbow.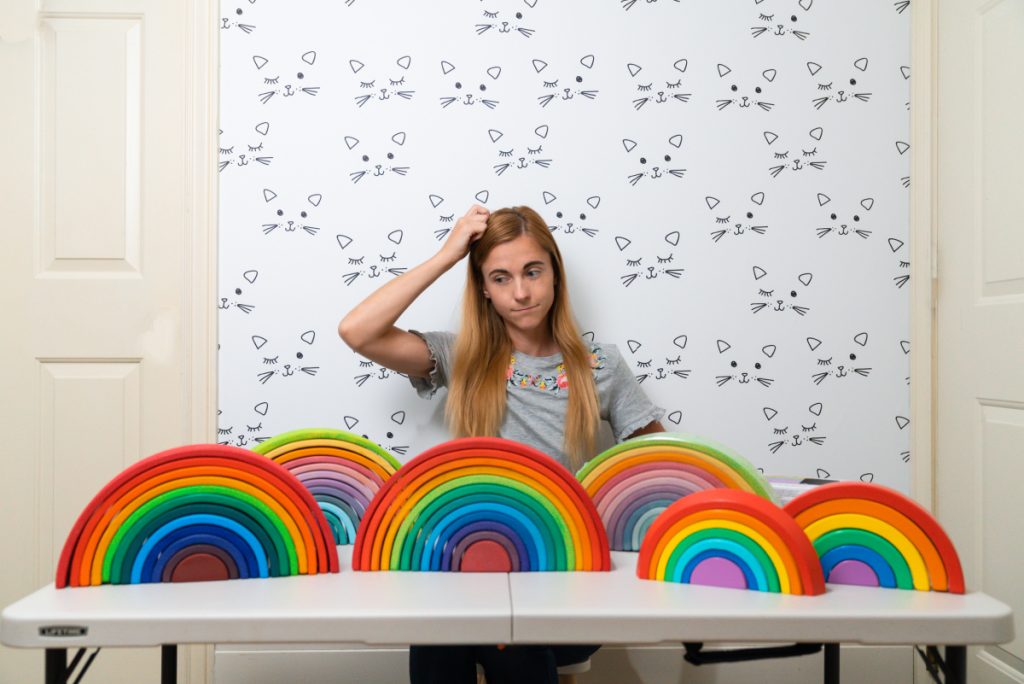 ---
Grimms Rainbows – Cheaper Alternatives
If you really want to buy a rainbow, you can also get a cheaper version on Etsy or if you're determined to make one yourself – it takes some practice and still takes about 45 min per rainbow not including staining, it's possible.
Rainbow Stacker DIY notes: There are many blog posts out there explaining how to make your own rainbow. While there are some good ones, such as this one, I stumbled upon some recommending you spray paint your rainbow. DO NOT spray paint your rainbow – spray paint is the most toxic thing you could use.
I actually started selling my own rainbows which look almost like Grimms for less than half price (but we've been always sold out and not able to restock huge amounts at the moment).
For the purpose of this article I actually tested many different popular rainbows from different suppliers, including Amazon and can tell you what to avoid.
1. Super Cheap Rainbows from Kmart, Costco, etc.
Save yourself some frustration and money. All these retailers sell rainbows made by Lewo – that I actually tested as they're on Amazon as well.
When it rainbows I literally thought 'what on earth is this?' because it was so wonky, beat up (sides were uneven) and most importantly it wasn't even straight – each piece is tilted.
The rainbow doesn't even stand unless all the pieces are perfectly stacked, but a tiny move and it falls. It wouldn't even be a nice decoration.
It has many good reviews on Amazon, but as an Amazon seller I know exactly how these can be manipulated (Chinese sellers often buy good reviews), but beware – this is absolute crap.
2. Small Lewo Rainbow
Lewo sells another popular small rainbow with just 6 pieces for $20 on Amazon. Because of the sealer, they use the rainbow wouldn't stack at all as it's slippery when I tried it.
Many reported that it breaks super easily and paint was already beginning to peel on day 1, so I returned it and wouldn't recommend it.
3. AliExpress & Amazon Rainbows
There's nothing wrong with toys made in China in terms of quality if it's a reputable seller. After all, pretty much 90% of toys are made in China. Similar to anything made anywhere they can be cheaply made and crappy, but they can also be fantastic. Both Lovevery and MontiKids Montessori toy subscriptions that are extremely popular are made in China and no one complains.
If you're worried about paint toxicity, that's a tricky thing, but some sellers have all the certificates. Truth to be told, even toys made in the US or Europe can bypass all the regulations to be sold in giant retailers like Amazon, Walmart, or Target – it doesn't guarantee safety.
There was actually a giant scandal with Haba (German company producing most toys in China) that their toys turned out to be choking hazards.
I managed to get my hands on a rainbow from AliExpress and ask various sellers different questions. All the rainbows you see on Amazon these days are also basically from AliExpress (but sellers shipped them to the warehouse and this is why they're in Prime).
They're definitely weaker than those you can purchase from Etsy and have a higher possibility of breaking. However, they still can look good and serve its purpose (eg. this rainbow from Amazon is a standard quality). If you're unsure if your child will be careful enough you can start with a silicone option that actually looks pretty.
These days there are no rainbows that are stained, all are painted because apparently, the customers didn't want to see wood stains as much as they thought it was a sign of low quality.
The painting vs staining doesn't make much of a difference, but what does is the type of wood the rainbow is made of. I was able to get this photo comparing types of wood and how they look like.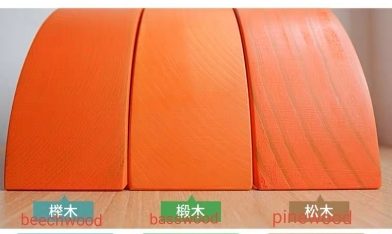 4. Etsy Rainbows
Etsy has so many choices and you can find little gems for a better price. Sometimes you can even customize your rainbow.
Here are some recommendations:
Mata Toys – Gorgeous truly handmade rainbows that can be personalized as well.
Marcy's Wooden Toys – Made in Israel, beautiful natural rainbows with many satisfied customers.
Sabo Concept – Made in Ukraine, gorgeous smaller rainbows available in different color palettes.
Everetts Toy Box – Fun peekaboo rainbow with semi-circles.
Rostco Toys – Slightly different than the original, but equally gorgeous and natural toy.
Sensory Play – Bigger Rainbows than Grimms!
Wooden Educational Toy – Lovely bright personalized rainbows.
Disclaimer: As an Etsy seller I can tell you that due to a very easy process of entry there will be many products that aren't what they might seem. Especially last year there was an influx of people selling clothes just based on mock-ups, or dropshipping toys directly from China from AliExpress with a profit margin. Read reviews! If there are no photos of the product in a normal setting, just blank white stock photos it means it's dropshipped and you can get it for less from AliExpress. This is why I recommend the above options if you really want a handmade one.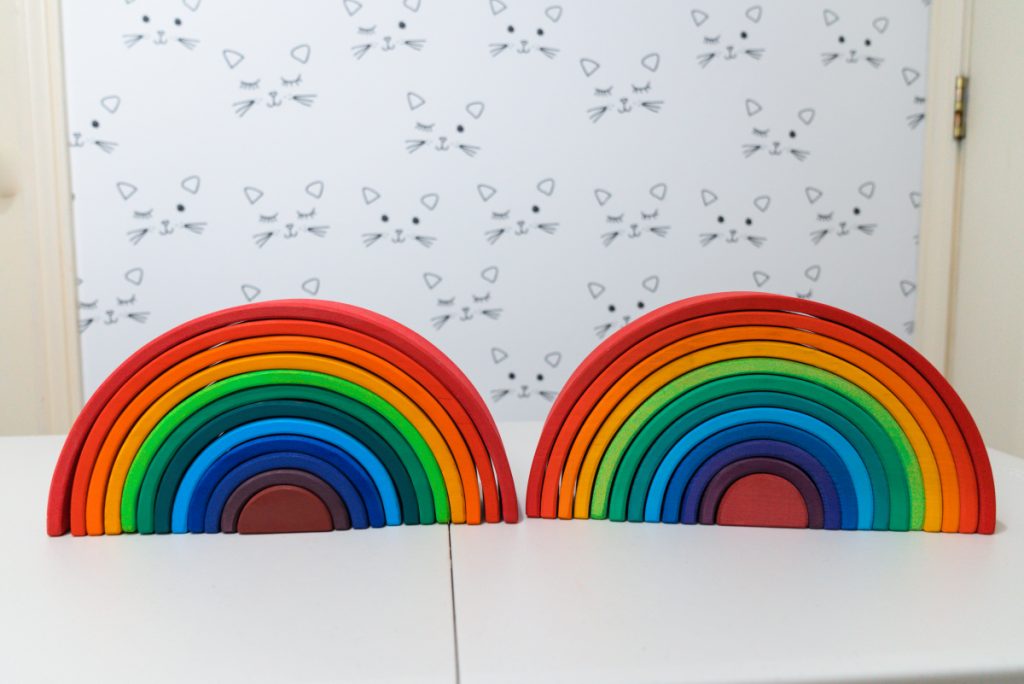 ---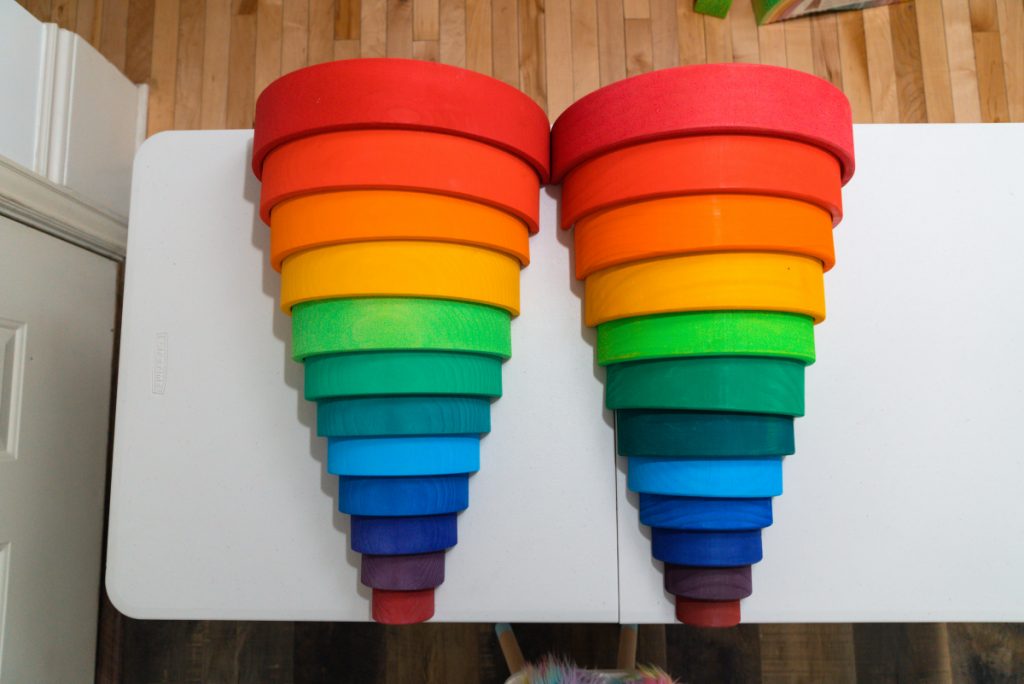 Grimms Rainbow Quality Issues
Many parents are underwhelmed with the quality of the rainbow. I don't blame them. It's a very simple toy.
It's made of one piece of wood, so if a piece breaks (and due to thin cuts it's not impossible) the company won't replace it because it's impossible.
Knot pieces are another part that throws people off. It might have a ton of black knots because the wood is just being wood.
The rainbow is not sealed as it stacks better that way, but that also causes colors from some pieces to transfer to another overtime.
If you stack the rainbow in the other way you'll see gaps between pieces. Just flip one arch around and then it will fit snugly. I could always see some minor gaps in mine though.
The rainbows are all sanded on the edges, but rough overall. If you want a smooth toy this isn't for you. Unfortunately, the sanding on the arches can be uneven, sometimes wonky.