As a mom of two boys, I have had my fair share of experience with finding the best scooters for toddlers and preschoolers. Scooters are an excellent way to keep your little ones active and engaged while also improving their balance and coordination skills.
One of the best things about scooters is that they are versatile and can be used both indoors and outdoors. Whether your child wants to ride around the house or explore the great outdoors, a scooter is a great way to get them moving and having fun.
Whether you're looking for the best scooters for 3-year-olds or the best scooters for toddlers, I've got you covered!
What age is best for a scooter?
When it comes to finding the best scooters for toddlers and preschoolers, there are a few things to keep in mind. You want to make sure the scooter is the right size for your child and has age-appropriate features that make it easy and safe for them to use.
There are also different types of scooters to consider, but for toddlers and children under 5, a three-wheeled scooter option is best.
Many parents wonder what age is best to introduce a scooter to their child. It ultimately depends on your child's individual development and coordination, but most children can start riding a scooter around the age of early 2 or 3.
At this age, they have developed enough balance and coordination to handle a basic scooter and can benefit from the physical and cognitive benefits that come with scooting. Of course, it's always important to supervise your child while they ride and ensure they have the appropriate safety gear, such as a helmet and knee pads. With the right precautions, a scooter can be a fun and safe activity for your child to enjoy.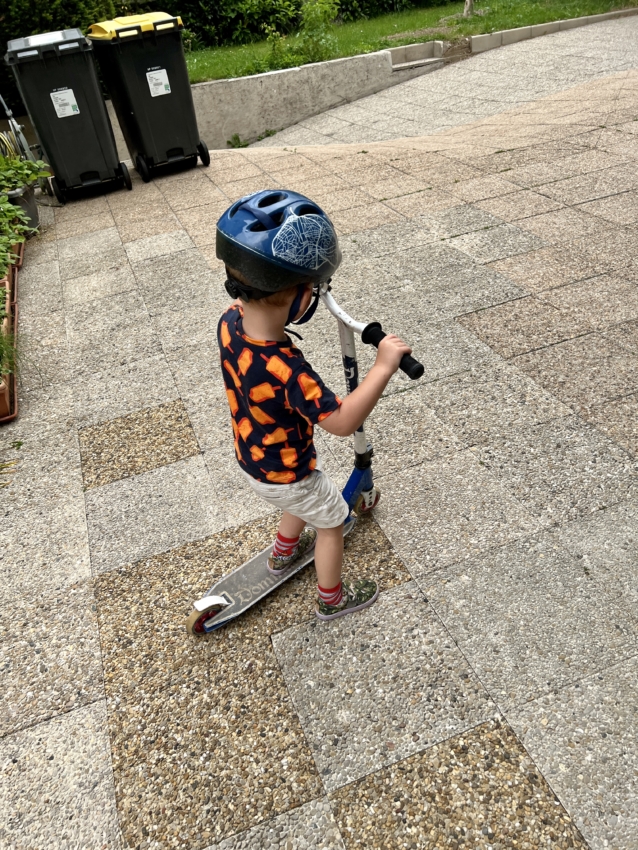 Is a balance bike or scooter better for a 2 year old?
Many parents also wonder whether a balance bike or a scooter is better for their 2-year-old. While both options can help develop balance and coordination skills, a balance bike may be a better choice for younger children who are still developing their gross motor skills.
Balance bikes have no pedals and allow children to focus on balancing and steering, while scooters require children to have more advanced coordination and motor skills to push themselves along. However, if your 2-year-old is already confident with their balance and coordination, a scooter can be a fun and engaging option for them to try. Ultimately, it's important to consider your child's individual needs and abilities when choosing between a balance bike or a scooter.
In our case, my older son wasn't truly interested in a scooter until the age of 3, but would ride a balance bike before. His younger sibling grabbed a scooter at 18 months and started zooming around, but didn't get the hang of a balance bike until 2-2.5 years.
---
Best Scooters for Kids
---
When it comes to toddler scooters with a seat you'll most likely see this model, but this isn't because it's the best one but it's the most versatile as it can be a scooter with a seat, tricycle, or regular scooter as well.
I recommend this model, as it's what you can get the most of your money for. There are some scooters that are half the price but they don't offer as many functions.
---
LOL-FUN Extra Wide Scooter is a durable and practical option that is sure to provide hours of fun for your child.
Unlike most scooters for toddlers on the market, this one folds up within seconds
The handlebar is also adjustable, allowing the scooter to grow with your child, and features soft rubber grips for added comfort.
---
The lighter the scooter, the easier to ride it. McLaren is the lightest scooter we tried and even folds up with a few clicks.
With the official McLaren badge prominently displayed on the front of the deck, this scooter is sure to turn heads. It's adjustable and can handle up to 220 lbs which made it easier for us (adults) to show the toddler how to ride it.
The front suspension system and ABEC-7 carbon speeding bearings are also great features, as they make for a smoother ride over bumpy paths.
This Paw Patrol scooter is a cool and innovative option for kids who are looking for a unique riding experience and love Paw Patrol.
It's extremely affordable, yet study and durable on top of being cute. It can hold up to 110 pounds, making it suitable for children ages 7 and up.
It's my son's favorite design, naturally!
---
The Mishi Design OTSBO is a unique approach to traditional skateboarding and scootering. This three-wheeled scooter is designed for children ages 3-12 and features a sturdy aluminum frame and high-quality PU wheels that provide a smooth and stable ride.
The handlebar is adjustable, allowing the scooter to grow with your child, and the footrest is designed to be non-slip and provide plenty of traction.
One of the standout features of the Mishi Design OTSBO is its ability to carve and turn smoothly, providing a unique riding experience in the scooter world that is both fun and challenging for children.