Ball pits are a great activity for everyone – these days even adults jump right into them at places like the Museum of Ice Cream and other exhibits. For little ones, it's high on sensory stimulation, motor skills and balance.
Most people choose to head to a public ball pits because they are huge, have loads of balls, and are a lot of fun. But for babies it might not always be the best idea when they're filled with other bigger kids who aren't paying attention and fall like a kamikaze. Huge public ball pits don't always get cleaned out frequently so there is always the chance of my kids catching something after grabbing a ball that's been mouthed million times before. The good news is that you can get an affordable top-rated ball pit for home.
How To Choose A Ball Pit For Kids
If you are new to buying ball pits you definitely want to check out a couple of things about the ball pit before taking the plunge and buying one. Here are a few considerations that we recommend keeping in mind.
Size: Checking out the size of the ball pit is important because you need to know if it will fit within your space constraints. If you have a huge yard and big rooms in your house, this probably is not something you will pay much attention to. Small apartments and houses with small shared spaces however do have to keep this in mind.
Another reason that size is important is to match it with your kid's height. Too small ball pit will defeat the purpose and a child will not be able to sit in it comfortably or at all. Keep in mind that your child is going to grow, so keep some growing room when making your decision.
Ease Of Cleaning: One would think that a ball pit would not require much cleaning but as a mom to two toddlers let me tell you this: Food, drinks, water and even body fluids will make their way into the ball pit at some point of time. You just can't help it. Once the accident occurs it will be up to you to wash the ball pit easily.
Amount of balls: I initially never realized that the number of balls was something that I had to keep in mind. My idea was that if too few balls came with the ball pit, I would just buy some more. Turns out, I was wrong. Buying additional balls is expensive because they're pricy to ship and a ball pit without a lot of balls is not fun! I highly recommend buying ball pits which come with a good number of balls.
Durability: Ball pits go through a lot of wear and tear. They are high-energy, interactive toys that kids will jump on, hang on and toss things on. While some ball pits are cheaper, I have found that they need to be replaced frequently because they develop rips in the material. That is why I've switched to more durable ones.
Storage: The issue about storage comes up when you don't want to keep the ball pit out for long. What do you do when it isn't in use? Some ball pits fold up very nicely. These are easy to store even in small households.
---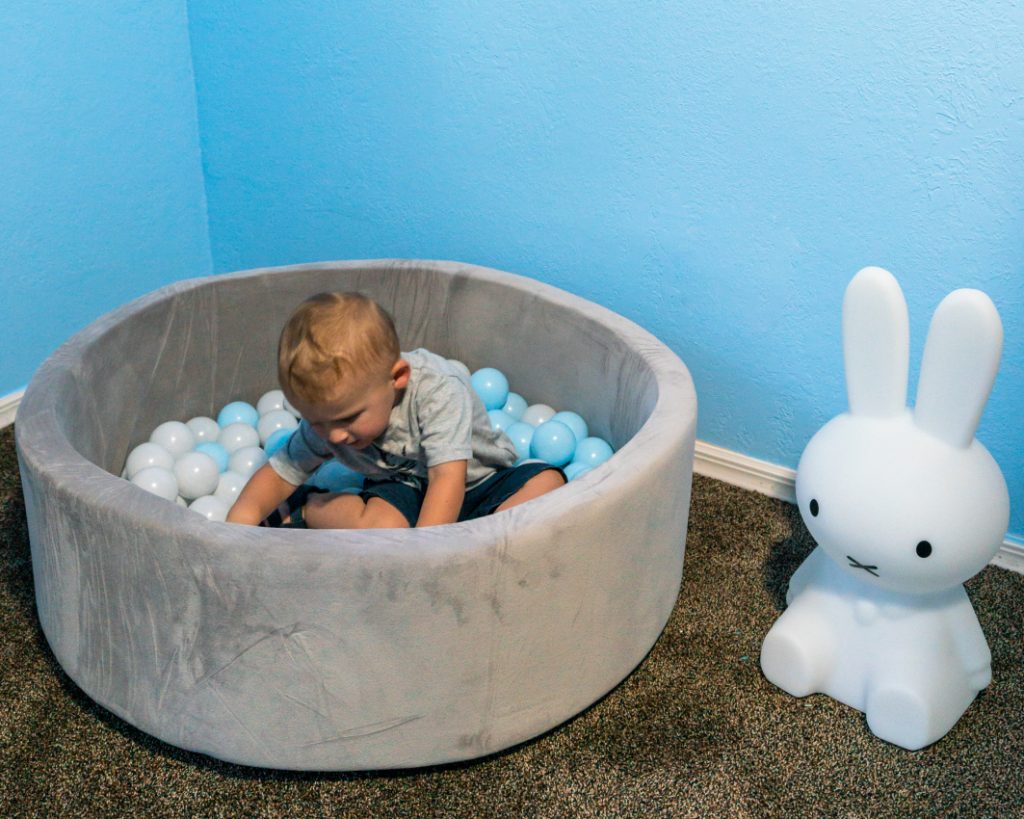 Here are some of my top picks of the best ball pits for babies and toddlers:
---
Best Large Ball Pit: Gaorui
Large Ball pits are great for families that have more than one child if you have space for it or can set it up in the garden on a nice day.
Made of stainless steel tubes and nylon fiber, the ball pit is extremely durable and safe for your child. It's also like a mini playground. The pull rings on the side also help your child maintain his or her balance when the structure is full of balls!
A great advantage of the Gaorui is that it is portable and can be assembled quickly. Despite its huge size, this makes the ball pit easy to store. 
Pros
Can be used by multiple children at once
Durable
Portable and easy to assemble
Cons
Requires a large place to set up
Does not include balls
---
Best Ball Pit With Tunnels: Hide N Seek
Hide N Seek has designed a highly interactive ball pit. With cloth tunnels and little tents, it provides the child with a maze to navigate.
Games of hide and seek are usually an activity that children enjoy when it comes to this ball pit.
The recommended number of balls by the company is 400-600 depending on the ball size which is a lot, but if you can get them cheaply I recommend it. Make sure that you factor in the cost of balls when budgeting for this ball pit.
Pros
Collapsable and easy to store
Large enough for more than one child to play at once
Comes with a portable case which makes it easy to transport
Cons
Does not include balls which is an added expense
Can not be used on coarse surfaces like pavements and concrete
---
Best Foam Ball Pit for Toddlers: Avrsol
I find that foam ball pits are great for younger children who have not developed their walking skills yet. In fact, if you don't have a load of balls, you can also use it as soon as your baby can sit up on their own.
Avrsol has a great super soft memory foam handmade ball pit. The foam edges are soft which means that the child will not get hurt while playing.
A big bonus is that this pit is easy to clean. Just use the zipper to remove the covering before washing it!
Personally, a lot of people end up turning this model or a square one to a ball pit with a slide
Pros
Durable
Easy to wash
Safe for small children
Cons
Due to long compression the ball pit may get deformed over time.
Balls are not included in the set.
Best Paddling Pool Ball Pit: Peradix
If you live in a place where the temperatures skyrocket, I would recommend looking at a multifunctional ball pit that can be converted into a paddling pool.
This Peradix one is my favorite when it comes to these types of ball pits as it's extremely easy to set up and store. The ball pit can be filled up with water to be used as a paddling pool. You can also toss in a couple of balls to add to the fun. The basketball hoop is a great touch.
Another feature that I really liked is the sunshade canopy which can help keep the direct sun off the face of the child.
Pros
Multi-functional as both a ball pit and a paddling pool
Easy to set up and fold
Comes with a sunshade
Can be used indoors & outdoors
Cons
Balls are not included in the set
Sides bend easily so it does not offer child support when they lean on it.
The ball pit is small so it may not work for more than one kid
Inflatable bounce houses are great for kids. Combine them with a ball pit and you have something that will keep your children entertained for hours on end. Plus they get a great deal of activity out of it, which sure beats screen time. That for me is a big win.
Well Fun Time has a great inflatable bounce house. It's huge and 3 children can play at the same time. In addition to the ball pit, it also has a slide, soccer goal, basketball hoop, dart game and little slide! The numerous activities incorporated into the bounce house are great because the children do not get bored.
Pros
A large number of activities
Encourages outdoor play and reduces screen time
Made of puncture-resistant fabric
Cons
Needs lots of space indoor or outdoor
Can be used by only three kids at once.
Comes with 50 plastic balls but you may need to buy additional balls to fill the ball pit.
Cheapest Ball Pit for a Baby:  Fox Print
The collapsible ball pit is probably the most bought version of ball pits for babies. We've had one ourselves and have worn it down. It collapses into a very small item and can be stored easily.
It can also be taken to an outdoor playground and set up in seconds along with an in-built basketball hoop that helps improve hand-eye coordination. Another great thing about this ball pit is that it is extremely easy to wash and clean.
Pros
Light
Easy to set up
Very practical to store
Easy to wash
Cons
The structure is malleable so the sides are not strong
Not very durable
Doesn't include any balls
Best Play Tent With Ball Pit: Lojeton
Play tents are another great idea for role play when it comes to children. Lojeton has a great tent with a ball pit design that really caught my attention because it combined two frequently used items in the household. 
Light, durable, easy to fold and store, this product went right to the top of my list. It's perfect if you have space constraints. Plus, it works great if you want to take it along when traveling.
Pros
Easy to clean

Easy to store
Cons
Does not include balls
The sides are flexible so it does not offer much support
Best Ball Pit with Slide: Eezy Peezy
Jungle gyms are a great place to keep children active. Unfortunately, getting the kids ready and out to a jungle gym takes a lot of time and effort. That is why the Eezy Peezy jungle gym with a ball pit caught my attention.
Safe, sturdy and made of durable plastic, the Eezy Peezy ball pit comes with a slide and a toss target. It's easy to assemble and comes with 50 balls which is perfect for this setup.
The flip side is that while it is easy to set up, it is not so easy to store as the individual parts are bulky. I still highly recommend this if you have a garden or a large playroom.
Pros
Easy to set up
Highly engaging
Can be used by multiple children
Comes with some balls
Cons
Is large so it does not work with small spaces
Not easy to store
---
Frequently Asked Questions
How often should a ball pit be cleaned?
Ideally, it's recommended that a general cleaning of the ball pit should be conducted weekly and a thorough deep cleaning should be done every 2-3 months. I usually collect all the balls up for simple cleaning, dust out the ball pit, and wipe the insides with a damp cloth or vacuum it before allowing it to dry. Deep cleaning would also involve hosing the individual balls and using a disinfectant.
How many balls do you need to fill up a ball pit?
Most of the ball pits will come with their recommendation of how many balls you need to use to fill it up. On average, you need about 71 balls per cubic square foot. The number however can vary depending on the size of the ball. Try to use crush-resistant balls as they work better in ball pits.
What age is a ball pit good for?
Every ball pit that you buy comes with its own age requirements. Generally speaking, ball pits are great once a child has learned to sit up until adulthood, but optimally a small ball bit will last through toddlerhood.