Driving with a baby can be stressful. What if the baby is cranky? What if the baby isn't okay? Did they just drop a top? Or a whole lot of other scenarios. Turning to peek at the little one and check if they're okay ever so often can put you the parent/driver, as well as the other passengers in danger.
Many road accidents are caused by parents who just turn around for a second to glance at their little ones. Which is what makes a baby mirror essential.
Baby car mirrors allow you to keep an eye on your little one and decide if it's essential to stop the car immediately or not.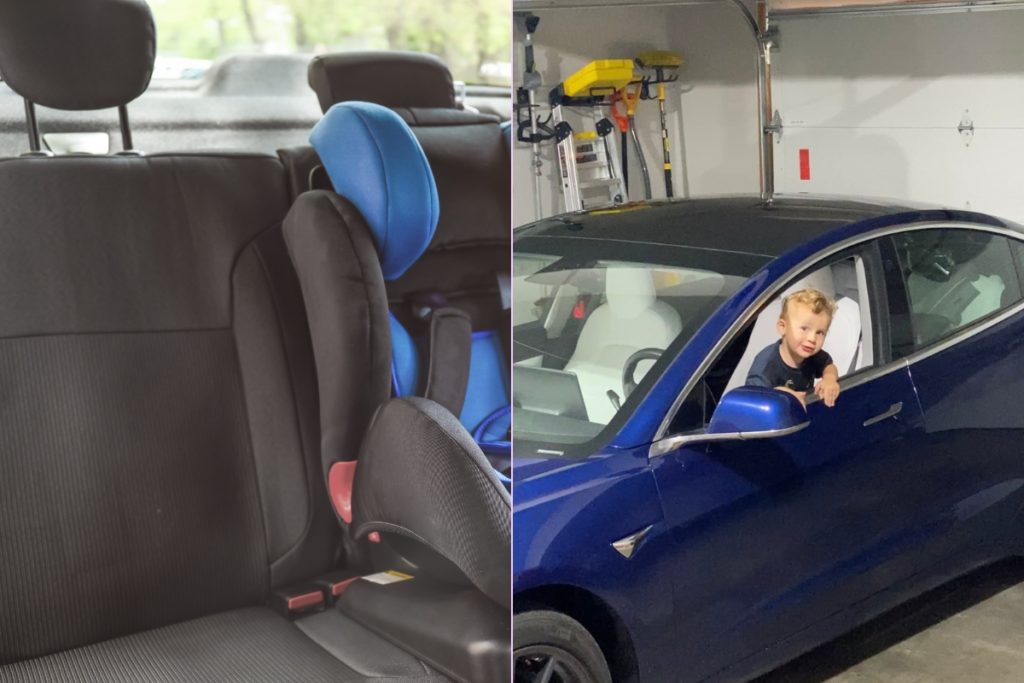 ---
Before You Buy a Baby Car Mirror: What Car Do You Own!
One mistake we personally made was picking a put decent car mirror on our baby registry, before realizing that this particular mirror won't work with our car. It's pretty crazy because I used to think all baby car mirrors are the same, but they're not!
Most baby car mirrors require a criss-cross dual strap. Which, on some cars, it's simply not possible.
For example, our Tesla Model 3 had no space between the seatback and headrests so not all baby mirrors or even car seats would work in it.
FOR TESLA OWNERS: our Graco Slim Fit car seat was fantastic and we fit two of them in the back (and I could sit in between car seats as well), along with Diono baby car mirror.
---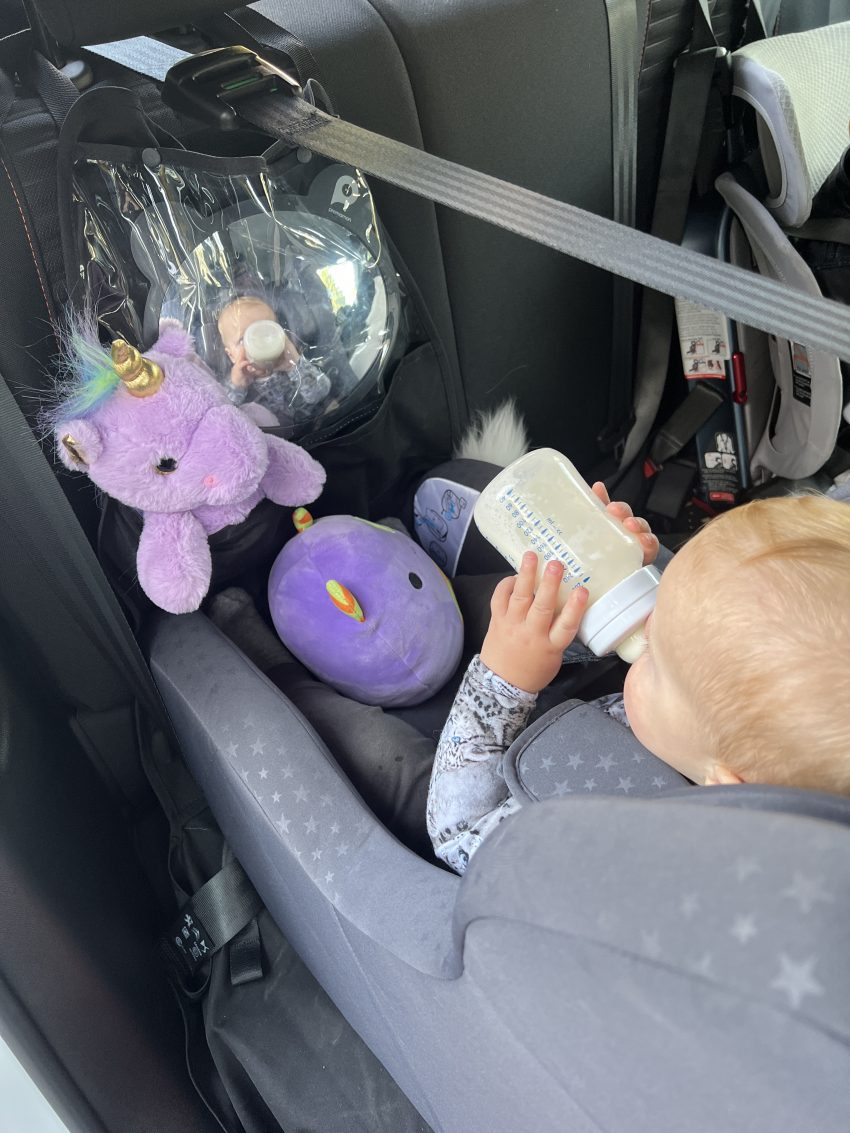 ---
What is the benefit of a baby car mirror?
Baby car mirrors serve a number of extra purposes:
You can keep an eye on your little one without having to turn around while driving
Depending on the type of mirror, your little one can also be entertained by your reflection
You can decide if it's essential to stop the car to attend to your child or if it's just a dropped toy that doesn't require instant attention
All of the above results in more focus on the road and less stress or distractions while driving
---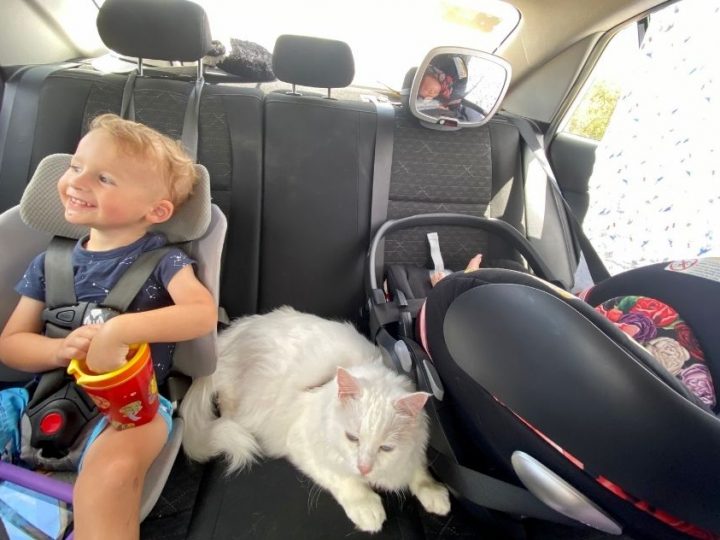 ---
Best Baby Car Mirrors
Crash-tested and certified, the Shynerk baby car mirror is the best rear-facing infant car seat mirror.
The convex lens provides an extra-wide crystal clear reflection, which can be easily pivoted and allow for 360-degree turning.
Fitting most vehicle types – cars, trucks, vans, and SUVs, the adjustable headrests can be put in place in seconds.
Made from shatterproof acrylic glass, you can be sure that the Shynerk baby car mirror will not harm your baby even in a crash.
Comes fully assembled
Easy to install
Crash tested
Dual-strap system increases safety
Find out prices for the Shynerk rear-facing mirror here.
---
---
Best Baby Car Mirror with Light: Munchkin Brica
For days when you're driving into the wee hours, the Brica Night Light Baby In-Sight Pivot Car Mirror makes sure your little one is still safe and secure.
The glare-free LED night lights do not distract you while driving, and make sure you can peek at the child whenever you need to.
If the baby needs to be entertained for a bit, activate the Extended Night Light for 30 minutes or choose from the alternating colored display.
Both babies and parents will love it.
Crash tested
Adjustable straps
Lightweight
Good reflection
Glare-free LED night light
Find out prices for the Muchkin Brica here
---
---
Best Baby Car Mirror for Tesla (or fixed headrest): Diono Easy View Plus
Featuring a remote-controlled LED light, the Diono Easy View Plus attaches securely to the middle of any headrest with a single strap to almost all vehicles.
The remote-controlled night light allows you to check on your baby while driving in the dark, while the 360-degree rotation allows you to position the mirror to the best angle you prefer.
The clear-view convex lens does not block rear-view visibility and is made of shatterproof material that has been crash tested for safety.
It's also the best baby car mirror for Tesla as it can be attached to seats without the top-bottom strap.
Lightweight
Easily adjustable 360-degree pivot
Crash tested
Shatterproof
Can be attached without cross-strap
Find out prices for the Diono Easy View Plus here.
---
---
Featuring crystal clear night vision and an HD 1080P display, the Rohent Baby Car Camera is a monitor-based mirror that may outdo regular glass or acrylic-based mirrors.
Velcro straps are used to attach the camera to the backseat headrest and suction cups attach the monitor to the dashboard.
You can adjust the contrast, color, and brightness to your liking and easily charge with a 12v connection.
There's a 3-year warranty on the device which clubbed with the long-term durability is perfect.
Clear night vision
Suction mounted monitor
3-year warranty
Quick easy installation
HD 1080P picture quality
Find out prices for the Rohent Baby Car Camera here.
---
---
Buying a baby car mirror does not have to be stressful. Just keep in mind the type of your car, your baby's needs, and how much of your child you want in view. Balance the pros and cons of each baby car mirror and make an informed decision. Comment if you have any questions!