It was only a matter of time when alternatives to Doona car seat were starting to appear. While there are various Doona dupes online, I will advise against buying them as they haven't been tested and it's one of the baby items when their life is literally on the line. Evenflo Dual Ride has been called a dupe, but it's far from it – it's an innovative alternative to Doona stroller, some might actually say better than Doona.
Both are essentially a car seat or travel system, but shouldn't be your only stroller for a newborn.
Infants aren't supposed to be stuffed into car seats for extended periods of time. If you're planning on being out and about with your baby, a newborn bassinet is a way to go. Let's see all the differences!
Doona vs Evenflo Dual Ride
Similarities:
similar size
both have anti-rebound features (in the handle on the Doona and car seat base back panel on the Evenflo)
still require seatbelt installation
advertised as same weight limit, Evenflo can accommodate babies longer
Doona Car Seat
As you can see in my specific Doona review, I'm not a fan of it overall and if you have money to spend you might want to splurge on a different product. Doona is not terribly robust, has no storage, and can only be used until your kid is 10 or 12 months old on average (in our case only 7 months because both kids were big) so you will also need a different car seat AND different stroller as well – which, in the end, isn't very budget-friendly.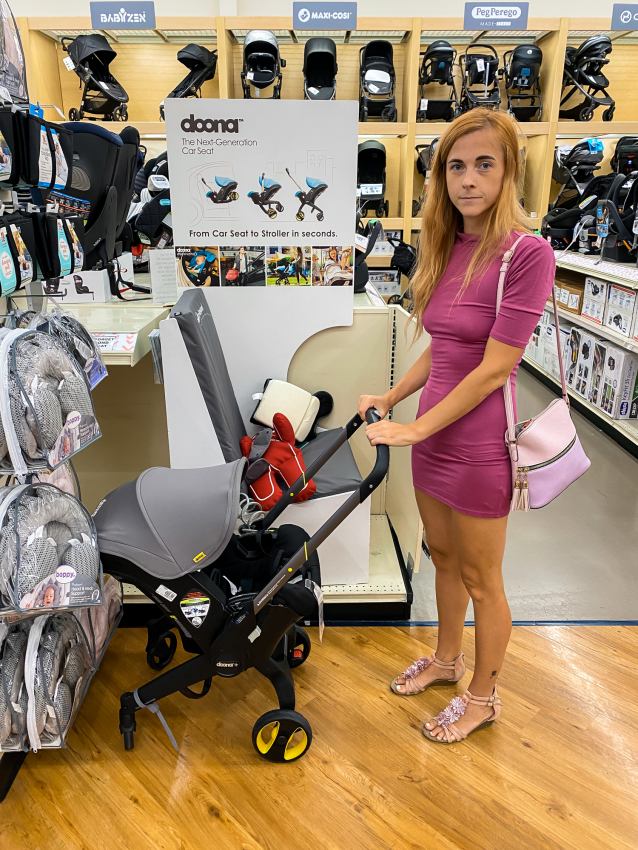 The Doona car seat stroller is priced at $550. The Doona comes with:
Car Seat Base
Removable Parent Cupholder
Head support cushion
Infant Insert
The Doona is only suitable from 4 lbs. to 35 lbs and while most kids don't reach this weight until about 2.5-3 years it's only fine until 32″ in height and honestly about 30″ to fit comfortably. This only works until a maximum 12 months of age, as you have to have a 1″ space between the top of the car seat (regardless of what's being advertised by the manufacturer!).
While Doona is technically able to accommodate a baby of 4 lbs, it doesn't mean that it can safely and comfortably do (especially when the baby isn't big lengthwise), because the straps are high up and leave a gap.
Doona isn't a stroller and shouldn't be, it's just a car seat with wheels which is also pretty heavy (16.5 lbs!). You might think, why would I care if it's heavy when it has wheels, but you still need to lift it up to the car and for conquering stairs it will require carrying it as well.
Basically, it's good for quick in and out of the car or Uber, but it's not good for the baby to be in a car seat for long periods (also they don't typically love it after 5 months), and not convenient for parents as the Doona has no storage.
---
Evenflo Dual Ride
Evenflo Shyft DualRide one could say is a slightly improved version of Doona. It's almost as if Evenflo saw the Doona and improved all of its defects.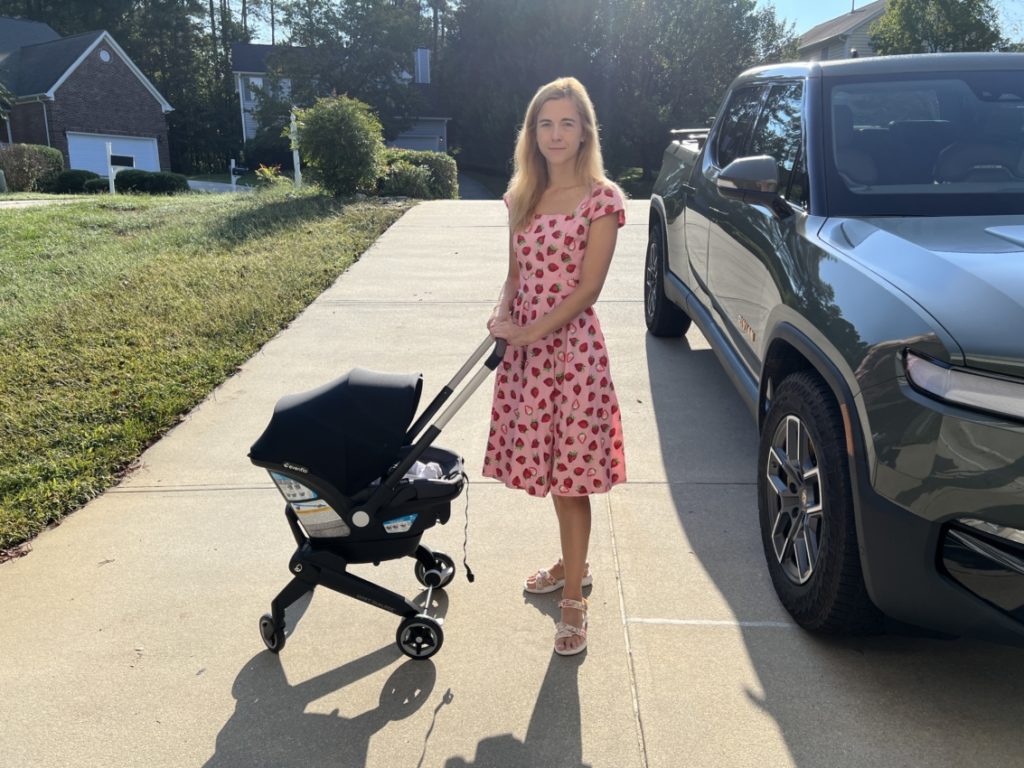 The Evenflo Shyft DualRide stroller is now priced starting at $499.99 for the base model, almost $700 if you want to add a bag and extended canopy. The base Evenflo Shyft DualRide stroller/car seat comes with:
Car Seat Base
Removable Parent Cupholder
SensorSafe Technology Chest Clip
Preemie Insert
Approved in Canada
Evenflo is also approved for use in Canada, while Doona is very illegal in Canada. In fact, if you try to important one the customs officers might cease it. It's because the angle of the car seat cannot be adjusted.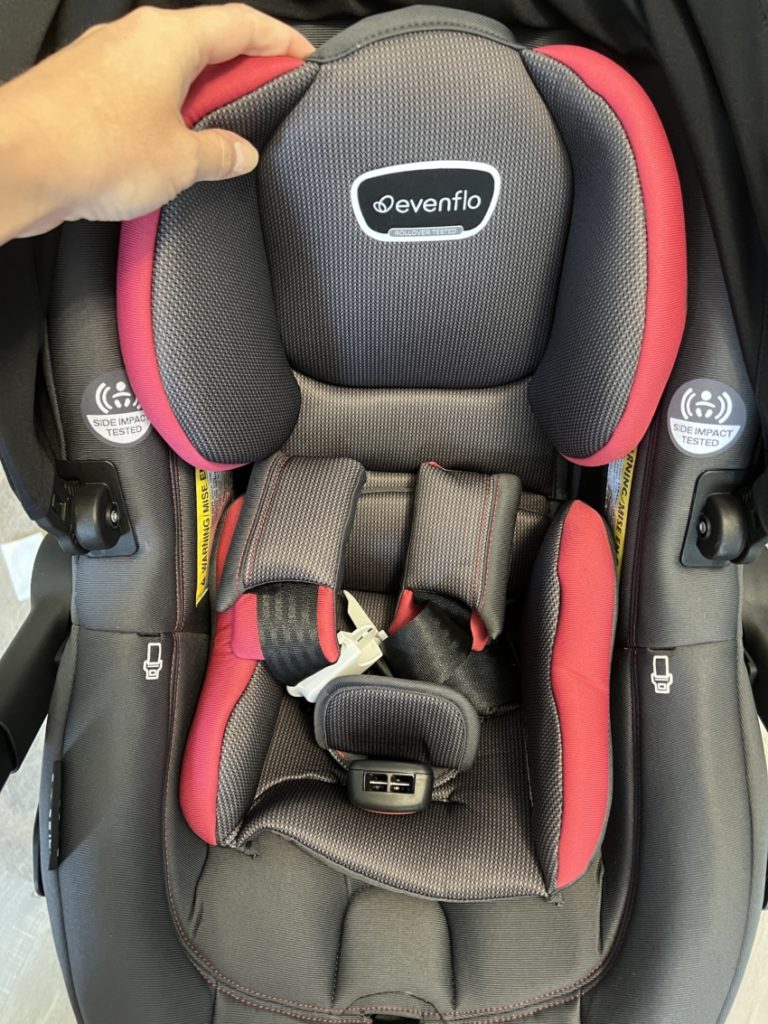 ---
Fits Newborn Better (MOST IMPORTANT!)
While it has the same exact weight and height limits as Doona, to start with it offers way more side and head protection, as the head protection is basically a joke on Doona.
Doona cannot accommodate a small baby despite being advertised as from 4lbs. Dualride can fit the smallest babies safely, so that's something to consider. Straps can also be adjusted by simply pulling the headrest up, while you need to manually change the straps on the Doona.
With that extension of the headrest, it can actually accommodate a taller child than you can on the Doona, so you will get slightly longer use of it.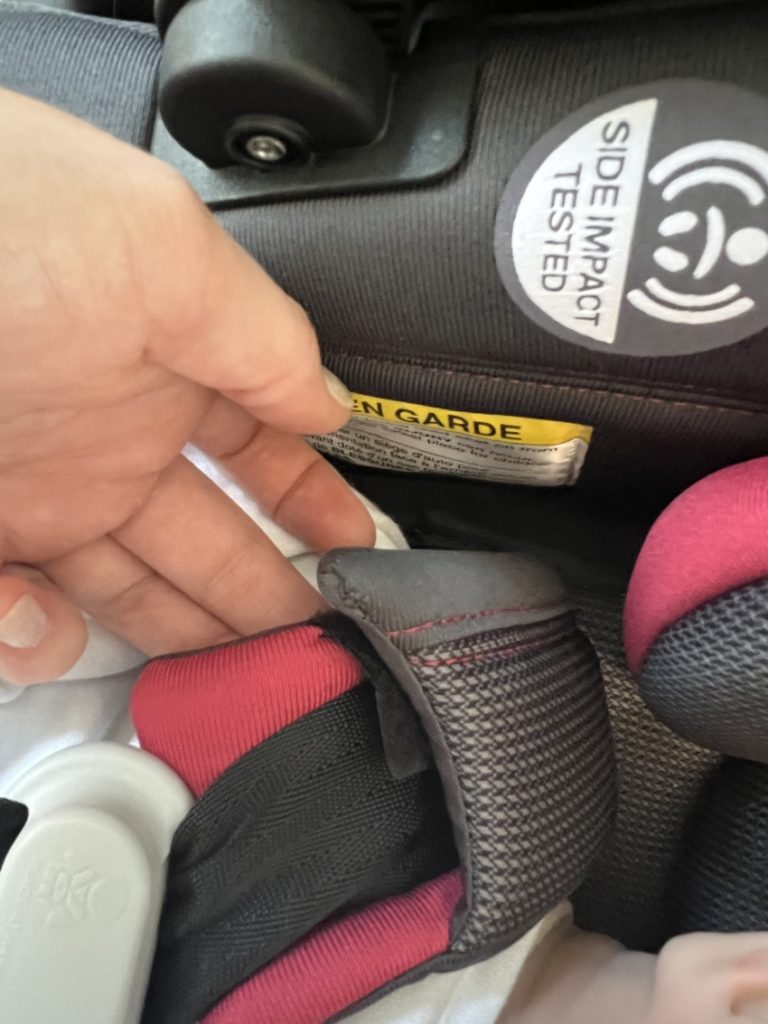 Ability to Detach from the Wheels
This feature might seem odd, but it's pretty useful: wheels can detach from the Evenflo! If you do not intend to use the Evenflo as a stroller when you arrive at your destination (because for example, you know there are stairs to get to your destination), you can leave the heavy wheels attached to the base in the car. This allows you to carry around the Shyft Dual Ride like a normal car seat.
Also, it can open more possibilities if you have other children. For example, you can just use a car seat in a stroller wagon, but you won't be able to do it with Doona as the wheels will make things nasty and simply, it wouldn't fit.
Another use of detaching the wheels is ironically, if you plan on using it on the airplane. Both Doona and Evenflo claim to fit down the aisle, but half of the time something else is blocking it and also, officially it's not allowed to roll strollers down the aisle and most flight attendants will ask you to fold it and carry it.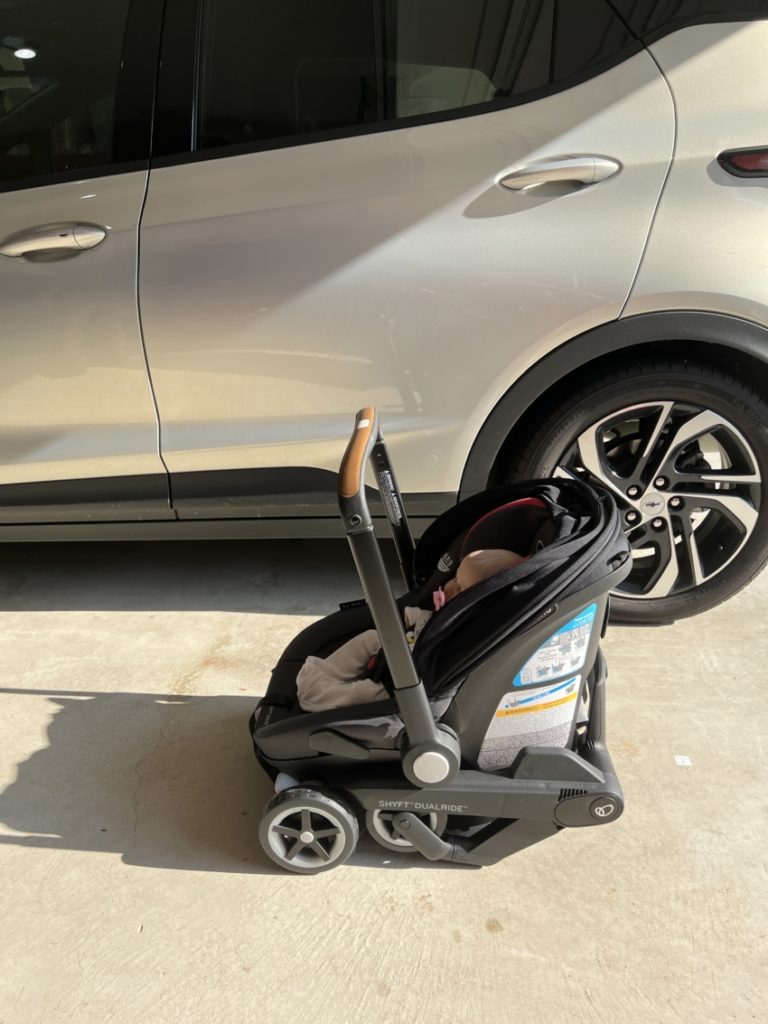 Offers Bigger Storage Bag
It also has a storage bag that's zippable and detachable from the car seat and can hold 7 lbs of stuff. This is a game changer when compared to zero storage on the Doona. You don't necessarily have to take everything out of it, as you can just unhook it all and put the baby in the car.
The Doona has a Snap-On Storage bag that connects to the back of the car seat, but it's small. It just slides into the holders, but it's small so basically for a diaper, bottle, change of clothes and a small toy. It won't fit any shopping but Evenflo might.
However, having to put it on and take it off does get a little tiring and it's not as simple as dumping the bag under the regular stroller. If you're a busy parent and more importantly, it's not your first child it's not a magical solution.
SensorSafe Technology
DualRide's integrated SensorSafe technology alerts you in real-time to 4 potentially unsafe conditions from your child's car seat, like if the baby is overheating or if the baby is left in a hot car, or has been seated for too long.
It can be very important in situations when many parents still wrap the car seats with breastfeeding covers when outside to get shade or darkness when it significantly increases the heat inside and babies are basically overheating inside.
While the technology is great, you need to check if it works with your car. I owned 3 car seats with this technology and was so excited about it, only to discover that it doesn't work with any of our cars.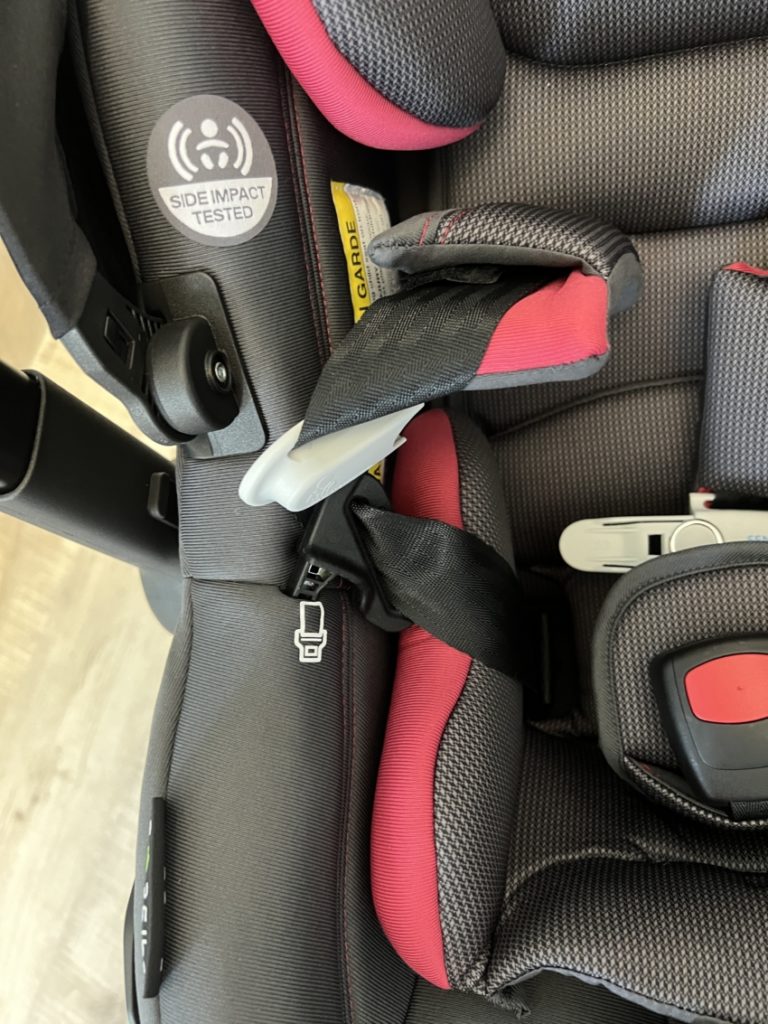 ---
Wheels are Smaller
Evenflo Dual Ride, similar to Doona, is also designed for quick in-and-out trips on smoother surfaces like parking lots and grocery stores. There is no wheel suspension on either, so it's a bumpy ride and wheels are even smaller in diameter than the wheels of the Doona.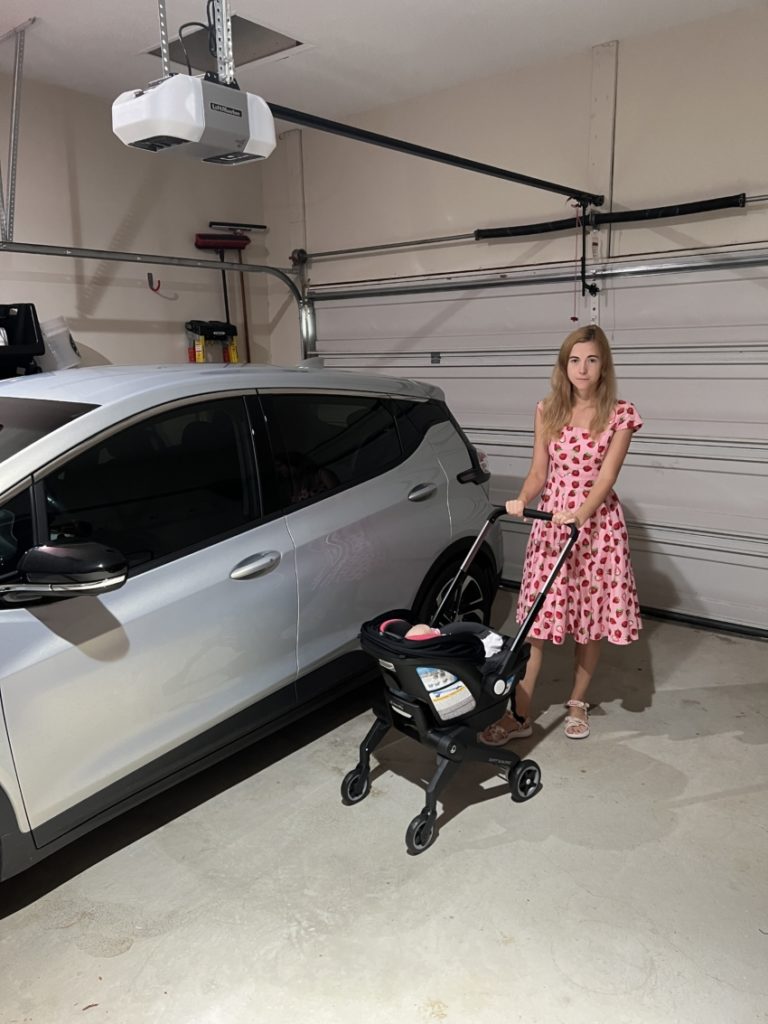 Better Parental Bar
The push bar height of the Evenflo Shyft DualRide is slightly taller (1.5″ to be specific) than the Doona when fully extended. It's still not great, as the one on Doona is ridiculously low, but it's a slight improvement.
Car's Seat Protection
Evenflo offers a special feature that protects the car seat interior from debris, without requiring a mat like the Doona. It's small and easy and you don't have to remove the base from the seat to properly clean dirt.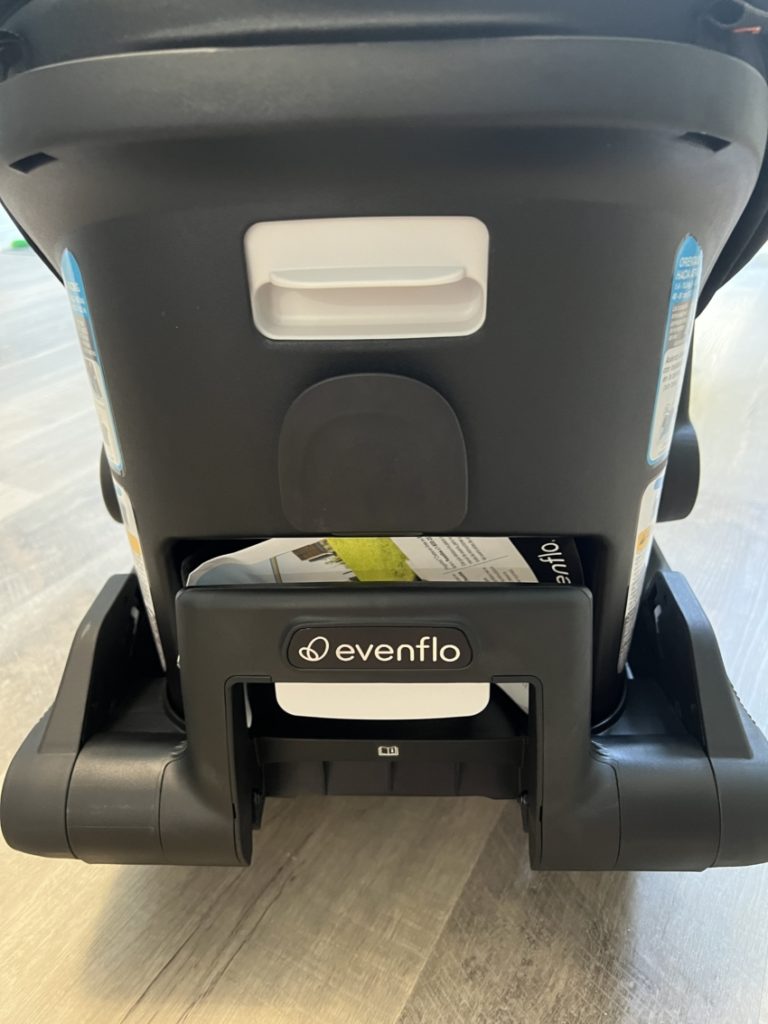 ---
Should You Buy Evenflo Dual Ride Instead of Doona?
While the Evenflo is slightly improved, before buying either of these car seats you need to ask yourself three important questions:
Are you fine with the weight of both of them?
The wheels are appealing, but there will be many instances when you simply cannot use the wheels and have to carry the car seat up the stairs or the most obvious situation: lift it up to put it in the car. Considering that you want to just up until 8 months at least that's a combined weight of 16.5 lbs + about 20 lbs of baby.
Both of these car seats are freakishly heavy at 16.5 lbs for Doona and 19.7 lbs with wheels for Evenflo Dual Ride. To compare, Nuna Pipa Lite is only 5.3 lbs!
Considering the fact that the wheels on both aren't the greatest, so won't work on non-super flat surfaces, the wheels won't be very comfortable to push, so you still might need another stroller with better wheels straight away for certain trips or occassions.
Are you aware of the extra hidden costs?
Both of these car seats aren't cheap. You might want to splurge on some bougie baby items (which undeniably, both of these items are!), but you will still need another car seat and another stroller after you're done using them because they only work for a short amount of time.
If you want to splurge, it might be smarter to buy a stationary car seat like Nuna Exec (that can work from newborn to school age) and a luxury stroller with a bassinet option that will also last you from newborn to the end. Plus, it will be healthier for a baby to roll in a bassinet as it's not healthy for a baby to be stuck in a car seat when strolling around.
(Another bonus is that most stroller bassinets are approved for overnight sleeping and you can buy a stand for it. This will basically save you even more money because you don't need to buy an additional bedside bassinet!)
Are you ok with these car seat strollers working out only for a few months?
You might have read about moms raving that they love their Doonas and that their kids used them for 18 months and so on. First, these moms have babies way below 50th percentile of height.
Secondly, they all have calm unicorn babies, because most kids aren't happy riding in a semi-reclined car seat position not seeing much after 6 months.
Both of my kids were either one or the other, so strolling in a car seat wasn't an option without yelling and screaming even at 4 months, while they both outgrew these car seats at 7 months. This can happen, as it's impossible to predict how big your kids will be.