Picking the best stroller for a big kid is different than picking a stroller for a newborn or even a toddler. Your needs have changed, and your child's needs have changed too.
While stroller manufacturers are constantly increasing the weight limit on strollers, making it seem like the strollers can be used for longer, it's not always helpful. Many strollers with a high weight limit aren't suitable for big kids because they don't take into account their height and needs. There are various models of well-known strollers that work great, but even my tall 2.5-year-old is barely fitting in them.
Most importantly… some parents might ask themselves:
Do I really need strollers for older children?
The answer is most likely yes, you'll just use it a different way than before.
Some parents will argue that kids over 3 years old shouldn't be using strollers and their kids don't. They might be right, as my younger son wanted nothing to do with the stroller ever since he was 2, so when we were going to the playground or any short escapades we weren't bringing a stroller.
I'll go even further and say that when we lived in France, if we were heading to a playground or grocery store, my kids were using their balance bikes and scooters so once again, a stroller wasn't needed. We didn't even bring a stroller for our most recent trip to Mexico, because we were right by the beach and restaurants were within a 10-minute walk.
Why Would a Family Need a Big Stroller?
Everyone's reasons are different, but usually, you need a stroller for big kids to cover long distances, or the child has a medical condition.
We still need a stroller unless we would never venture outside these little excursions. We brought strollers (for both kids) for all our European trips because it's simply not possible to make the kids walk from early morning to after dinner, which is mostly how we explore.
Friends with kids who are 6 years olds and not using the stroller basically have to cut their escapades short during the day, because their kids' legs are tired, so consider strollers a blessing that will let you explore at your own pace without having to carry a child nonstop.
We didn't hesitate to bring a stroller wagon for our trip to Universal Studios Orlando because I cannot imagine making the kids walk all day long. Most likely when we repeat the theme park trip we'll still bring a stroller for them. We know it would have ended in having to carry even a 5-year-old who is simply tired.
These situations are on top of the other obvious reason: Many children require assistance walking due to a medical condition. While various might not need an adaptive stroller or wheelchair as they might be able to walk short distances, it doesn't mean that they can do it all the time. A regular, large stroller is much cheaper than a medical stroller so you never know why someone has it.
Best Stroller for Big Kids (depending on needs)
Make sure that you pick a stroller that suits YOU, not buy it because it's popular among other moms as they might have different needs than you. You also need to make sure that there are features to help you as well, whether it's a storage space, a lighter-weight design, recline, or anything really.
Joovy Caboose – best for older & younger sibling
Baby Jogger City Mini GT2 – the most spacious for older kids
Larktale Caravan Coupe – best for multiple kids
Joovy Zoom 360 – best jogging stroller for big kids
Cybex Libelle – best travel stroller for big kids
Chicco Liteway Stroller – best umbrella stroller option
---
Joovy Caboose – best for older & younger sibling
The stroller is explicitly designed for two children of different ages because we all know that when a younger sibling rides the older might want to as well, even if he's not truly tired. Joovy Caboose has sit and stand stroller function, so an older sibling can sit on the bench or stand.
It's much easier to manuver than a traditional tandem stroller and it's extra lightweight for a double stroller. The stroller can be easily folded for traveling or when storage space at home is limited.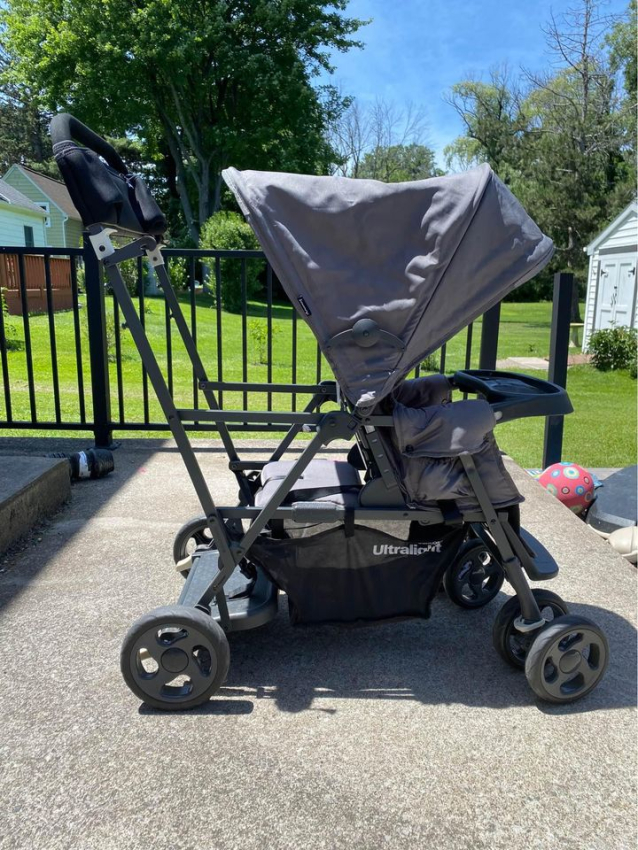 ---
Baby Jogger is a go-to brand at amusement parks and one of the oldest brands that rarely sees any issues with their strollers. City Mini GT2 is super spacious, even when reclined, and has = air rubber tires and all-wheel suspension so you don't need to worry even when off-roading with it.
The canopy is huge and it even has a working footrest that worked just fine for a 5-year-old child.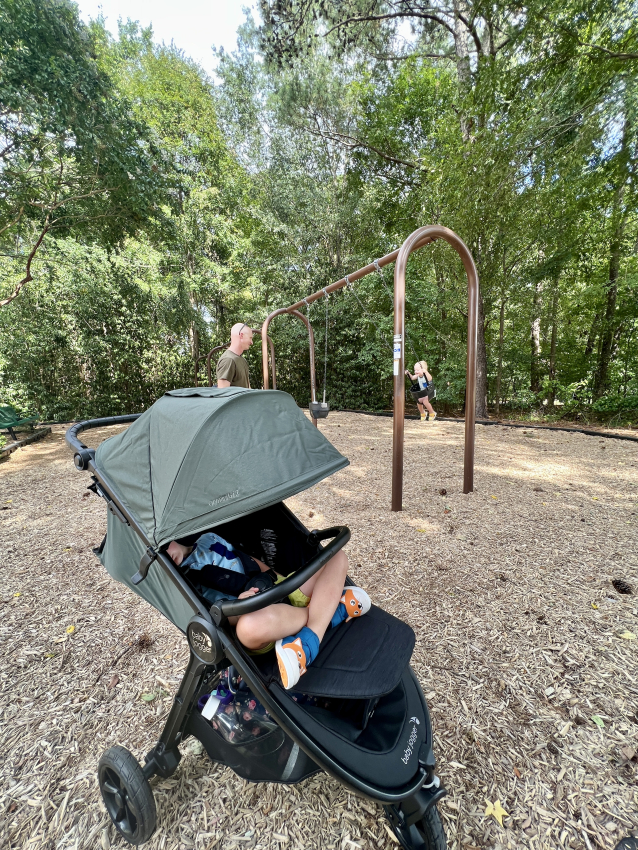 ---
Wagons are a great option for families, but many wagons are big, bulky, and heavy. While they are usually easy to push if the wagon weighs 46 lbs and you have three older kids in it, you're adding the weight of basically another child to push it all. That's the reason why I recommend Larktale Caravan Couple.
I've tested pretty much all stroller wagons on the market, and this is the least bulky, easy-to-transport option. One of the coolest features of it is that it can be pushed or pulled.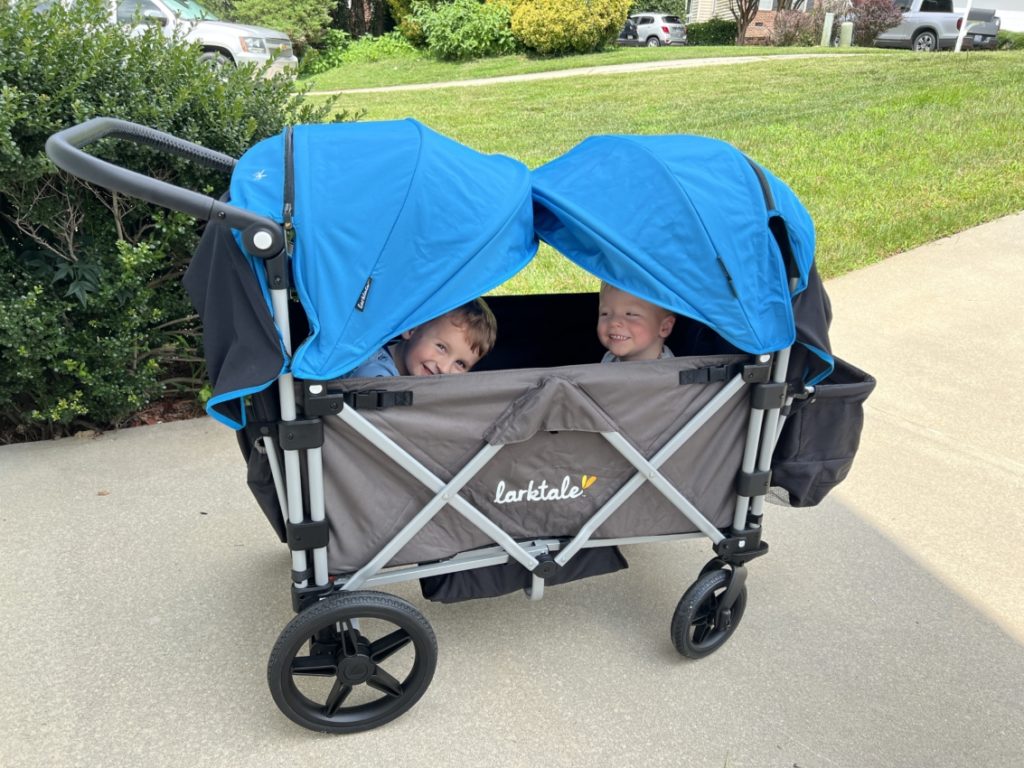 ---
Joovy Zoom 360 – best jogging stroller for big kids
Joovy Zoom is a perfect stroller for older children with weight capacity of 75 lbs! It's spacious and suspension makes the ride or job smooth and swivel system to make turning easier. The quality is amazing, so you don't need to worry that the stroller will break.
Cybex Libelle – best travel stroller for big kids
Traveling is probably the most common instance when you need a stroller for big kids. Some say that GB Pockit is the holy grail, but I disagree because while tiny, the fold is obnoxious and the wheels are simply unreliable.
Cybex Libelle is very similar in size, but offers slightly more for what it is and can also hold up to 55 lbs. It has multiple reclining positions and fits in the overhead bin, so you don't need to wait around at the gate for your stroller to be returned.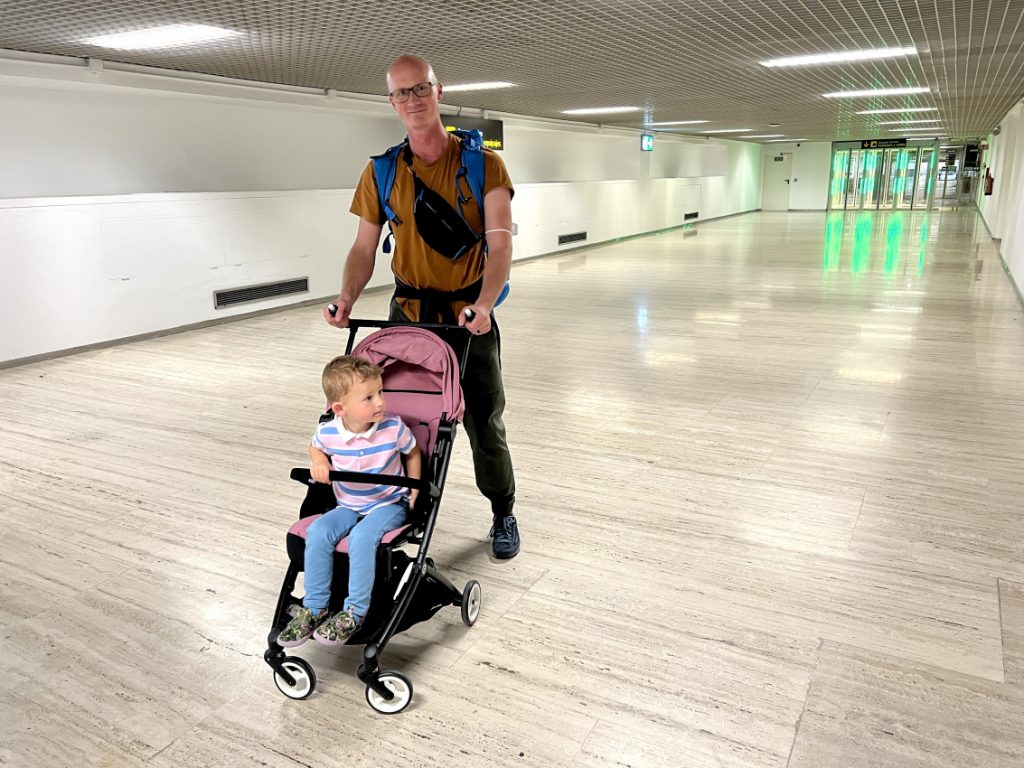 ---
If you have one child I would never recommend an umbrella stroller for a toddler, but for an older child, it might make sense. Priced under $100, it holds up to 40 lbs and weighs next to nothing, which makes it the best option for a stroller for a 4-year-old, or even a slimmer 5-year-old.
The canopy is perfectly functional and it folds easily. I was stunned how well the Chicco Liteway stroller works when compared to other umbrella strollers, but even some other small travel strollers.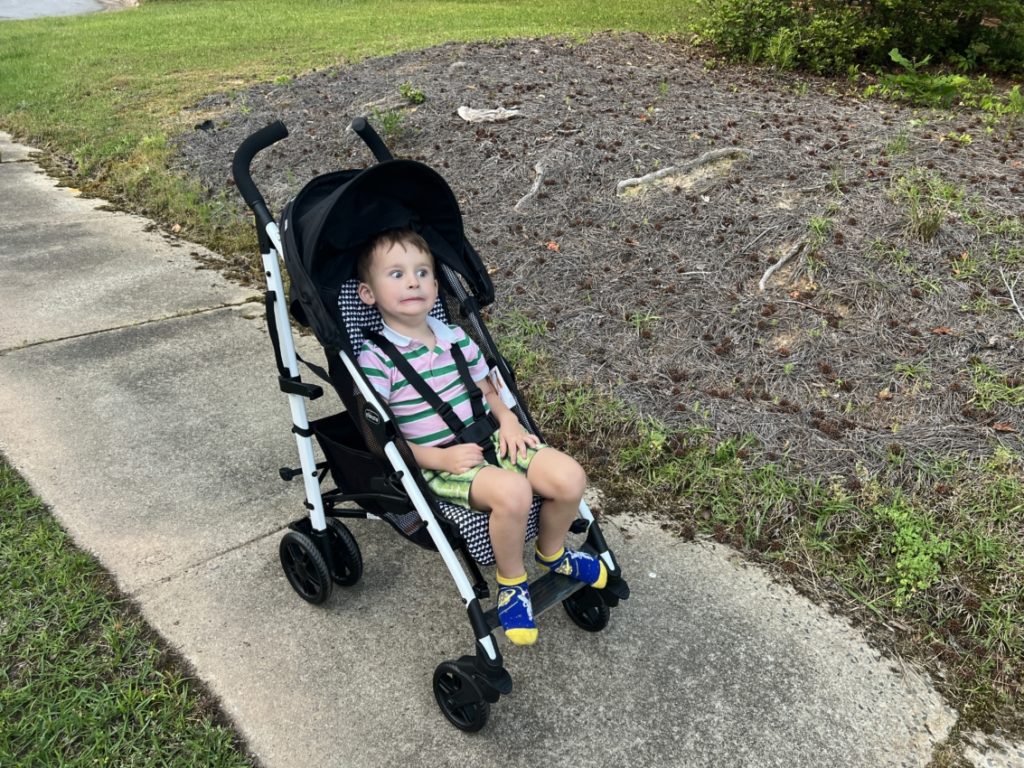 ---
Dream on Me – best stroller for Disney
Dream on Me isn't a stroller per se, as it's more of a pushchair with a removable bar, which makes it perfect for Disney World. I've seen kids around 6 or 7 years on them, so it works as expected. It's a lightweight compact fold that won't take up almost any space.