Baby Jogger City Mini GT2 is one of the most popular choices for parents. Parents love its ability to tackle any terrain, quick compact one-hand fold, and relatively lightweight for a full-size stroller. Is it worth buying? Let's take a look at some of the most crucial pros and cons of Baby Jogger City Mini GT2 stroller.
Baby Jogger City Mini vs City Mini GT2
What is the difference between City Mini 2 and GT2? The City Mini 2 Single Stroller has smaller wheels than the GT.
As a result, they're more suited to pavements and city streets. The GT has three larger wheels that are better on grass and paths.
Other differences are minor such as the locking mechanism, adjustable handlebar and forever rubber tires on GT2.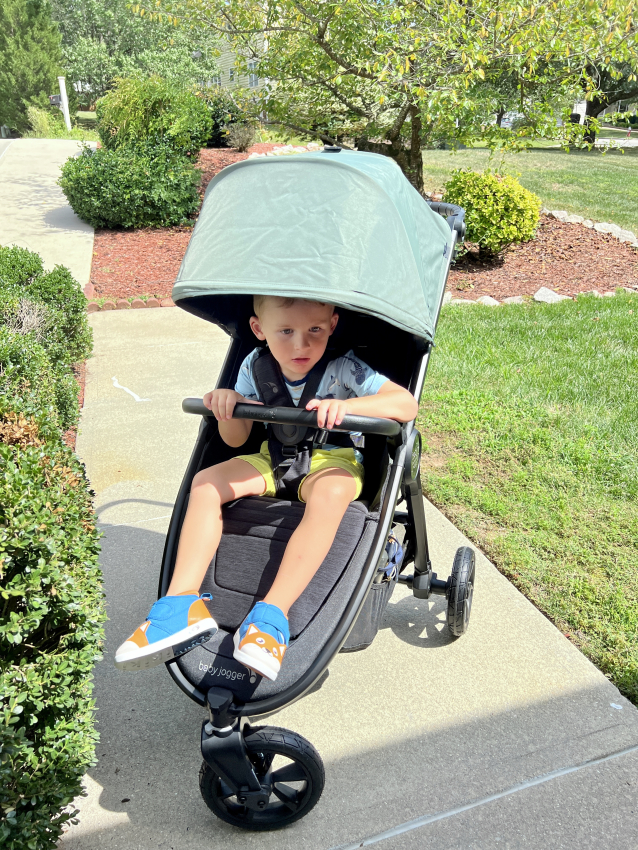 Stroller weight: 21 lbs
Seat weight limit: 65 lbs
Folded dimensions: 24.5″W x 31.5″L x 10″H
Seat width: 14″
Seat to canopy height: 26″
Maneuverability & Design
Baby Jogger stands behind its products and gives has a lifetime warranty on the frame of the stroller and 1 year on small parts and fabric. You won't need to worry about it breaking or getting damaged.
The 8.5″ forever-air tires filled with foam vs air are amazing and work as advertised: on all terrains. You can lock the front wheels so it's easier on uneven terrains or when power walking.
Baby Jogger City Mini GT2 meets Disney size requirements as a single stroller, so you will be fine taking it with you to the parks.
The handle is easily adjustable so both my husband and I can drive it comfortably. It goes from 30″ up to 42″ from the ground.
The stroller maneuvers easily even with one hand. I've used them on all sorts of terrain and they haven't punctured or had any other problems.
Unique Locking Mechanism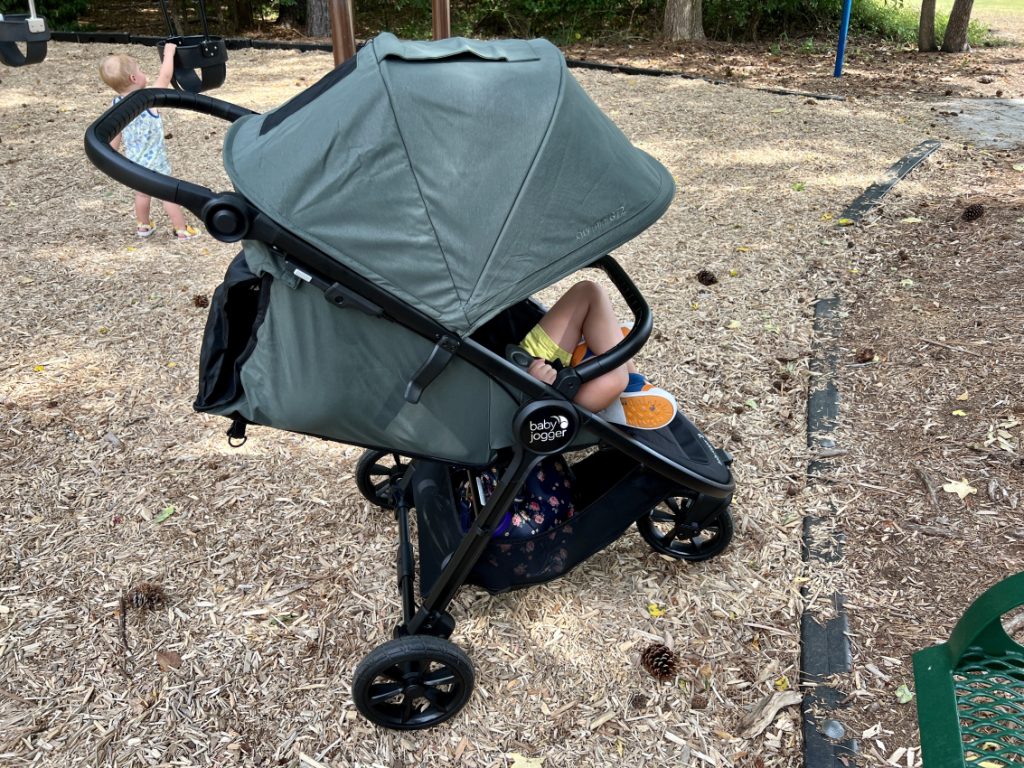 One thing that's completely unique about this Baby Jogger model is a break. Every other stroller I've ever tried had a standard foot break, but City Mini GT2 has a hand break. You just need to pull it up to lock the stroller in place.
I surprisingly like the hand brake more because it's sandals-friendly and won't leave scratches on your shoes. However, when my tall child fell asleep during the walk his head was in the way of the break. I had to push his head to the side and it wasn't a problem to us as he's a deep sleeper, but if you have a light sleeper it's something to keep in mind as a possible occurrence.
Folding, Weight & Size
I like how this stroller is lightweight and folds up relatively small to fit into our trunk.
I kept reading about people being disappointed that it's heavy, but it's lighter than Uppababy Cruz and much lighter than Cybex Priam or Uppababy Vista. I feel like this Baby Jogger stroller doesn't belong on the list of compact travel strollers as it's a full-size stroller, so it's not far to call it heavy when it's lighter than others.
The easy one-hand one-step fold is what sells this stroller. It's one of the easiest folds (and I tried a lot of them!). There's no getting a good angle, it just always works smoothly and effortlessly. All you need to do is to pull on the strap in the middle of the seat and the stroller will quickly fold and lock.
Storage Spaces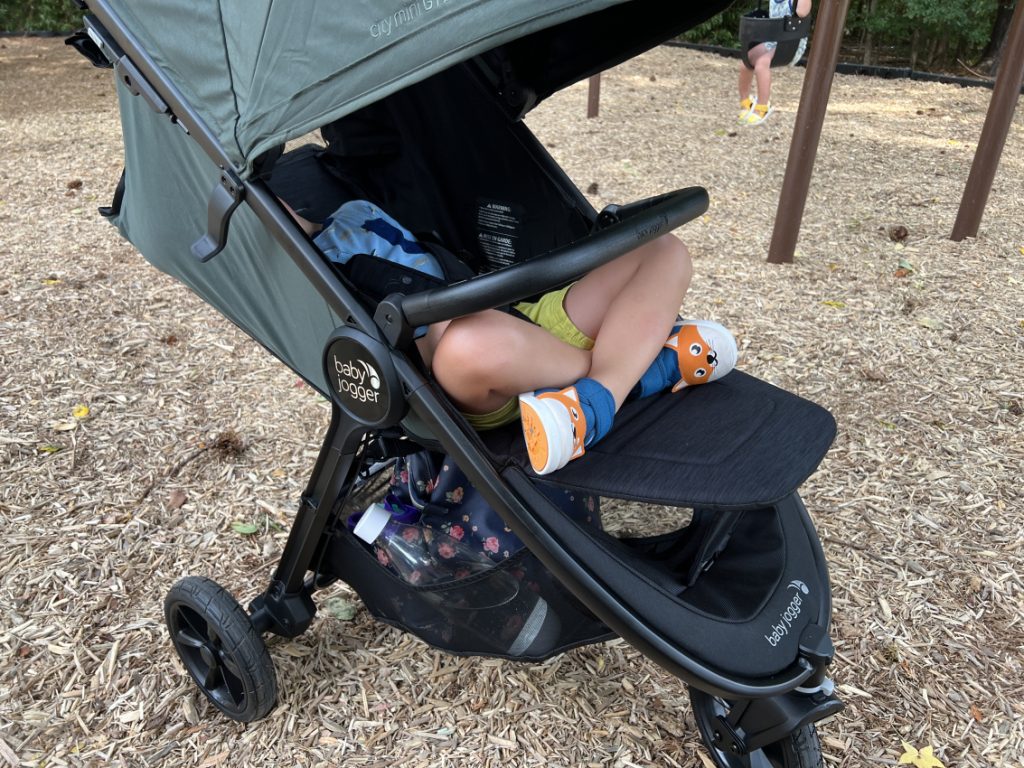 The storage bin is large enough, but there's a crossbar that limits the possibilities. There is front access through the footrest, but it's annoying having to open it up and close it to access your storage area. This is pretty back the biggest and only real con of the GT2 and something that Uppababy Vista or Cybex Gazelle designed slightly better, but I'll be real: you can stuff your diaper bag in there through the side – I did.
However, due to this bar the basket offers better protection for loose items, so if you want to throw a bottle, diaper, toy, blanket, and some random snacks underneath you'll be assured that they won't fall out.
GT has a back pocket that can fit a lot of small items, and it's a feature that you never know how much you need until you try it! So many other strollers are lacking it, but it's a perfect place to put a phone, keys, or wallet.
Seat Compartment, Recline & Canopy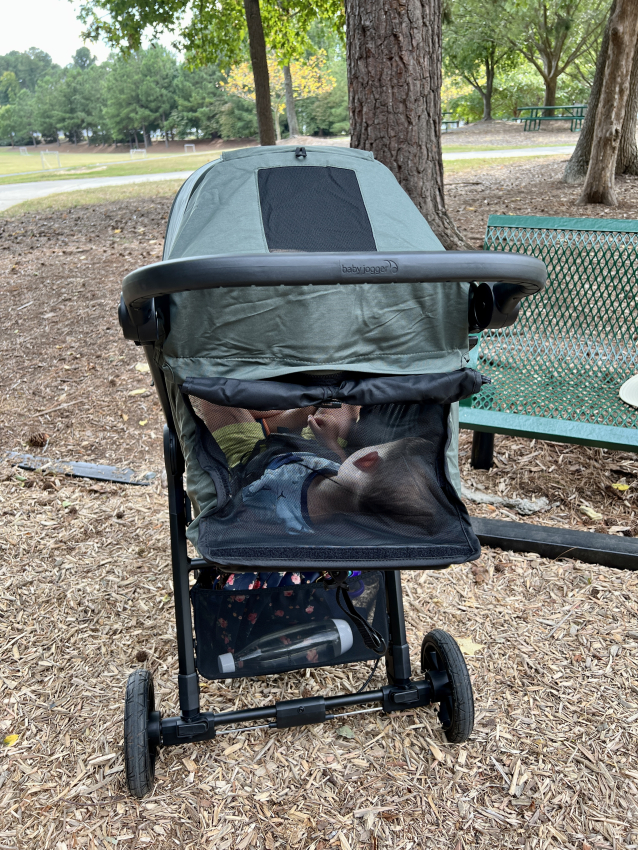 The seat is pretty awesome and I don't say such things easily after testing so many strollers. It's big, gives enough back support without being profiled. It's cushioned perfectly.
The seat is pretty incredible and my toddler can confirm as he started napping in it within 10 minutes (and he hasn't been napping for over a year!). My son is 42″ and it's one of a few strollers in which he fits comfortably.
The deep recline and travel system option allows you to use it from birth and up to 65 lbs. The seat has an infinite multi-position recline operated by a strap system with one hand.
The seat is spacious and breathable thanks to side mesh ventilation. Combined with an enormous canopy that's sturdy and wide enough, it's a great stroller for sunny days at the park.
The bottom of the seat can turn into a leg rest, but if your child hates the leg rest like both my kiddos, they'll be comfortable too as there's space for them to rest their feet.
Baby Jogger Accessories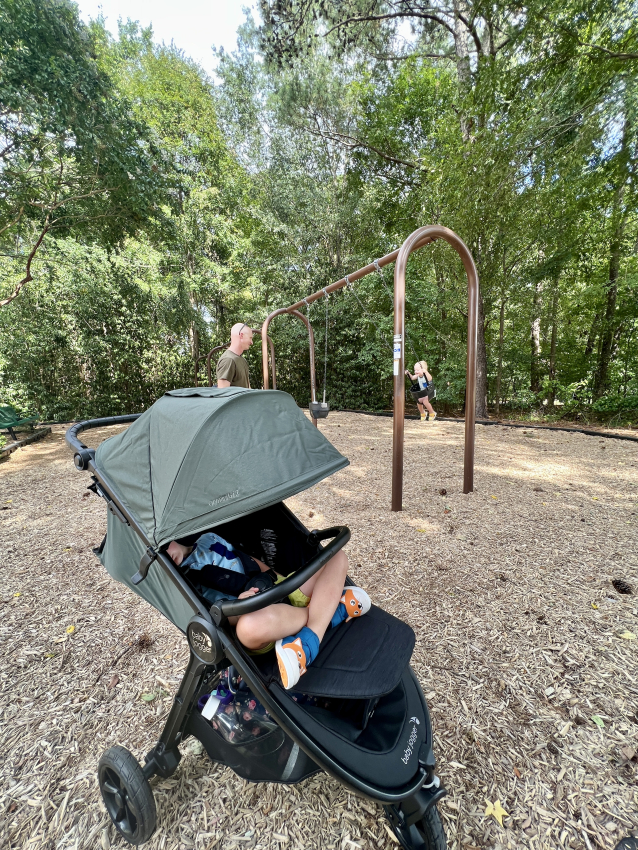 One of the biggest con of Baby Jogger City Mini GT2 is the lack of a buggy board with a seat. Baby Jogger sells a buggy board but it's a standing one, so it might not always work (it never did for my child). Even if your child will willingly ride it standing up, the handlebar gets in the way, so it's not an ideal design.
You can easily purchase other accessories such as a parental console to keep your belongings. There's also a snack tray and bumper bar – both swing open if you push a button on the side so the child can get in and out on their own.
---
Can you run with Baby Jogger City Mini GT2?
Many people think that when the stroller is made by Baby Jogger and has 3 wheels it can be used for jogging. This is NOT a jogging stroller, but I did run with it and it works on short power walks and occasional running adventures due to the all-wheel suspension.
Can you use Baby Jogger City Mini with a newborn?
Yes, you can! The stroller included car seat adapters, but you can also purchase a bassinet for more comfortable ride of your newborn.
Similar to other popular strollers such as Uppababy Vista or Cybex, the adapters included fit only Baby Jogger City Go infant car seat, but you can purchase a different adapter for a car seat from another brand – such as Maxi Cosi, Cybex or Nuna.
---
I like the Baby Jogger City Mini GT2 a lot, despite some of its flaws. I think most people will be happy using it for their daily walks, especially those dealing with cold weather and muddy and snowy terrains.
However, we are minimalists and we don't bring giant bags on walks, unlike some other parents. If you think you're a notorious over-packer and want a bigger basket, then you might consider Thule Spring stroller instead.