For a long time I wasn't a fan of stroller wagons. I've seen way too many accidents when parents were pulling them behind without looking and they all seemed bulky and uncomfortable. Until I got one. Now I get why many parents of multiples are obsessed with stroller wagons.
Do I think Evenflo Pivot Xplore Wagon Stroller is an ideal solution and the only kids' transportation vehicle for me? Absolutely not, but it doesn't change the fact that I like it.
I also think that for my needs it's the best wagon stroller on the wagon – I didn't keep the Wonderfold for a few reasons (read below).
I bought it because I realized that we need an all-terrain vehicle for both kids, as our toddler demands to be driven around or carried on longer excursions and refuses buggy board. While I like Zoe Twin it doesn't do well for hiking or snow, and the double BOB stroller was too wide to fit into many places.
For traveling, I'm still planning on using my single Babyzen Yoyo and potentially buy another one (depending on the trip). I think Evenflo Pivot, while foldable, is not a great solution for travel – will explain it further down.
Pros & Minor Cons of Evenflo Pivot Wagon Stroller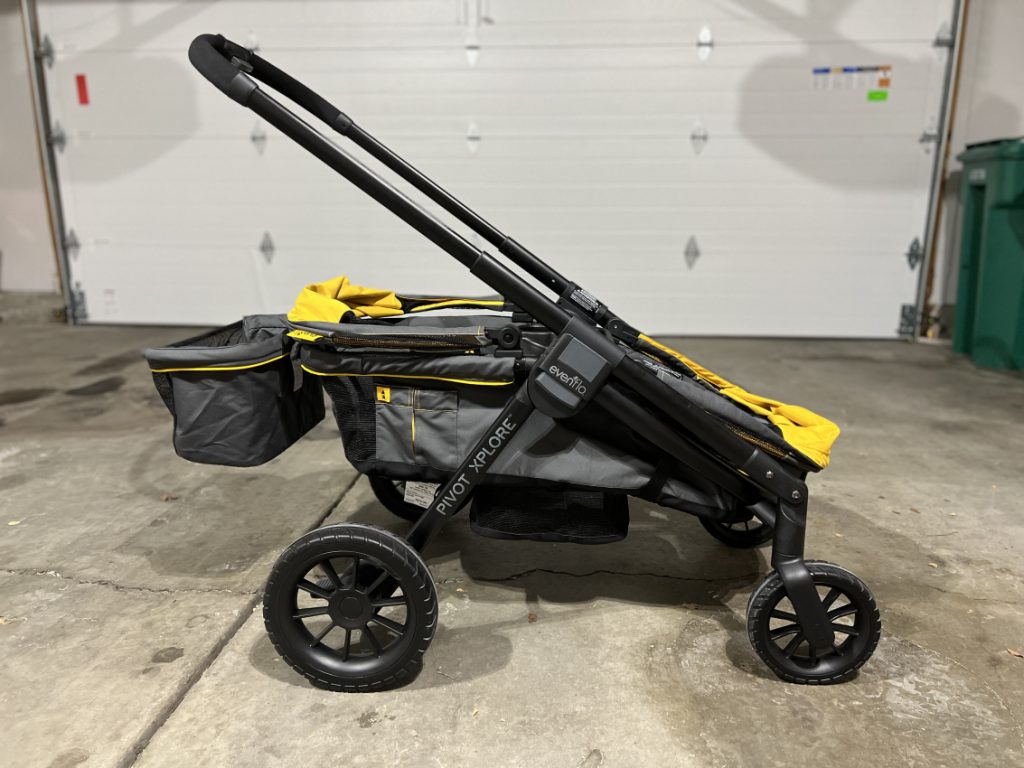 Maneuverability, Size & Design
It's both a stroller and a wagon all-in-one. There are two child seats with 3-point harnesses, a removable middle snack and drink holder console, a mesh foot tray inside that makes clean-up easy (unlike some other wagons), a removable mesh basket on the outside, and easy-to-use foot brakes too so you can lock it into place.
Some parents might be scared of the 3 point harness, but for us it's the only way. My kids despite the 5 point harness and we had to create our own versionsif a certain stroller didn't offer that option.
Basically, everything you can ask for, but there's one issue…
Canopies are pretty useless. For me personally, it's not a deal-breaker at this point, but we don't use them as often as I used the canopy on a double stroller.
Officially, Evenflo Pivot Xplore Wagon Stroller has a height limit in addition to a weight limit and it's only 39″. Which is basically my toddler's height at 2.5 years, because he's tall. He can squeeze underneath the canopy but it's not great and even the baby who's currently 30″ tall fits, but it gets flimsy when he's got a hat on.
The maneuverability is excellent, it drives just as smooth as Uppababy Vista or Cybex Gazelle which quite frankly is surprising because it's slightly heavier.
It's less narrow than Uppababy Vista (on the paper it's the same but with the wheels and sizes Evenflo wagon is slightly smaller), which means it fits through the door. Barely, but fits.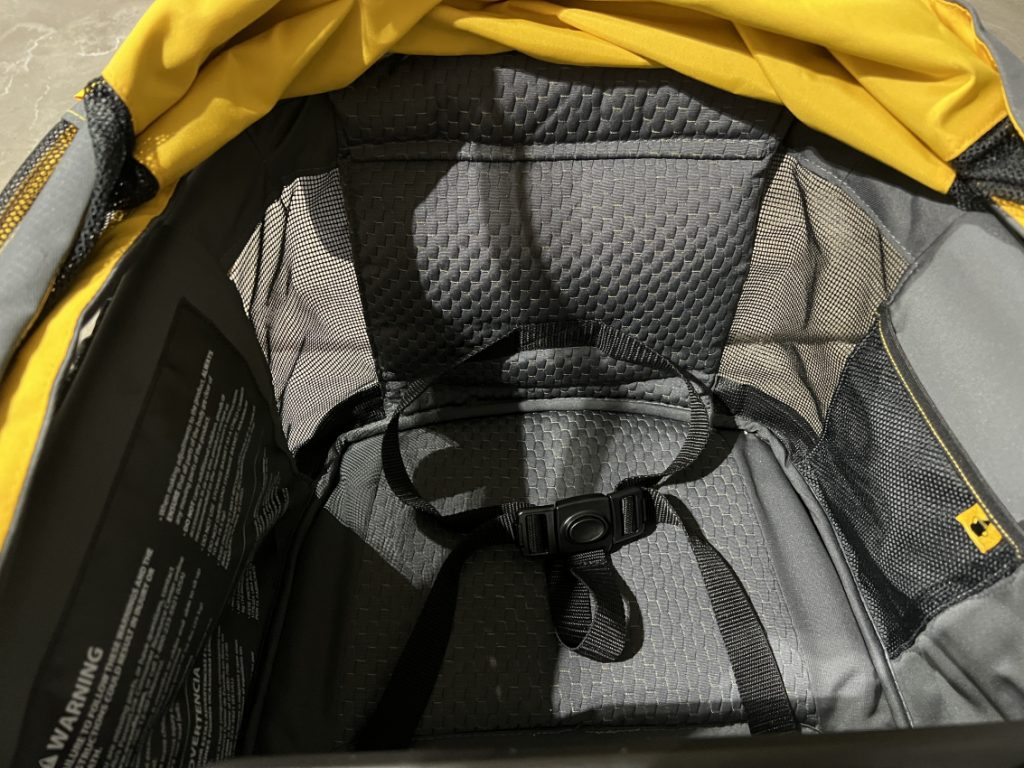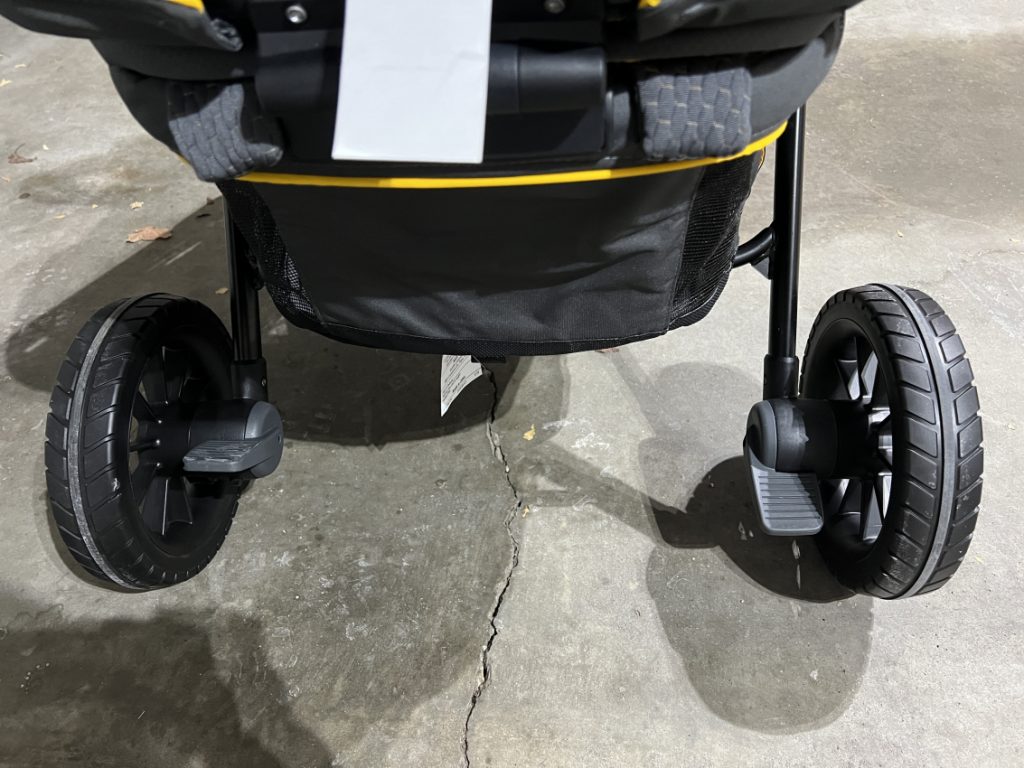 ---
Kids Comfort
Sitting facing each other has its consequences. Kids can interact with each which in our case was a must once the baby became communicative they both hate sitting on top of each other (literally) – and the reason why these days we don't really take the Cybex Gazelle out anymore.
Sitting next to each other has some advantages, because obviously the kids are happy. But, it comes with natural fighting because they're stealing each other toys.
While I can explain to my older child not to put feet on top of baby's feet and he gets it (which doesn't mean he doesn't forget sometimes), it doesn't stop the baby from stealing toddler's juice or snacks and they both get annoyed at each other.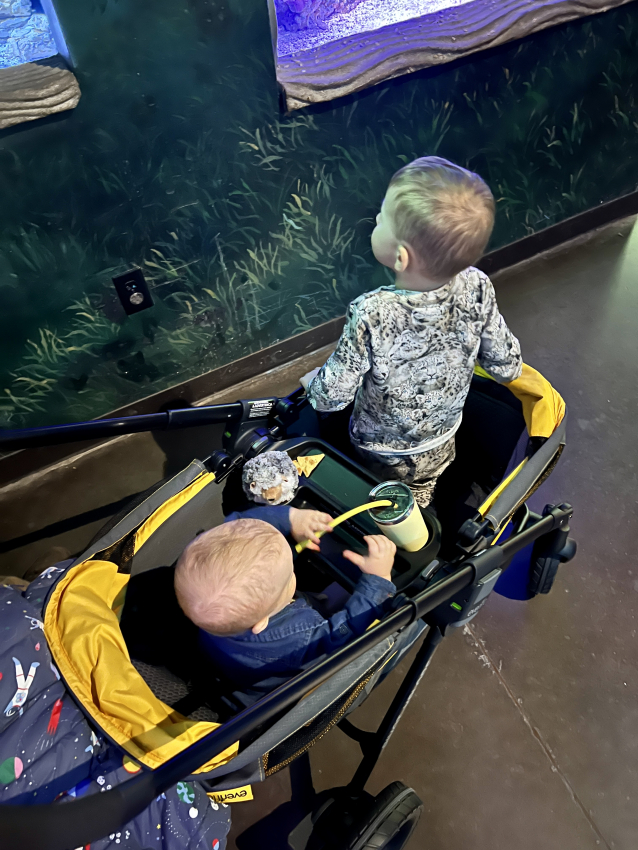 ---
Travel System with Evenflo Pivot Wagon Stroller
Evenflo Pivot is one of a few wagons that can use a travel system from birth. The Evenflo Pivot Xplore infant seat car seat adapter is sold separately, but it hooks directly into one of the seat areas, leaving the other one open for another child or stuff. 
However, it doesn't mean that while you could use it from birth that you should. I explained why you shouldn't follow the stupid American trend of stuffing infants into car seats as the only transportation system right here.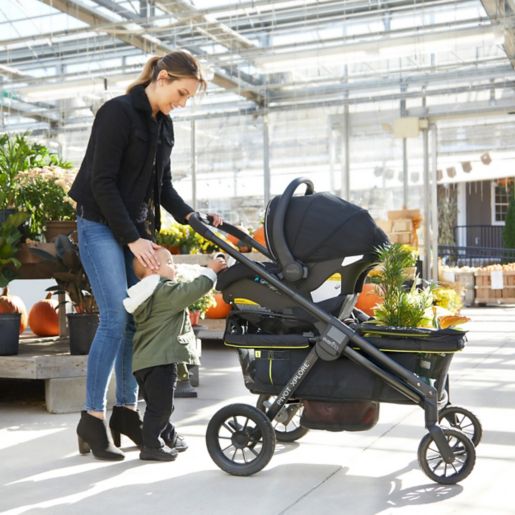 ---
Folding & Traveling with Evenflo Wagon Stroller
Evenflo wagon is incredibly easy it is to fold. Just push two buttons and it folds and fits. While I haven't traveled with it just yet, it is a heavy vehicle (35 lbs), so it's not as simple as folding a small travel stroller with one hand and throwing it anywhere.
The handle shifts it between a pull wagon and a push stroller. Overall is collapses to about the same size as our full-size stroller, but is much easier to manipulate when both kids are on it.
Before I bought it I saw parents complain about the handle being too low, but my husband is 6'1 and says it's not bad. Could it be higher? Sure, but it's not awful.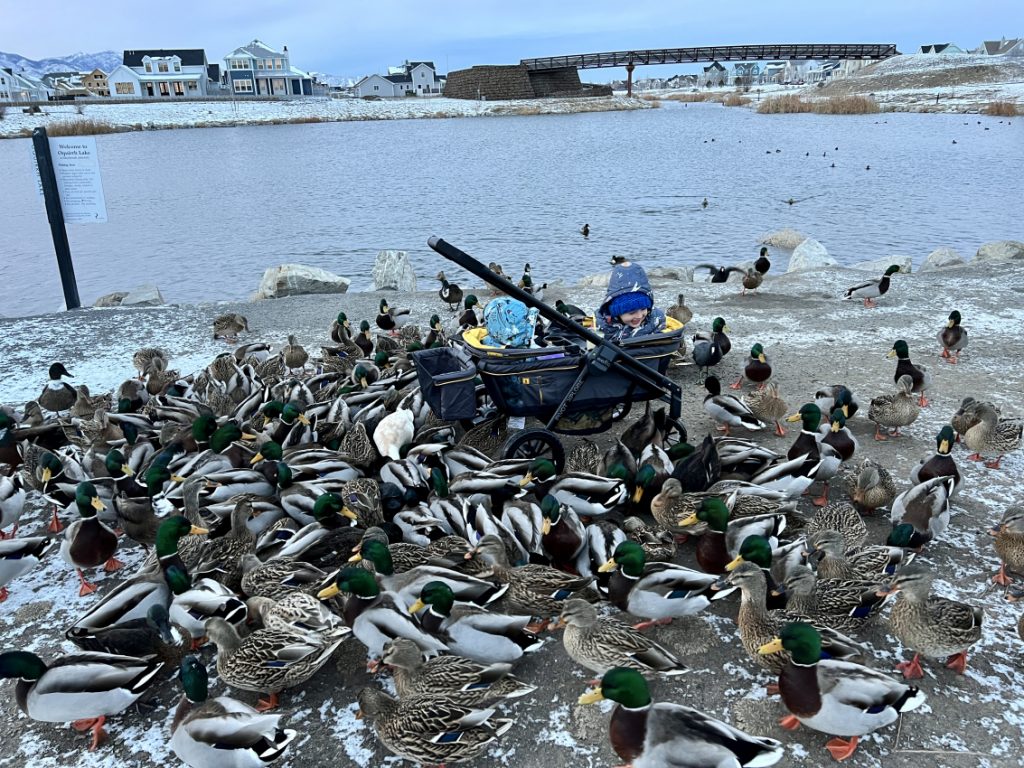 Storage Spaces
Most people will rave about the storage on a wagon… which is accurate if you buy a gigantic Wonderfold with 4 seats for just 2 kids, but with Evenflo there's basically not much storage.
In fact, that was the first thing my husband said when we opened it: it's great, but we lost the storage space. If you look at any wagon carefully you'll realize there's not much storage if two kids are sitting in it!
It has an extra basket, but it's fairly small. Our small backpack-style diaper bag doesn't fit and when I loaded my coat, toddler's coat and baby's coat in there I packed a diaper and thermos and that was about it.
In a double stroller, there's normally a space underneath but most wagons just have small pockets. For us it's not a problem because when I roam around all day I was able to just throw some diapers, bottle and water underneath the Yoyo and that was it, but if you're that person who likes to bring half of the nursery to on a walk the small storage might be an issue.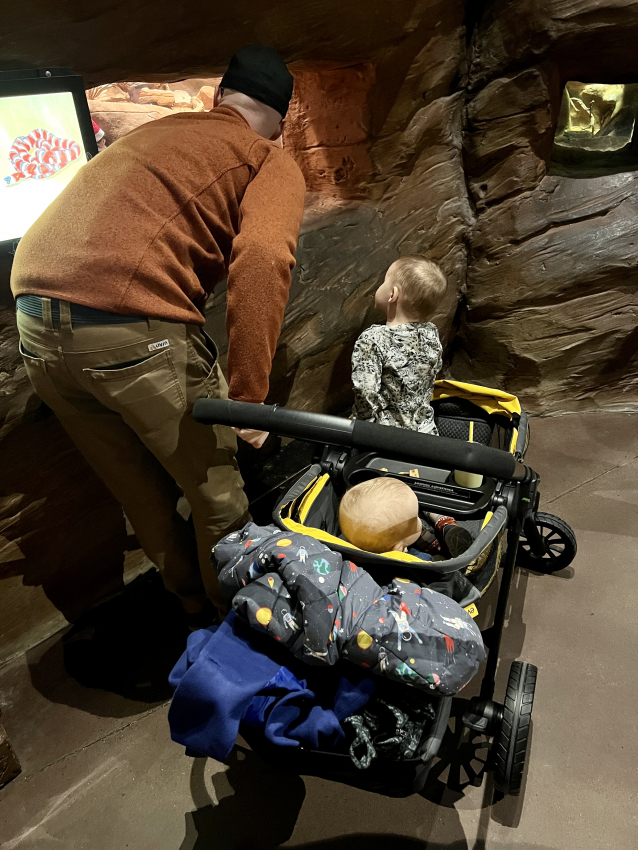 ---
How to Clean Evenflo Pivot Wagon
Let's be real. We did three very short trips with the kiddos and the wagon is dirty. It's naturally not the wagon's fault that my kids can be messy, especially the younger one.
You can easily clean minor spills and stains on the material with soap and cold water and leave it out to dry. My husband bought a portable stain remover for our sofa as we have multiple pets and children and since I started using it on all our strollers it works miracles, so you might purchase it too.
Metal and plastic parts can be wiped clean with a soft damp cloth and dried with a soft cloth. DO NOT use abrasive cleaners or solvents.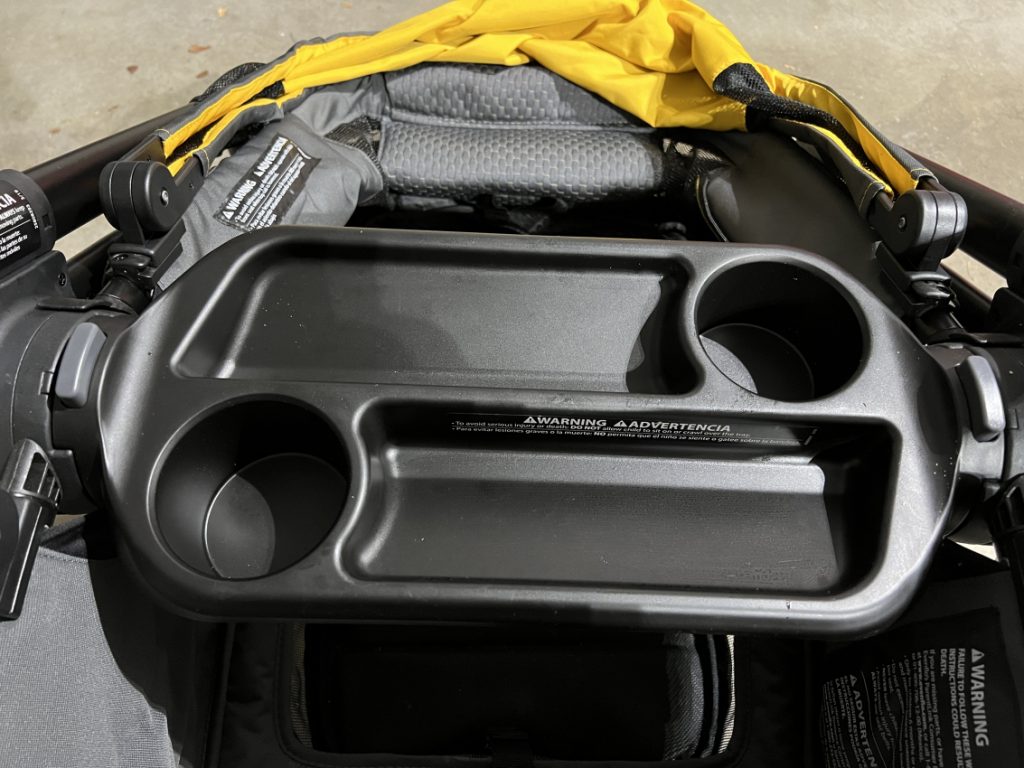 ---
Evenflo Pivot Wagon Sleeping Hack
Technically speaking, because it has a footwell it's not for sleeping. Seats also don't recline at all, similar to other wagons.
However, if you get a simple tupperware at Target you can fill the footwell with it and put a blanket over it. Alternatively, in the winter you can just throw a jacket in the footwell instead of carrying a tupperware and voila! – here is your sleeping hack, although it can only allow one child to sleep at a time.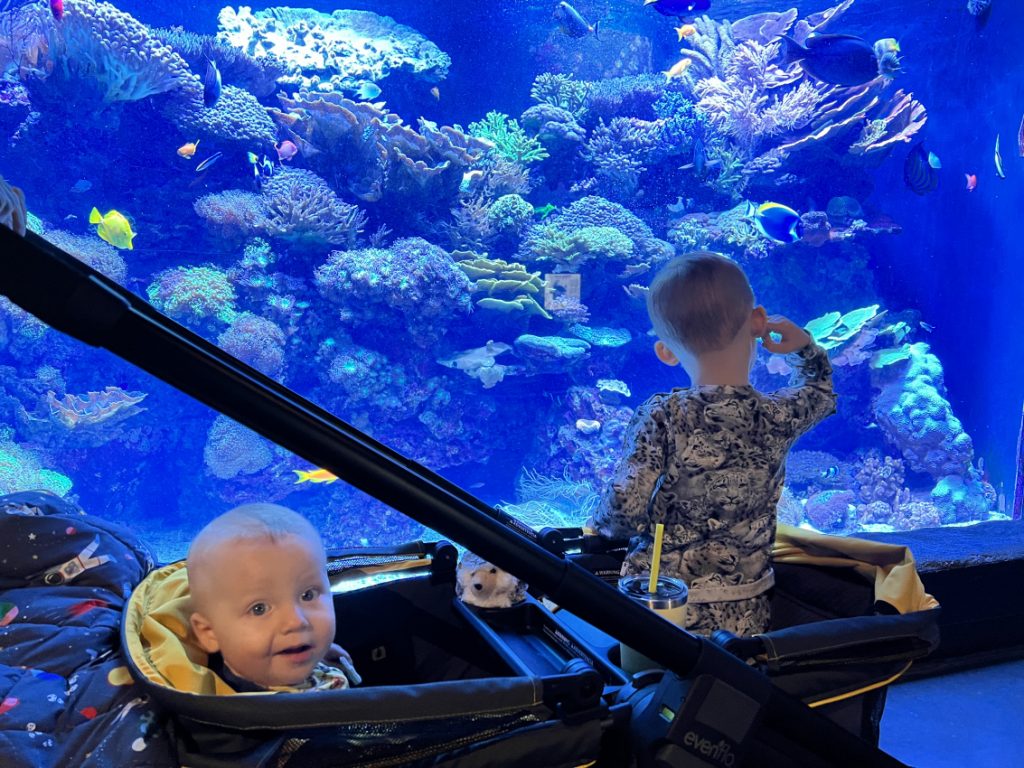 ---
Verdict:
Despite certain flows both my husband and I like the wagon and we're going to be taking it with us to Europe on our next trip. We decided it cannot be our only vehicle and we're surely keeping a single stroller as well for the baby, but Evenflo Pivot Xplore Wagon Stroller is surely a handy vehicle to own.
Wonderfold vs Evenflo Pivot Wagon Stroller
If parents have the means they usually go for Wonderfold wagon. I think Wonderfold is a fantastic and high quality wagon and so is Evenflo Pivot Xplore.
Wonderfold has a higher weight limit, so can be used longer, but on the other hand Evenflo Pivot offers a travel system which technically allows you to use it from birth.
The main difference between these two is obviously the number of seats. Wonderfold has 4, while Evenflo can have max. 2 seats. Wondefold has a zipper door, while Evenflo folds down allowing the kids to exit, so both can be accessed easily if your kids are crafty.
Keep in mind that if you think that Wonderfold has storage undeneath the seats you will lose part of it because the kids have to exit. My toddler doesn't want to crawl under the seat to get out.
The adjustable and removable canopy on Wondefold is amazing, especially if you compare it to the crappy Evenflo canopy. It's awesome especially for sleeping in Wonderfold's reclinable seats which no other wagons offer.
The main reason I didn't keep the Wonderfold and kept Evenflo wasn't the fact that the latter is significantly cheaper.
While both wagons fold similar, Wonderfold is just too heavy. We wanted a wagon that can ride on rough terrain so needed an Elite model of Wonderfold… which weight 47 lbs for 2 seater. It's a pain to load it up into your trunk or lug on public transport.