If you had told me before I had children that picking the best travel stroller was such a big deal and that having multiple strollers isn't weird, I wouldn't have believed you. Now I know that if I had done a little bit of research from the beginning instead of following the trends, I would have saved so much time and money and ended up with the best travel stroller from the very beginning.
In order to help you save all that time and money, I've written this ultimate guide to help you choose the best travel stroller for your needs. All of the honest reviews you will find below come from my personal experience as I have tested every stroller on this list (and more!).
WHY TRUST ME?
If you take a look at my stroller section of this blog you'll notice that I have various reviews of strollers and stroller wagons. I have owned over 30 different travel strollers throughout my time as a parent and close to 60 strollers overall, as I constantly test new releases.

Most importantly, I test my strollers with actual children of different ages while many bigger sites test strollers without the kids looking at just functions (People's Magazine actually admitted that they test strollers with sandbags, can you believe it?!), and we all know that many issues arise when kids are actually using the stroller.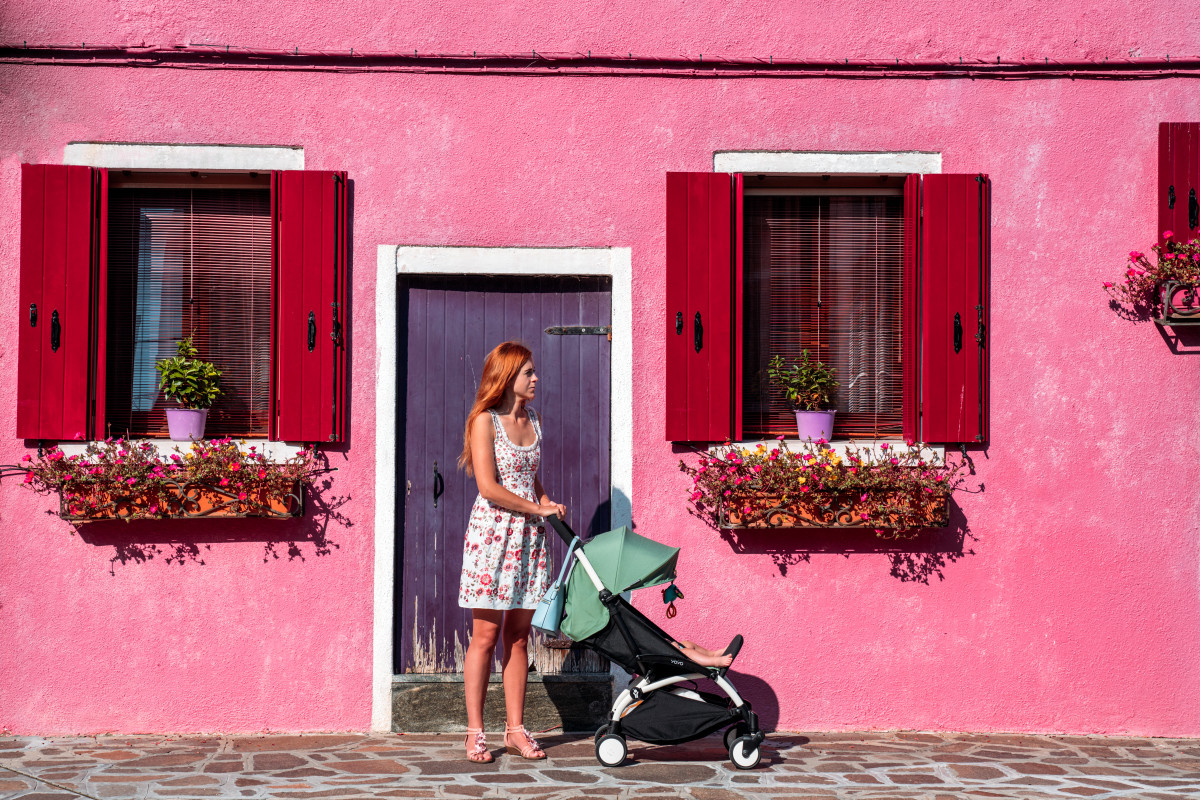 What to Ask Yourself When Buying a Travel Stroller:
1. Can You Use the Same Stroller from Birth? Is This Important?
Not everyone will travel with babies under 6 months. I did, but I know many people prefer to wait.
Despite the common myth that you can't use travel strollers from birth, these days many strollers offer a special insert for newborns, offer car seat adapters or simply recline completely flat.
Keep in mind that your baby will be a newborn only for the first few months, but will use the stroller for a good few years. That said, it's often simply not worth sacrificing the overall comfort (both baby and parent!) and picking a stroller solely based on the fact that it can be used from birth.
My son Dylan was just 2 weeks old when we started traveling with him and by 4 months, he had already been on 20 flights. At least half of those flights I went alone without my partner, so it was important for me to find something that would work.
2. Overhead vs Gate Checking Best Travel Strollers
We thought we wanted a heavy-duty, extendable stroller to be my one and only for my first child. This seemed fine to us since you can normally check a stroller for free… That is until we actually flew with it for the first time and the airline broke it instantly. It happens all the time – strollers get lost and damaged and you might not get it back.
I even have some friends who various times were able to put the baby to sleep on the plane in their Babyzen Yoyo stroller when they booked bulkhead seats.
My husband went out and bought a smaller stroller right away after seeing other parents carry their compact travel strollers like a breeze while we struggled with no stroller as it got damaged (and this didn't happen only once actually!).
So while many of the most compact strollers lack other features in order to keep the size and weight down, if you travel often, sacrificing some of those functions is absolutely worth it for having the ability to fit your stroller in the cabin's overhead compartment.
3. Does Your Kid Nap in the Stroller?
This is a complex question I always struggled with. May parents claim that their kids don't fall asleep in the stroller unless it fully reclines. In our case it took training and one child still won't fall asleep in any stroller, even with a full recline, unless completely exhausted, and at this point he falls asleep even not reclined at all. Some kids just won't do it easily, so that's something that will take training.
The bad news is that unfortunately, you won't be able to buy a travel a compact travel stroller that fully reclines in the US. It's not that the stroller producers don't want to do it, but it's actually the law in the US, Canada, Australia and the UK.
Yup, you read it right. Strollers that are compact enough that fit in the overhead bin cannot legally fully recline more than 150 degrees. This is why for example the same exact stroller Joolz Aer+ if you buy it in Europe it will fully recline, but outside of Europe, it will stop at 150 degrees. (WINK: if you're traveling to Europe with a baby you might as well buy this stroller in Europe).
You might wonder why some strollers like Ergobaby Metro+ can fully recline? Simply because they are not compact. And while we're on that topic Colugo stroller does not fully recline – it's an error on the Target website.
4. Do You Need a Travel Stroller that Folds with Just One Hand?
If you rarely travel alone, this may not be super important to you. But if you are handling your child alone (especially babies who can't stand up), one hand fold (and unfold!) can be invaluable.
I'm stressing the unfold because many strollers are advertised as one handed fold, but then you need both hands and often even a foot to unfold it, which is ridiculous.
There are so many times you will need to fold your stroller while traveling such as while going through security and for gate-checking. Plus, if it doesn't fold compactly it will need to be inspected manually meaning you would need to fold it up while holding your baby. This was a dealbreaker for me.
5. Compact Strollers for Disneyworld
Everyone knows that as magical as Disney World is, it's a long day of walking, even for older kids and why do people recommend bringing a stroller for kids even up to 8 years old!
Unfortunately, Disneyworld doesn't allow most big strollers and since 2019, wagons are also banned from Disneyworld and Disneyland. To reduce space in the parks, strollers cannot be bigger than 31" (79 cm) in width and 52" (132cm) in length.
While you can rent a stroller from the park for $15, these plastic container-like prams are not comfortable and you still need to deal with getting to and from the airport and parks without one.
6. How Much Can You Spend?
If you're on a budget then this of course limits the amount you are willing to spend on a travel stroller. But remember that quality costs more for a reason.
In the beginning, I really didn't want to pay much for a travel stroller since it would be my second one. I quickly realized that the extra money was really worth it for me since I travel all the time and needed to be able to comfortably fold and transport it.
Also, remember that you can always sell your stroller after it's no longer needed. Chances are if you buy a cheap stroller from Walmart for your Disney trip, it may break before you get the chance.
7. Do You Need Accessories?
Remember to consider this in your budget when choosing a stroller. There are many basic accessories like rain covers and bug nets which are not always included.
In addition to the basics, you can also buy other accessories for your stroller like trays, clips, and cup holders which can make your life way more convenient, but they add up. Even a bumper bar can cost $40+.
Obviously, all brands have their own accessories, but quite often just because you won a Bugaboo full-size stroller it doesn't mean that the same cupholder or buggy board will fit into your new Butterfly stroller.
There's even more to it… brands often update their current strollers which one can think is great, because it improves things. BUT, this means that if you upgrade your stroller it might mean you might have to upgrade your accessories as well. For example, I paid $50 for a bumper bar for Joolz Aer and literally a few months later Joolz Aer+ came out and guess what – this bumper no longer fits on the new one!
The only brand that has been making new models and accessories consistently fit is Babyzen, but they're owned by the Norwegian Stokke now who are known to create products that will last you years (like Trip Trapp chair), so it doesn't surprise me at all.
Are Super Compact Travel Strollers Worth it?
Absolutely! There are so many things that we have to struggle through as parents, so don't add another unnecessary discomfort to your trip. I've wrestled with enough regular strollers on solo trips to tell you that it is 100% not worth the effort, and I would have much preferred to make travel days as easy as possible with a compact and lightweight stroller.
You'll thank me later when you experience the breeze of landing and being able to immediately strap your little one in and walk off down the gateway without having to figure out where and when to pick it up, thanks to having a compact, lightweight stroller.
---
Best Travel Strollers (in short):
While you'll find many amazing strollers on this list, what I had to accept when searching far and wide is that the "perfect" stroller doesn't exist.
You'll see that every stroller has its own benefits and disadvantages, the important thing to consider is what is going to be best for you and your child's preferences and needs.
Different babies can either love or hate car seats, cocoons, or flat reclines, so for a happy baby you will want to consider their preference. But, you also need to think about how easy the stroller is for you to handle when carrying it on planes, buses, and trains, and loading it into cars.
Which Travel Strollers Didn't Make My Top List?
GB Pockit+
WHY?
Too big for overhead
Way too short bumper bar
Cybex Eezy S Twist
WHY?
Too big for overhead
Way too short bumper bar
SilverCross Jet
WHY?
Seat is too flimpsy
Awful fold
Basket too hard to access
Peg Perego Selfie
WHY?
Too big for overhead
The seat is way too angled backward
Nuna TRVL
WHY?
Too big for many overhead bins
Seat is way too short especially when reclined
Mountain Buggy Nano
WHY?
Too small weight limit (35lbs)
Complex fold/unfold
Straps may looses making it dangerous
Ergobaby Metro
WHY?
Fold/unfold too flimpsy
Many people report it can break easily
Colugo Compact
WHY?
Harness is painful to open
Canopy is flimsy to open/close
Seat it too shallow
---
Detailed Comparison of the Best Travel Strollers
(ONLY CABIN FRIENDLY OPTIONS)
MY RATING: ★★★★★
Folded Size: 20" x 17" x 7" / 52 x 44 x 18 cm
Weight: 13lbs / 6.2kg
Price: $$$
Babyzen Yoyo has been no. 1 on the market for a long time and from my experience, this is rightfully earned.
As it can be a bit pricy, I tried so many other strollers before investing in this one because I thought there must be a cheaper alternative out there that's just as good. I was wrong!
I tested this stroller in every situation imaginable over the years and despite its small flaws, it worked fine. As it's ultimately the leader of all best travel strollers airlines know it and there's no hassling about whether it will be allowed on board or not.
Despite its small wheels, I never need to lift this stroller over the curb and had no problems with cobblestones, mud, or thicker gravel.
Adding a diaper bag or another small stroller (Yoyo Connect) to the back is also an option without the stroller falling backward. It's actually the only one I tested that can handle things hanging from the back.
If you want to use it from birth, you will have to add a newborn pack or bassinet (I recommend the newborn pack). I personally think the recline is more than enough for my kids.
Pros:
ALL planes know it as cabin luggage
Can be a double with Yoyo Connect
Easily maneuverable with one hand
Great wheels & suspension
Can be one-hand folded on the 2nd step
Cons:
Canopy on a smaller side
Needs additional Yoyo-only accessories (footrest, bug net, bumper bar)
Pricy
Breaks could be better designed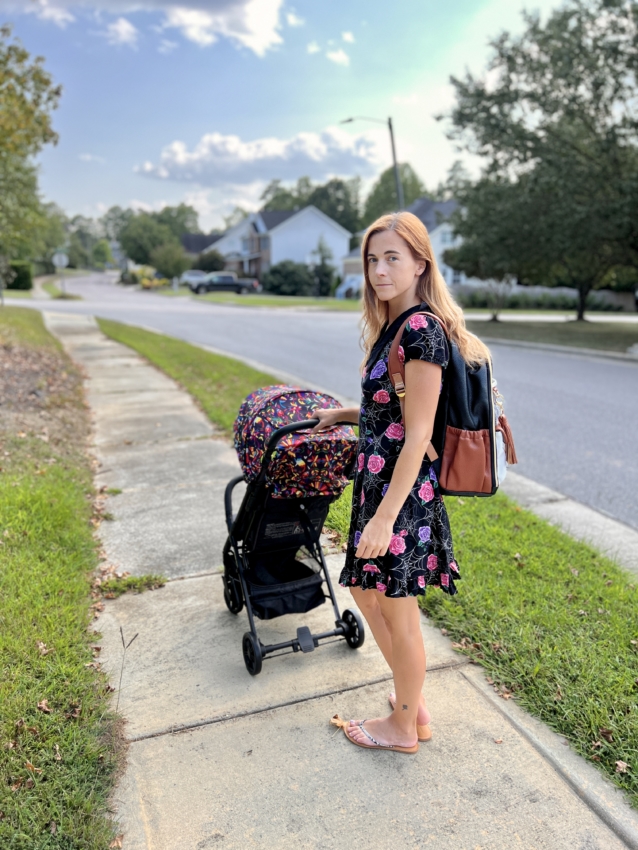 ---
MY RATING: ★★★★☆
Folded Size: 22" x 19" x 10"
Weight: 13 lbs
Price: $
If you want a budget option that fits overhead, offers one-hand push and fold with the bumper bar, and a bigger canopy, Zoe compact stroller could be a good option.
The stroller offers multiple recline positions, including a near-flat recline, allowing your child to find a comfortable position for napping or sitting upright while being covered with a huge canopy (with peekaboo window).
The basket is enough for a small diaper bag and while the wheels aren't incredible they're not bad either. You can purchase a stroller strap to carry it like a backpack as well.
---
MY RATING: ★★★☆☆
Folded Size: 18.9" x 17" x 10"
Weight: 13.7 lbs
Price: $$
I purchased the Cybex Libelle as a secondary stroller for my older son who doesn't need a stroller 24/7 and was very happy with the quality and size of it.
It rolls and turns really nicely and you can tell it has good-quality wheels making it an easy-to-move stroller. I also loved how small it folds down. Unlike the GB Pockit, I didn't feel I was making too many sacrifices having such a tiny stroller. It will seriously fit anywhere like under another stroller or even in a small bag to be carried!
What's more, unfolding the Cybex Libelle can be done in one move. Folding it back up does take a little bit of practice and you need both hands but I have never gotten it stuck once which is a huge plus in my book.
During my time testing the Cybex Libelle in France, Spain, the USA, and Poland, I found that the brake pedal's location on a bar behind the stroller basket is great because it can be easily pressed (great for sandals) but it can't be accidentally kicked while walking. Plus, the basket is easily accessible for storage.
Like the BG Pockit, the canopy is too small to cover your child completely on sunny days and the handlebar is a little short. But, if you are used to strollers like the Doona stroller, you probably won't notice as it is a bit taller.
You have the ability to steer with one hand but it can sometimes be a little tricky so if that is a priority for you I would go with the Yoyo or other Cybex strollers.
Another option is to add a clippable bumper bar but it won't fold down with the stroller which can be a bit annoying. However, you can always just store it in a purse.
This stroller is a great choice for kids that are a bit older and like a combination of walking and strolling, my 3-year-old loves it for that reason. But I wouldn't recommend the Cybex Libelle for babies and smaller toddlers because the recline is not very accommodating and is a bit bent.
The size is one of the Cybex Libelle's biggest strengths but if you don't mind something that folds slightly bigger, get a Cybex Beezy instead for a higher handlebar, attached bumper bar, and one-hand folding.
Read my extra detailed review of Cybex Libelle stroller.
Pros:
Cheaper than some competitors
Folds super small
Great wheels
Lots of accessories available
Cons:
Lack of carrying strap
Suitable from birth only with a car seat
No one hand fold
Can't fold with a bumper bar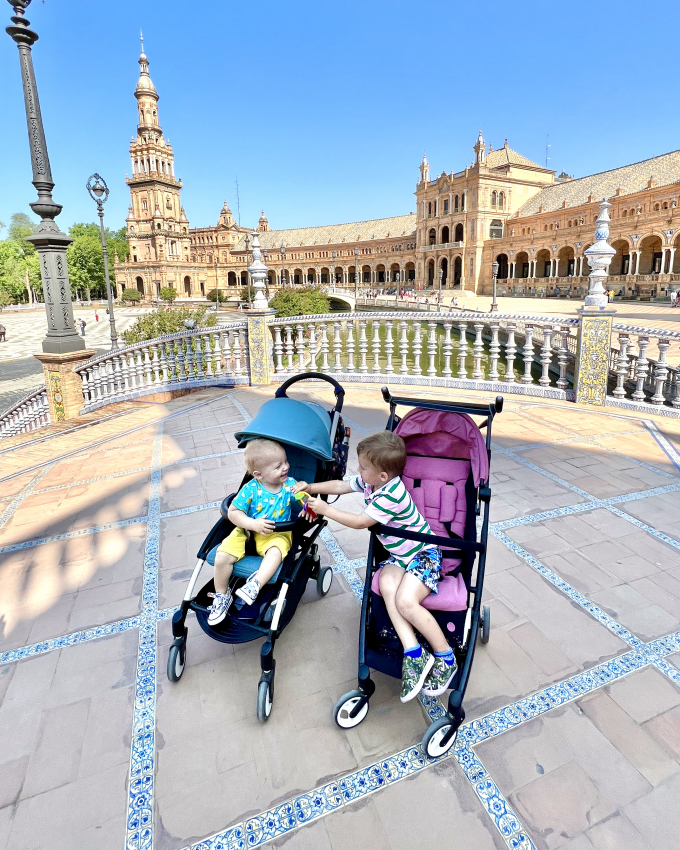 ---
---
MY RATING: ★★★★★
Folded Size: 21" x 18" x 8.5"
Weight: 13.4 lbs
Price: $$$
Joolz Aer does have a one-hand fold, a peek-a-boo window, good recline, and comes with a bumper bar and rain cover. But for some reason, the stroller won't fold if you have the official bumper bar attached.
The back of the seat is higher than on many other strollers and the canopy is more than big enough.
I really wish the button which you use to fold the stroller wasn't right in the middle of the handlebar. This makes it slightly difficult to steer with one hand.
Additionally, because of the higher back it might not always fit in the cabin of really small planes.
This is still a great stroller and is even one of the only three travel strollers that offer a bassinet for newborns (others are Yoyo and Colugo).
Full review is available here.
Pros:
Big basket
Sturdy wheels
Lifetime warranty
Easy one-hand fold & unfold
Cons:
On the pricier side
Won't fit on smaller planes
Zippable recline is weird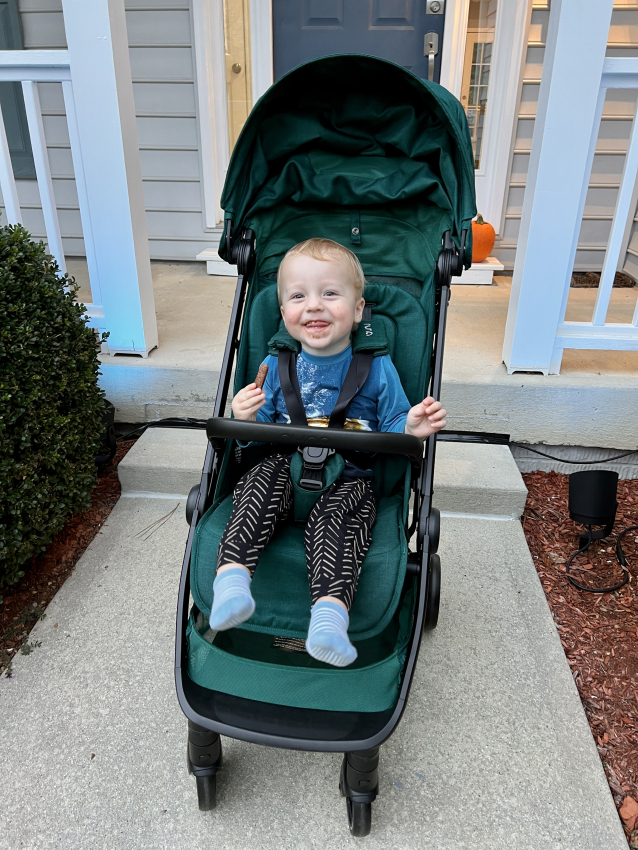 ---
---
Cybex Orfeo
MY RATING: ★★★★☆
Folded Size: 20" x 18" x 6"
Weight: 13.8 lbs
Price: $$
Cybex Orfeo is the newest addition to Cybex strollers and it's small but mighty.
The Orfeo stroller boasts a range of features, including a spacious and adjustable seat, a smooth and effortless maneuverability system, and a convenient one-hand folding mechanism for easy storage.
The Cybex Orfeo stroller is truly a game-changer, combining fashion-forward aesthetics with practicality. It's definitely a winner over its little cousin Cybex Coya.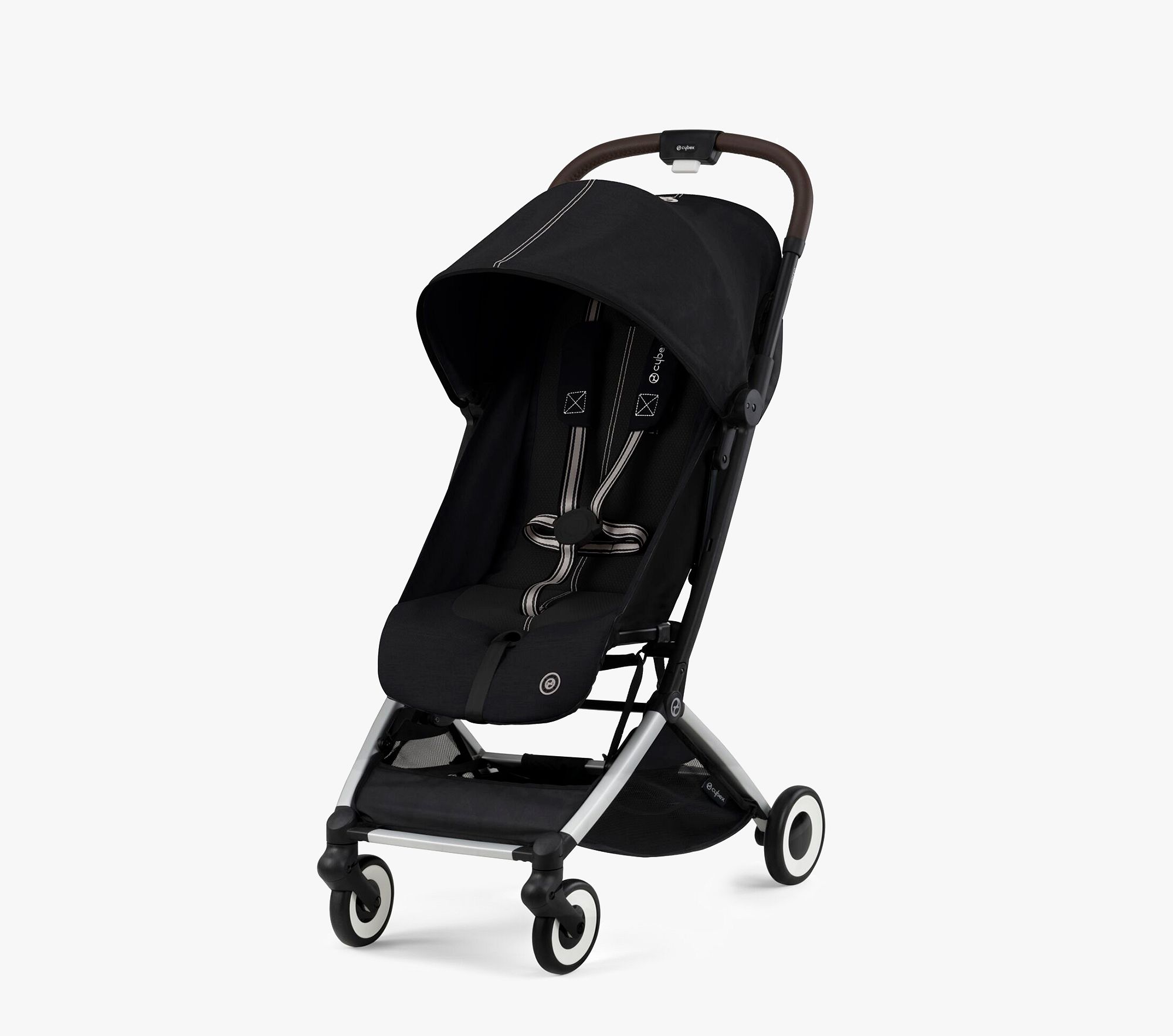 Pros:
Adjustable in-built footrest
Small fold
Much more affordable than most
Almost full-recline (adjustable levels)

Cons:
Seat/fabric doesn't come off so we're still figuring out how to clean it
Won't fold with bumper bar attached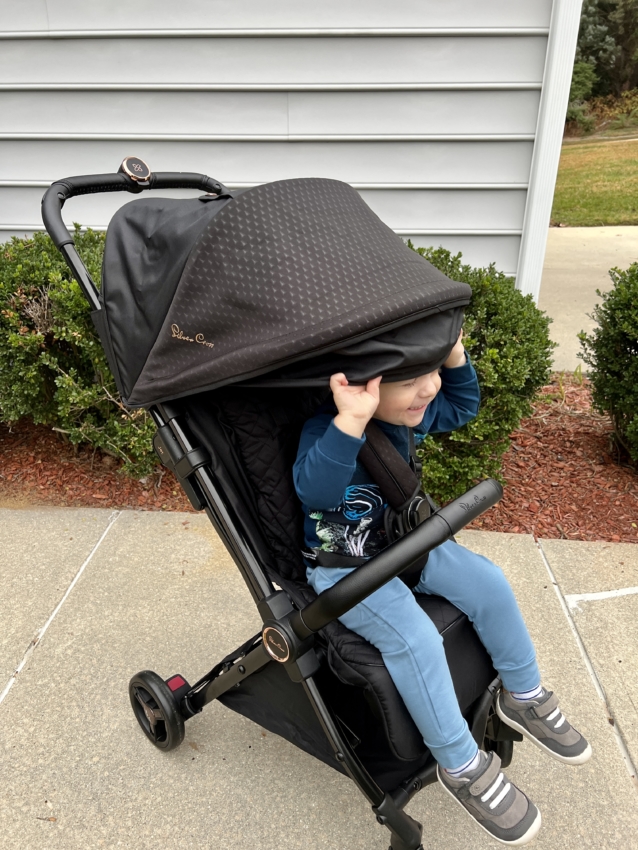 ---
---
MY RATING: ★★☆☆☆
Folded Size: 22" x 15" x 9"
Weight: 15.8 lbs
Price: $$$
Even though the Bugaboo Butterfly was a highly anticipated and improved replacement for the old Bugaboo Ant (now discontinued), in my opinion, it still can't really compete with the Babyzen Yoyo or even the Joolz Aer.
The Bugaboo Butterfly is advertised to be usable by older toddlers, meaning in theory you should be able to use it for longer. Although the seat is taller than the Yoyo (or most strollers), and it has a weight limit of up to 50 lbs, the built-in canopy is pretty restrictive and the recline is also less than on Babyzen Yoyo or Joolz Aer, so I don't think this is true.
My child maxed out the top straps at only 3 years old, so I think that for a tall child, 3.5 years would be the oldest it's suited to. Especially considering that the footrest is basically useless (I explained why in my detailed review).
The basket underneath the Bugaboo Butterfly is amazing and it even has mesh sides. I had no problems pushing it around on uneven ground and it does fold down (with a little push), although the carry strap does get lost into the stroller.
The stroller is heavier than the Yoyo and various others and most importantly the seat fabric wears off after just a few weeks making the stroller looked like it's been used for thousand years. The same goes for the frame – I can't think of any other stroller that scratched so easily as this one.
Pros:
Amazing basket
Big extendable canopy
Folds with bumper bar
Washable seat fabric
Adjustable harness
Cons:
No newborn options apart from a car seat
Built-in footrest is useless
Frame paint peels off easily and scratches
Carry strap can often disappears inside when the stroller is folded
---
MY RATING: ★★★☆☆
Folded Size: 22" x 17" x 9"
Weight: 14 lbs
Price: $$
Firstly to avoid any confusion, despite the brand name being "BabyJogger", none of their strollers are jogging strollers.
Normally out of the BabyJogger range, I would recommend the City Mini GT as a better overall stroller but since the City Tour is lighter, this one is more suited as a travel stroller.
The BabyJogger City Tour 2 falls between the Mountain Buggy and the Yoyo in terms of sturdiness although I wouldn't recommend you hang things from the handlebar as it would probably still tip over.
The depth of the seat is a little shallow however you can almost recline it fully flat. There is even a built-in footrest which I love however, the canopy is pretty small and according to my older son, the straps aren't very comfortable (although my other child never had a problem with this).
Pros:
One-hand fold
Near flat recline
Many colors available
Built-in footrest
Cons:
Two-hand unfolding
Won't fit in the overhead on some airlines
Very few car seats are compatible
No carry strap (only handle)
---
---
Dream on Me Lightweight Stroller
MY RATING: ★★★★☆
Folded Size:
Weight: 12.8 lbs
Price: $
It's so small that it can fit under the seat on an airplane or bus which is a game changer!
It's the best best travel strollers option for those visiting theme parks or when your kids are old enough to walk, but still might need to ride sometimes. It's one of a few strollers where a much older child won't feel squished.
Dream on Me is a simple construction that offers an option to make kids feel like they're on a trike – great for stroller-hating kiddos!
Pros:
Folds tiny
Offers a trike option
Perfect for older kiddos
Best Disney solution
Cons:
Only for shorter trips
No recline
Canopy sold separately
No storage
ZOE Twin+ Double Travel Stroller
MY RATING: ★★★★★
Folded Size: 29" x 28" x 9"
Weight: 19 lbs
Price: $$
---
For a double stroller, the ZOE folds down quite small and is Disney approved so this is already a great start if you are looking for a relatively narrow and lightweight side-by-side stroller. What's more, it can even extend to be a triple!
I never thought I would be recommending the Zoe twin but in the end, I loved it! Originally we were considering getting two single travel strollers when my second came along because swapping to a double when you have a toddler is a pain. But in the end, we decided to try this out and it was great. (I still recommend two single strollers for traveling to Europe for example)
Most of the features of the stroller are great, the canopy is perfect, each seat reclines separately and both the kids and parents get a cup holder! I also have no complaint about the wheels which are able to go over all terrain.
Pros:
Great recline
Easy one-hand fold
Huge canopy
Cupholders included
Cons:
Won't fit through small doors
Wheels could be better
---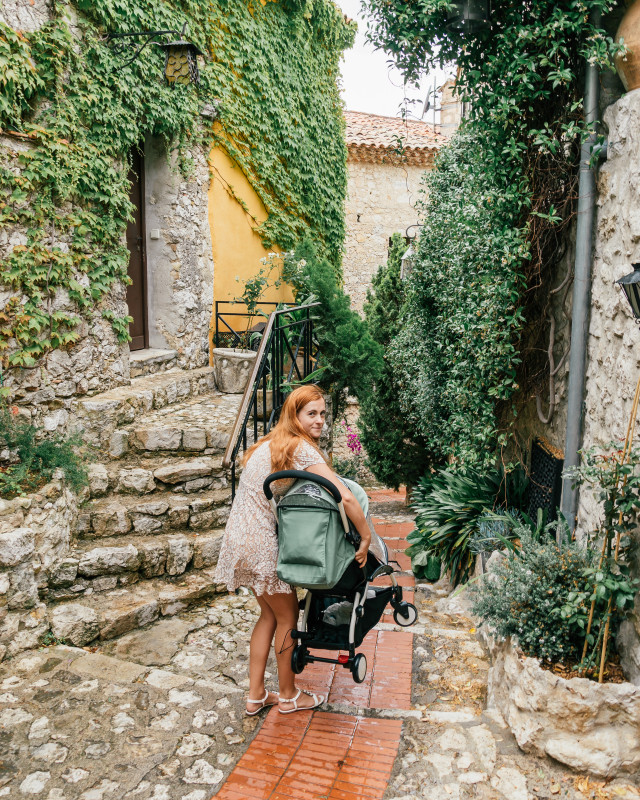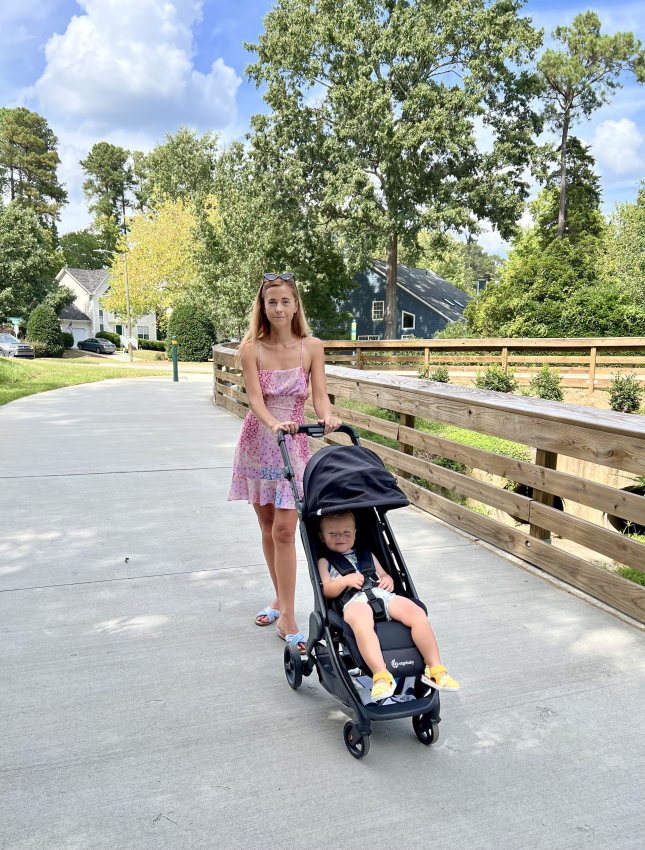 ---