Colugo strollers are often completely sold out and I've been wanting to try it out for a long time. Colugo Compact stroller looks similar to Babyzen Yoyo, but was offering an easier folding option and it costs about half. Is it too good to be true?
At first glance, just like with most strollers I thought it had everything we needed and we even considered bringing it with us for an upcoming trip, but after using it for a day I realized that the stroller was too frustrating for both us and the kids. While it had some awesome features and I could live with various imperfections of any stroller, one thing was absolutely horrendous to the extent my husband asked to return it.
If you look at the best travel stroller articles and independent reviews this brand rarely appears and turns out, for a good reason. They do offer more designs and colors, but in terms of providing comfort and quality, there is a lot to be desired and in fact, their website is falsely advertising the stroller claiming it reclines flat (it doesn't) and that it fits in the overhead bin of the plane (again, not true).
Full disclosure: I bought this stroller myself. I wasn't paid or given a sample, so this review is as objective as can be. Feel free to ask any questions in the comments.
Age Range – newborn (with infant kit) to 55 pounds (25kg)
Stroller Weight – 16 pounds (7.2kg)
Folded Size – 24 x 17 x 10 inches (60 x 43 x 25cm)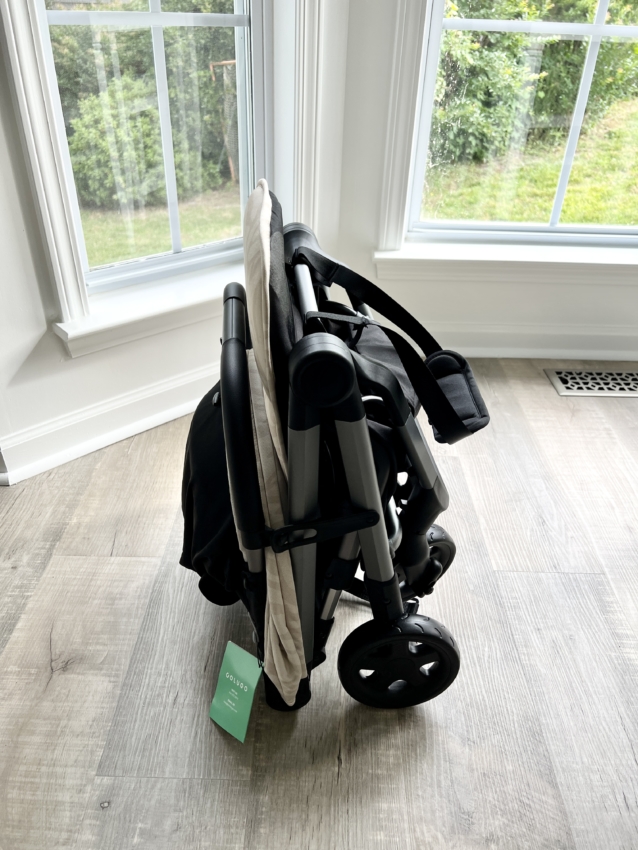 ---
Maneuverability & Design
The stroller maneuvers well, but while I haven't tested it on cobblestones or uneven sidewalks it feels like it could easily fall. The design and color options are what first drew me to the stroller, as it's so unique but that's one of two great things I can say about it.
The other great thing is the basket. It's nice and spacious, and easily accessible.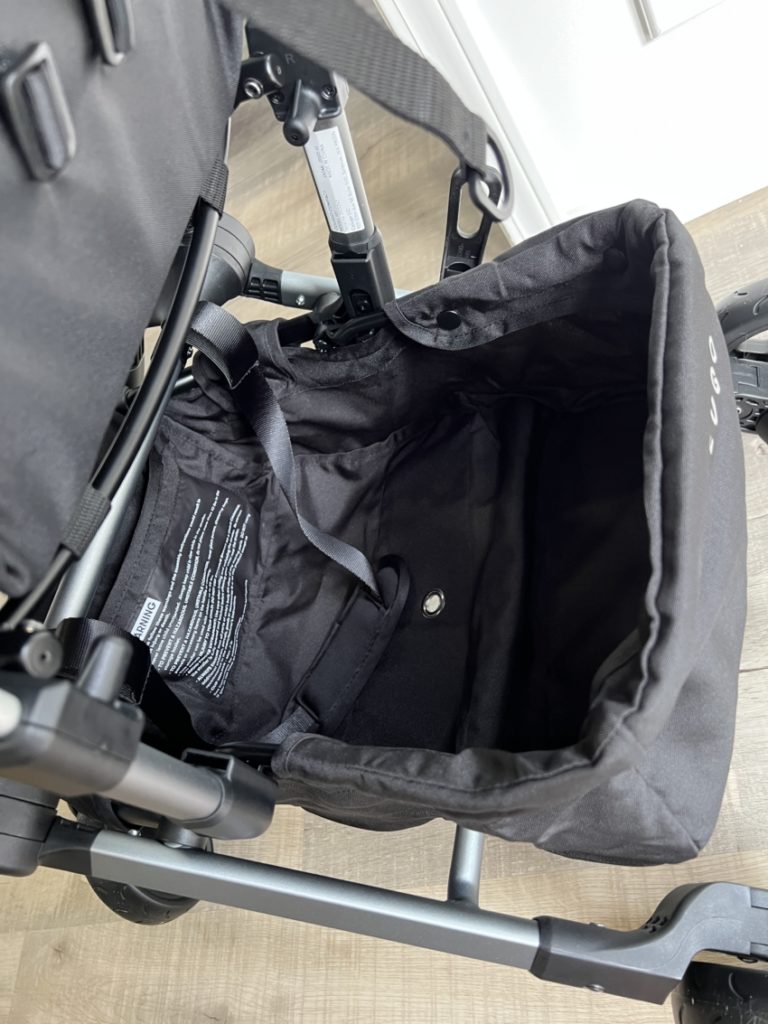 A rain cover came with the stroller and while I'm always excited about freebies, I was a bit confused. It folds into a small bag that's built into the raincover and it covers the entire stroller with enough room. Then I noticed that the pouch to stuff the rain cover back in was basically hanging on the parent side. If it rains hard, the rain will basically fill this bag which is the strangest design.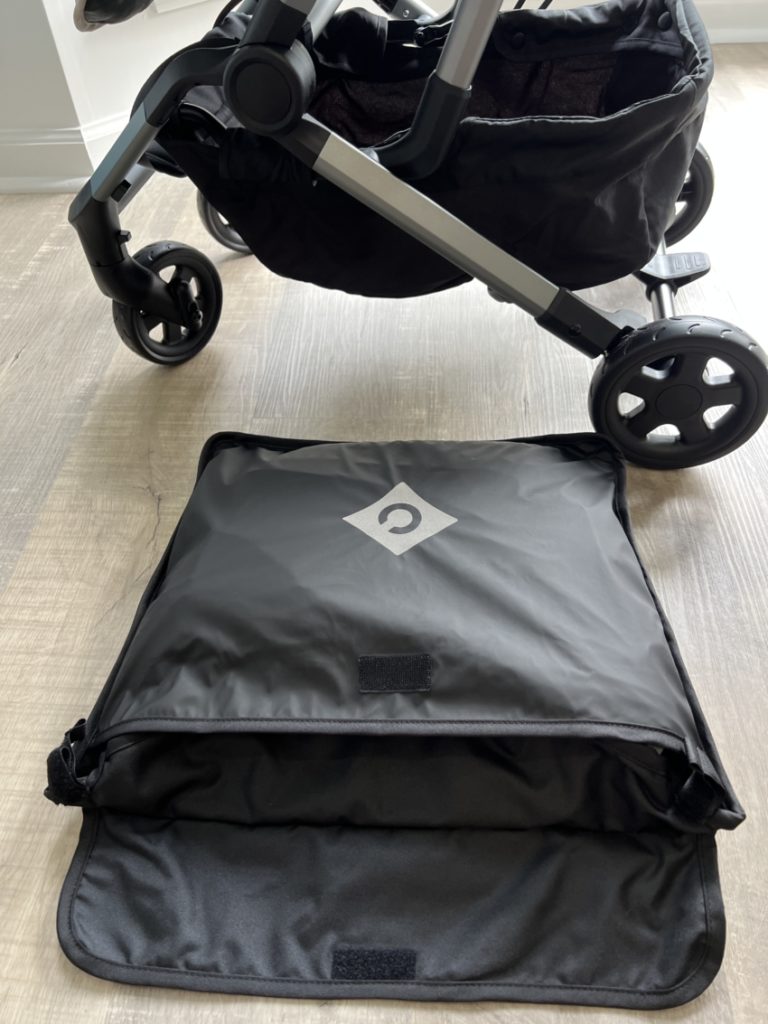 There's also a carry bag included with the stroller. It's black and slightly cushioned with backpack strap. It was nice, but if you think about it absolutely not necessary when the stroller has a built-in strap already.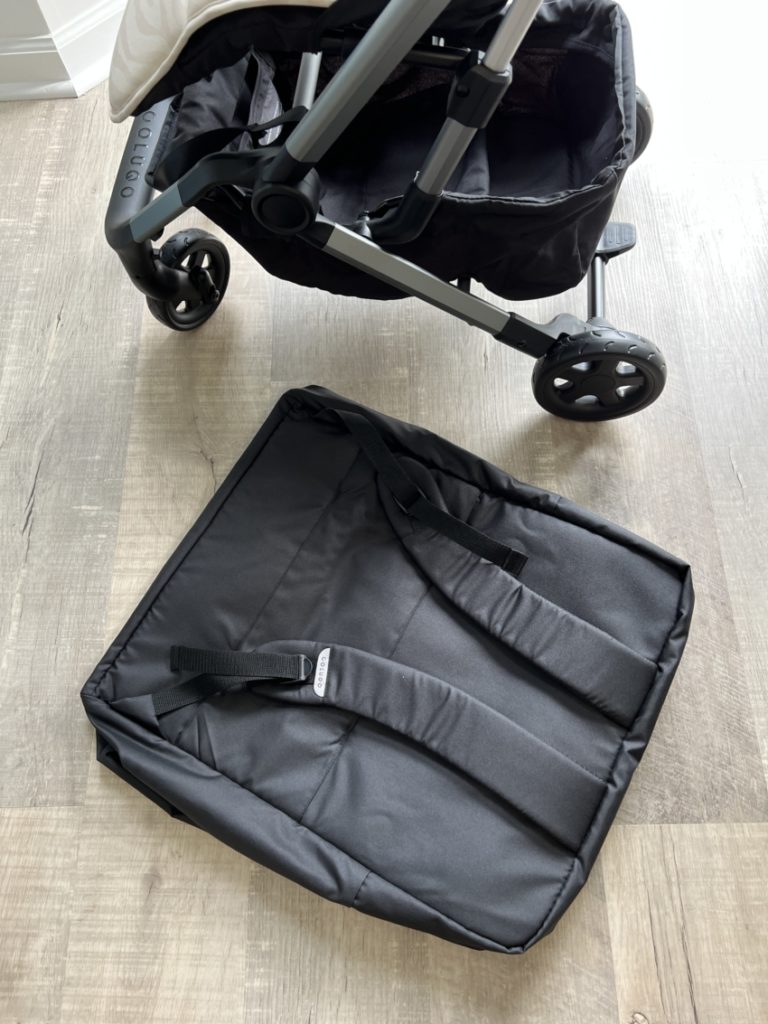 ---
Size, Folding and Unfolding of Colugo Stroller
I absolutely hate when brands advertise their strollers as "one second one hand fold", because sure the stroller has a one hand fold. But, unfolding requires both hands, because of the clip. Plus, it requires a pretty aggressive snap to get it all into place.
The stroller is advertised as fitting in the overhead compartment of the plane, but if you actually look at the dimensions it's clear that it's a false marketing because it's simply too big to fit in the overhead. It's actually pretty huge and the footrest sticks out even more.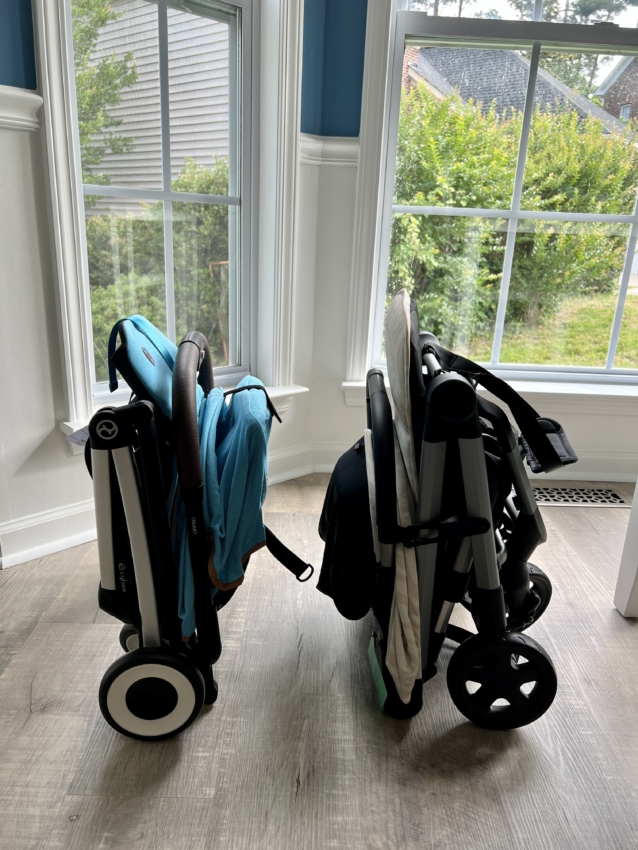 ---
Seat Compartment, Recline & Canopy
The seat compact is basically what made me and my husband absolutely hate the stroller. The seat looks great at first – there's an in-built footrest and higher than usual backrest.
But, alas buckle is the worst. It's incredibly hard to get both buttons pushed down and then get it off the clasp and magnetic closure. There are tiny little things on both sides you need to press and they hurt your fingers badly.
Plus, it doesn't always come off smoothly, so if you're trying to get your child unbuckled quickly it can cause quite a scene.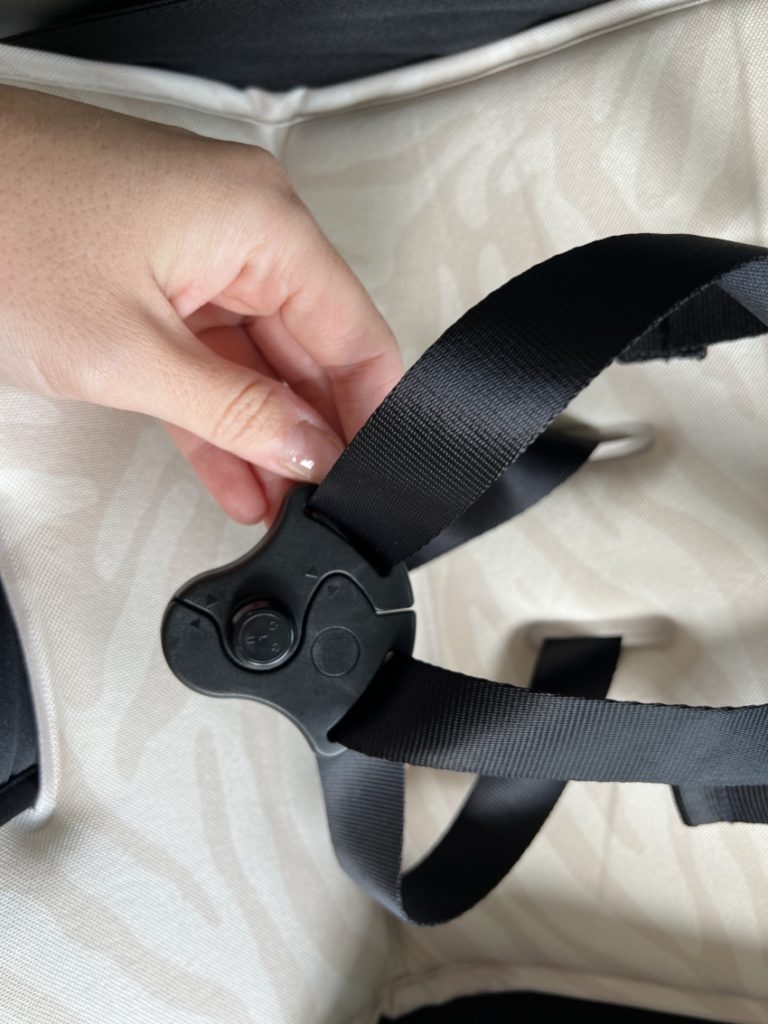 Sadly, there's more to the seat compartment. Even without a child sitting you can see how shallow the seat is – it's smaller than a hand. You can see that if there's any weight on the seat the footrest basically lifts up a bit because the lining on the seat liner makes it go up, which is annoying and my son seems to slide or looks slumped no matter how many times I adjust him and stroller.
It's due to the fact that the seat back is higher and the seat back on the Colugo stroller can bend in half and the reason why Babyzen won't make higher backrests, is as it makes the stroller flimsier.
The seat is very uncomfortable for a child and I noticed later that it was often mentioned in various reviews on their own website as well, so it wasn't just me.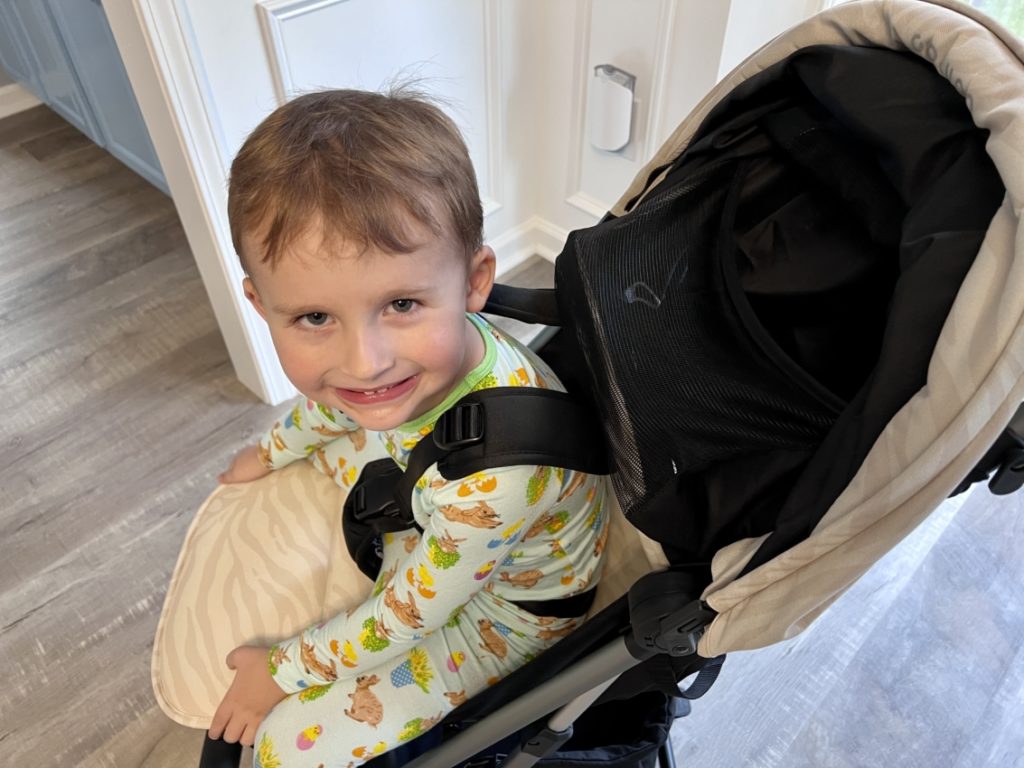 ---
The recline, while deep it's not flat as it's advertised and seems a bit like a joke to be honest. It offers a ventilation opening (just like Nuna Trvl), but It'd be nice if it can be a simple button to recline, but you have to pull it from the back first, then undo two side loop holders and then push the seat down.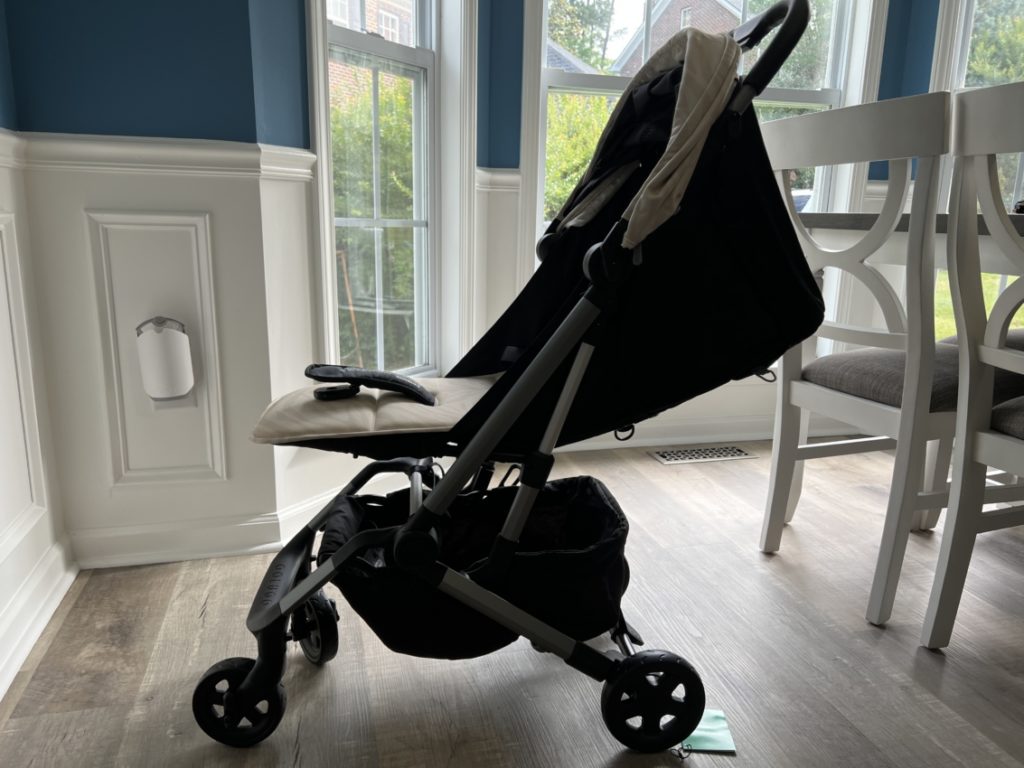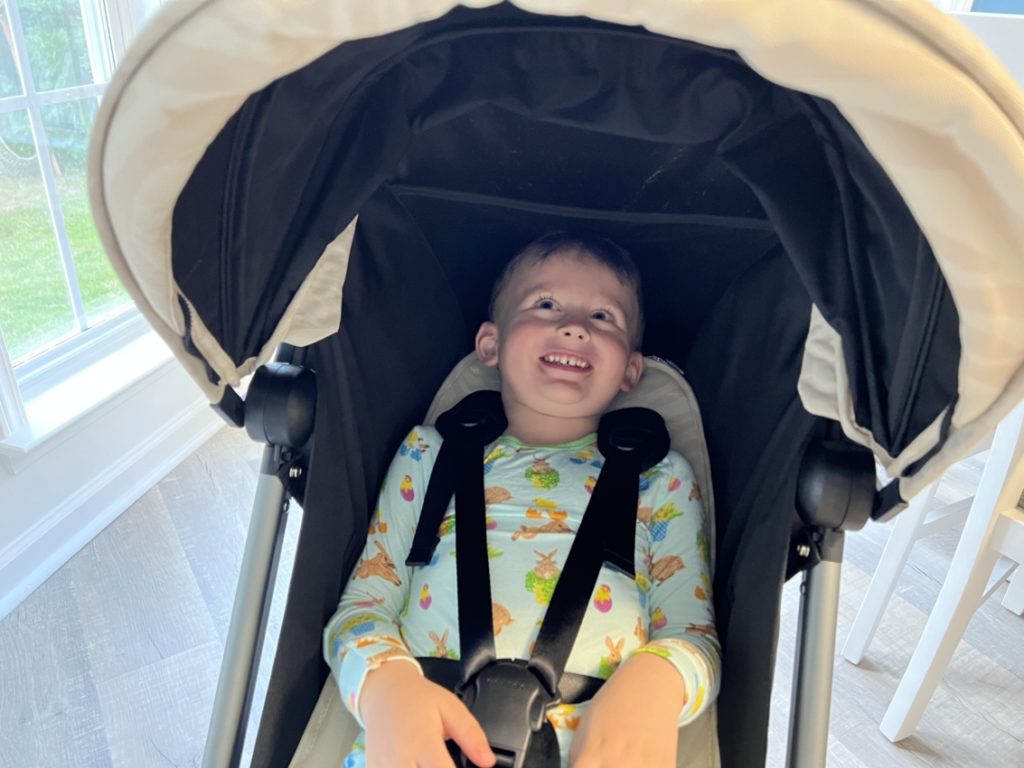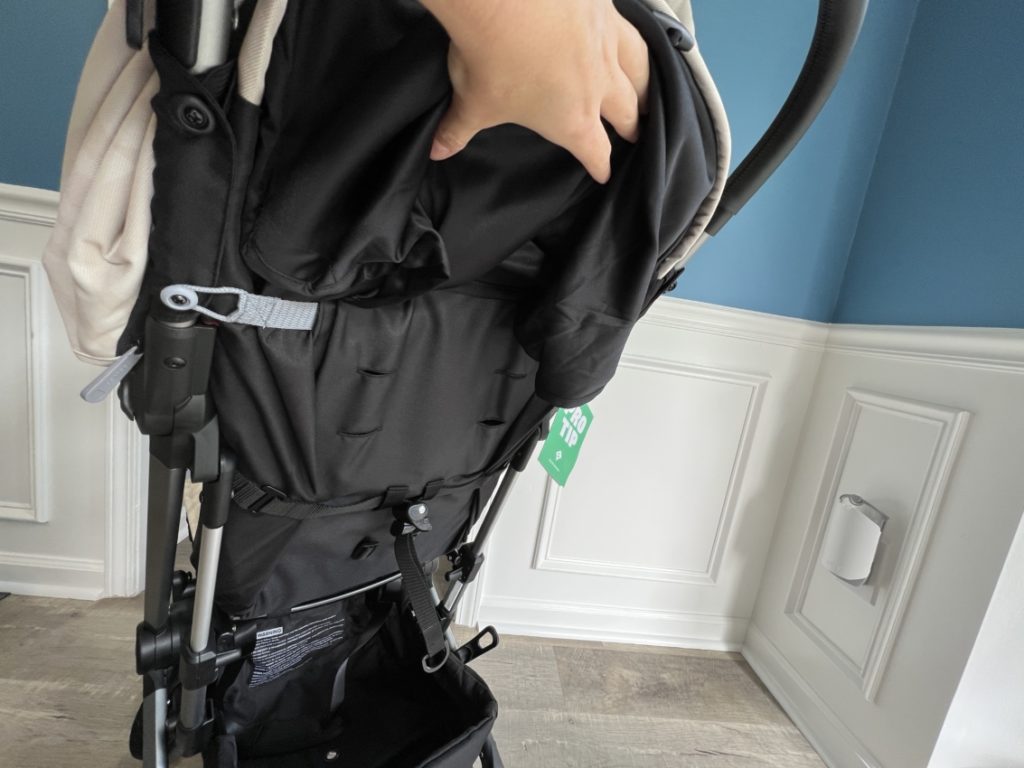 ---
Then there's the canopy. It's similar to Yoyo's and even unzips so you can make it bigger, but it's incredibly flimsy. More than half times unless you try to fold it with both hands perfectly it twists, flips, and won't fold.
There's no option to put a bumper bar on the stroller which is a bit downside as well.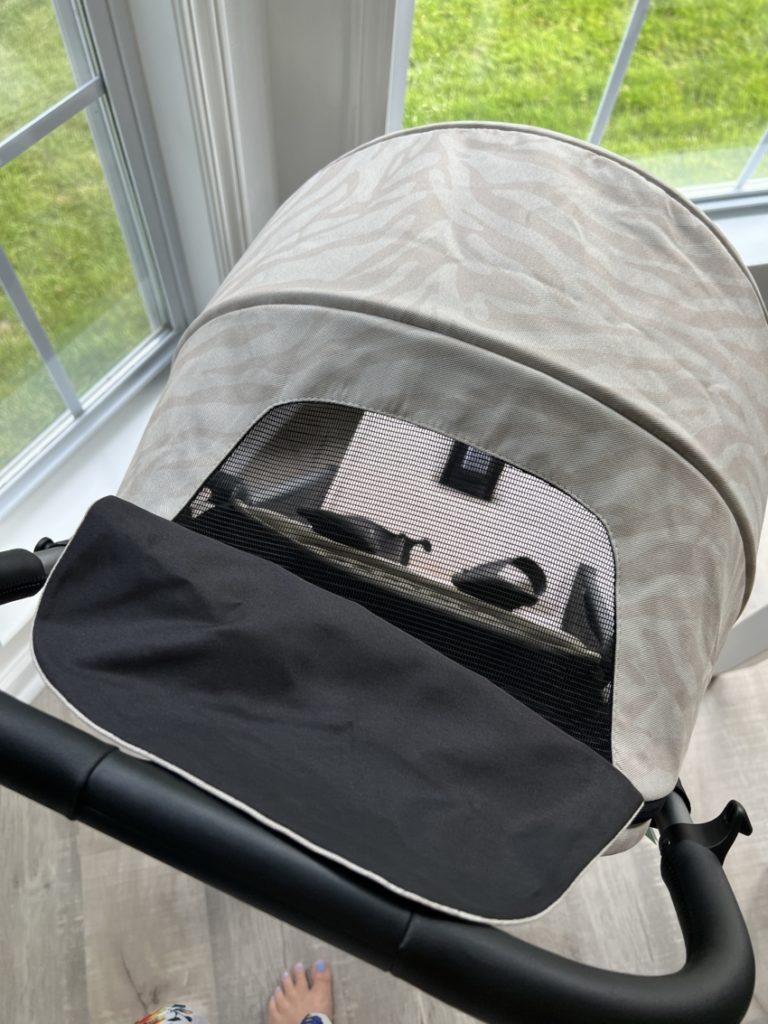 ---
Final Verdict
The harness is a big deal breaker and ultimately makes the stroller awful. The rest of the cons could be lived with, but I'm not too sure if it's worth $300. I'm kind of disappointed in the price vs what you actually get when it comes to quality because I felt like I was getting more by buying the Chicco Lightweight for just $100.
There are better budget-friendly strollers that don't have such issues, so overall I don't recommend Colugo Compact stroller. Many people are also reporting that after a few months, various parts break easily.
The company does offer a 100 day free trial and you can return the stroller if you don't like it. However, they say that the stroller must be in "like new" condition so decide whether you truly like it before actually using using it.