I said it before that we absolutely love Evenflo Pivot Xplor wagon, mostly due to its small size, so one would ask: what possessed me to buy a giant Wonderfold W4 Luxe stroller wagon? Curiosity to see what the fuss is all about, because as you probably hear Wonderfold is THE stroller wagon of them all.
I didn't expect Wonderfold W4 to exceed my expectations, but honestly… if you have multiple kids spending entire days outside Wonderfold is insanely practical! Obviously, not all aspects of it are amazing because you probably already know this stroller wagon is huge and heavy. I will say: the WonderFold Wagon is not for everyone.
Let's take a closer look at all pros and cons of Wonderfold wagon stroller.
What is the difference between Wonderfold W4 Elite and Luxe?
Wonderfold sells three options of W4 – Original, Elite and Luxe.
W4 Original is the most basic wagon with raised seats. It might be attractive to get it as it's the cheapest one, but the canopy doesn't have an adjustable height and the parental bar isn't adjustable either. Honestly, just for the lack of these two features, I'd go for an upgraded model.
W4 Elite is a step up from the original one with an adjustable canopy, adjustable parental bar, reclining seats, and zippered panels.
The only difference between W4 Elite and W4 Luxe is slightly larger wheels, leather handlebar and magnetic harnesses. Apart from the wheels, it's honestly all gimmicks, so whether you want to pay an extra $200 for these features it's up to you. I got the Luxe only because there was a sale on those models and there was no price difference.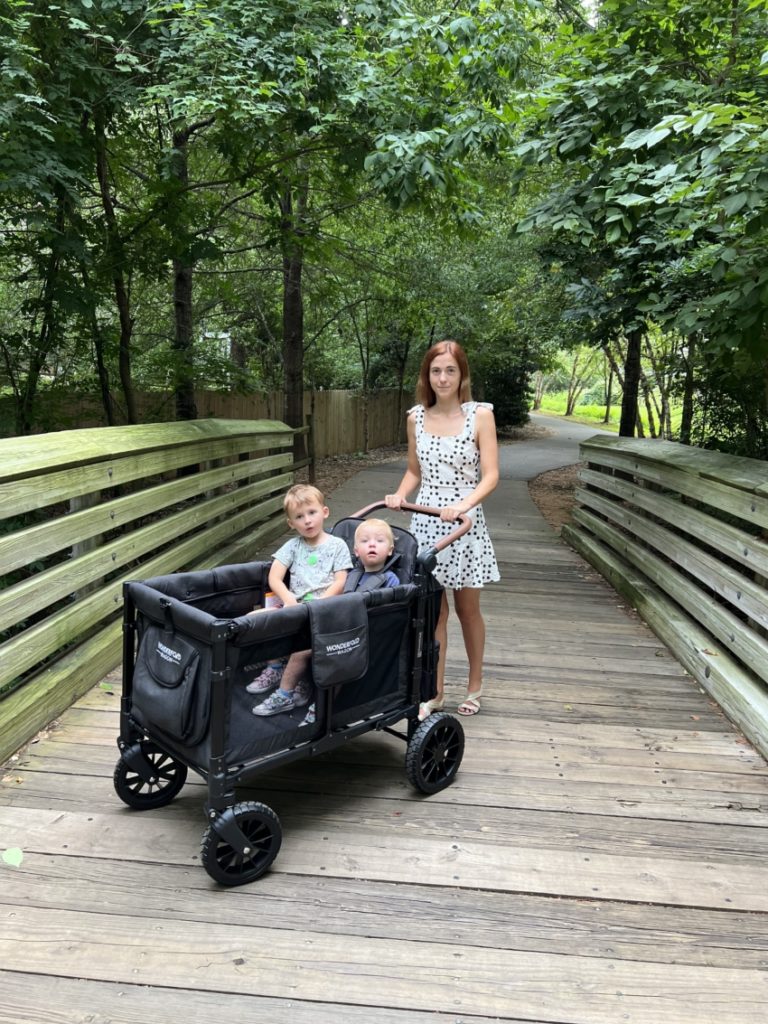 Age Range – 6 months to 50 pounds (22kg)  – from birth with a newborn cot
Stroller Weight – 13.4 pounds (6kg) 
Folded Size – 21 x 18 x 9 inches (55 x 45 x 23cm)  
Maneuverability & Design
The main advantage of Wonderfold wagon vs other stroller wagons are the higher sides. Kids can feel safe and secure, but can't hop out. It can be used as a portable pack-n-play for younger kids as they can sit, walk around and lie down. Honestly, it's amazing if you need to bring a younger child to soccer practice!
We used it a lot when the younger child was about 1, as he could be fully contained while the older brother played.
Wonderfold can drive everywhere. The soft rubber allows to for a comfortable ride compared to the hard plastic wheels on those standard pull wagons. It turns on grass, city streets, sidewalks, and it's all easy to maneuver considering the size. Underlining considering the size, because let's be real: it doesn't maneuver as well as a single stroller or a twin double stroller. It's not Wonderfold's fault, it's simply not possible.
Does it drive on sand? Depends. It's not easy, but it's wasn't unbearably hard – you will get there I will say. I think people complaining that their strollers or wagons don't drive smoothly on sand need to get a perspective because not even all cars can get through the beach…
It won't fall on the side. I always said that many parents are trying to get things off-brand to save some money and then you see parents at the zoo crashing into another wagon, because their vehicle wouldn't turn. I personally witnessed a crash a few times and all the kids flew out hitting their heads on the sidewalk. This won't happen with Wonderfold – it's extremely stable.
However, due to its weight even without the kids, it's pretty hard to push it up a slope. A 20-minute walk with it feels like an hour at the gym and we only have 2 kids in it. While the rear handle has a max height of 45.5″ which is higher than all other wagons and makes it easier for taller parents, it's still heavy to push.
The brake is easy to engage, but not something you'll accidentally press when walking. It isn't too easy to deactivate, but easily enough done with one foot.
The canopy can be pulled from one side to another depending on the sun. It's a small thing but extremely useful. It can be folded away and stored using fabric holders on the sides of the storage bit and a strap that buttons onto the side of the frame.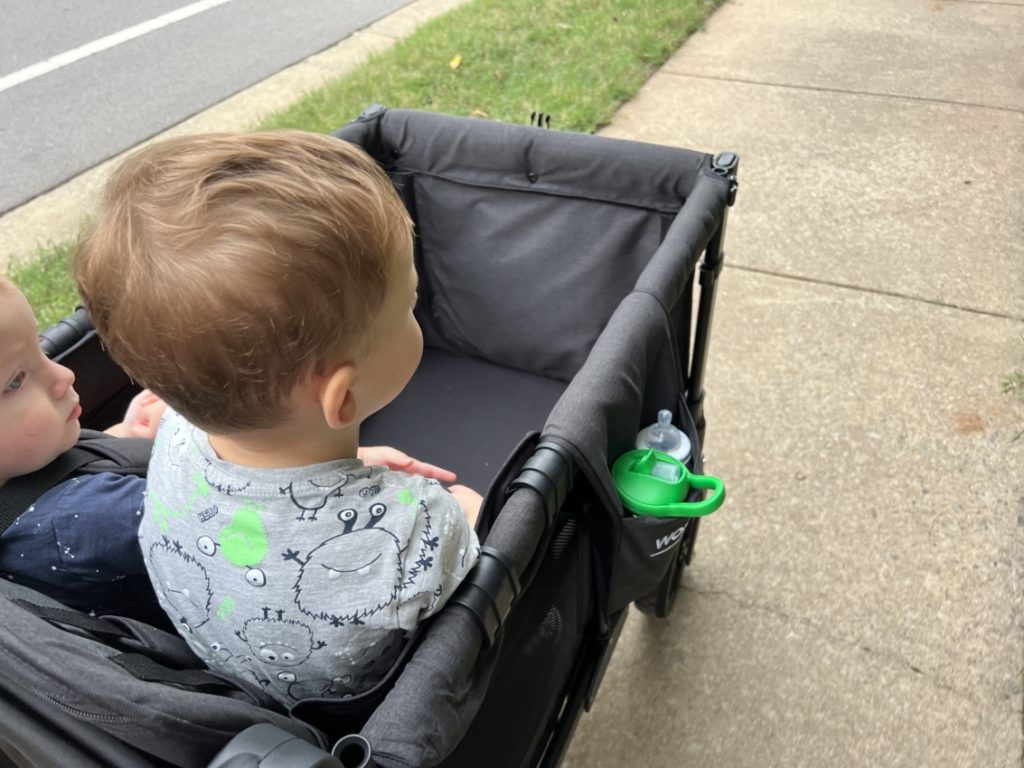 Seats
The seats are attached via big strong clips to the top bar frame. They are good and comfortable and let the kids sit in their natural sitting position without being scrunched up. The seats can recline by pulling the clip further away (there's no indication of where to lock the seats in to get them to recline, so you're guessing.
It is a tight fit for the kiddos. My boys are 3.5 and 1.5 and they're very skinny and still wish they had more arm space between them.
The main reason why we got W4 vs W2 is the exit door. There are doors on both sides, but my kids don't feel comfortable exiting the wagon by crawling underneath the seat. Honestly, when it's muddy outside I wouldn't be comfortable with them crawling on a dirty floor either.
The biggest pro of Wonderfold is that the whole thing gives the kids a 360 view and is tall enough for the kids to stand/sit and safely see those 4ft tall exhibits and fences at zoo, museums. It's not possible to do in other wagons.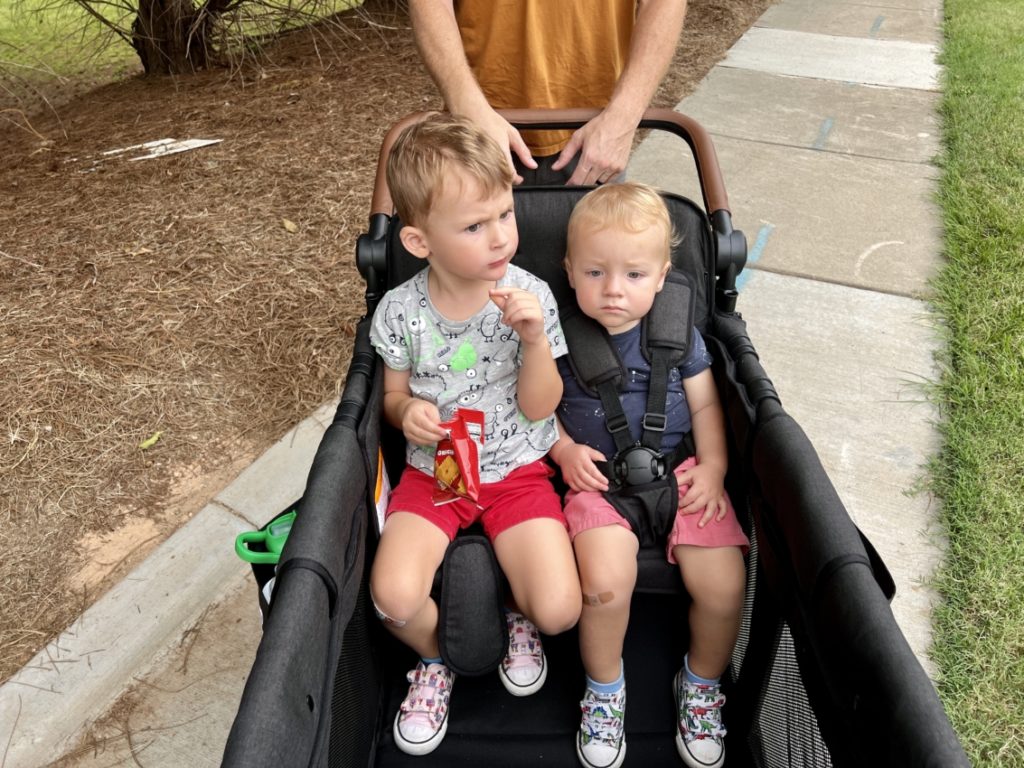 Can you put an infant in a WonderFold wagon?
Whoever told me no has outdated info! While an infant under 6 months is naturally too small to sit in the seat, even when reclined, there's now a new feature called Wonderfold bassinet!
It works perfectly for a newborn, but sadly it does take the entire wagon and I honestly wish that it would only take half of the space of W4. But, technically you can put an infant in it when your other kids run around and store it when everyone is back in the wagon and carry the infant (in a baby carrier for example).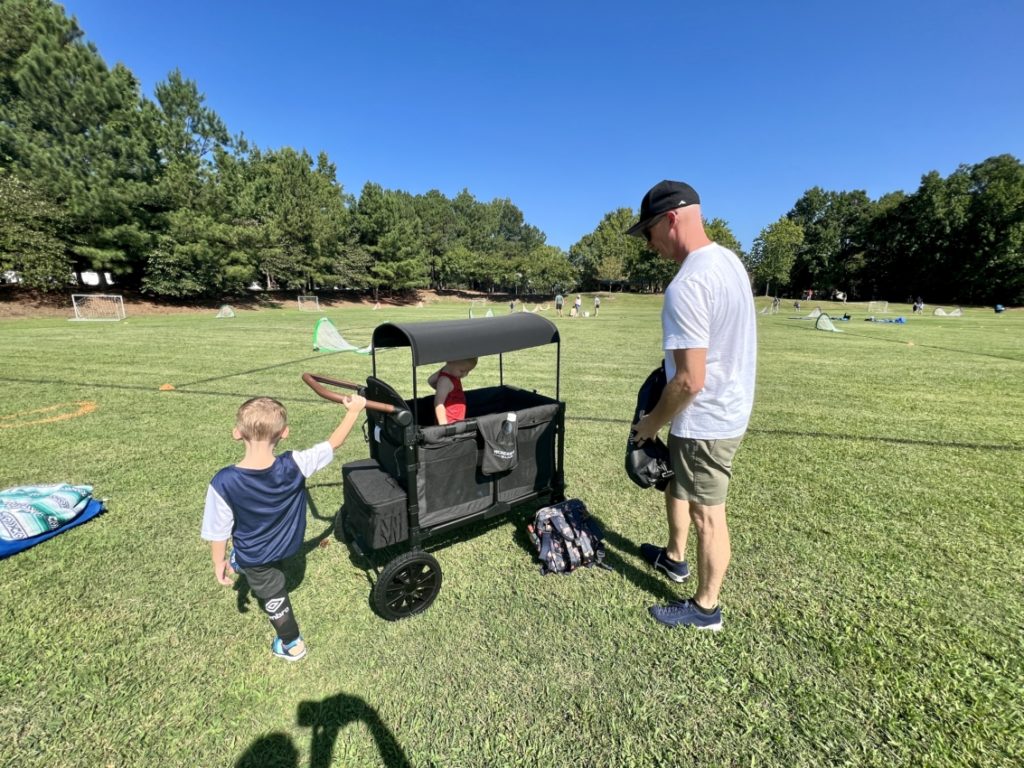 Storage
Wonderfold is built for storage! In a normal stroller, you only have a basket underneath, but various models require you to lose the basket when you put a second seat (which is hilarious considering the fact you need way more stuff with 2 kids than 1).
There are pockets everywhere, two pouches on both sides that can fit my purse, an extra bag for a diaper bag, storage underneath the seats and pockets for kids' cups and snacks.
Do remember that while you might be able to store a giant cooler or bag underneath the seat it will limit the exits and you might have to lift your kids to help them exit.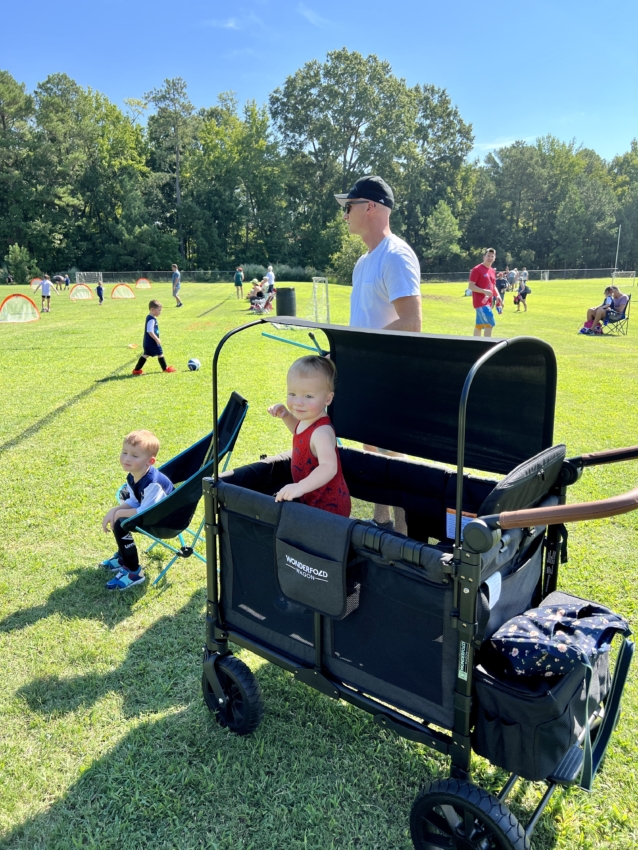 Weight & Size
How heavy is the Wonderfold wagon W4? That's the biggest drawback of W4 it's extremely heavy. The videos of this product all show what look like real lifts of the wagon from pretty small moms, but it's not happening. I'm not able to put this wagon alone onto our truck without a struggle.
The wagon folded up is heavy and bulky, but I feel like it's as small as possible for what it offers in return.
Does the Wonderfold W4 fit through doorways? It fits fine through most American doorways because it's not wider than those double jogging strollers. Would it fit in Europe? Nope, nowhere 😀
The biggest con is the size because it might not fit in every car. You need a very large SUV and even in cars like a popular family van Toyota Sienna is takes the whole truck and you'll need to fold the bar.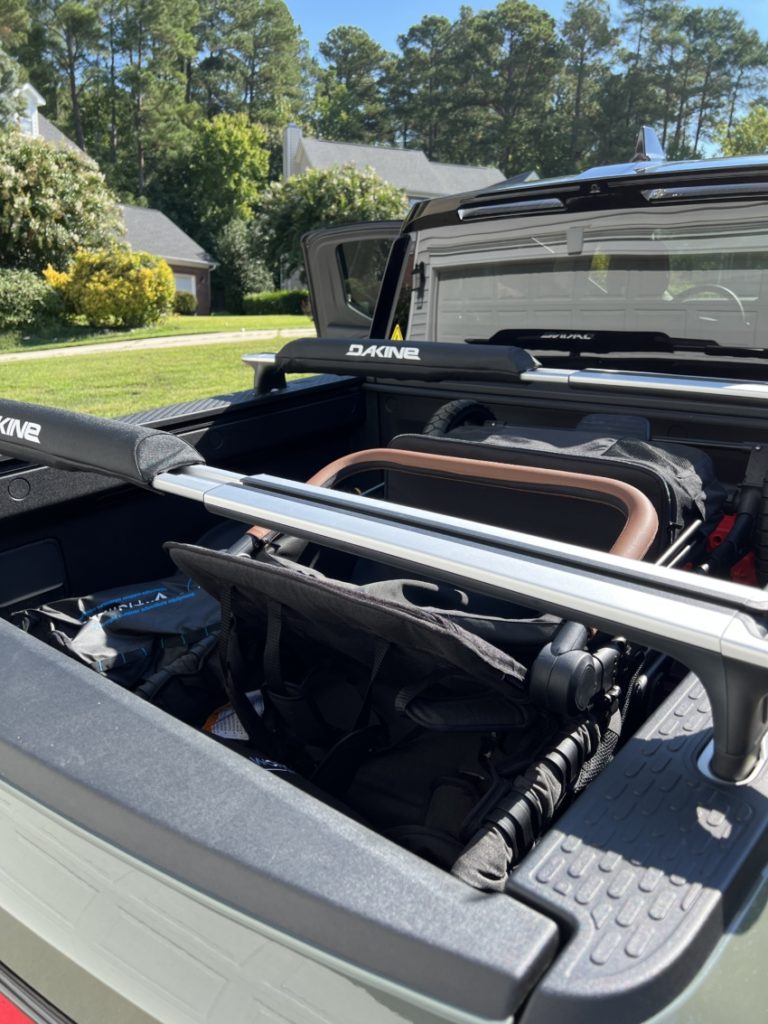 Does Disney allow Wonderfold wagons?
The Disney World Resort has always said that wagons, whether pushed or pulled, are not allowed in their parks. However, these days the rule is being strictly enforced. These enforcements are intended to improve the guest experience for everyone in the theme parks by easing congestion and improving crowd flow.
Can you bring a Wonderfold wagon to the airport?
Wonderfold falls into a stroller category and you can bring it to the airport and gate check. The only exception is American airlines because they require that all strollers that weigh more than a compact stroller need to be checked at the counter. Airlines let it fly for FREE because it's a stroller.
WonderFold Wagon W4 Pros and Cons
Pros of the WonderFold Wagon W4:
Holds up to 4 children in one vehicle
High-quality materials, no wobbling
Can double as a playpen
Tons of storage
Removable adjustable canopy provides shade
Comfortable for kids
Amazing for special needs kids
Cons of the WonderFold Wagon W4:
It's big, doesn't fit everywhere – might not fit your trunk
It's expensive
It's heavy
All accessories are extra and pricy
You can't use it at Disney World
---
Do I think it's a great stroller wagon? Absolutely, I truly understand what the fuss is about. If you like to bring the whole house and food for 10 days like I see many parents like to do, this is the wagon for you! The width and length of this thing are the same sizes as one of those jogger strollers, so you won't have to sacrifice anything by getting it.
Is it too much for short escapades? I think so unless you're a mom of 4 under 3, but honestly, you can still manage without it. For all-day events it's pretty handy, as long as you're not heading to Disney World.
We have a giant truck, so we can transport the Wonderfold W4 easily, but if I was going alone it wouldn't fit in my car so I'll be taking Evenflo Pivot Xplore on solo escapades with the kids. Alternatively, if you care for the amount of space you can get the Wonderfold M1 single-rider stroller wagon.