Your kid probably loves being wrapped in your arms all day. But it's difficult to carry your baby or toddler around while attending to tasks, or working in the kitchen, or even shopping for groceries.
To solve this, baby carriers are the perfect answer!
You can put your newborn or toddler in the baby carrier and bring them along while you do your chores or even go for a walk. Baby carriers also take the stress out of managing a stroller (although I still prefer a travel stroller over carrier, especially in hot weather).
Here are 8 popular baby carriers we have shortlisted after looking at their weight, capacity, ease of use and other features.
NOTE: These are baby carriers, not slings. I feel like slings are a completely different topic and personally, slings are surely not for me unless you're around the house (and even so I'm not convinced). If you're looking for hiking backpacks (for longer adventures), then check out my child carrier backpacks.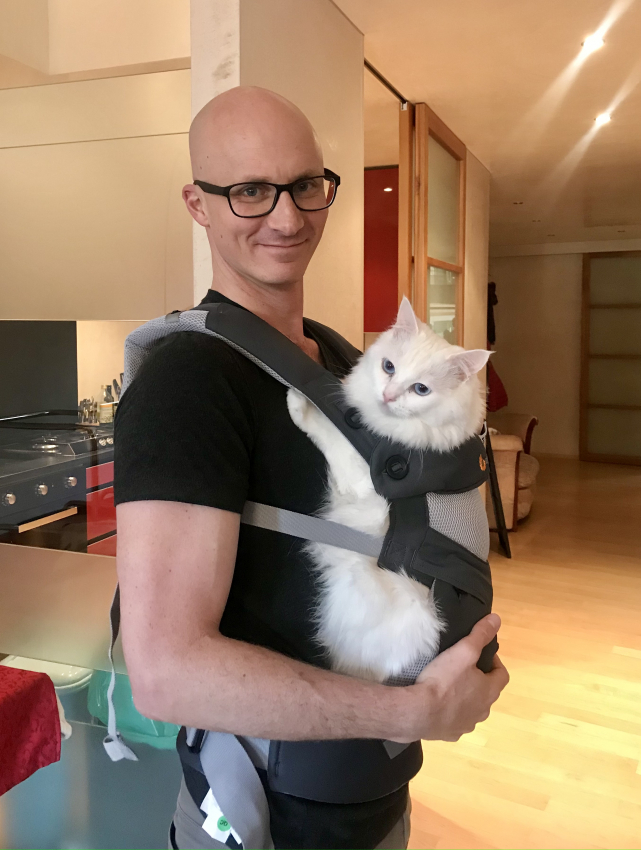 Dimensions: 13.15 x 9.25 x 4.57 inches
Maximum Capacity per Seat: 45 lbs
Carrier Weight: 2 lbs
If you have a newborn and still want to venture into the woods, this is the best backpack for the baby. It's front-facing for newborns and as they grow older, you can convert it into a backpack for heavier and older kids.
The pack is also designed to let you nurse your baby with ease as you continue hiking. It has foot straps for extra comfort of the baby and a sleep hood that allows the baby to nap easily.
If you're taller or plus size, the company offers free extenders – which is awesome!
PROS
Includes sleeping hood
Quick-release breastfeeding buckle
Machine washable
Extenders for waist and chest straps
Purse strap holder and multiple pockets
CONS
No forward-facing front position
Boba Baby Carrier Classic 4Gs Carrier
Check other reviews and current prices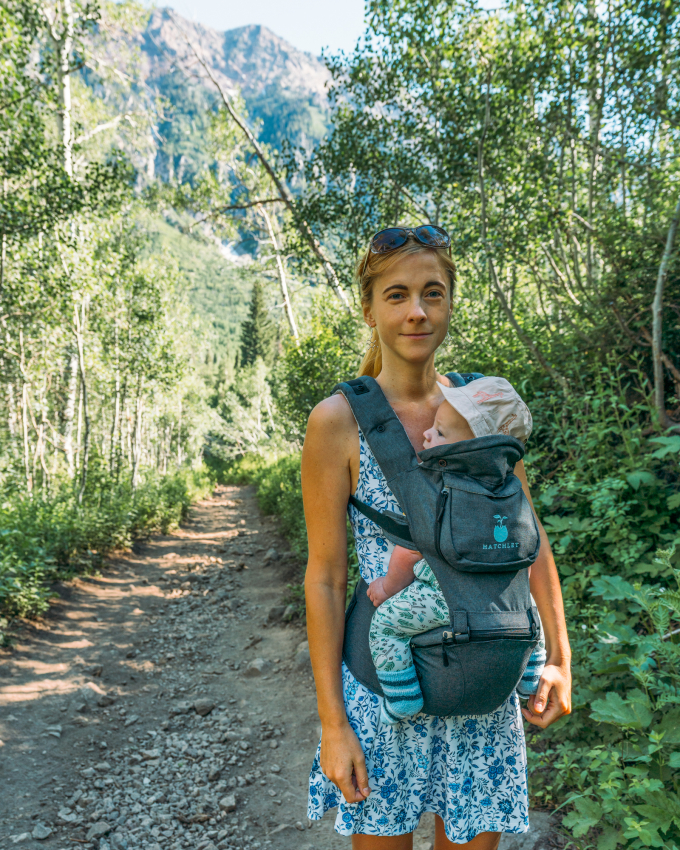 ---
Most Luxury Baby Carrier – Artipoppe
Maximum Capacity per Seat: 45 lbs
Carrier Weight: 2.5 lbs
The Artipoppe carrier is a very bougie baby carrier and many opt against getting it due to the price (but it actually isn't that experience if you take other factors into consideration – explained in my details review).
It has a unique design that allows you to carry your baby in front-inward, front-outward, and can be easily put on by yourself
It's perfect for outdoor adventures and city trips as well, or just for use at home while doing the chores.
The breathable materials keep you cool while the adjustable straps keep you comfortable.
PROS
Amazing materials & visually appealing designs
Can be put on by yourself easily
Cross straps make it more comfortable
Infant head support
Personal note: We switched to Artipoppe after using Hatchlet and Ergobaby (check my review below) and you can really feel the difference in comfort. It's easy to get in and out of which is crucial. My little dude seems pretty confident in it and his older brother demanded to ride on the bottom part as well.
Artipoppe Carrier
Check other reviews and current prices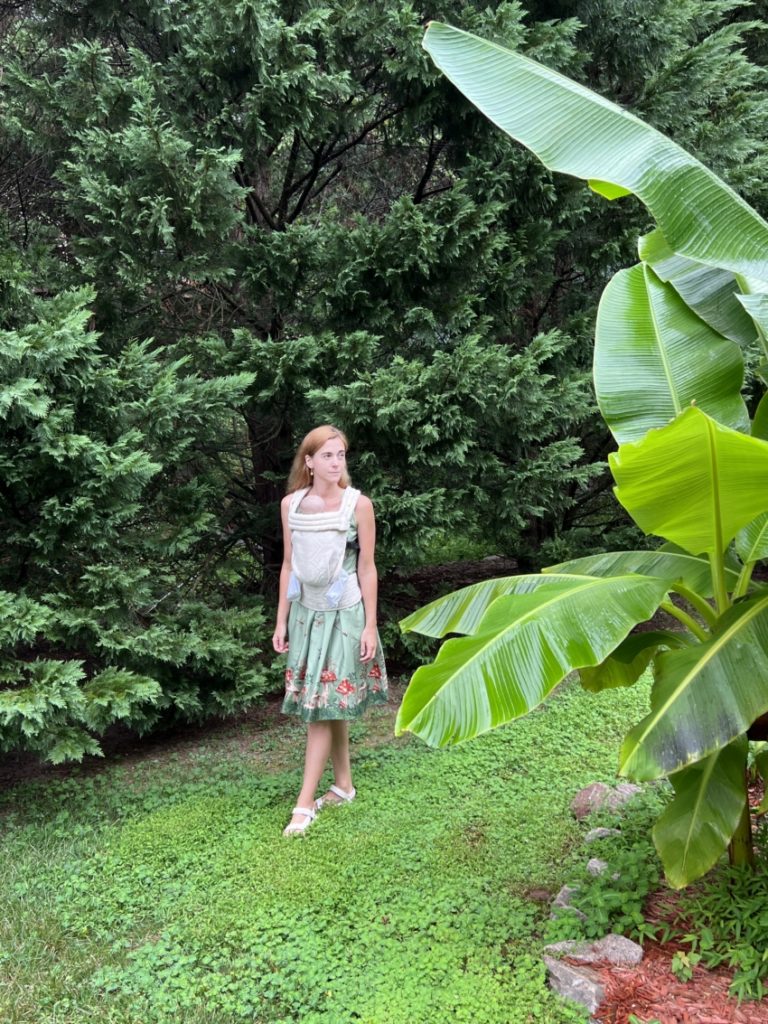 ---
Dimensions: 10 x 4 x 10 inches
Maximum Capacity per Seat: 40 lbs
Carrier Weight: 1.41 lbs
The Infantino Cuddle Up Carrier with the bear or fox-shaped canopy is perfect for those cute pictures of your toddler.
The adjustable hip belt shifts the weight to your hips making it more comfortable.
There's also a muffler pocket to tuck your hands into a resting position in while holding your little one.
It is the best carrier for smaller babies as they can sleep comfortably in it.
PROS
Machine washable
Detachable velcro hood
Padded shoulder straps
Cozy muffler pockets
CONS
The back strap is not easy to adjust
Elastic between armpit and hip wears quickly
Hood doesn't fit older children
Infantino Cuddle Up Baby Carrier
Check other reviews and current prices
Dimensions: 18 x 4 x 4 inches
Maximum Capacity per Seat: 50 lbs
Carrier Weight: 3 lbs
Children over 2 years might not always like to sit still outside. Instead of having them fidget, let them stand with the Piggyback Rider Scout.
Lightweight and portable, this carrier allows your toddler aged between 2 to 4 to stand and look over your shoulders at the road ahead.
The standing bar is adjustable, there are two had holds for the child, and a safety harness keeping them attached to you.
The easily detachable safety harness is easy enough to take off for those moments when the toddler wants to walk. And the weight is on your shoulders instead of your back.
PROS
6-point Safety Contact
2 Secure hand holds
Military grade buckles
Perfect for handsfree hiking
Non-skid standing bar

CONS
Only good for standing, not sitting
Piggyback Rider Scout Standing Child Toddler Carrier
Check other reviews and current prices
Dimensions: 12.25 x 11.5 x 4 inches
Maximum Capacity per Seat: 45 lbs
Carrier Weight: 3.34 lbs
The TwinGo Carrier Air Model is versatile and adaptable. The mesh panels are perfect for use in warmer temperatures, while the zippable air panels work in cooler temperatures.
When the TwinGo carriers are separated, one of the carriers can be used to carry a baby on the hips, or to be carried by another parent.
And the adjustable waistband transfers more of the babies weight to your hips instead of your shoulders.
PROS
Perfect for twins or multiple toddlers
Separates into two carriers
Adjustable waist band
Small pocket on waistband
Sleep hoods included
CONS
One of the babies are on the back, so can't really see him
TwinGo Carrier – Air Model
Check other reviews and current prices
Dimensions: 0.39 x 11.42 x 22.83 inches
Maximum Capacity per Seat: 33 lbs
Carrier Weight: 2.21 lbs
This is the most breathable carrier on this list. It is designed for hikers who like taking walks in the summer or in hot weather.
The mesh fabric is comfortable and the ergonomic design makes it a very lightweight pack. You can also carry your baby in multiple positions with this carrier.
PROS
Useful for carrying the baby in front or back, facing in or out
Super-soft mesh is perfect for hot weather
Certified by the International Hip Dysplasia Institute for babies
CONS
Original cross back design replaced with a tiny strap
Pricy
Babyjorn One Air Mesh Carrier
Check other reviews and current prices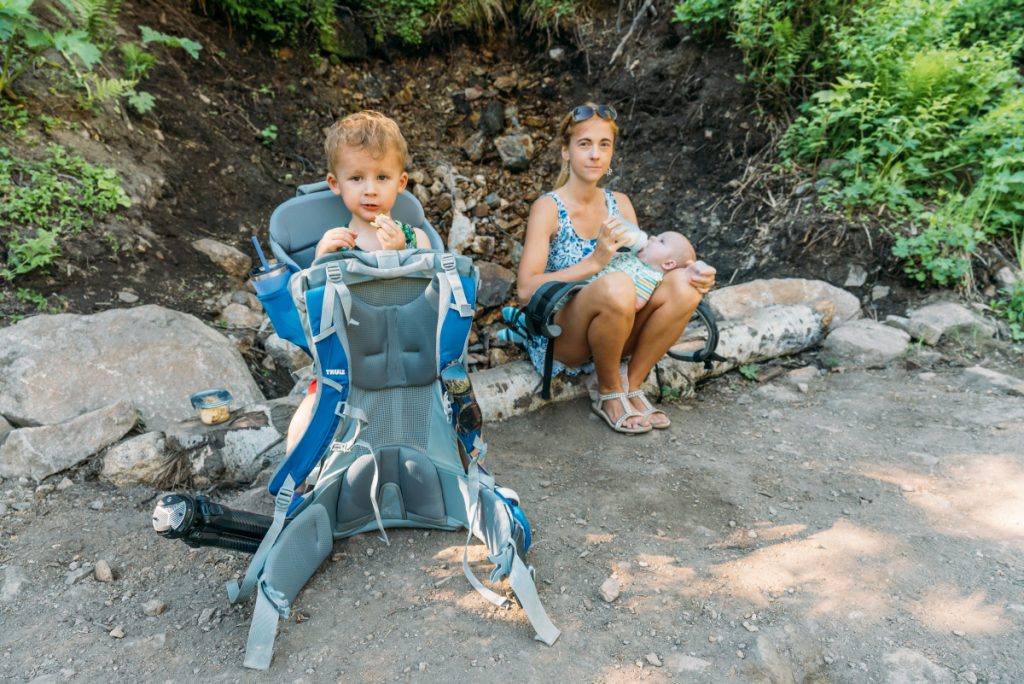 ---
Dimensions: 21 x 18 x 4 inches
Maximum Capacity per Seat: 35 lbs
Carrier Weight: 2.49 lbs
Designed for outdoor adventures, this baby carrier is perfect for hikes that are safe and secure.
Made from super-strong, durable 1000D nylon, it includes a breathable air mes, and removable liner that's washable.
The Mission Critical Baby Carrier has been tested for all ASTM safety regulations for baby carriers, and are approved by the National Parenting Society and JPMA.
This carrier also pairs well with the Mission Critical S.01 Action Daypack.
PROS
Breathable air mesh
Customizable webbing for attachments
Removable and washable liner
Quick snap sun shield
Tactically inspired
Mission Critical S.01 Action Baby Carrier
Check other reviews and current prices
Dimensions: 10.5 x 6.7 x 6.7 inches
Maximum Capacity per Seat: 45 lbs
Carrier Weight: 1.54 lbs
This lightweight baby carrier is perfect for short hikes and adventures. The cool air mesh is especially perfect for summer hikes.
The 360-degree seat is designed to carry the baby in all positions and the lumbar support waistbelt ensures that your carrying child doesn't take a toll on your back.
The backpack is designed to work for all body types from short to tall and petite to plus.
PROS
Good lumbar support
Breathable mesh panels
Comes with baby hood
Adjustable head support
Padded shoulder straps

CONS
Buttons instead of velcro
Can't get out of it by yourself
No pockets
Ergobaby 360 All-Position Baby Carrier
Check other reviews and current prices
Personal note: Ergo was our first carrier which I ordered based on so many recommendations from parents who heard about it from someone – basically, the same thing that happens with Uppababy Vista stroller, but in reality, while we didn't hate it we didn't love it either.
We hated the fact that it was a mission to unstrap the top part without the help of another person. We weren't happy with the front-facing position – in the photo below Dylan was about 30″ and his mouth was still stuck in velcro at times, so any smaller child would be hitting this stupid thing with their nose nonstop. He didn't look very comfortable in it, but on the other hand, never complained. It served us well on hikes honestly.
The infant insert was really a gimmick. It's just not meant for babies so small (and Dylan was huge for a baby!), even with an insert so I would recommend using it past the first 2 months.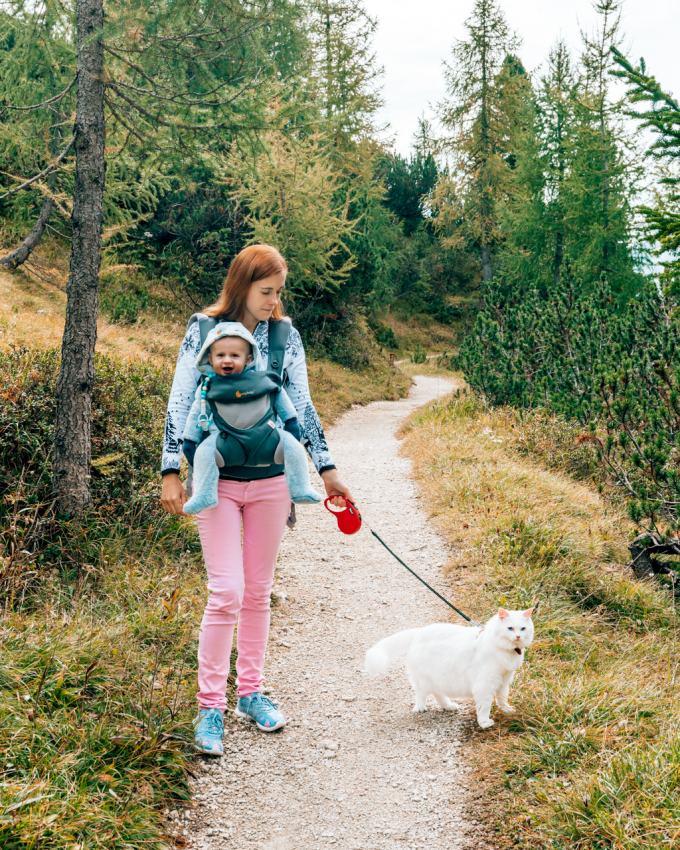 Most Fun for the Child- MiniMeis
Dimensions: 10.5 x 6.7 x 6.7 inches
Maximum Capacity per Seat: 45 lbs
Carrier Weight: 1.54 lbs
This lightweight baby carrier is unique as the child sits on shoulders instead of riding up front or in the back. Kids have an unobstructed view of their surroundings thanks to that!
It can be used from 6 months up to 5 years or whenever your child gets too heavy to carry for you, basically.
You can order an extra backpack to put all your stuff in them while carrying the child up high.
PROS
Fun for the child to look around
Last up to 5 years
Lightweight and has a shoulder strap to carry when a child wants to walk
Easy to get the child in and out
Top-notch customer service in case of issues


CONS
Not for longer hikes
Not suitable for infants under 6 months
Pricy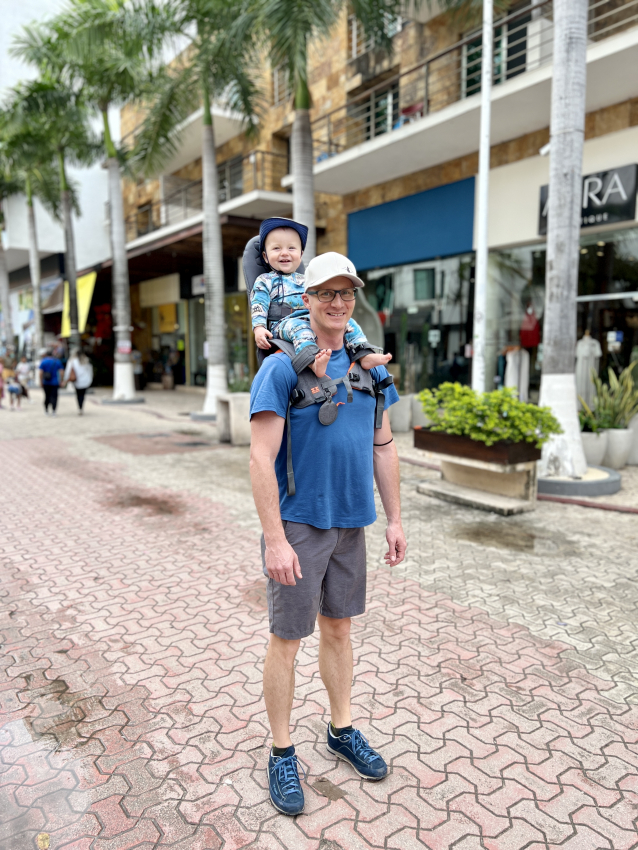 MiniMeis Baby Carrier
Check other reviews and current prices
---
What to consider while buying the Best Baby Carriers
Does it meet safety standards?
Most countries and organizations have stringent safety regulations in place for their baby carriers. It's important to check that the carrier has passed safety regulations.
Which way do you want the baby to face?
If your baby is a newborn, you want them facing you. But once they're above 6 months old, you can choose from a range of options – on your back, in the front – facing you, in the front – facing forward, or on the hip.
Does it allow you to breastfeed on the go?
Carriers may have all the best features, but for younger ones, it's also important to check if you can breastfeed without difficulty. Which means, being able to easily take a child in and out of the carrier or breastfeed or bottle feed in the carrier.
How much does the carrier weigh?
Babies are heavy. If you carry them for short intervals, they're great. But if you carry them for hours at a time, they'll take a toll on your shoulders or back. Is the weight of the carrier adding considerably to that, or is it truly lightweight and supportive?
Pockets!
It may not seem that important, but having pockets built into the carrier gives you somewhere to put your phone, purse, chap stick, or even some extra tissues so that your hands are free.
Some carriers such as the Mission Critical are also compatible with backpacks and can be easily attached to them.
How difficult is the carrier to wash?
Is the entire carrier washable? And if it's not, are the drool pads and chin rests washable? You don't want to change carriers because of the buildup of baby fluids and smells.