There is no autumn fun without Halloween! Celebrating it with our children takes it to a new level of cheerfulness and excitement.
Halloween is the perfect opportunity to dress-up, play games, get messy, take funny pictures, fill the house with silliness and laughter, and even be more indulgent with the candy intake. 
Although the holiday is also about scary things, it might be a little too soon for a toddler to enjoy the adrenaline of it all. My own kid hugs every zombie he sees and laughs like a maniac – you never know.
Luckily, there are so many ways to enjoy Halloween with a toddler and still involve all the classic elements, such as pumpkins, spiders, witches, or mummies.
Here are my top 10 Halloween activities for toddlers, that will help you make it memorable for your bub.
1. Different Kind of trick-or-treating
Not every toddler might want to interact with strangers. But, there's a great opportunity to get creative with trick or treating. Instead of the usual tradition, you could transform it into a role-playing game.
Use your toddler's plush toys, dolls, or even cars & trucks to create a new set-up. Build little houses from Legos or wooden pieces for some of your kid's favorite toys and have them trick or treat.
Toddlers love to show others how it's done, so they will enjoy taking the opportunity to show their toys how to have fun with this tradition.
2. The Classic Jack-o'-Lanterns
Crafting a jack-o'-lantern combines so many of a toddler's interests. Go through the entire process of preparing the pumpkin together. Use age-appropriate utensils and offer little guidance.
Encourage your toddler to come up with ideas for the pumpkin's face traits. Hand them a marker and let him draw their face, before carving it. It doesn't need to be perfect, just enjoy having your toddler take the lead on the creative side.
Prepare an appropriate space for your toddler to clean the insides, scrape it, and carve it. The pumpkin's seeds and fibers could be a sensorial attraction for your kid, so allow some time for exploration.
Lightening it up will amaze them. Turn off the lights in your home and fill the room with wonderful stories. Make sure you're all set with the pumpkin supplies, just in case they ask for a replay of the entire activity.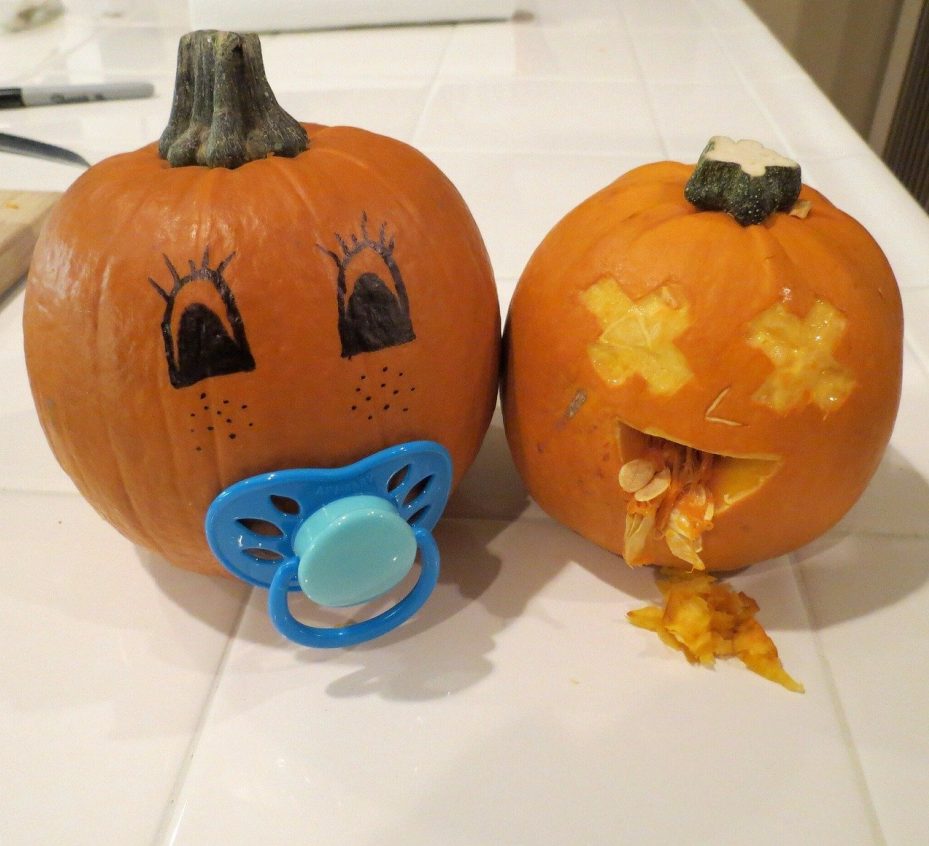 ---
 3. Delicious Halloween Treats
Baking together with your child is a great bonding activity. And Halloween is just the right time to test all those cupcake decoration ideas you haven't had time for, but always wanted to try.
Use your learning tower to involve your bub with baking cookies or cupcakes and transform them into spiders or ghosts. Bring on the colored whipped cream, sprinkles, jelly beans, Oreos, whatever your family enjoys eating.
Home-baked sweets are also a great alternative as a healthier treat (eg. carrot & apple cookies) if you want to postpone exposing your toddler to candies.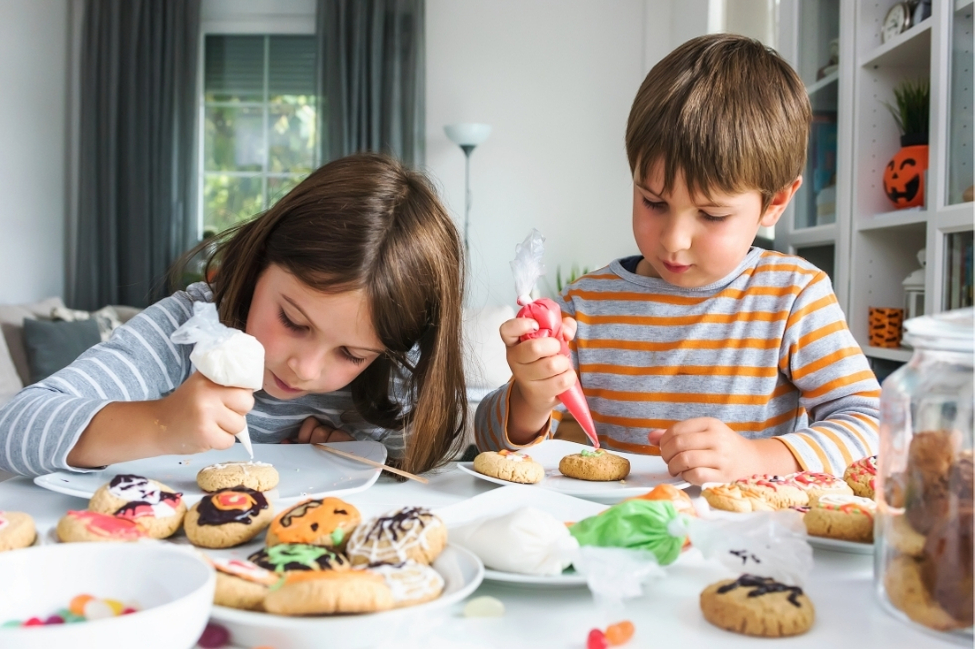 ---
4. Creative Pumpkin Art 
When we think about pumpkins on Halloween, we can get very resourceful. Jack-o'-lanterns are not the only thing you can create.
Use pumpkins as an art mannequin. You can paint it; attach all sorts of objects like eyes made of felt, or hands made of sticks; throw a wig on, maybe some glasses.
Ask your toddler for ideas and craft something unique. You can even make an experiment, such as Pumpkin Volcano. Halloween is a fantastic opportunity to make science fun for children.
5. Inventive Spider Crafts
A spider's anatomy offers a lot of space for creative work. You can craft a spider or a spider web from any kind of material, which will give your toddler a great sensory experience.
Mix a bunch of supplies, such as paper, felt, pom-poms, small pipe cleaners, beads, straws, thread, or clips to create a funny or scary spider. Then hang it somewhere in your toddler's room and enjoy their work and the memory of a fun day. 
You can also fill a tray with lentils or any legume and hide a couple of toy spiders inside. Ask your bub to look for them. It brings a lot of joy and excitement when they find one. It's a wonderful sensory activity and it encourages them to problem-solve.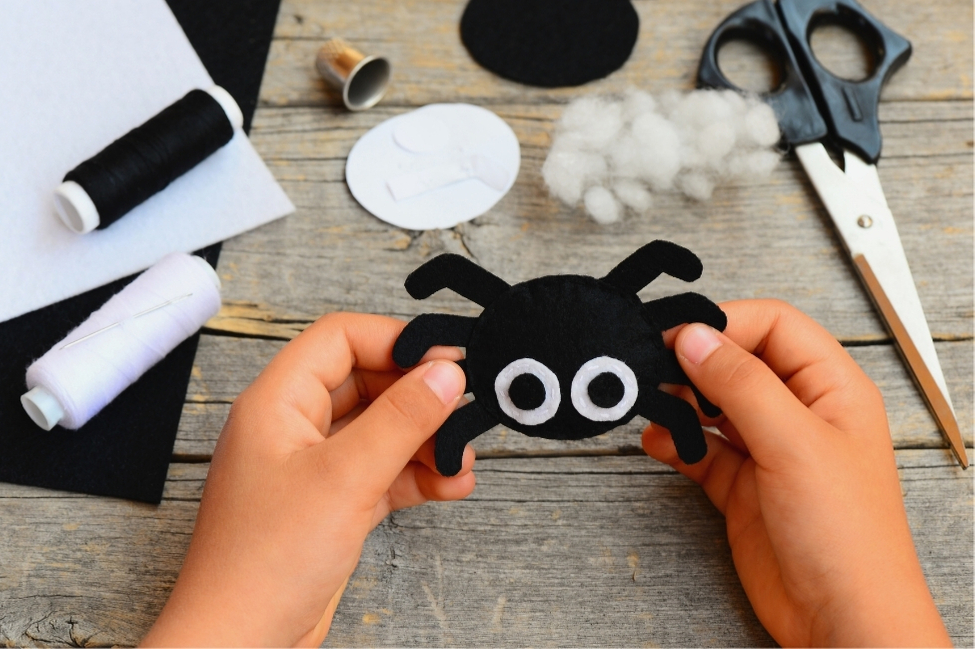 ---
6. Sensory Slime & Dough 
To make it Halloween specific, you could buy orange and black dough or you can just make it by mixing the colors you already have. Your toddler could mold it into pumpkins, spiders, or bats and decorate them with googly eyes, grains, or leaves.
Even if it can get a bit messy, slime or Gelli Baff can also get your toddler into the Halloween spirit. Throwing some googly eyes or spiders into it, or pretending it's the witch's potion will keep you and your toddler hooked into a fun role-playing session.
7. Dress-up in Characters
Surely your toddler already has some favorite characters that they adore. What better time than Halloween to make it all about your toddler's magical world?
With a little preparation, you could either buy, rent, or make the costumes so that you can start your day in character. You can either recreate the story of these characters or plan some activities that match their personality and interests.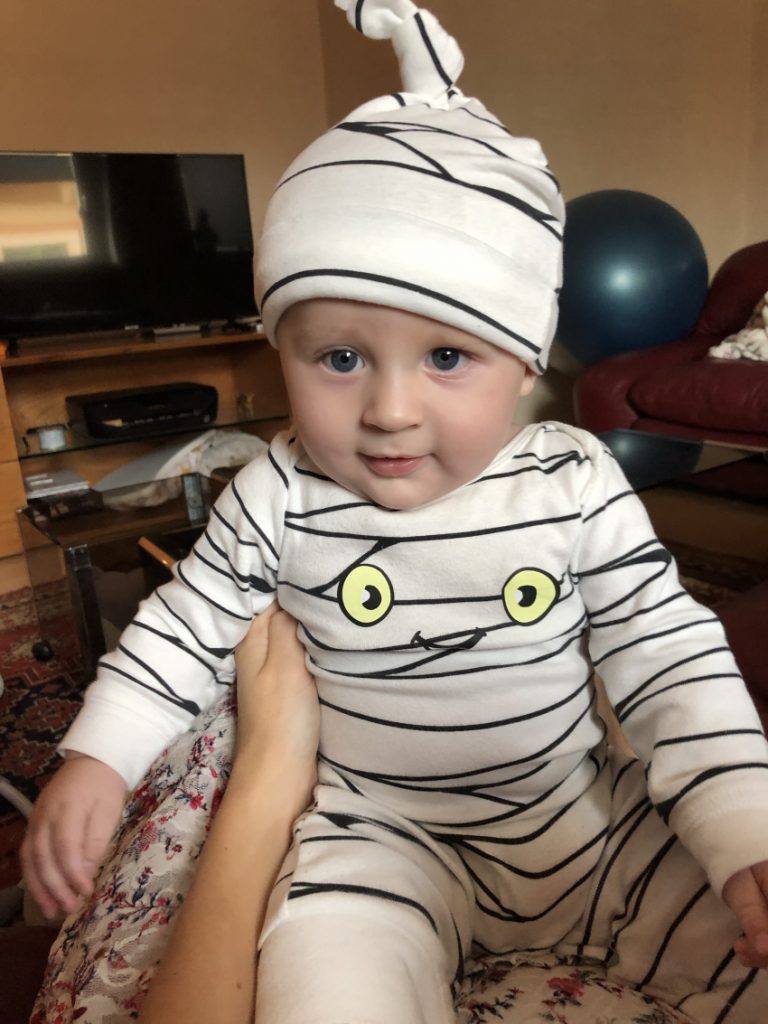 ---
8. Halloween Pumpkin Hunt
The Easter egg hunting game has inspired the Pumpkin Hunt. Instead of looking for Easter eggs, on Halloween, toddlers search for pumpkins.
If the pumpkins you have are too big, you can always try this with spiders. You don't necessarily need a back yard for this activity, they can be hidden anywhere in the house.
Toddlers love this game, it involves a lot of physical activity, and it enables them to exercise special awareness and build perseverance. 
9. Funny Mummies
Toddlers have a great attraction to toilet paper rolls. It's fascinating to them to watch the paper unfold. And it also helps them build their fine motor skills and hand-eye coordination, especially when they try to roll it back.
Well, on Halloween you can go all the way with the toilet paper by making mummies, for example. You can either take empty tubes and roll the paper on them.
Or make a mummy out of a toy or doll. If you feel adventurous and have a back yard, create a spider web with the toilet paper, or a labyrinth and play 'catch me if you can'. 
After the activities, involve your toddler in cleaning out your home, they love to help and they'll learn about having every object put back in their right place. 
10. Memory Game 
It's a simple activity, which could be perfect to slow things down if it gets too overwhelming around the house.
Buy or print a couple of flashcards with Halloween specific objects: pumpkins, haunted houses, the witch's hat, potion, or spiders.
If it's your toddler's first Halloween (or first when they know what's actually going on, since babies don't) they will love to learn about it while you go through the cards. It's also a great language exercise.
You could also print them in pairs, and play with your toddler a matching or memory game.