Children love new and exciting toys so it falls on parents to find engaging, imaginative toys that deliver excitement. The best news is that most toddler toys also teach valuable skills.
Finding the best toddler kitchen sets isn't as easy as buying the first one you see. It involves careful research to find a toy that is both fun and teaches important skills, as well as fits your esthetics and budget (so many play kitchens are overpriced for no reason).
The best play kitchen sets are highly functional and are built using high-quality materials such as wood rather than plastic. This article will look at the best toddler kitchen sets and shows you how to make the best decision for your toddler.
---
How to Choose the Best Toddler Kitchen Set
There are three features that should be considered when choosing a toddler kitchen set.
Space
Your home only has so much space so this will be your first consideration. Kitchen sets come in a variety of shapes and sizes, so choose one that won't clutter your home.
Some kitchen sets are actually multi-purpose and can be folded into an activity table after use. Or can be used as toy storage at the end of the day.
Materials
Toddler toys must be durable enough to withstand toddlers; so plastic or wood are generally the best choices. Wood is the more durable of the two, and even though it's more expensive I highly recommend getting a wood kitchen over a plastic one.
Not just to be environmentally friendly (the US is producing way too many plastic toys), but it's also easier to screw it into the wall so it doesn't tip – in case your little one decides to climb or pull on the kitchen (my older one did).
It's a myth that plastic kitchen sets are easier to clean. They are also cheaper and are sturdy enough to withstand most toddler play. Of course, they won't be as sturdy as wood.
Accessories
Naturally, kitchen sets all contain their own in-built accessories. Some might even contain a few pots and pans while others include the entire serving set. So take this into consideration when choosing a set for your child or don't forget to order extras if it's a gift.
Keep in mind that some accessories might be sold separately too so that might be why some kitchen sets are cheaper than others. They might be a "starter" basic set.
I still recommend getting this accessory set. It's so good. But, if you're looking for something basic these pots from Walmart are indestructible.
---
---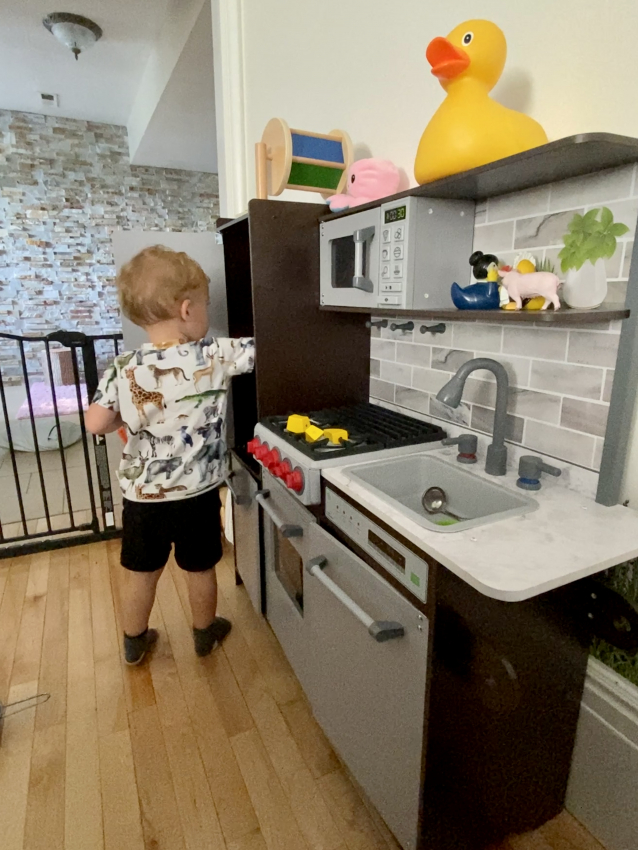 ---
The Best Toddler Kitchen Sets
Now let's look at some of the best toddler kitchen sets on the market. I got my child his first wooden play kitchen with accessories for his 1st birthday. People thought it was too early, but he was hooked instantly.
He's 2.5 years old now and he plays with it constantly. In all honestly, pretend kitchen is probably the best toy he's ever got in terms of use. Also for me, because when he goes it bed or daycare I just throw all the toys into it.
Dimensions: 20 x 11 x 38 inches
Material: Plastic
This kitchen set is much friendlier to the wallet and doesn't sacrifice quality.
The Step2 is cozy, cute, and your child is sure to have a blast playing with it. It comes with a stove, oven, sink, and 21 additional accessories!
However, the affordable price is possible because it's made with plastic which is the only downside of this set. It's still a great value.
PROS
East to put together
Fits below the window ledge in most bedroom
Realistic features such as clickable stove top knobs and swiveling faucets
All accessories can be stored in the oven and refrigerator
CONS
Some parents have had problems with keeping the oven door shut
Stickers make it look not very pleasing
Step2 Cozy Kitchen Set
Check other reviews and current prices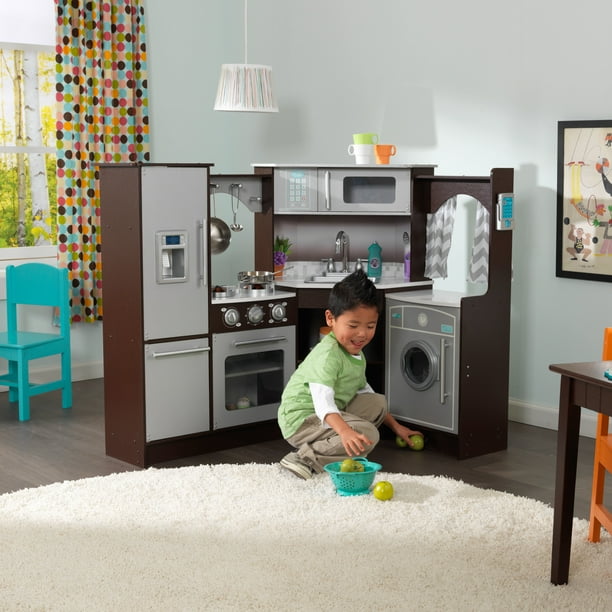 Dimensions: 42.50 x 32.50 x 36.75 inches
Material: Wood
KidKraft has built a vintage kitchen set that's sturdy, adorable, exciting.
This one set will get your toddler all the way through their childhood so the investment is worth it. Especially if you have twins or multiples – it's big enough to keep everyone entertained at once.
This kitchen set is designed for girls so keep that in mind. It also comes packed with all of the accessories you'd expect.
It is my number 1 choice personally and I think it's totally worth the price. If you don't have the space for a kitchen as big, they have a similar smaller set.
PROS
Mix of wooden MDF boards and plastic
Burners and ice maker have realistic sound and lights
Removable sink that can be cleaned
CONS
Not enough accessories included
Arrives in many pieces and takes forever to put together
Takes lots of space
Kidcraft Corner Play Kitchen Set
Check other reviews and current prices
---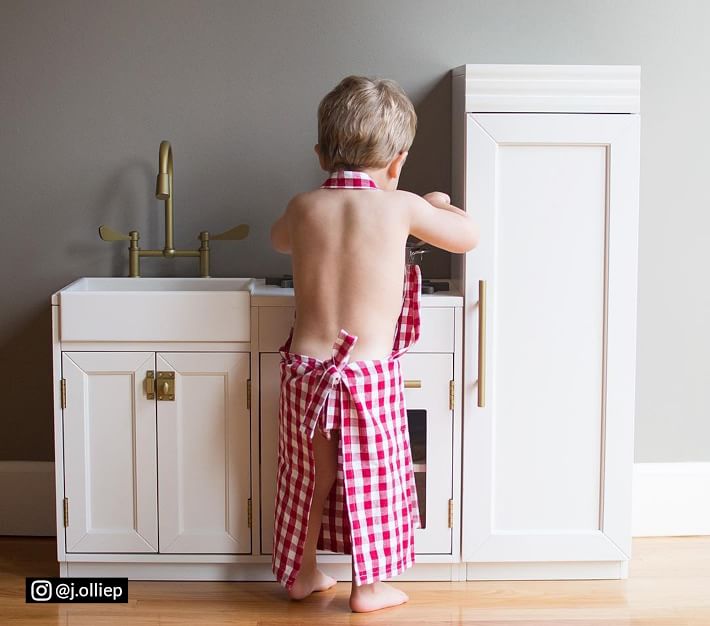 Dimensions: 36 x 12 x 33 inches
Material: Wood
A sleek design that comes at a real value, the Pottery Barn toddler kitchen set is one that you can enjoy with your toddler.
It comes equipped with modern light brass accents, a sleek kitchen sink, and other fun accessories.
But what makes this set such a winner is the detail put into each accessory.
The refrigerator has multiple shelves and the sink even has storage space under it.
PROS
Easy to clean MDF wood
Stove knobs turn and click
Farmhouse type sink handles turn.
Gorgeous sleek design
Pottery Barn All-in-One Kitchen Set
Check other reviews and current prices
IKEA Kitchen – MOST CUSTOMIZABLE + MONTESSORI FRIENDLY
Dimensions: 29 x 15 x 7 inches
Material: Birch Plywood
IKEA play kitchen is probably THE most talked about in online communities. Why? Because it's hackable (take a look at all these pretty decals for it on Etsy)!
This set from IKEA is made of birch plywood. As with all IKEA designs, it's really sleek, light, and durable.
Legs with 3 adjustable heights ensure it grows with your toddler.
The hooks hold spoons at the back, the microwave door opens, the burners turn on and glow, the faucet turns, the sink comes out.
Easy to put together, your little one and his friends will love it. You can customize it however you like and make water in a true Montessori style station if you hack the sink.
PROS
Adjustable height
Very lifelike
Can be used for older children too and work as a water station
CONS
Basic design without hacks
Accessories not included
IKEA DUKTIG Wooden Play Kitchen
Check other reviews and current prices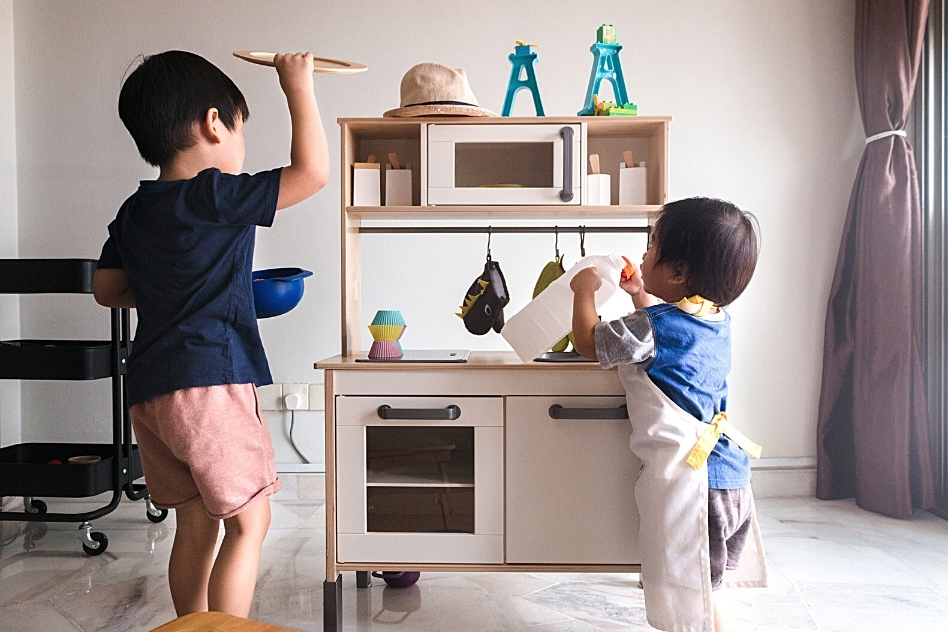 ---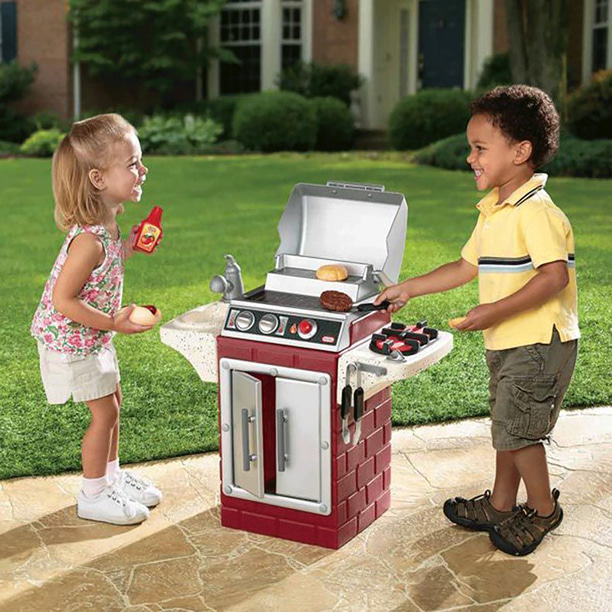 Dimensions: 27 x 25 x 12 inches
Material: Plastic
This is an amazing set for indoor and outdoor use. It's not really a play kitchen, but a play grill – which obviously also revolves around cooking.
Little Tikes has created a kitchen set that's versatile which allows for more creativity and imagination, especially playing next to a grilling adult.
The set comes equipped with 25 accessories so your child will get countless hours of fun!
This grill is cheaper, but lower so might not be very comfortable for taller kiddos.
PROS
Easy assembly
Accessories included
Can be used outdoors as well
Doors open and close, knobs click. It's realistic!
CONS
Only one food accessories each (not enough for 2 kids)
Not incredibly durable
Little Tikes Bake & Grow Kitchen Set
Check other reviews and current prices
Dimensions: 38.25 x 11.5 x 36.75 inches
Material: MDF & Solid Wood
Your toddler will love playing with this retro kitchen set themed after kitchens of the 50s and 60s.
It comes equipped with cool accessories and essential items. It even has a play phone and cool chalkboard!
Plus it's very easy to assemble and doesn't take up a ton of space.
PROS
Eco-friendly.
Metalic accents and movable parts.
Includes all accessories as well as a toy phone.
Easy to clean.
CONS
On the lower side so not ideal for super taller kiddos
Expensive for the quality
Teamson Retro Play Kitchen
Check other reviews and current prices
Dimensions: 44.2 x 13.6 x 43 inches
Material: MDF Wood, plastic, and metal
This amazing wooden kitchen set comes with all of the accessories you'd expect to find in a real kitchen, including an ice maker, oven, and hooks for pots and pans. It even has garden pots with onion and carrots!
The sink has lights and the sound of running water that will make your child want to wash everything. And the carrots are "choppable"!
It's useful for 5 modes of play – kids can cook, chop, clean, organize and create.
Your child will get hours upon hours of fun from this set while developing their fine motor skills.
PROS
Voice instructions on EZ Kraft Assemly app reduce assemly time.
Faucets and burners light up.
Includes chalkboard for writing.
Strong and sturdy.
CONS
Requires LR44 batteries (first set included).
Slightly lower than some other models
KidKraft Wooden Farm To Table Kitchen Set
Check other reviews and current prices
Dimensions: 11.8 x 9.1 x 10.1 inches
Material: Sustainably sourced wood, plastic, and stainless steel
This is a compact kitchen set that fits in a 12-inch by 12-inch area and is reasonably priced, making it one of the best toddler kitchen sets.
It comes equipped with utensils, pans, and even a clock so your kid can watch the time while preparing their favorite imaginary meal!
PROS
Uses non-toxic child-safe paints
Clock with movable hands
All utensils fit in the storage compartment
Very compact
Perfect for gifting!
CONS
Needs to stand on something
Hape 2 in 1 Kitchen & Grill Set
Check other reviews and current prices
---
Frequently Asked Questions
What are the Benefits of Playing with a Play Kitchen?
Play kitchens are a toy that kids can play with for years, so it's a long-term investment in the happiness of your child. Plus it serves as a great learning tool! Not only does it develop a child's imagination, kitchen sets are interactive and develop motor control and other essential cognitive skills.
Finally, the best toddler kitchen sets are easily upgraded and will be useful additions to a child's toy collection for years to come.
---
How Do I Choose the Best Toddler Kitchen Sets?
In addition to all of the tips in the first section of this article, choosing the best toddler kitchen set requires you to consider your child's age. However, they can start playing with basic sets at just one-year-old but you need to make sure the set cannot be tipped over onto the child.
As your child gets older, they will start to climb so keep that in mind. That's why toddler kitchen sets shouldn't be too tall.
---
How Much Space Do I Need?
This depends on the kitchen set so it's best to measure the available space in a room and then search for kitchen sets. There are two specific types:
Mini Kitchens: These sets are small enough for toddlers 4 and younger and also great for homes with limited space. You normally set these on a table while the kid plays with them. Then afterward, they can be placed back into the toy box.
Full Kitchen Sets: This list contains this type of kitchen set. They are stand-alone and come in a variety of shapes and sizes.
---
Final Thoughts
The final piece of advice that I can offer parents who are looking to find the best toddler kitchen set is to make sure it's easy to assemble. You don't want a set that's so complicated to assemble that you never quite get it right.
Also, toddlers love accessories so finding kitchen sets that have those little extras will go a long way.