Bombi BeBee stroller has taken the social media world by storm. As it costs a fraction of the price compared to other travel strollers, naturally many have been debating whether to give it a try.
I was intrigued when Bombi stroller was first released, especially considering the fact that it's a small company that seems to care about its mission as its fabrics are made from recycled plastic bottles. The stroller actually ships without any plastic bags and comes in a branded bag instead (which saves at least 56 plastic bottles from ending up in landfills), which is great.
Pros & Minor Cons of Bombi Stroller
Age Range – 6 months to 50 pounds (22kg) – from birth with the Car Seat Adapter
Stroller Weight – 16.9 pounds (7.6kg)
Folded Size – 21 x 20.7 x 210.5 inches (53 x 53 x 26cm)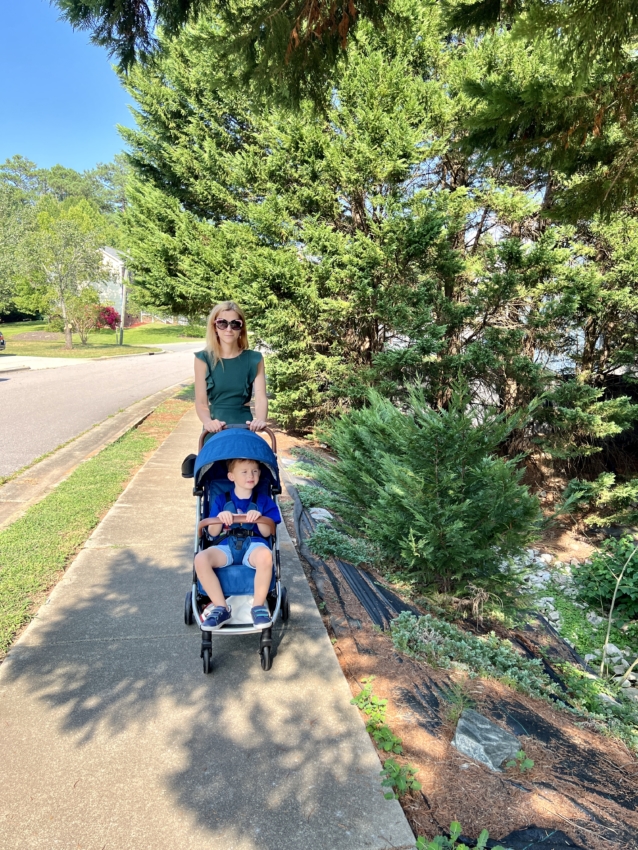 ---
Maneuverability & Design
At first glance, Bombi looks elegant, but if you take a closer look many extras are made of plastic which can break easily and doesn't look as slick.
Bombi has 7″ wheels in the back and 6″ swivel wheels in the front. It supposedly has a 4-wheel suspension, but it felt bumpy and vibrated. It's just not as smooth of a ride as on Joolz Aer, Babyzen Yoyo, Bugaboo Butterfly and felt pretty bad for us and the child in the stroller.
In fact, after one short walk, I noticed that one of the back wheels already looked a bit crooked and the sidewalk wasn't bumpy at all. While it worked fine and might have been a manufacturer's issue (maybe?) it threw me off.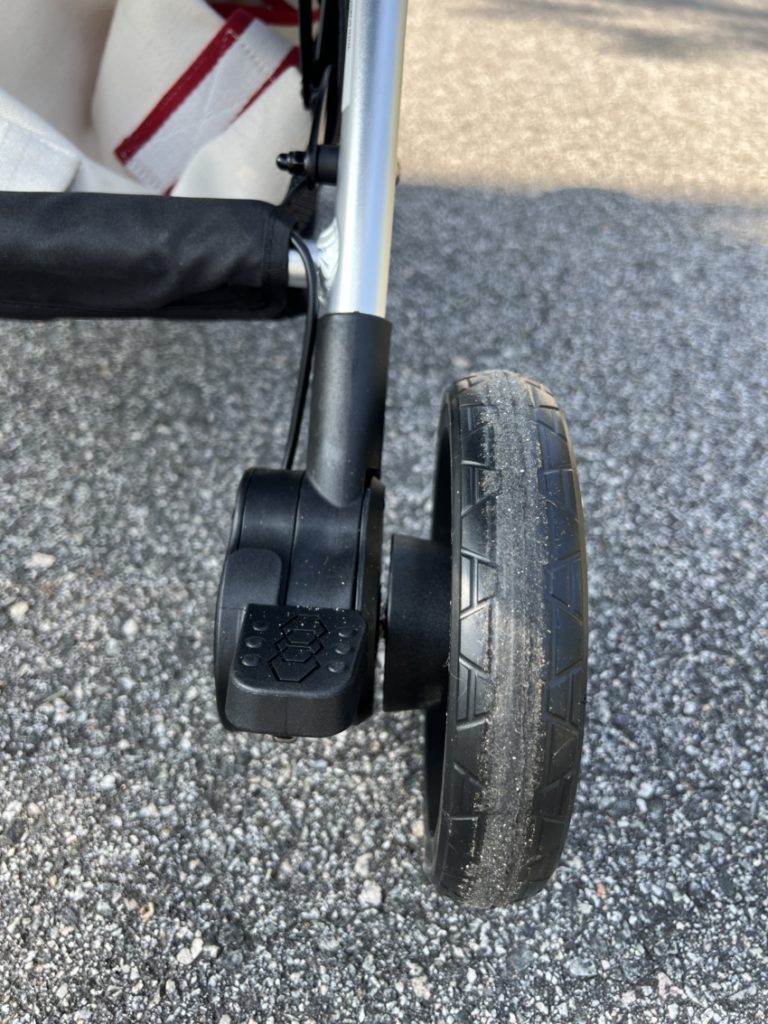 ---
---
My biggest concern, however, even before I unfolded the stroller as I noticed it instantly is the break. I was convinced that the break mechanism must be something that I have to remove before using the stroller, but alas it is an exposed cable.
Apart from the possibility of getting pulled on something when folded, it's simply a hazard as it can destroy the break. While you wrap most of it in the material for the under-the-seat basket and lock it with a mechanism, there's still a significant part of it exposed. It's basically a bike break on a stroller which gives it a cheap feeling.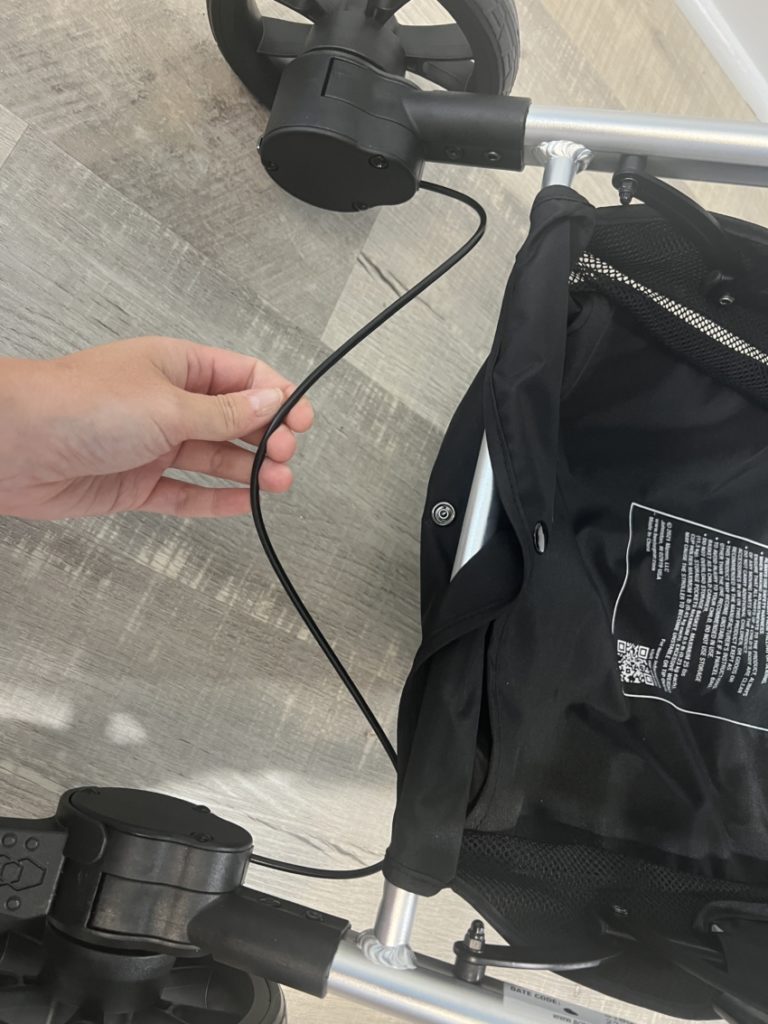 ---
Folding and Unfolding of Bombi stroller
One thing anyone can easily notice is how easily Bombi stroller folds. It folds down easily and quickly with one hand. Just slide the small button to the left, squeeze the large button and it folds!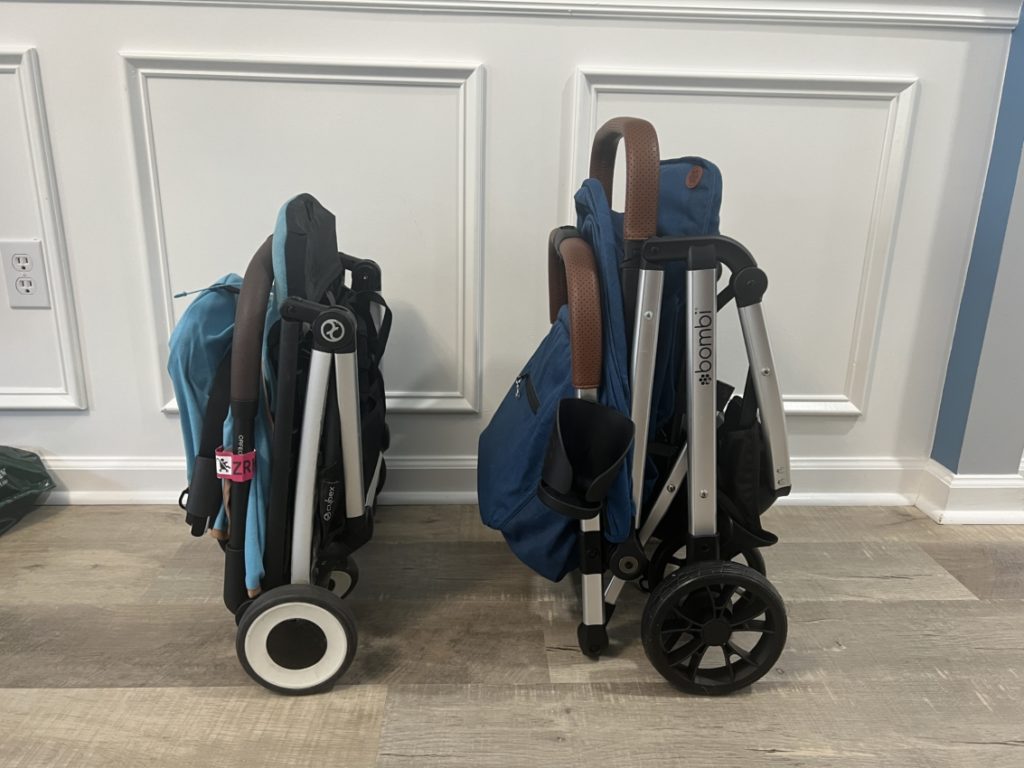 ---
Weight & Size
Can the Bombi stroller fit in overhead bin? In short, no it doesn't fit in the overhead bin. It's smaller than the full-size stroller, but pretty huge when compared to actual travel strollers for airplane travel.
If you remove the wheels (it's easy enough to do) it MIGHT fit on some bigger planes on a rare occasion, but most of the time you will have to gate-check it.
It's also about 3 lbs heavier than most travel strollers on the market, and while 3 lbs might not seem that much it adds up.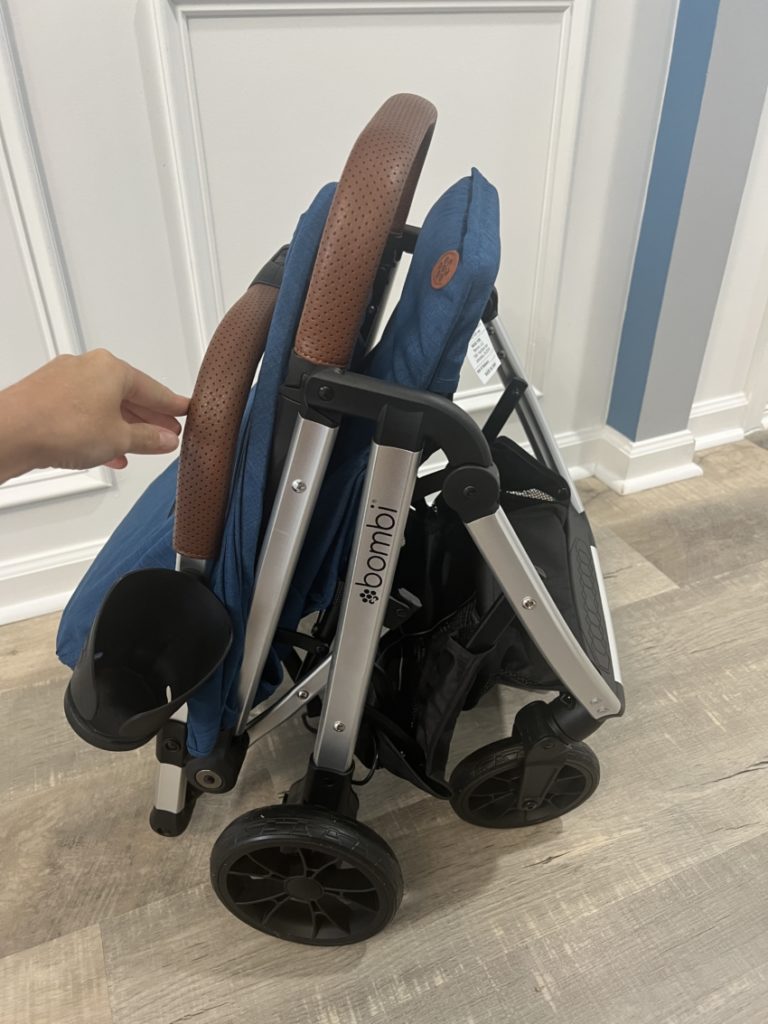 ---
Storage Spaces
The underneath basket is decent and easily accessible. I can stuff an entire diaper bag in there without having to push it hard.
There's barely any protection of the basket so loose things might fall out, especially considering how bumpy ride the stroller gives.
There's also a pouch under the basket if you want to just store a spare diaper, something I really appreciate as quite often I don't need a whole diaper bag to store something small for the baby.
I was very excited about the pocket on the back of the canopy and as I always say once you try it you won't like any stroller without it, but I wish it was bigger. I love that on Joolz Aer, or Babyzen Yoyo I can put my phone along with a small pack of wipes or tissues in there. On Bombi, my phone (iPhone 14 Pro Max) fit but barely and I couldn't as easily slide it in.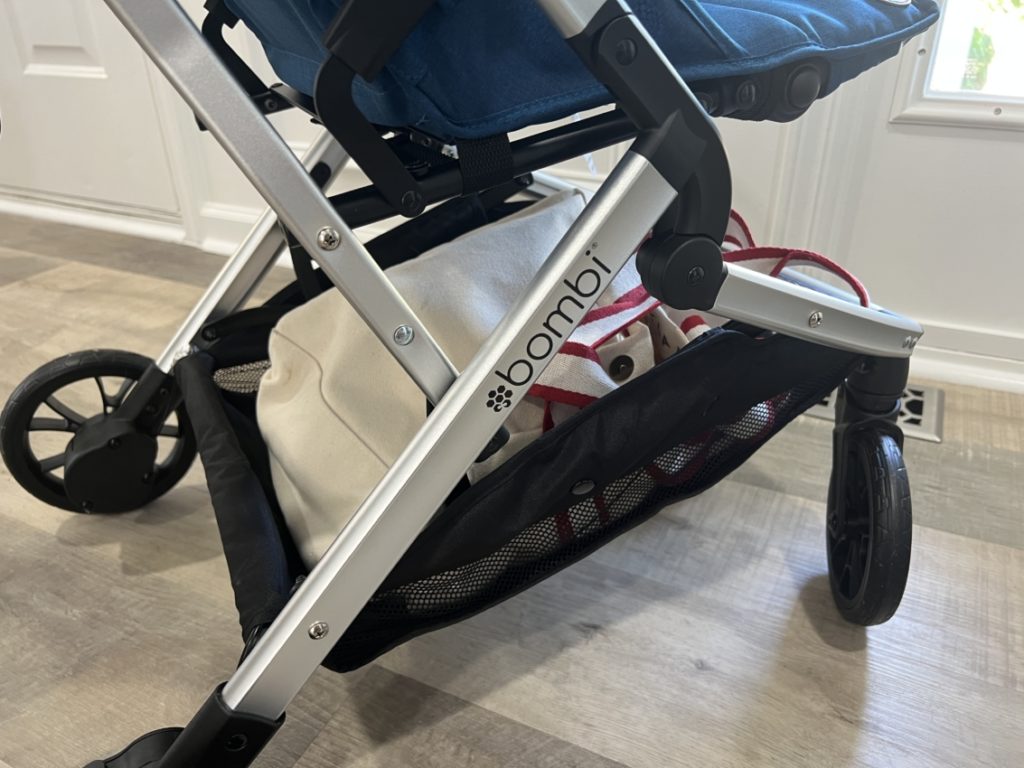 ---
Seat Compartment, Recline & Canopy
When you touch the stroller's seat, it's hard to believe that it's made of plastic. The soft and durable fabric is comfortable and the canopy is big enough and extends even more. The canopy features a mesh peek-a-boo window with a magnetic closure.
There's also an in-built footrest which is convenient and unlike on some other travel strollers (for example Cybex Coya) it doesn't ride up unless a child wants to extend it.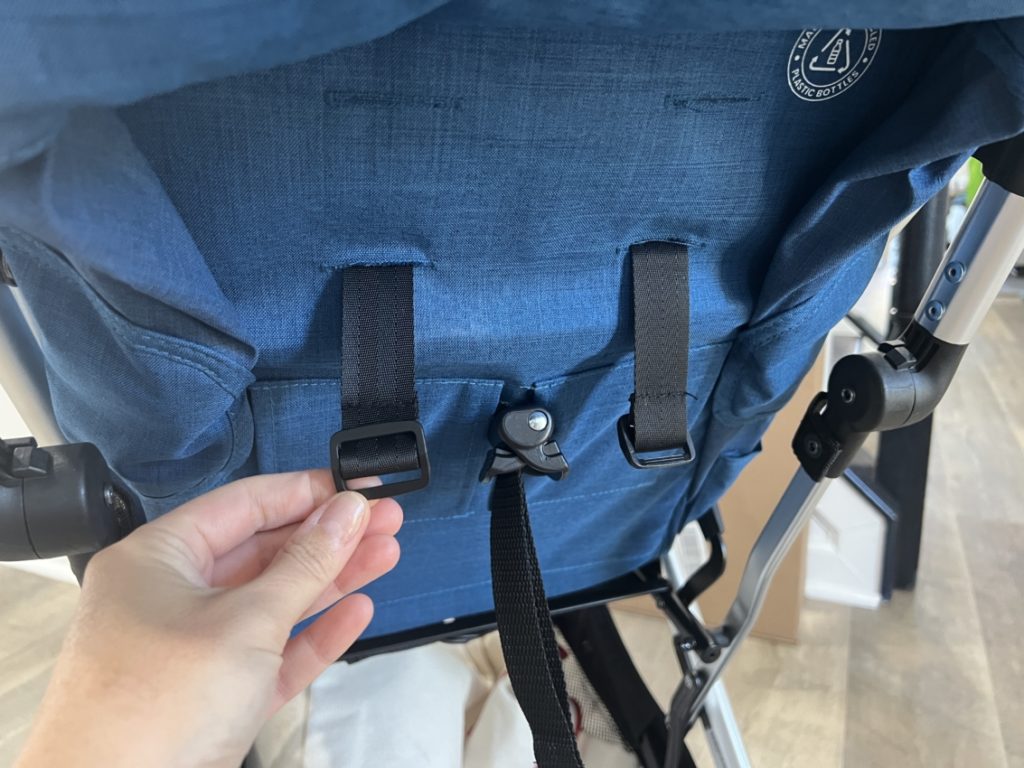 There's also a mesh pocket in the seat for the child's belongings but it takes space from the seat, so my kids weren't impressed.
If you have a small baby or toddler in a smaller size, Bombi stroller might work for you.
One thing I personally hate about strollers is when the canopy extends over the parental bar when closed, so you need to keep your hands underneath the fabric and it's harder to easily grab it in case of an emergency. This is the case with Bombi unfortunately and you have to keep the canopy extended if you want to grab the bar normally.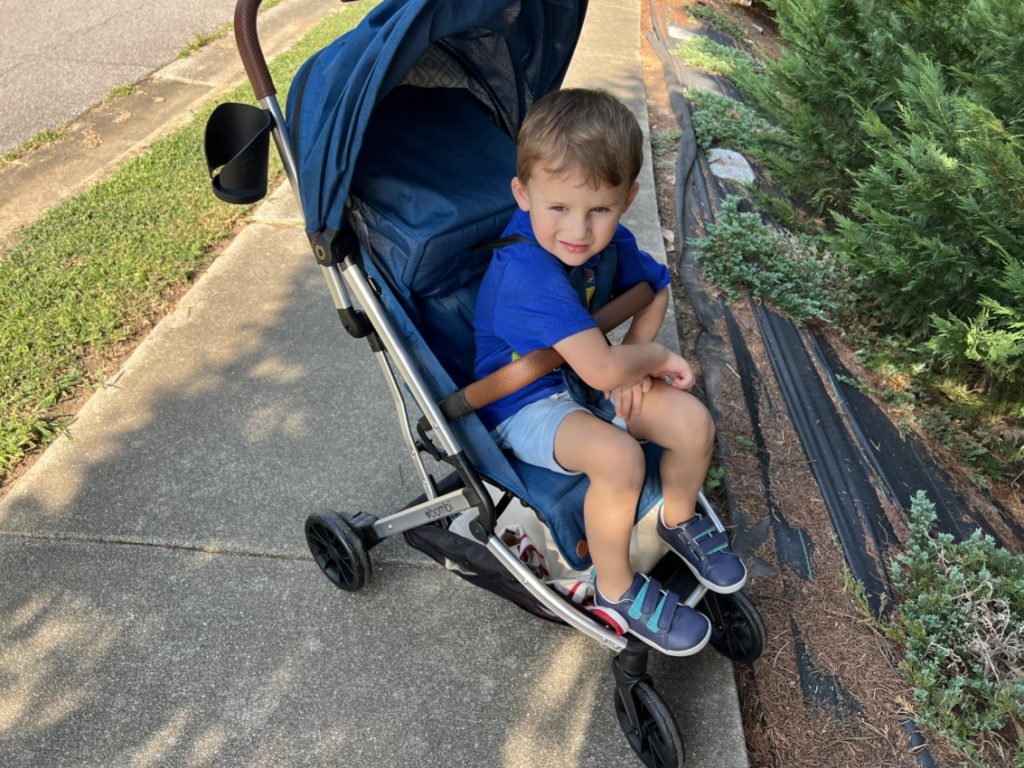 ---
What sucks about Bombi stroller is that officially it can carry a child up to 50 pounds, which means that obviously, you should be able to use this stroller for years to come and up to over 4 years even.
Before you get too excited about it, don't get your hopes up as Bombi can't really work well for a child older than 3 years unless the child is below 50th percentile for height.
Now, you might think "Why would I need a stroller for a 3 or 4-year-old?" and while I agree that you don't need a stroller full-time, travel strollers are completely different. You will need a stroller if you're out and about exploring all day long. Your toddler won't walk all day, so unless you have a stroller your travel days will be disrupted. Hence why Disney World recommends a stroller for a child up to 6 years even!
Bombi stroller is the only one of two travel strollers in which my older son simply didn't fit well when reclined (the other one is Nuna Trvl which even my barely 2 year old back then already stopped fitting into).
He was sitting fine, although cramped, but when I tried to recline the seat his head was blocked by the canopy and he couldn't rest even for a minute. There's simply not enough space between the seatback and the canopy to comfortably lay down. Considering that my son is 35 lbs (and 42″) the 50 lbs weight limit isn't going to help us much.
I also tried it with my younger son who's currently not even 2.5 years old and 37″ and he barely fit and wasn't too keep on lying down.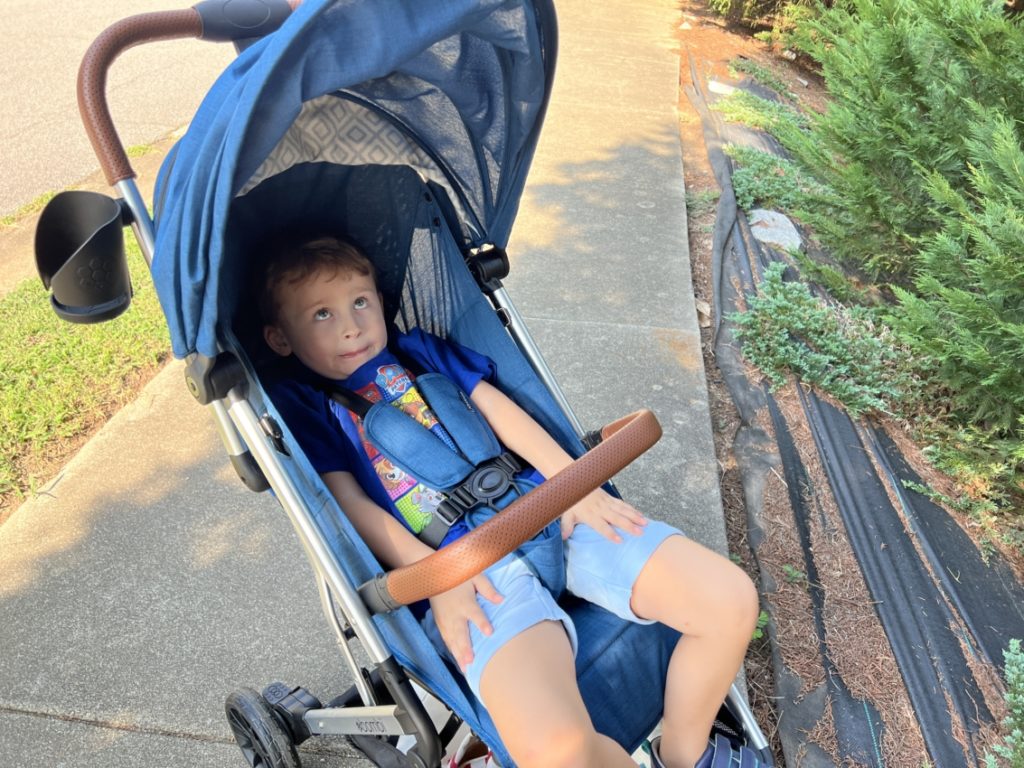 Accessories
Bombi stroller comes with a few accessories already included. One of them is a cup/bottle holder for the parents that snaps onto the side of the handlebar. It's a cool extra, but my kids managed to pull it out easily. Other one is a bumper bar which is huge for us and cannot imagine buying a stroller without it.
Bombi now released a car seat adapter so it can be used from birth with a car seat. While I would never replace a bassinet with a car seat for a newborn (I explained why here), some parents might like that option.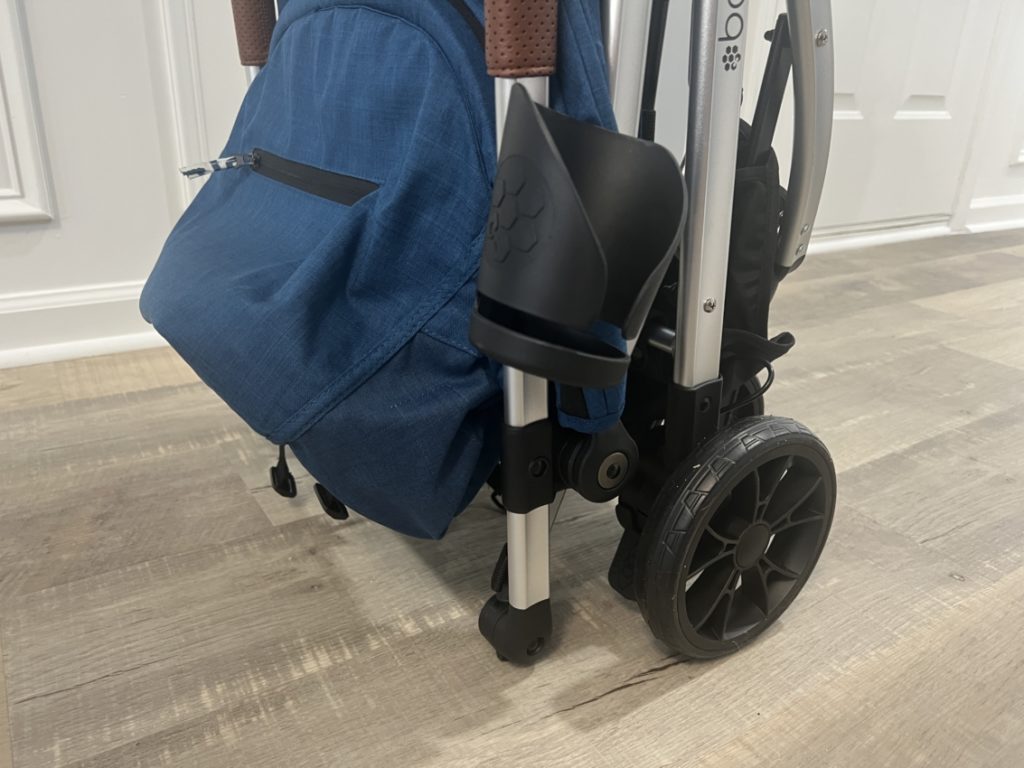 ---
Final Verdict: Bombi Stroller Review
Would I recommend Bombi BeBee stroller? I feel like despite the great idea behind it and its elegant design, Bombi stroller is indeed a very flimsy stroller. There are many better stroller options for travel.
If price is a factor in your decision I will say that there are various other affordable options – like for example Zoe Tour+ stroller that isn't much more expensive but offers way more options and doesn't feel as flimpsy.
If you don't care for gate-checking the stroller and want to stay in a budget price range, Mompush is way more impressive.