A busy board is an excellent way for your toddler to learn through play. Driven by intense curiosity, a toddler starts to explore every inch of the house at some point.
Toddlers love to open cabinets, switch the lights almost obsessively while trying to figure out the causality, empties drawers, and just bang, rattle and drum with all sorts of objects laughing at their sound.
There are so many things going on in your toddler development, but there are two important messages to take from this stage:
Toddlers need sensory play. He is looking for activities that stimulate his senses, whether sight, touch, taste, smell, or sound.
They want to master practical abilities, for which they're naturally inclined. Instinctively, they know that these are the skills that will help them go about their day successfully.
A busy board for toddlers, also known as a Montessori busy board, embodies tactile learning and mastering practical abilities, making it a fabulous introduction for a toddler into the art of tinkering, which brings so many short-term and long-term benefits. 
There are many busy board options on the market, but if you can't find something that covers everything your toddler is passionate about, you can always make a busy board yourself. It's not complicated at all.
---
Busy Board Options
There are all-in-one sensory boards that include multiple activities that cover several if not all senses.
But, there are also themed busy boards that are more focused on a particular ability or sense. It could be a board that allows your toddler to learn how to work zippers or buckles, one that includes different types of fabrics, musical instruments, or one that covers hardware supplies like locks, latches, and hinges.
Before starting your shopping or paying a visit to your garage, decide what type of busy board you want to make, so you don't overcomplicate things.
Make a list of your toddler interests and start from there. I recommend adding a couple of new objects to make it more appealing for your toddler.
---
Best Busy Boards for Toddlers
Not every parent might want to make their own. When I sold the idea of making a DIY busy board to my husband, his reaction was 'how about you just pick one with our limited-time'.
There are plenty of fantastic busy boards to buy out there, especially since Etsy is so popular and reliable. You can even order a completely customized board with your child's name if you wish.
I recommend taking a look at what's available even if you wish to make one by yourself, because it can get you some ideas.

---
This is what we ended up getting first and it's great. One thing I wished it had was a light switching function that works (not a simple switch) because my toddler is simply very curious, so I also got a separate piece.
BrainUp Busy Board is not too huge, so you can take it from one room to another without attaching it to the wall semi-permanently.
P.S. These boards are also sold on Amazon, but then you cannot customize anything like colors or name tags. Etsy delivery might obviously take longer than Amazon one, but for many it might be worth it. Ultimately, it's the same thing.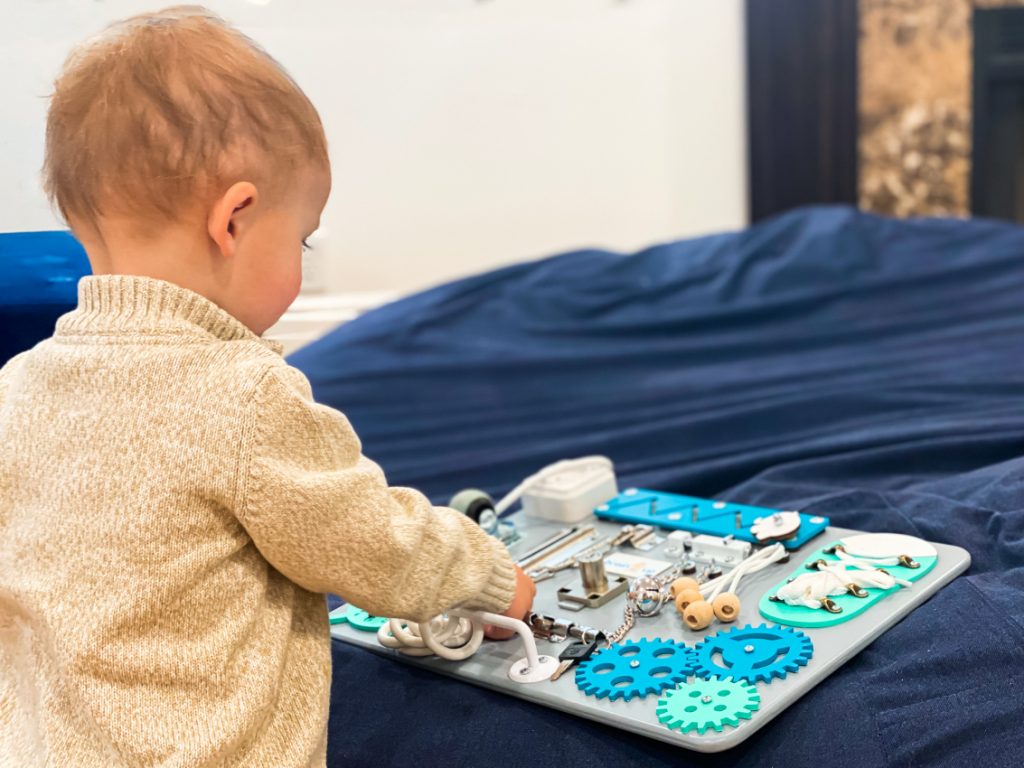 Another top contender because of its simplicity, lack of flashy colors and just basic wood, but has a light function I loved.
If you're ordering your gifts in advance or can wait 2 weeks for it to deliver, I highly recommend BusyAndFun Busy Board.
---
I love this board because it has elements for older kids as well. My toddler was always very into adult things, so he's become obsessed with Busyboardtravel Busy Board.
If you're child still mouths things I'd take away the keys and give them back when the toddler is ready for it, but the rest is perfectly safe. It's just a more "serious busy board" if that makes sense.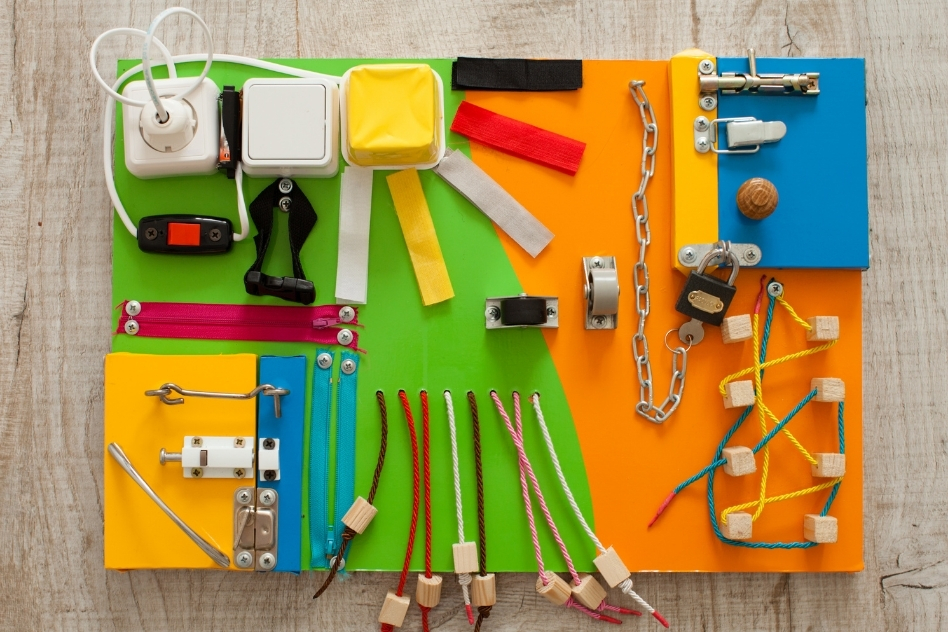 ---
One of the best priced giant busy boards. I like that there's a nice mix of easy and challenging objects on it, as it gives an opportunity to grow with the child.
If you have the budget for it that board can be your winner.
---
DIY Busy Board
Step 1: Materials
The list of materials depends on the items you'll add on the busy board, but there are a couple of must-have supplies. These will ensure the items are well attached to the board and don't cause any hazard to your child.
A wooden or plywood board
This is the foundation of your busy board. You can buy one or use an old drawer or any piece of wood that you don't need anymore and is big enough to host a couple of fun items. It could be round, square, or rectangular; it doesn't matter. You can either place it on the floor, hang it on a wall, or make it into an outdoor busy board, as long as you make sure it stands safe during playtime.
Bolts / screws / nails / nuts
Every item you want to put on the board needs to be attached with some bolts, screws, or nails, especially if you plan to include latches, hinges, or key chains.
Screwdriver / drill / hammer
You'll need these to drill the screws and nails into the board. For some items, you'll need a hand drill; for others, just a simple hammer. But, if most supplies require a strong affix, a hand drill will save you a lot of time and effort.
Depending on the board's size, you'll need to measure it to find a proper spot for each item, with adequate space between them, so they don't interfere with each other.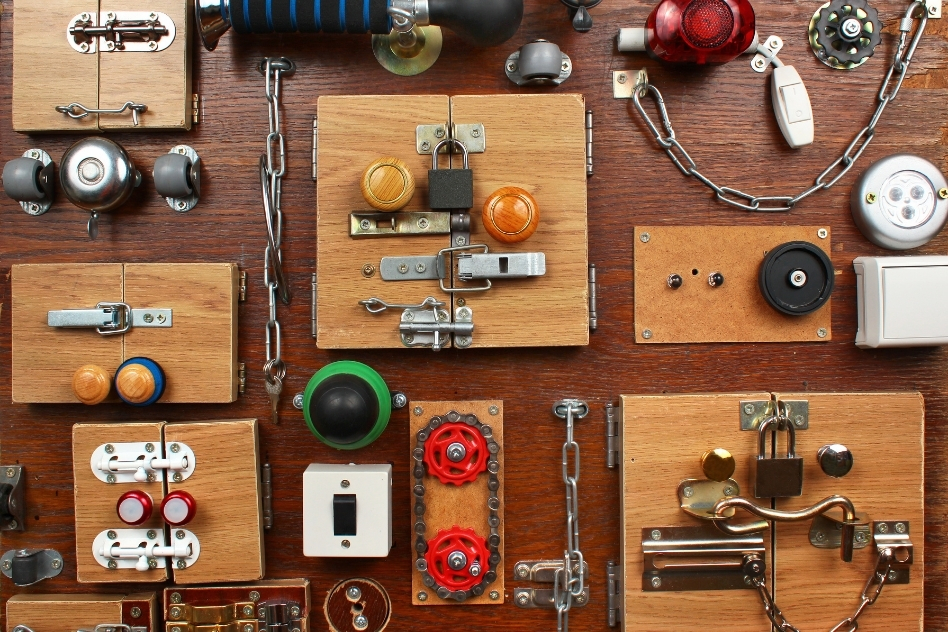 ---
Step 2. Busy Board Activities Design
The item you choose can cover things your toddler loves to do or a specific ability you want to introduce to your kid.
Either way, it's essential to adjust the items to your toddler's age and developmental stage, so it doesn't cause too much frustration.
Also, keep the busy board uncluttered and manageable, so it doesn't overstimulate your toddler.
Some of these items you already have around the house, so re-use whatever you can. Others might require some shopping, whether it's your local hardware store, Amazon or Etsy.
So, here are some ideas of items you could include on your toddler's busy board:
knobs
door knocker
bolt lock
xylophone
mirror
little doors
wheel from an old chair
light switcher
key chain
remote control
all sort of fabrics
bell
whiteboard/ chalkboard
handles
hinges
zippers
shoelaces
plastic tubes
buckles
magnets
calculator
sponge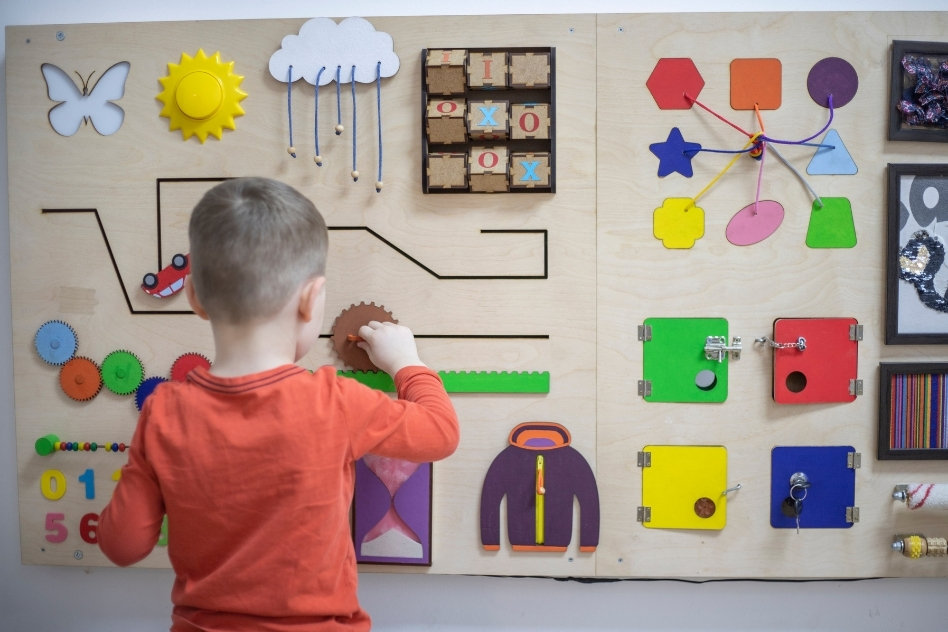 ---
Step 3: Finally, Get to Work!
If you're a DIY genius, it won't take you long. If not, planning is your friend.
An older piece of wood might need some finishing work or paint to make it look tidier; otherwise, it's perfectly ok to use it just as it is.
Plan where every item will be placed and measure the space between the objects to make sure they're not crowded.
Mark each spot with a pencil, especially when starting to drill. If you're a perfectionist, you can use a precision level to ensure everything is well placed.
Then start attaching the items and if something doesn't go as planned, or you realize you're missing a supply, keep an open mind and stay creative.
It's also essential to test the busy board, to ensure that every item is safely connected to the board, even when it's firmly grabbed, often the case with toddlers.
A busy board is one of the most captivating presents to give to your toddler or one in your family. It will keep them engaged and also away from the actual cabinets and drawers. It's a fantastic way to stimulate senses, exercise fine motor skills, and learn practical abilities that will be extremely useful in their daily lives.