How do you warm baby bottles when traveling or spending days outside? is the most popular question from new moms. When my firstborn came around, from day 3 we were never at home and we started traveling abroad with him when he was 2 weeks old. I simply brought a bottle of still water and a bottle of hot water in a thermos so I could make formula on the go.
This solution worked fine. We survived and for a long time I didn't think one can do it a different way, but I had to stick my finger in the water to make sure it was not too hot or too cold. Thankfully, now thanks to portable bottle warmers you don't have to risk burning your fingers.
Do you absolutely need a bottle warmer?
Not at all. A bottle warmer is a gadget and you can still feed your baby on the go. In fact, when we were limited on luggage I was still warming up my baby's food and milk in a cup of hot water at the hotel and it is one of my tips for traveling with a baby. However, it's a useful gadget that can often make your life easier so now it's part of my personal essential baby travel gear list.
Can you bring a baby bottle warmer on a plane?
You can, but of course keep in mind that not all airlines have chargers in seats, so they might not work.
One thing to note is taking a powerless version means you need to go through extra screening at security or find boiling water after security and before you get on the plane, but ultimately it's a safer option than finding out that the seat has no chargers.
Can you use a portable bottle warmer for breast milk?
Depends on the model, but generally speaking yes for some! Most bottle warmers will heat the milk to 98 degrees which most closely mimics a regular body temperature and breastmilk.
---
Best Portable Bottle Warmers for Travel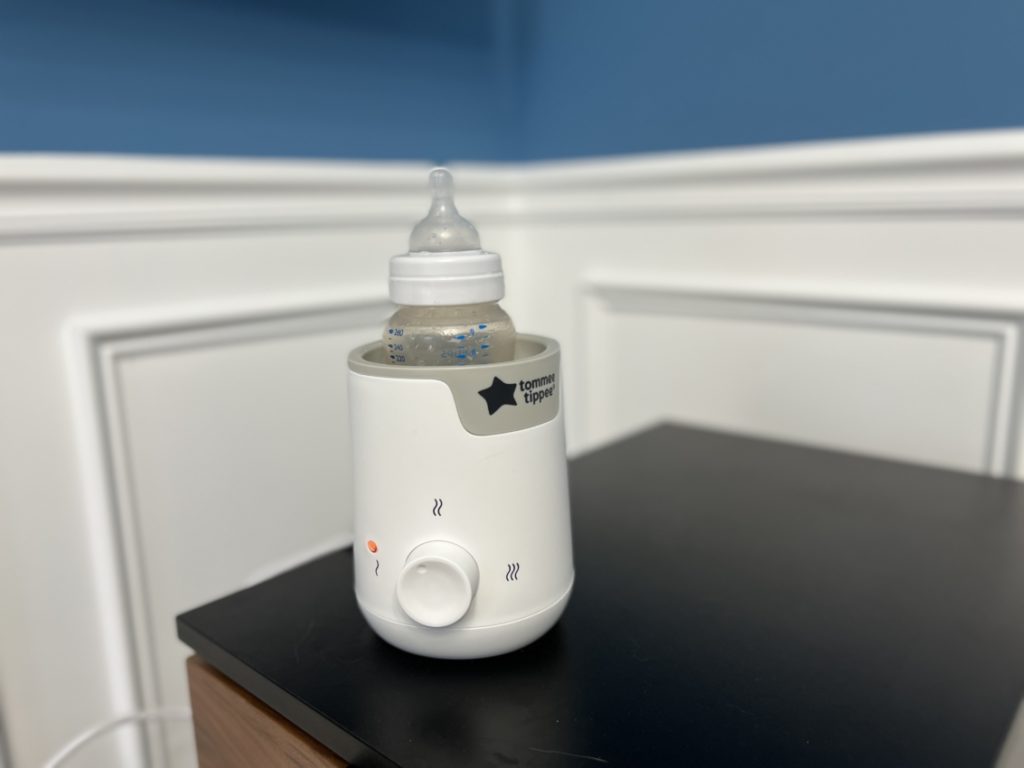 This portable bottle warmer doesn't require any electricity as it is essentially a high-quality thermos in which to store 500ml of hot water for warming your baby bottles.
What makes this different from using a regular thermos however is that it comes with an extra cylindrical container that fits snuggly over the thermos for easy storage.
This container is made to fit Tommee Tippee closer to Nature bottles but you could use any bottle which is of similar dimensions. Simply put the bottle inside the container and fill it with water from your thermos to just below the rim.
Pros
Doesn't require electricity
Convenient size
Stackable elements for easy storage
Cons
Only works for as long as it can maintain the water temperature
Need to use a finger to measure the temperature of the bottle
Can leak
---
This bottle warmer is much like a regular bottle warmer you would use at home but it's also compact and easy to travel with.
It uses steam to heat baby bottles in just 4 minutes and has two settings for warming from the fridge or room temperature. It also allows you to set it to keep warm so you don't have to reheat it if your baby isn't quite ready to feed yet.
You can use this bottle warmer for baby food as well as formula and breastmilk as the machine will fit many different-sized containers.
Pros
Won't burn your hands
Two different temperature settings
Faster than boiling water
Keeps warm function means it won't turn off when it reaches desired temperature
Cons
Needs a power outlet to work
Doesn't turn off by itself
No power stitch (have to unplug it from the wall to turn it off)
This compact baby bottle warmer not only warms both formula and breastmilk but also sterilizes. Having a sterilizer can be very convenient when you are traveling as you never know when you will drop a bottle when out and about.
Dr. Brown's Insta-Feed Bottle Warmer fits most branded bottles and includes a measuring cup and adapter rings to ensure your bottle is secured. It also has a lift-out basket so you don't have to burn your fingers retrieving any small items you need to clean.
Another thing that makes this bottle warmer stand out is its speed. It claims to be able to warm a bottle in just 90 seconds. While that may be pushing it a little bit, even 2 mins is better than the previous bottle warmers on this list.
Pros
Very quick (down to 90 seconds to warm)
Includes a sterilizer
Fits many different bottles
Cons
Can sometimes get too hot
Needs a power outlet to work
No temperature control buttons – a few steps are involved to figure out the amount of water needed for the correct temperature
Best for Formula: Bololo Portable (formula only)
This battery-powered bottle warmer is a great option if you want to make formula on the go as you only require a power outlet to charge it every 7 feeds or so. Even then, it only takes 1-2 hours to fully charge.
Bololo Portable heats water in around 5 mins and has a temperature display on the outside so you can get a precise temperature without having to guess.
The inside is also made from stainless steel rather than plastic so you won't have any problems cleaning but some people have said that the plastic lid still gives off chemical smells in the beginning.
Pros
Battery-powered and fast charging
Temperature display shows degrees of contents
Can warm around 7 times on a single charge
Cons
Not for breastmilk
Only holds 10oz
Quite heavy
---
If you're looking for one machine that will do it all and you're not worried about space or weight, this is a great choice.
The Grownsy 8-in-1 has so many functions and settings that you can really get precise with what you want to warm and to what temperature.
Taking around 5-6 minutes to warm a bottle, it sits in the middle of the range when it comes to speed but the size is undoubtedly a lot bigger than the others on this list.
Pros
Has serializer
Precise temperature controls
Can warm two things at once
Cons
Very bulky
Pricey
Too many settings can be a little confusing