I must say I stumbled upon Pikler Triangle by accident, but I was hooked immediately. It's a climbing frame for small children – kids love it!
If you ever joined any Facebook groups for parents of toddlers or especially about Montessori or Waldorf parenting you probably have seen many threads about it. It's also one of the best gifts for baby's first birthday for sure!
What Is a Pikler Triangle?
The Pikler Triangle was developed by Hungarian pediatrician Dr. Emmi Pikler over 100 years ago. She believed kids should explore the pikler triangle on their own terms. If they can climb it, they should be able to do so freely.
It can be used for children as young as 6 months to approx. 5 years old. The Pikler Triangle allows children to learn their own boundaries during their own time.
The point of the triangle is that it doesn't need to be adjusted as your child grows because it works as the foundation on which they reach developmental milestones.
For example, babies can first play underneath it. Once their ready they can use it to pull themselves up, then proceed to climb the structure. They can use their imagination and learn new skills.
The truth is, even though it's often associated with Montessori learning it has nothing to do with it. Many classify the pikler triangle as a Waldorf toy as it's an eco-friendly, organic and open-ended toy, but it wasn't invented by either Rudolf Steiner or Maria Montessori.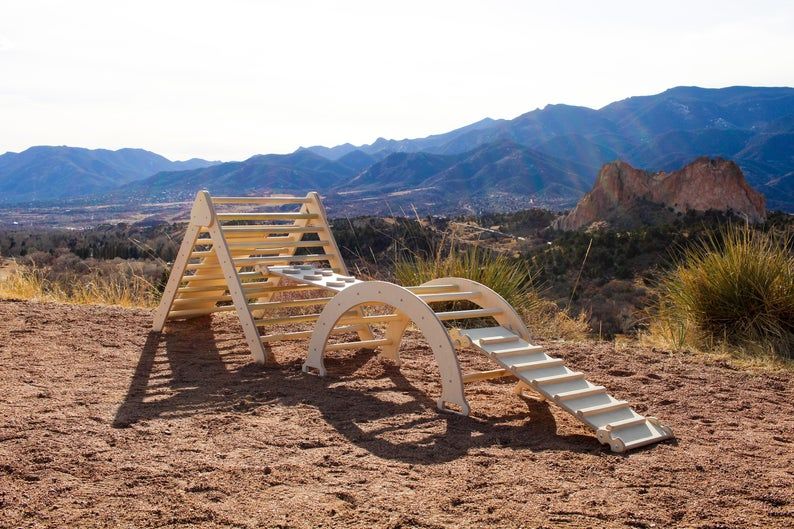 Benefits of Pikler Triangle
Provides hours of entertainment
Develops gross motor skills
Teaches creativity offering open-ended play
Encourages self-confidence
Builds concentration
---
Where to Buy Pikler Triangle?
Pikler triangle has been around for decades, but only recently they gained enormous online fame.
Everyone is confused about where to buy a pikler triangle and what kind of pikler triangle to buy. I totally get it, I was there too.
I've done extensive research on the best pikler triangles out there, only to discover that most of them are produced in Europe. There are a few American producers, but the prices they charge for it are absolutely ridiculous.
If you're from Europe – that's good news for you, but if you're not you have three options: either import it from Europe, overpay for US-based companies, or build a pikler triangle yourself.
Believe me when I say that prices of US-based companies are incredibly high. Many would love to support a local business, but most simply cannot afford it.
I actually have my own Montessori/Waldorf kids store, so I know exactly how much does it cost to make everything.
---
Best Pikler Triangle Models
Pikler triangle isn't something you can buy anywhere or for cheap like at IKEA. While I love Ikea hacks (especially Duktig Kitchen, KURA Bed and LATT Table), pikler triangle isn't sold at IKEA for a good reason. To make it safe, it cannot be made too cheaply.
That said, I yet to see one under $190. Especially knowing how much it costs to manufacture it well, it's just not possible.
IMPORTANT: Don't get scared if you see a pikler triangle being called climbing triangle on Etsy. It's the same exact thing.
The truth is that somebody trademarked the name "pikler triangle" when they became popular and sent everyone a request to pay for using it or change the name (I was selling piklers back then, that's how I know).
Etsy and Amazon were forced to remove all listings that were reported by this person, so that's why everything is called climbing triangle now. The same thing happened with Tumi Ishi stones – you can only find them under "stacking stones" unless the seller paid for using the name.
Where to Buy Pikler Triangle?
I'm not the biggest fan of Lily & River even though they're extremely popular in the US. While the quality is great, their piklers are quite short and many parents regret not getting a higher one.
Also, beware of EtteTette – while it's convertible it's actually tiny. Same goes for SproutKids – I LOVE their weaning table and learning tower, but their piklers are teeny tiny.
Got a few questions about those from the website called "MontessoriClimber(dot)com" and if you look carefully it says their distribution center is in PA, so many thing it's made in the USA. It's not. They're actually dropshipping (dropshipping is when you order and then the company places an order from elsewhere to be shipped to you directly) from Wood and Hearts in Ukraine. In fact, this other company on Amazon does it too, they didn't even bother changing the photo.
Pikler Triangles on Amazon
I get a lot of questions about piklers available on Amazon and whether you should buy it (because we all know it can be cheaper with quick delivery).
China basically took over the market for climbing triangles in the US, which is pretty interesting considering a year ago they had no idea how to even make a pikler and what does it do. Many of the same exact products are being sold by different sellers on Amazon, it's a standard procedure.
Which makes it pretty hard for a consumer, because as a former Amazon seller I can tell you that bullying from big Chinese manufacturers happens a lot and they can send a bunch of bad reviews your way and score a bunch of good ones for them fairly easily. Unfortunately.
A perfect example is this rocker which is actually very unsafe from a manufacturing point (again, saying this as a former seller and I actually received a sample from this factory and returned it), yet only a few reviews say it's bad.
The only one that I found relatively good on amazon is a climbing triangle from Costzon if you buy it unpainted. Full disclosure: it's not the best wood quality, screws are also cheap, but it can do its job if you're on the budget.

---
How Tall Should Pikler Triangle Be?
Pikler triangle is something that should last your child for many years – pay attention to the height of the triangle.
If you're dealing with a very active baby you might not want to buy a very tall triangle at first, but unless you have limited space and money for a new one when they grow up, don't do it.
I would recommend getting a pikler triangle that's at least 31 inches (80 cm) tall, but ideally taller. I wouldn't buy a small pikler – anything smaller than 32″.
It might be scarier for a parent when the child is under a year or still wobbly, but then I know it will be used for a years. Piklers aren't cheap so you should get years of play out of it
My child was only 16 months old when he was already not interested in climbing things that are smaller than him, so if I had a small pikler that's only 24″ high he would not use it anymore.
---
What to Pay Attention to When Buying a Pikler Triangle:
These days many triangles aren't as simple as Dr Pikler designed them to be. You can get different heights, different structures, it can even be transformable.
Every parent buys a ladder/slide ramp for it as well. You can even buy a pikler-inspired wooden gym!
There's nothing wrong with that, all of these products are amazing and your kid will enjoy it. Just keep in mind that the original purpose of pikler triangle was to keep it simple.
In fact, if you want to use your pikler as a fort and little tent, get Sarah's Silks. They're absolutely amazing.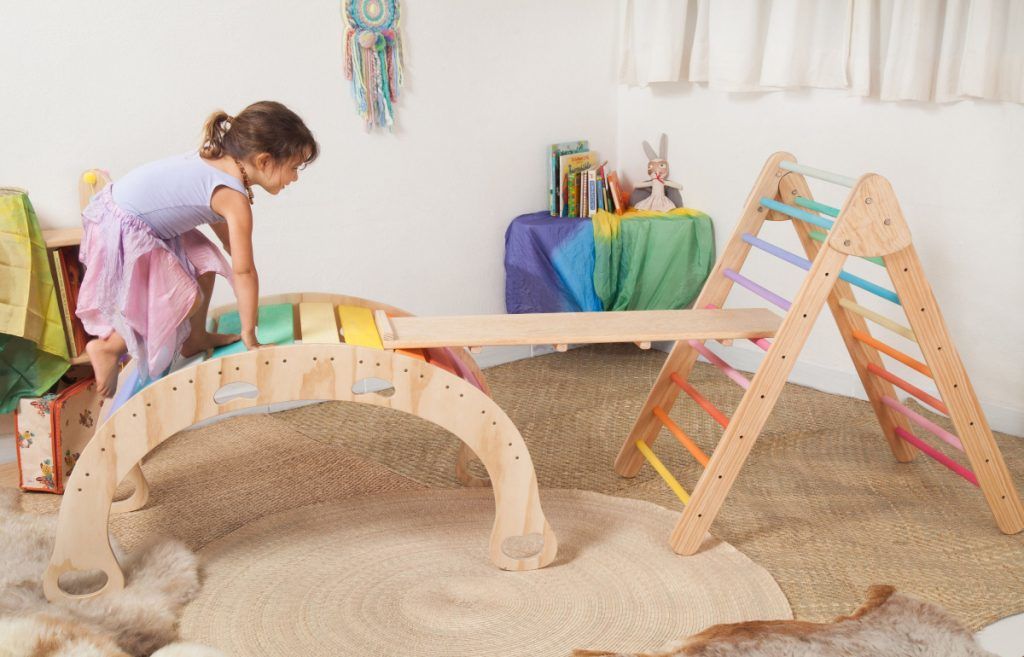 ---
Is Pikler Triangle Safe?
Yes, it is. While Dr Pikler encouraged parents to let kids climb independently, it doesn't mean without supervision. Don't hover over your bub, but stay close.
That said, don't ever put it in your child's bedroom. It should stay in the common area where you can see your little one playing.
There are no safety regulations for piklers since they are not in any way tested for structural integrity or safety standards.
Were there any accidents associated with pikler triangles? Probably, but such as the case with anything else. My bub keeps falling off things constantly, including sofas or his own soft chair.
It doesn't mean I'll get rid of my sofa until he stops falling. Most kids will be careful.
If you think about it, playgrounds are much more dangerous as kids can fall from literally anything there and they've been around for years and decades. And nobody wears helmets at the playground 😉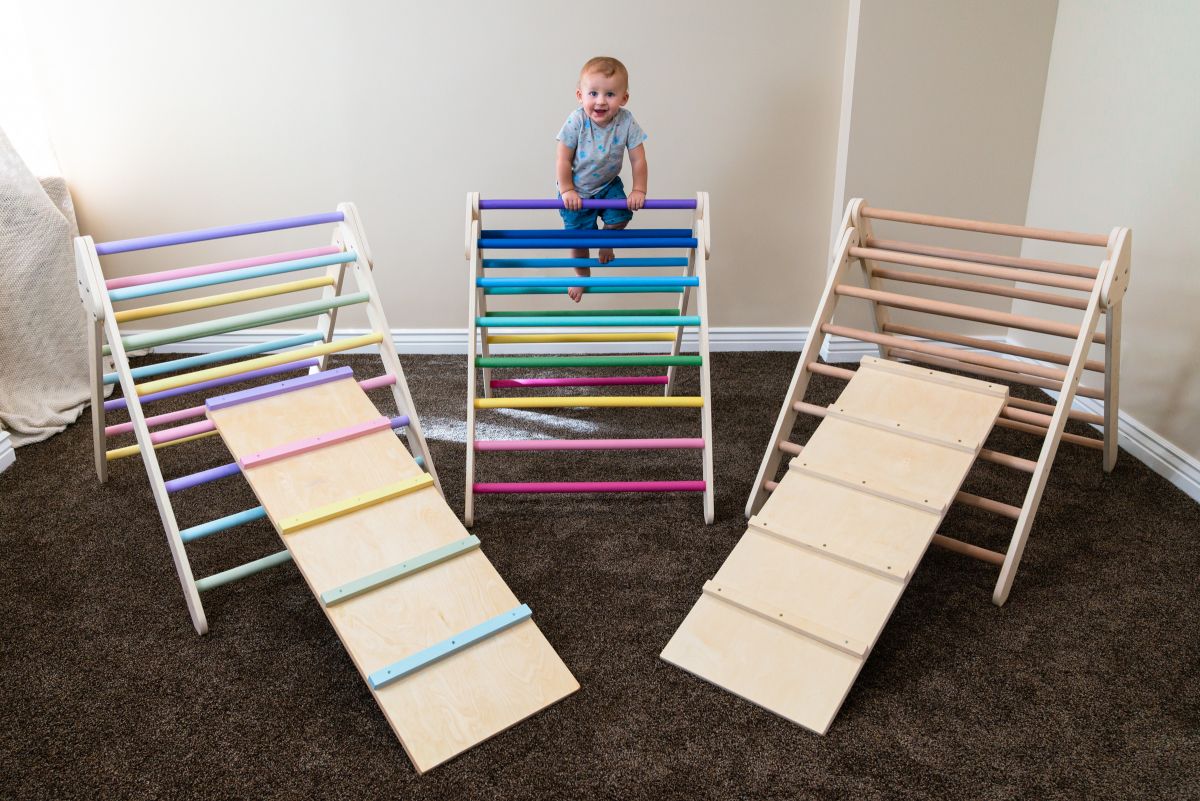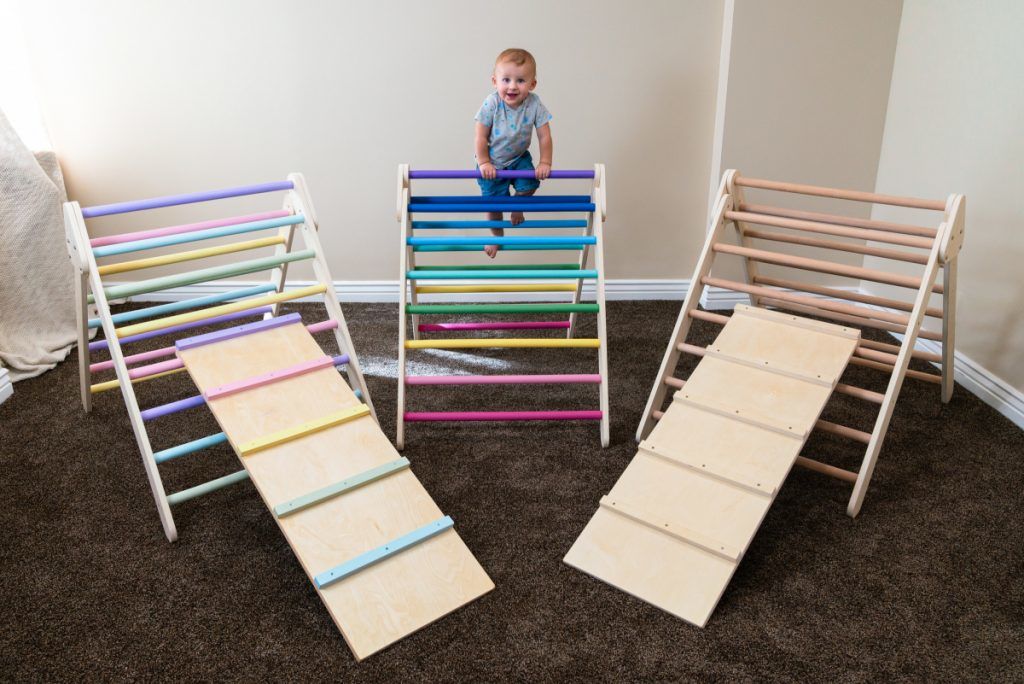 ---
Pikler Triangle vs Rocker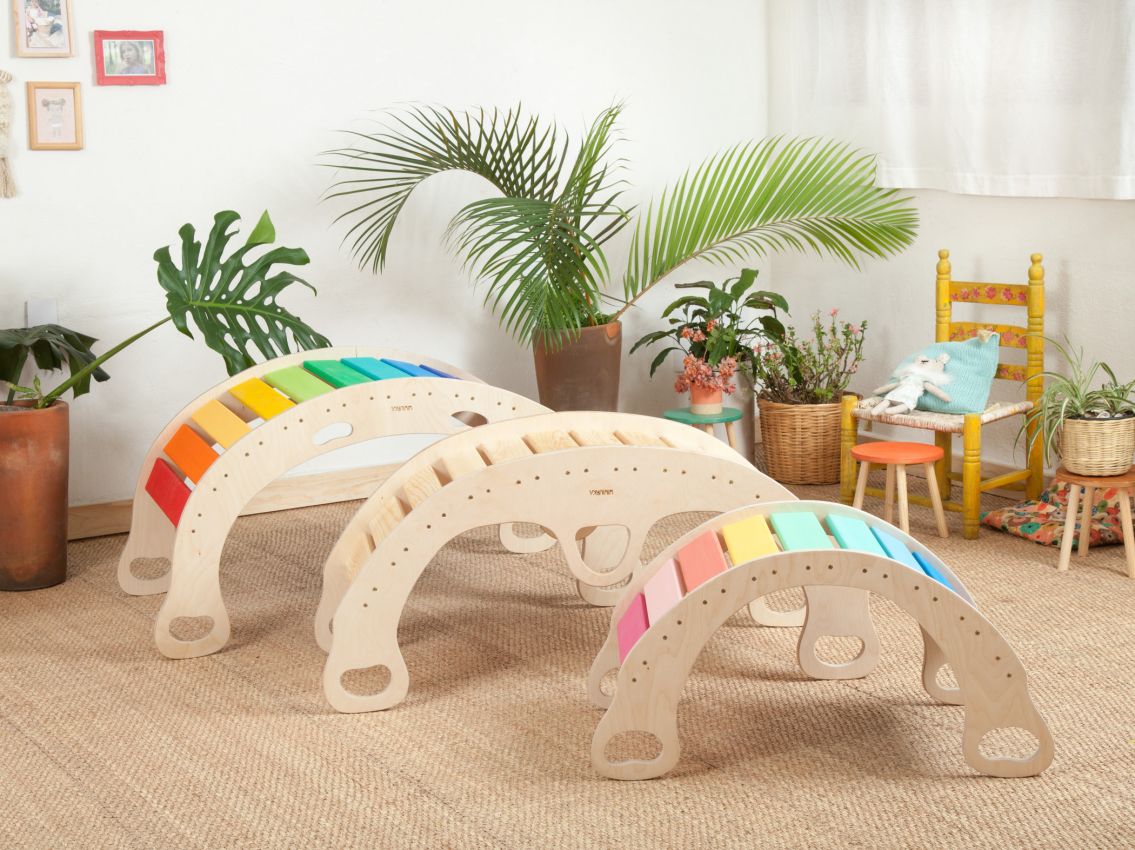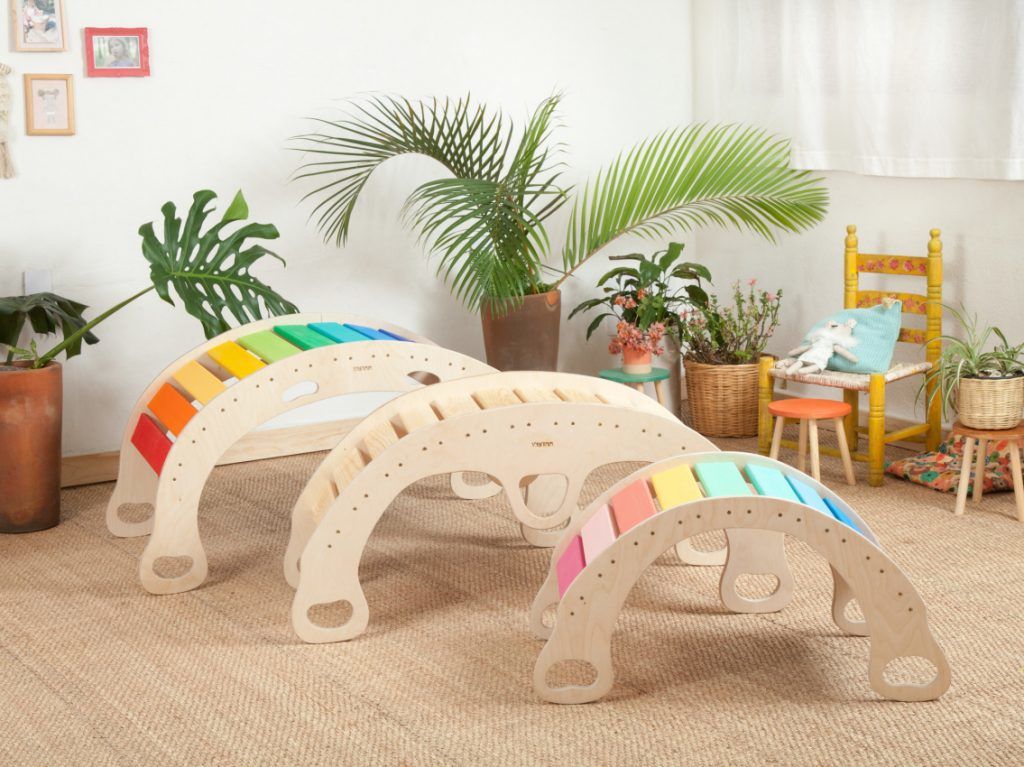 Should I buy a pikler triangle or a rocker is one of the most common questions asked by parents (on top of the Nugget Couch, but they're not easy to get!).
One can say you should get both and I agree with it, but not everyone can afford it (they're not cheap items) or have space for both items.
I don't think one is better than another per se – it all depends on your child and you, as a parent, know him or her best.
If yes, they'll love a pikler triangle. Rockers is fantastic for imagination as it can be used as a shop, to hide and so on.
Do you have space for something as big as a rocker?
Triangles can be folded when not in use, but the rocker cannot be and will take a significant portion of your living room or even a storage room.
How old is your little one?
Many parents claim rocker is better for older kids and they get longer usage from it. I say it depends on your child. My own kiddo couldn't care less for a rocker so I ended up selling it, but he enjoyed his pikler. My friend's kid was the opposite, so if you have an opportunity to test it at friend's house I'd say do it.
Where to Buy a Rocker?
Wiwiurka is definitely leading the market in the rocker department. They're colorful and offer different sizes.
There's also a great Etsy store called KateHaa – many friends recommend their rockers. However, their ramp will not work with piklers because it's curved.
P.S. There are many on the market, but pay attention to the spacing between slats – if they're too spaced out (and many new Etsy sellers make it that way) it's not very safe for the little hands and feet as they might get stuck.
---
Do you have any questions or doubts about a pikler triangle? If so, let me know in the comments below!