If you have a toddler and haven't heard of the Nugget yet, you must have been living under a rock. It's one of THE most-wanted toys and even big companies like Sam's Club created their own versions of it.
Unsurprisingly a small company that funded the Nugget Couch through Kickstarter back in 2015 became one of the fastest-growing in the USA over the last couple of years.
This post is NOT sponsored by Nugget in any way. I bought 3 of my own Nugget Comfort Couches and quite frankly just ordered another one.
---
The Nugget Comfort Review
Quite frankly when I first heard about it my first thought was: "Seriously? It's just a piece of foam. Why do I need this?".
But, as I kept hearing about it over and over from every single mom on Facebook I decided to give it a try. I'm glad I did as I totally see why the Nugget kids sofa gets all the attention.
What's the Nugget?
The Nugget Comfort is best described as "part-furniture and part-toy". It's basically a play couch made up of four foam pieces: base, cushion, and two triangle pillows.
The design is simple and hasn't changed for years. It's made of simple foam with a washable microsuede fabric cover available in different colors – many of which are limited edition and only sold temporarily.
It can be used as a couch for kids as it sits on the floor, but it's best used for building forts, slides, tents and tunnels. I'm not surprised why many parents say it's the best toy ever – my kid jumped on it immediately and he's not even 2!
The no-assembly required Nugget is delivered in a bright orange vacuum-sealed 15x15x34 inch box. The covers are super easy to remove and put back on when you need to wash them.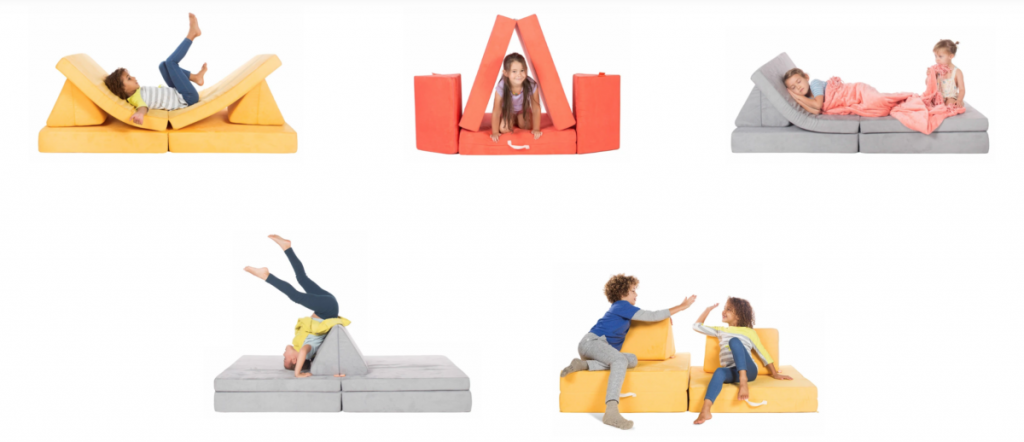 ---
What I Love About the Nugget
The best part of the Nugget are endless possibilities! It can grow with the kids (I remember building forts out of furniture myself still halfway through primary school) and there are many alternative ways to use it.
It's not too flashy like most kids' furniture or toys (it can even come in black!), so it can easily be mistaken for an adult lounger.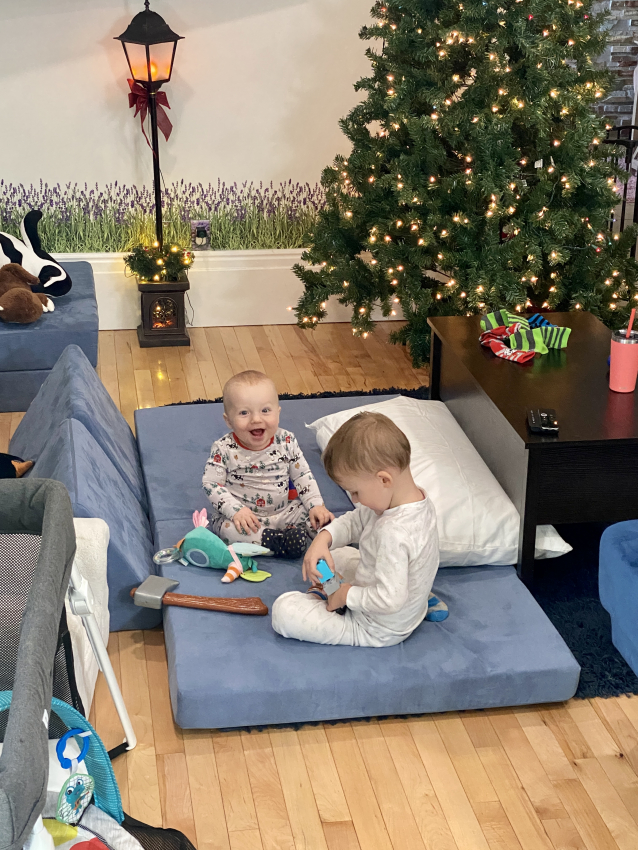 ---
Is the Nugget Perfect? What You Might Not Love
I'm not going to lie to you – the Nugget is definitely not a perfect product.
Microsuede material used for the cover is usually made of polyester which some families aren't comfortable with for their children.
While it's non-toxic, pet hair sticks to it easily so if you have a hairy cat or dog keep this in mind.
The cover isn't waterproof so any spills (because it's kids obviously!) require undressing your Nugget and washing it relatively quickly.
The insides are made of Polyurethane foam that normally does emit toxic fumes or VOC's (volatile organic compounds), but the Nugget is CertiPUR-US certified which means the emission is extremely low and could be classified as non-toxic.
Also, while the Nugget is a US company based out of North Carolina, not all materials are made in the US. The fabric for covers is sourced from China and El Salvador, and while there's nothing wrong with it (99% of products are sourced or produced elsewhere these days) some parents prefer to buy things made entirely in the US.
---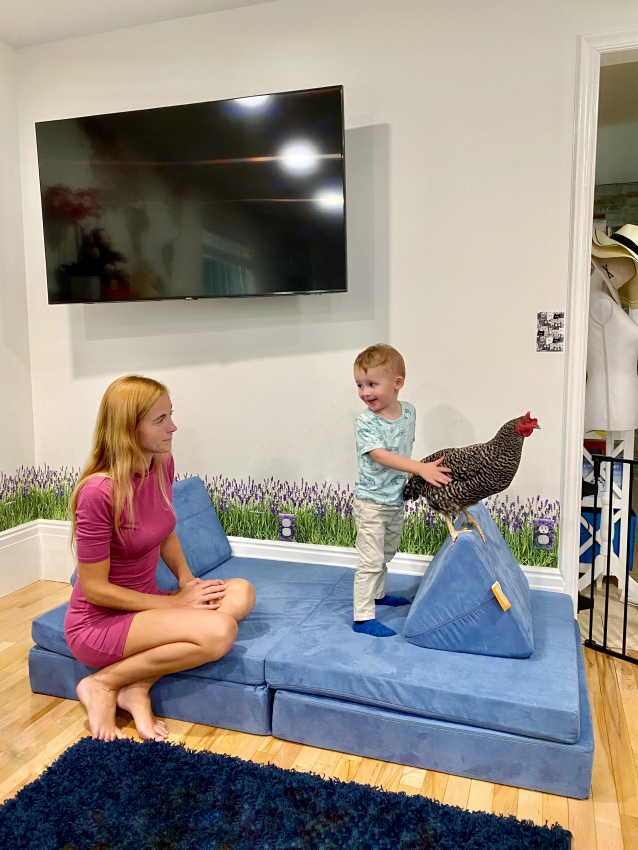 How to Buy the Nugget Couch? (+ how to score one!)
The price of a Nugget is $229 ($249 for an upgraded material). They have released one model so far with an upgraded fabric that was $259. Extra covers retail for $99 each. All products include free shipping within the US.
Nuggets are NEVER on sale and if you look at eBay or Facebook Marketplace you'll notice them being sold for even $600-900. Why?
Because due to its popularity, it's EXTREMELY HARD to buy the Nugget. You cannot just order one whenever you want. The company is trying to build a new factory to meet the demand, but at the moment they're doing only preorders so you have to wait for your Nugget a few months.
Although earlier they did random restocks when all the Nuggets disappear within the first 5 minutes. Not surprisingly – last time over 90,000 people tried to buy their dream couch.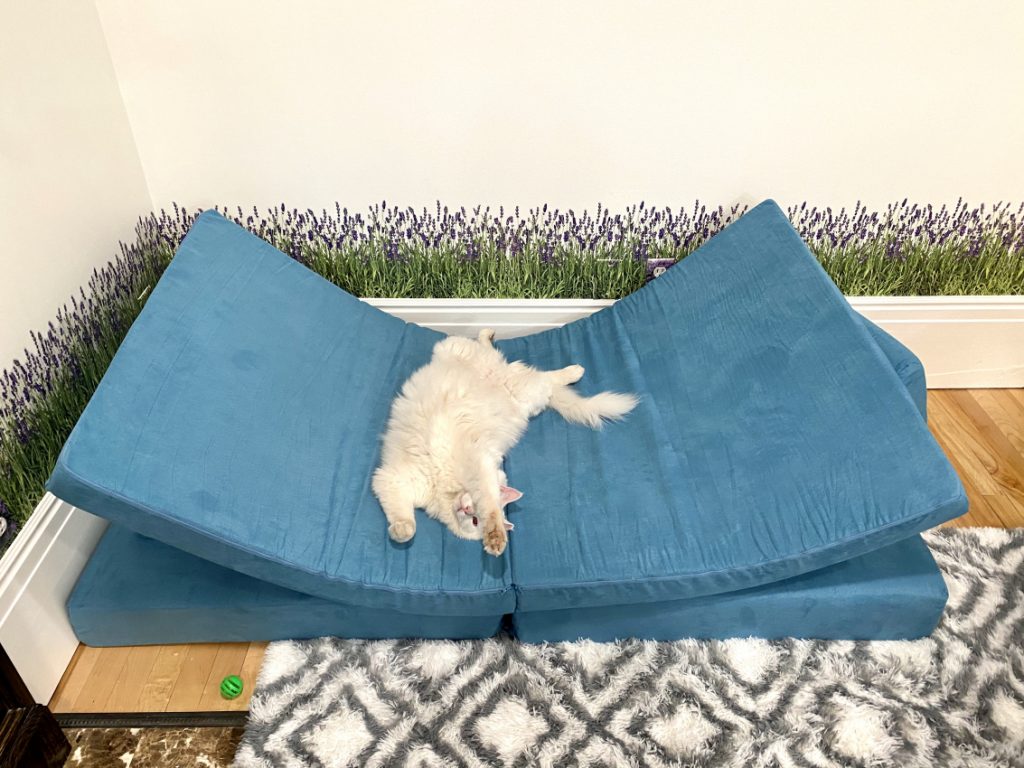 ---
---
Alternative Way to Use the Nugget Couch
If your bub isn't a toddler yet, it doesn't mean buying a Nugget now makes no sense. Quite the opposite! Nugget is great for some tummy time as it's soft enough for a baby.
The Nugget was actually originally created for the college market to replace bulky, wasteful, and easily breakable cheap futons. It can surely be used as a couch for sleeping and stored easily when not in use.
Many families reported they use their Nuggets for camping in RV. It's small enough that can be used for seating or sleeping, even outside as the cover is fully washable.
I must admit that I used the Nugget myself to chill on when my kid wasn't using it. If you have a small sofa and guests come over for a movie, simply pull out the Nugget and you're all set!
---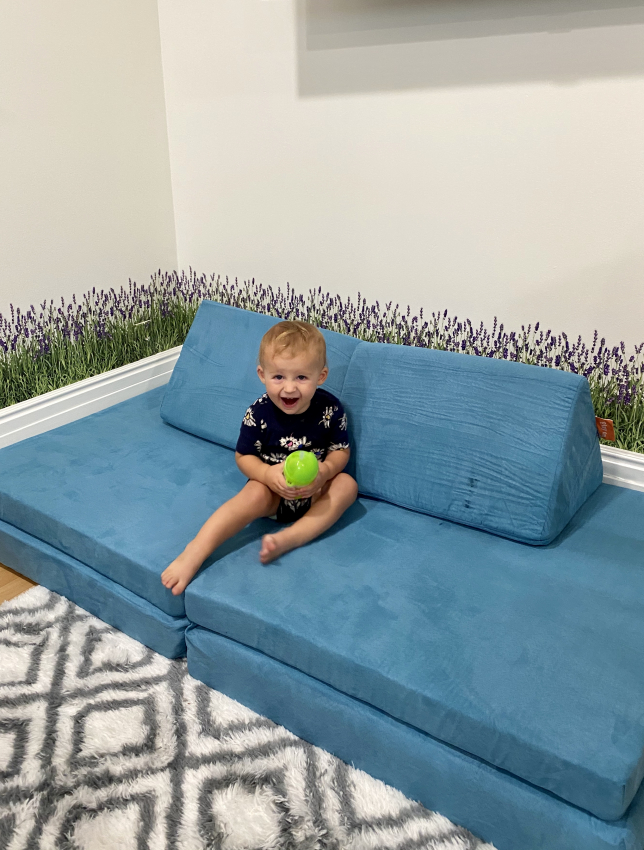 ---
---
Best Nugget Couch Alternatives
If you don't manage to get a Nugget Comfort Kids Play Sofa, it sucks, but you can look into pikler triangles – another climbing structure. Pikler triangle and Nugget are great together, so it's definitely not a waste!
There are many Nugget Couch know-offs out there (for example just take a look at Amazon here), but the main competitor is the Foamnasium Blocksy.
Whatever you do, stay away from the Sam's Club version of the Nugget Couch. The quality is simply not there.
Is Foamnasium better than the Nugget? Not really, it's pretty similar but the main difference is the material and the Foamnasium Blocksy is slightly longer. Personally, I'm not a fan of Blocksy's material.
Foamnasium also come in different shapes, so if you simply want a climbing structure it might be an option.
The Foamnasium Blocksy cover is made of vinyl, while the Nugget cover is made of microsuede. Vinyl might seem better as it's easier to clean, but it's really not very pleasant.
I think a much better alternative than the Foamnasium is a modular loveseat. It's soft and forts can easily be made of it.
I actually found the best alternative to Nugget, even though I'm very happy with the original Nugger obviously.
1 – Dundy playcouch is a Mexican company that makes things IDENTICAL to Nuggets that's actually cheaper if you buy two (as many people want two Nuggets) and you can just buy it whenever you please.
2 – Another option is Shenanigans Kids. It's similar and of good quality.
Any questions? Feel free to ask me in the comments below!