Little kids love bags and put things inside them and pretend to be an adult. In fact, my kids started wanting their own bag as young as one! Toddler backpacks are a great idea for so many reasons. It feeds into the child's need to be like an adult while promoting independence and a sense of ownership. It becomes an extension of the child's personal space where they can keep their own property safely.
If your child attends an activity like a tumbling class or soccer, backpacks come in handy because you can pack a change of clothes, lunch, water bottle, and snacks in it easily.
My kids think that their backpacks are a part of their everyday adventure when they travel. It's their familiar space when they travel and I have found that it has also helped inculcate responsibility. Young as they are, they have learned that if they don't put their things back in, they are probably going to lose them – a valuable lesson in my opinion.
How do you choose the perfect toddler backpack? Which one will work best for your child?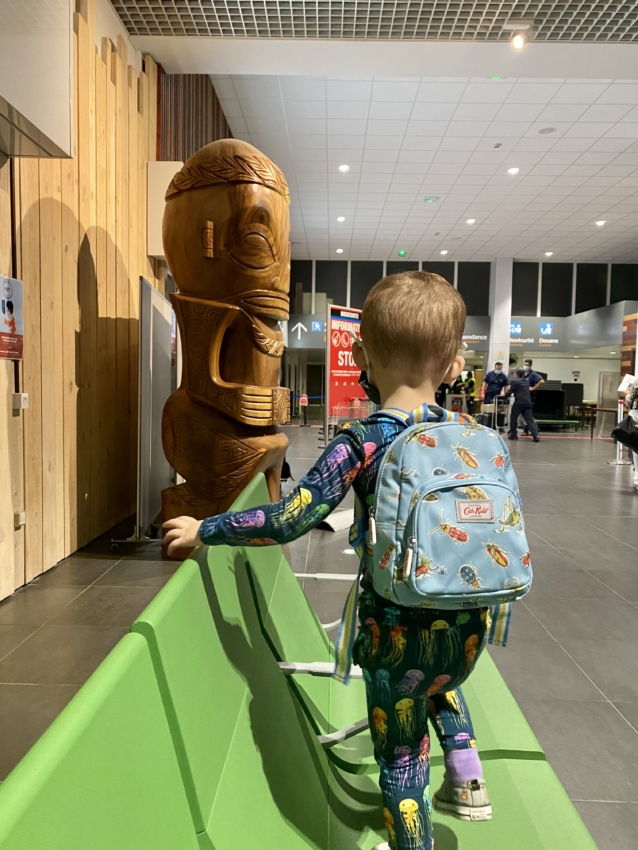 Selecting The Perfect Toddler Backpack
There are a few factors that you need to consider when selecting a toddler backpack.
Durability: You need to remember that the backpack will probably be one of the most used accessories that your child owns. That means that the bag needs to be durable. The first time I bought a backpack, I went for cuteness and within three months the straps started giving way. Despite mending it myself, we ended up searching for a replacement in under six months which was a waste of money.
Size: Toddler backpacks come in a variety of sizes. Make sure that the size that you choose is appropriate for the height of your child. My advice is to go with small and light backpacks that are easy for a child to carry. Bulky backpacks make it difficult for them to walk and eventually deter them from carrying their own things.
There's no need for a big-size backpack until your child starts Kindergarten, and then they might need to carry a laptop in it.
Another great tip is to check the straps. Adjustable straps mean that the backpack will grow with your child. These types of bags generally are used for longer.
Fastenings: Let's face it. The backpack is going to be used by toddlers and their motor skills are not always the best. Make sure that the fastenings of the backpack are simple and easy to use.
Best Overall Toddler Backpack: Wildkin
If you are looking for a backpack that ticks all the above points then I highly recommend looking at Wildkin. The simple design is neat, easy to use and very durable. At 12 inches, this backpack is small and I found that it is a great size for children around the age of 3-4 years.
I have always struggled with food spillage when my children took their snacks to preschool. Most of the time it is because the backpack gets tossed around. Cleaning up the spills is really messy especially if there are other things that are packed in the compartment. The WIldkin solved this issue because it has a dedicated front pouch just for your food containers.
Another great feature is the side pouch for the child's water bottle. I don't know about your kids but mine always want water somewhere in the middle of the walk. This design makes the bottle very accessible which was another win in my books.
Pros
Easy to use
Has a separate compartment for food
Outside compartment for the water bottle
Durable
Cons
Isn't very interactive
Certain preschools might not allow characters and it doesn't come in a single color
---
Best Toddler Backpack With A Chest Strap: Simple Modern
One of the things that my child has struggled with when it came to toddler backpacks is the straps. The straps would keep slipping off his shoulders and make him extremely fidgety and it was obvious that it made him uncomfortable.
If this is an issue that your child struggles with then consider getting a toddler backpack with a chest strap. My favorite design is by Simple Modern.
Another great thing about this backpack is the zippers have little tags which make it easier for toddlers to use them.
Pros
The chest strap keeps the straps from slipping
Zippers have little tags to aid in use
Comes in a variety of colors and themes
Cons
Does not fit an A4 sheet
Not very durable
---
Best Themed Toddler Backpack: Skip Hop
Themed toddler backpacks are all the rave among kids today. I have to admit that I love them too.
They are ultra cute, soft to touch, easy to use and very interactive. Skip Hop has a couple of eye-catching designs in this. With a mesh pocket for a water bottle or juice box, a front pocket for snacks, and a nice central compartment for preschool supplies, I find this one of the best toddler backpacks on the market. The kids love them too.
Pros
Cute designs
Separate compartment for snacks
Smaller & better for younger toddlers
Cons
Does not fit a standard-sized folder
Has a name tag on the outside of the bag which is not advisable since other people can read your child's name and call out to them
---
Best Waterproof Toddler Backpack: KK Crafts
Waterproof toddler backpacks are a great idea especially if you live in a place where it rains frequently. Cloth bags soak up the water quickly and it damages the things inside.
KK Crafts has some great options when it comes to waterproof backpacks. The backpacks are bright, colorful, light, easy to use and designed to look like animals. They are very popular among toddlers and I know a lot of kids who carry this brand to the preschool where my kids head to.
Pros
Made of environmentally friendly soft material
Water-resistant
Cons
Small so may not be great for bigger kids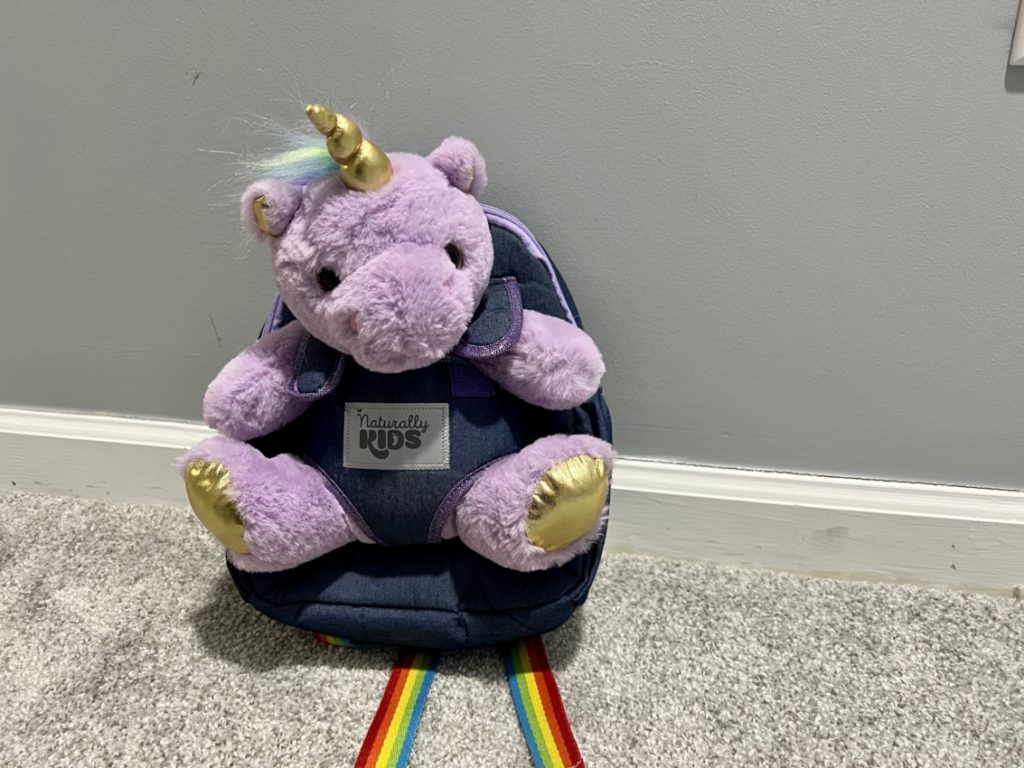 Best Toddler Backpack With Stuffed Toy: Naturally Kids
I love toddler backpacks that come with a stuffed toy. It ensures that the animal is safely strapped in a backpack, but without sacrificing the space inside.
The kids know that the stuffed toy is part of the backpack and put it back when they are done so there is a lesser likelihood of losing it too. It is also highly visual so you know if it is missing the moment you pick them up!
For older kids needing a bigger backpack to fit A4-sized paperwork, there's also a bigger version that can be carried like a backpack or rolled with a handle and wheels.
Pros
Available with different types of plushies
Highly engaging
Unisex designs
Cons
Doesn't have zip-up pockets inside
Best Insulated Toddler Backpack: Bentgo Kids
Worried about your child's food not remaining at the right temperature? That was one of my concerns when I started packing snacks and lunches for my kids. The fluctuations in temperature can cause food to get spoilt. Children can't tell the difference and are more likely to consume the food irrespective which could result in a sick child.
Insulated lunch boxes are great, but if it's really hot outside they might not work 100% if not helped by an insulated backpack as well. I learned this the hard way when my kids were in a wild school in Mexico. One of my favorite designs is by Bentgo Kids.
Larger than most of the other backpacks on this list, the Bentgo kids keeps lunches cool and have a compartment that fits average-sized stationary. This makes it a perfect backpack if you are looking at investing in something that the child will use for a long time starting from Kindergarten.
Pros
Light and durable
Easy to clean
Keeps food cool
Fits all kinds of stationery
Comes with a Bentgo lunch box
Cons
The toddler may not be able to zip and unzip the Bentgo section of the box easily.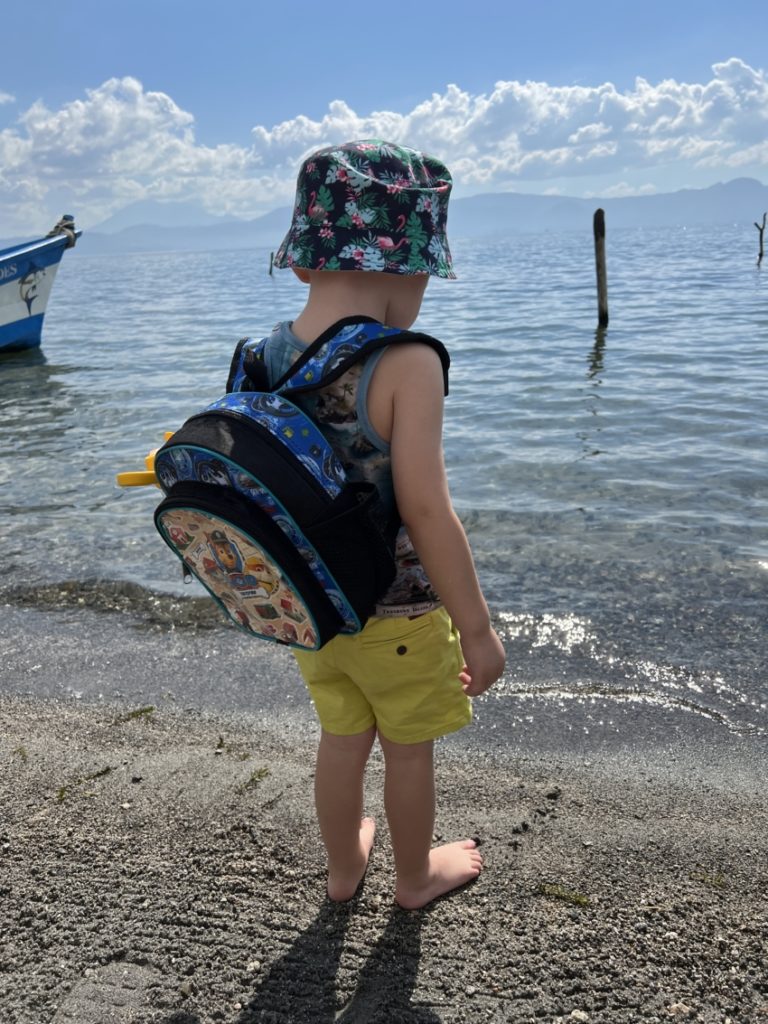 ---
Paw Patrol is one of the biggest shows for little kids. Almost every kid I know has something with the pups on it, so it doesn't come as a surprise that Paw patrol themed bags are in high demand.
One great backpack to look at comes straight from the Paw Patrol store and unlike some other ones, it's not too obnoxious. It has mesh pockets for both a water bottle and a juice box, a separate compartment for food or toys, and a very roomy main compartment.
Pros
Easy to clean
Great for kids who love Paw Patrol
Cons
Not very durable
On the smaller side – better for toddlers than older kids
Best Multipurpose Toddler Backpack: Posh Peanut
I love the Posh Peanut brand for their bamboo clothes, but their toddler backpacks are very multifunctional. The pockets are roomy enough to accommodate whatever supplies your child wants to put in.
The backpacks are generally larger and are designed to hold all the stationary that the toddler would need in preschool and school. This backpack is designed to grow with the child. The straps are adjustable and padded for extra comfort.
The large size also makes it a great backpack for any purpose like traveling, picnics, sleepovers, or even kindergarten.
Pros
Large enough to accommodate supplies for school
Adjustable straps
Durable
Cons
Small children may find it too big
Best Glow In The Dark Toddler Backpack: Pottery Barn
Glow in the dark toddler backpacks are a cool twist on regular backpacks and Pottery Barn has a great selection of them.
The kids are not going to see the glow-in-the-dark effect during the day but they love drawing the curtains at home and watching the bags light up. It's also a great bag to take when you are out at night so the child can be spotted easily.
Two additional great features are that the bag is waterproof and is made from recycled plastic which is more environmentally friendly.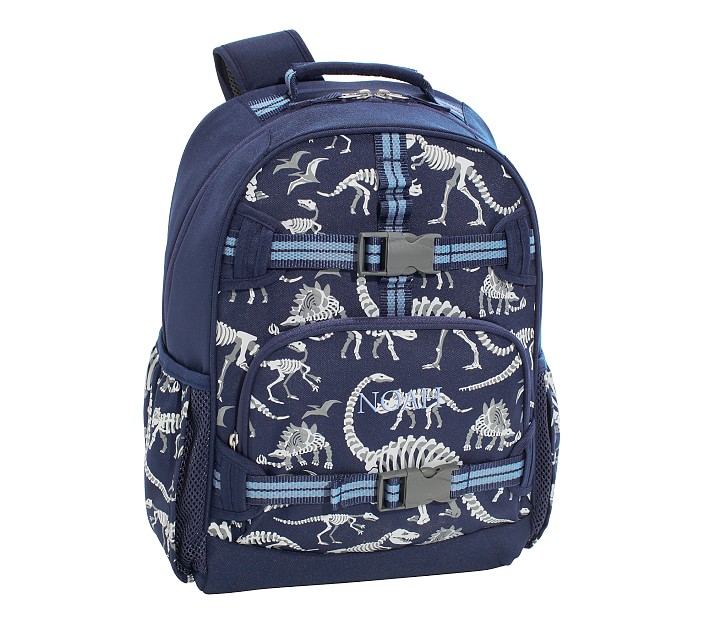 Pros
Durable
Environmental friendly
Water-resistant
Comes in a variety of sizes
Cons
The personalized version has a monogram on the front of the backpack
Toddlers can't see the glow-in-the-dark effect during the day
---
Frequently Asked Questions
What size backpack does a toddler need?
A backpack should be small and light. Ideally, the backpack should measure less than the shoulder blades of the child. This would ensure that the shoulder straps fit securely on the child's shoulders.
Why is it important to choose the right-sized backpack?
Badly chosen backpacks usually result in discomfort. If a child carries an extra large backpack over a period of time, he or she will start complaining of back pain. A correctly chosen backpack will encourage a child to stand up erect and maintain a good posture too.
Does a child need a backpack for preschool?
I highly recommend sending a child with a backpack to preschool. It's easier for a child when compared to carrying a bag in their hand. It also fosters a great deal of independence and follows the Montessori principles of keeping everything accessible.
How do I select a backpack for toddlers?
When selecting a backpack keep in mind durability, size and fastenings. Also consider your child's preferences when it comes to choosing color and theme. There are loads of cool toddler backpacks that fit both your requirements and the child's preferences. It's all about narrowing down based on need.
What should I pack in a backpack for preschool?
I usually pack snacks, a couple of items of stationary, a change of clothes in case of an accident and a water bottle. My kids like to take a picture book along too. Every parent however has a different strategy when it comes to packing their kids' bags for preschool. My suggestion is to take a look at what they need and pack accordingly. Kids will also tell you what they want to take. You can incorporate their suggestions too.
Should I label my toddler's backpack?
Labeling a toddler's backpack should be done with care. Many backpacks come with name tags that are visible to people around. Others come with personalized monograms on the front. You should avoid these at all costs. Anyone can read your child's name and call out as they know them – it's simply for safety precautions.
Labeling your toddler's backpack is however great. It ensures that the backpack does not get lost. The best way to do this is to make a label for the inner lining of the bag. This way the label is not visible to everyone.