Paw patrol is a hit and it is not a surprise! Most kids love vehicles and puppies. A Paw Patrol gift cannot disappoint a child!
Paw patrol combines them both and it makes the perfect gift for kids ranging between 2-7 years (and sometimes older!). These are the ultimate PAW Patrol gifts for a girl or boy — they are fun for everyone!
The PAW patrol vehicles are highly interactive and are one of the best Paw Patrol gifts on the market. This particular one features the car that Chase (a popular favorite!) uses in the movie.
There are many types of vehicles: basic, deluxe, planes, motorcycles, and dino rescue. Your child might want to have it all (like mine), but we just stick to deluxe vehicles as they provide the most fun!
In fact, we got gifted this one which looked cool but it was a total mess and definitely not worth the price. Trust me, stick with Deluxe, or if you're ready to splurge the transforming vehicle.
Many of them have projectiles that can be loaded and launched. Pups can also get in and out of the vehicle so can be played on by themselves. It's great for pretend play and provides hours of entertainment. Links below to specific pups: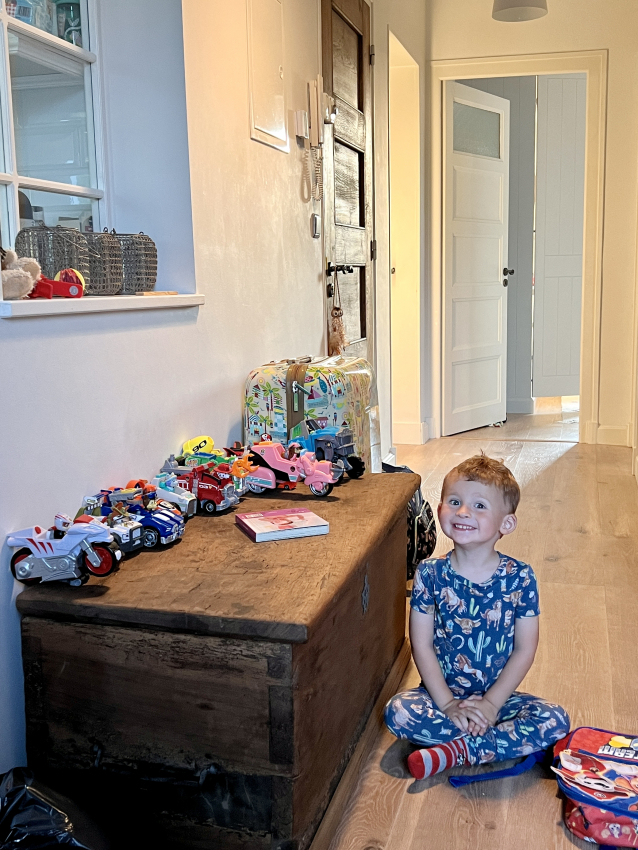 The lookout or tower is always a good idea for a little Paw Patrol fan. The original lookout tower has been sold out and it can only be bought second-hand. Currently, there's a Mighty Lookout. Both work well (ashamed to admit we own both because my kids are obsessed) alongside the movie vehicles that we talked about before.
At 3 feet tall, these playsets are highly interactive with some pups and a Chase vehicle. In addition to this, this huge playset has loads of interesting places for the child to discover and use.
If you don't mind spending a bit extra, you will find that it will keep the kids busy and entertained. My son spent 10 hours playing independently with his Mighty Tower on day one.
---
Another great gift is the PAW patrol girl pups bike. It's as interactive as it gets and it helps the child learn a new skill.
Designed for children between the age group of 2 – 5 years, the cycle comes with training wheels so it's perfect if you are trying to encourage your child to play outdoors (or even for kids who already love spending time out in the sun!).
The durable steel frame makes this a value-for-money kind of deal. It even has a quick-adjust seat that allows you to set the seat height as the child grows. 
You can also combine this gift with the Paw Patrol pad set and helmet which also features Skye!
The boy version of the Paw Patrol Bike is also available HERE.
---
The Swimways Paw Patrol life jacket is USCG approved and is ideal for children who want to learn to swim. Unlike the other products we talked about, the "puddle jumper" is used based on weight and not age.
If your child weighs between 30-50lbs or 14-35 kg you're good to go. It has a permanent built-in chest and arm flotation which improves mobility in the water.
One of the things that I loved about it, is that the back buckle is designed such that it's out of reach. This means that the kids can't remove it on their own while swimming.
---
I'm rather partial to this particular PAW patrol gift because who doesn't like playing with water on a hot summer's day? I know that I do and my kids love when I douse them down with the garden hose.
The tank on the Paw Patrol water blasters opens easily so the kids can fill it themselves and don't require adult assistance. The straps are designed to fit over the child's shoulders such that weight is distributed. It fits very much like a school backpack.
Once everything is set up, all the child has to do is pump the handle and spray everyone in the vicinity! My son loves this toy!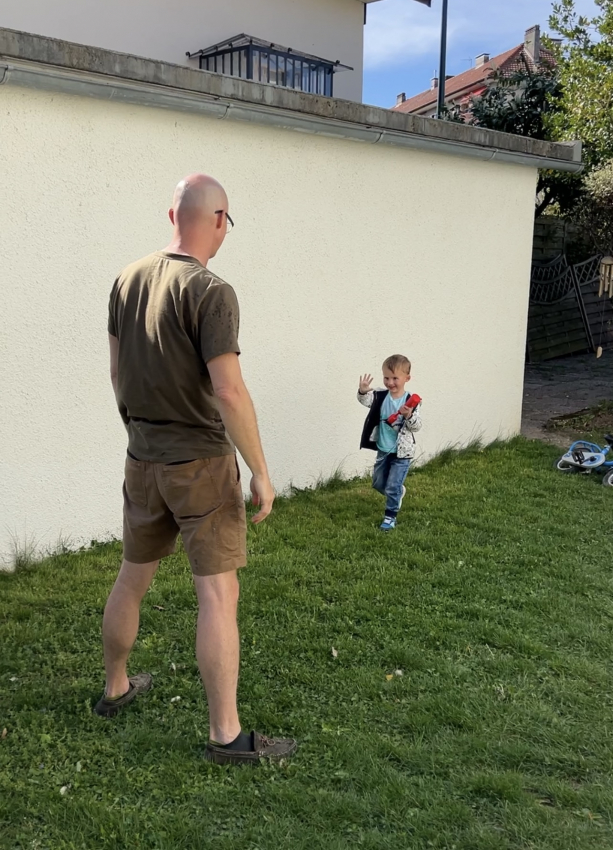 ---
Toddlers always have extremely high activity levels. I feel as if I'm in continuous motion with my two. This means that I am always on the lookout for ways for them to expend their energy.
One great way is a pogo hopper that can be used inside and outside. Trust me, this PAW patrol gift will have both the child and the parent thanking you!
Made of durable foam, My First Flybar foam pogo stick will give the child hours of healthy fun. The squeaks at the end of each jump are in place to encourage the child to use it more. You will find that it can be the source of unlimited giggles!
---
Made of polyester, extremely soft and comfortable, the PAW patrol (Chase) pillow is the perfect gift especially if you are shopping for a younger kid.
While it can be used to lounge in different parts of the house or in front of the TV, the Paw patrol pillow also works as a travel pillow.
One advantage of this pillow is that it is easy to clean ( I threw mine in the wash as well!), and we all know that cleaning toddlers' belongings can be a task!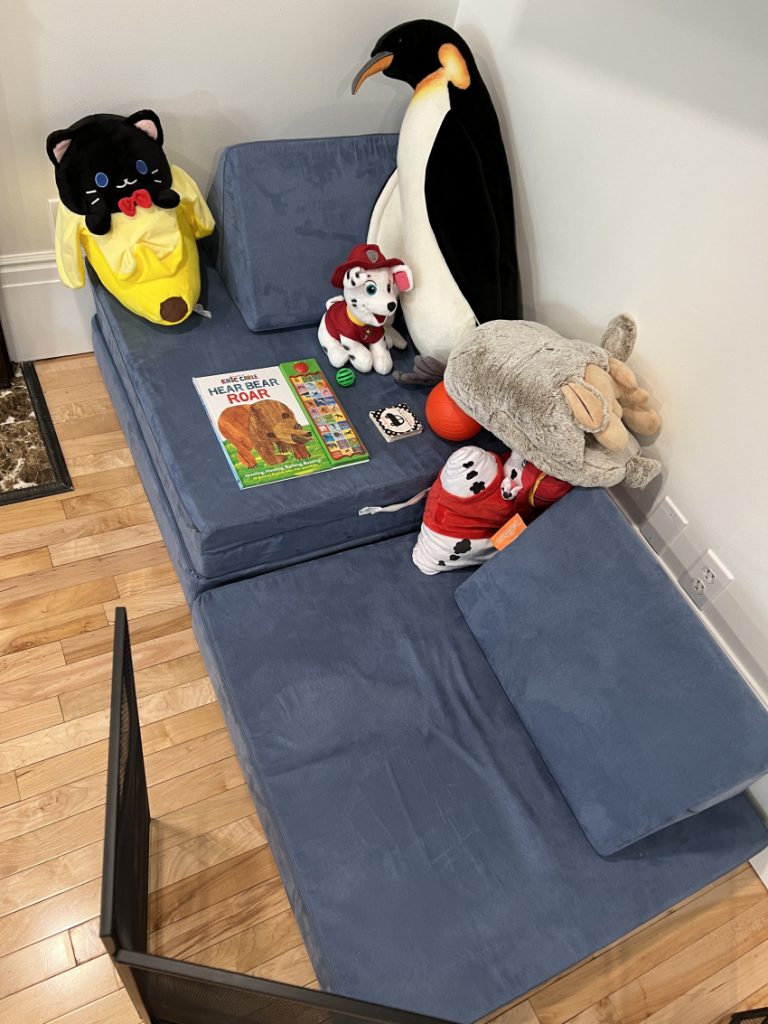 ---
The Vtech Paw Patrol watch is perfect for toddlers. It comes in three different pups. The watch is interactive and it even includes Ryder's real voice which is annoying for parents, but kids absolutely love it (speaking from experience haha!).
The watch is fully functional. This means that it has a clock, a timer, a stopwatch, and an alarm. It is geared towards teaching children to read the time and it also helps them develop a sense of punctuality. In addition to this, the watch comes with four interactive games.
One of the things that I love about the watch is that it's practical and easy to carry. In fact, it's perfect for travel since it provides hours of entertainment while simultaneously being attached to the child.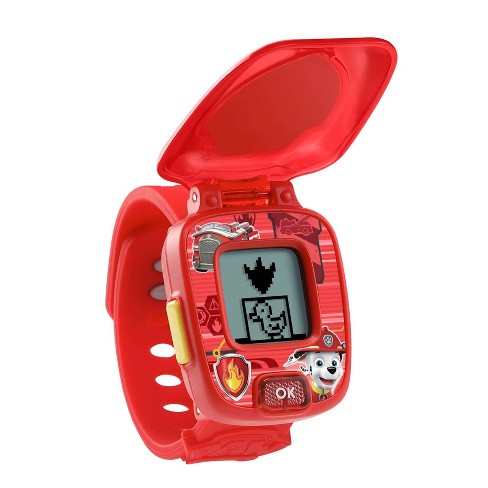 ---
Role playing forms an integral part of a toddler's psychosocial development. There are a number of different toys in the market that aid the process but I really like ones that stimulate a child's imagination.
The Paw Patrol role play set is one of the PAW patrol-themed gifts that's awesome as the child can imagine he's like Ryder and calls their pups for a mission. It has binoculars, pup treats and a pup controller. The backpack can be used on it own to store toys or lunches.
10. PAW Patrol Themed Clothes
There are numerous different types of clothes that follow the theme. You can pick up one for almost any age. My absolute favorite is the zip-up hoodies.
They are ultra-cute, super soft, and machine washable. These hoodies come in five colors: Chase, Rocky, Marshall, Rubble and Zuma.
PAW Patrol socks are perfect for any kid! My child wears them all the time… day and night long.
There are a few different styles to choose from, but we think this one is by far the best quality although it's a bummer they don't have all the pups so this one are a good alternative.
---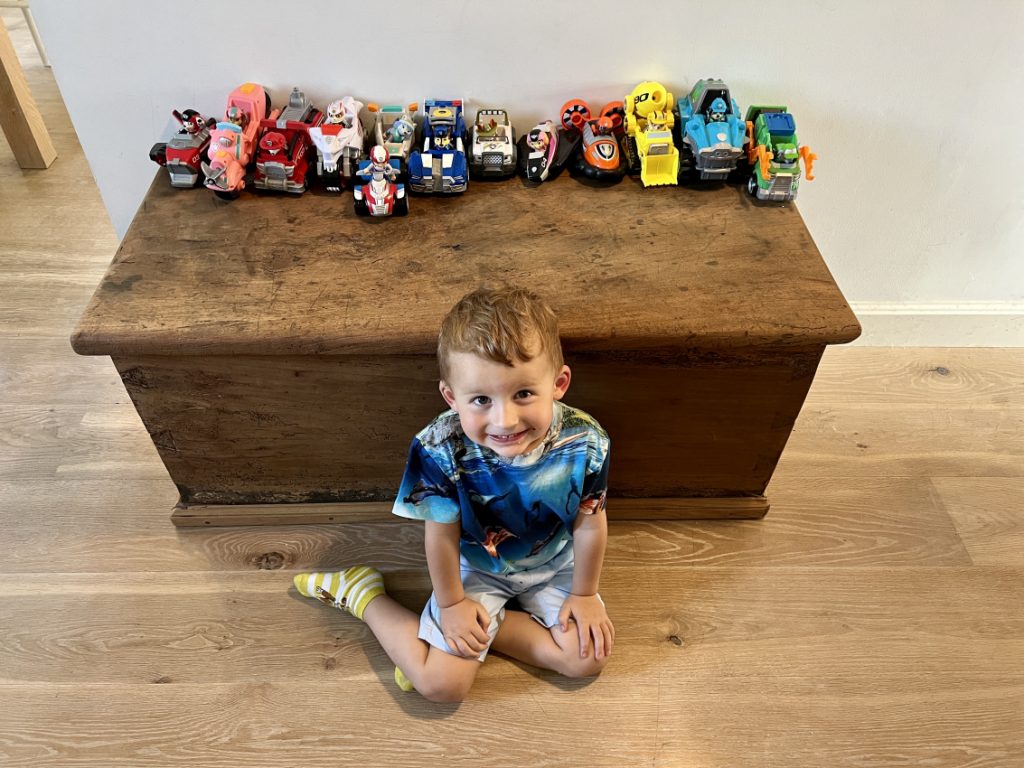 A water bottle is a practical gift for any child. My son uses his during his gymnastics classes.
There are various brands, but Zak design is the best due to the insulated cup that keeps the drink cold for longer periods of time.
---
---
PAW PATROL CHARACTERS:
Ryder: The main human character in the series and the leader of the PAW patrol troop!
Chase: The police pup.
Marshall: The dalmatian pup specialized in fire rescue.
Skye: If the team needs an aerial rescue, cockapoo Skye is who they call.
Rocky: Uses recycled items to fix things.
Rubble: The pup with a sweet tooth who handles all construction projects.
Zuma: The water rescue specialist.
Paw Patrol also added other pups to the bunch, but they live with their own humans and act like like guest stars on the show:
Everest: Another girl pup who specialized in snow rescue missions.
Tracker: Jungle pup who knows his way around the jungle and its inhabitants.
Rex: A disabled pup with wheels on his back paws who specialized.
Motocat: Confident kitty who loves motorbikes and performs stunts.
Liberty: City pup who leads the team through Adventure Town.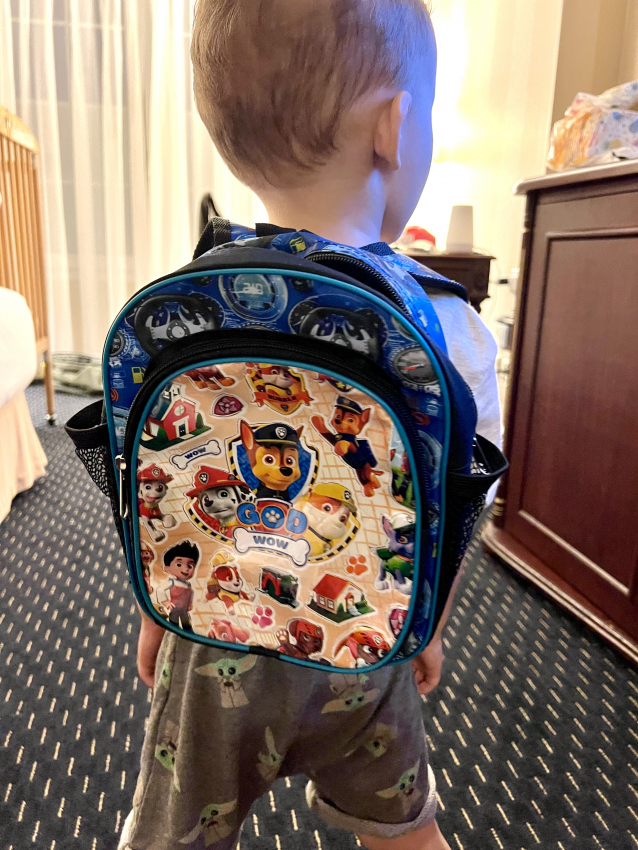 ---
Things To Consider When Buying a PAW PATROL Gifts
Most importantly: when giving a child a PAW PATROL gifts find out which pup is their favorite. Most people go for Chase or Marshall as they're the most common pups, but if their favorite character is Skye the gift won't be as exciting.
I made this mistake myself by gifting my toddler a pack of Paw Patrol socks, but the first thing he noticed was that there was no Everest pup in it so I had to instantly order a backup 😉
One of the things that I have realized as a mother is that gifts need to be age-appropriate but not necessarily by the age written on the packaging. For example, lots of baby toys need to be marked 3+ even if they're meant for babies (like rattles) because of the inside choking hazard laws which in reality don't exist when things aren't opening. The more interactive they are, the better.
I always say that a gift that is aimed at a lower age group will probably not hold the attention of an older child for long because it is viewed as too simple. My 1-year-old son has been playing with his 3-year-old brother's toys without any issues and my older has been operating remote control toys meant for 5+ by 2.5 years.