Toys that encourage my kids to play sports from a young age are some of my favorite types of toys. Kids golf club sets certainly fall under that category.
Did you know that Tiger Woods was introduced to golf before he turned 2? Whilst my toddlers might not necessarily become the next Tiger Woods, they are definitely having a lot of fun playing with his golf club sets.
Things to Consider When Buying Golf Club Sets for a Toddler
Adult golf club sets are very heavy and completely useless for toddlers. Weight is a very important aspect that you should take into consideration when choosing a golf club set for your little one. Plastic or composite clubs can be a good choice for toddlers.
The height is another important feature to keep in mind. Toddler golf club sets are usually designed for kids that are smaller than 3 feet, but many are split into three sizes: ages 2-3, 3-5, and 5-8.
Quality is always important to me, whenever I choose toys for my kids. Whilst I am not a huge fan of plastic, golf sets made of plastic will last longer as it is more break resistance in comparison to wood. It is also a lot lighter.
Best Toddler Golf Club Sets
If you want to start your toddler young and turn them into an avid golf player later in life you should get one of these golf club sets enlisted below, which are designed for toddlers.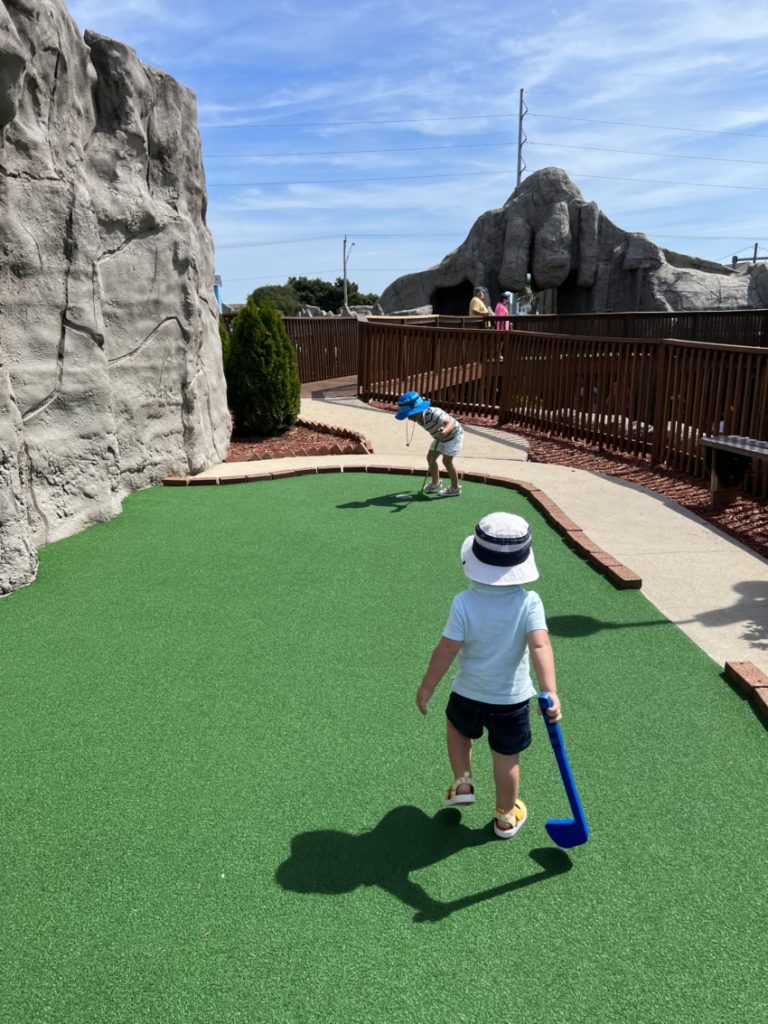 ---
Best Beginner Toddler Golf Club Set: ToyVelt
This is the absolute best choice if you are just introducing your little one to the exciting World of golf.
The ToyVelt toddler golf club set includes a practical golf cart with 2 wheels, 4 colorful golf clubs of different shapes and sizes, 6 special balls, a putting mat, and 2 practice holes.
The golf sticks are lightweight and the accessories are made from non-toxic materials. Whether used indoors or outdoors, this toddler golf set delivers superb gameplay as it introduces your children to a fun sport.
Great for complete beginners
Made from non-toxic materials
Comes with many different features
---
---
Best Outdoor Toddler Golf Club Set: JOYIN
This comprehensive toddler golf toy set includes 1 golf pitcher, 15 golf balls, 3 collapsible telescope club poles, 3 types of replaceable club heads, 3 hole sets with flags, and 1 deluxe golf bag.
Playing with this comprehensive toy set is a great way for children to improve their motor skills, body balance, hand-eye coordination, and concentration ability.
You can make it even more exciting by adding a set of glow-in-the-dark golf balls to it.
Very easy to assemble and disassemble
Dispenses balls easily
Three types of club heads
---
---
Best Budget Toddler Golf Club Set: Liberry
With three retractable toddler golf clubs ( Driver, Iron, Putter ) this toddler golf club set is suitable for 3 to 5 years old kids of different heights.
The adjustable telescopic clubs. made with stainless steel, have been reinforced to make them more durable. The handles are made of non-toxic materials and are comfortable, and suitable for little hands.
The toy golf set also has three golf balls to attract children's attention and deepen their interest in golf.
The clubs have adjustable height
Come with a storage bag
Good for indoor and outdoor use
---
Best Premium Toddler Golf Club Set: Premium
When it comes to the Premium toddler golf club set, safety was the most important feature in the design process.
Give your little golfer the right start with this complete kids' golf club set; This durable toddler golf set has metal clubs and passes stringent lab standards for safety.
The Premium mini golf set for kids includes 3 tees, 3 metal toy golf clubs, 3 practice golf balls, 2 putting cups with flags, a nonslip practice mat, and a pink camo bag (other colors available).
Great for rainy days inside or sunny days outside
Designed with safety in mind
Comes with a nonslip mat for practicing indoors
---
Best Golf Putting Indoor Matt for Toddlers: PUTT-A-BOUT
The PUTT-A-BOUT is an Indoor Putting Matt specifically designed to use indoors. It is the perfect training aid when playing golf.
The kidney-shaped mat measures approximately 3′ x 9′, has a slight incline at the end and is made with a high-quality putting surface and a non-skid backing, designed to stay smooth and flat
No assembly requires
Easy to store away when not needed or to transport
High-quality putting surface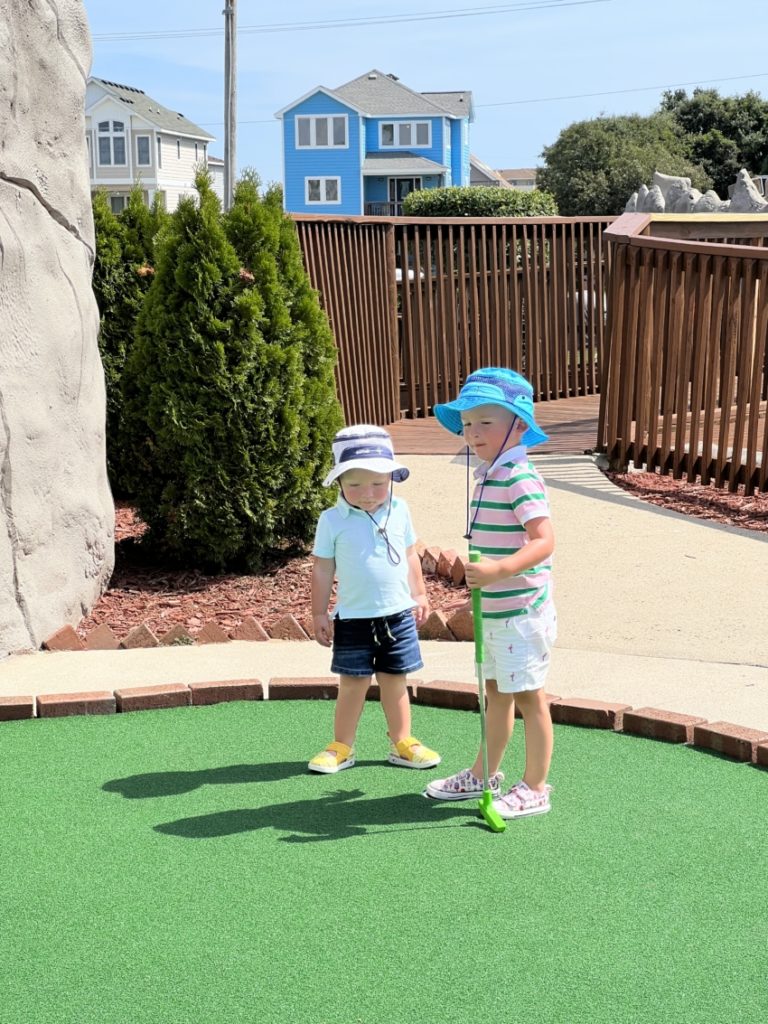 ---
FAQ about Toddler Club Sets
Are you still not sure whether a golf club set is an appropriate toy for your child? Read the answers to the most burning questions parents have about toddlers playing golf.
How early can my child start playing golf?
Some kids develop faster than others, but the general rule is that if your toddler can walk, hold a stick and swing it then he can already have a go at playing golf.
They might not be very successful at getting the golf ball into a hole, but they will most certainly have fun hitting the balls with putters and swinging those golf clubs. The best part is that they will be practicing their coordination skills, whilst having fun at the same time.
Is it safe for my toddler to play golf?
As with any sporting activity, whether it is riding a balance bike, or going down an inflatable slide, there is always a small risk of injury involved. However, you can't keep your toddler sheltered from it. Toddlers are clumsy and constantly fall and scrape their knees.
As long as you choose a safe and age-appropriate golf set for your toddler, like the ones enlisted above, then it is absolutely safe for your toddler to play golf. Of course, no child should be left unattended, but that's a very strictly enforced rule, especially here in the US, where I live.
How do I choose the perfect club set for my toddler?
Don't overthink it. The most important thing is that your toddler has fun when playing golf. If he picks up a few new skills along the way all the better! If your little tot shows affinity towards sports at an early age, then I am sure he will have fun with whichever golf club set you decide to go for.
---