Which inflatable water slide is the best? The one that can get children occupied and active for an extended period of time. An inflatable slide is a perfect addition to your backyard play area in the summer.
Some slides can even be used without water so if you have some space in your garage, why not? My son's daycare inflated theirs in the garage and let me tell you – kids are ecstatic every time they get to play on it.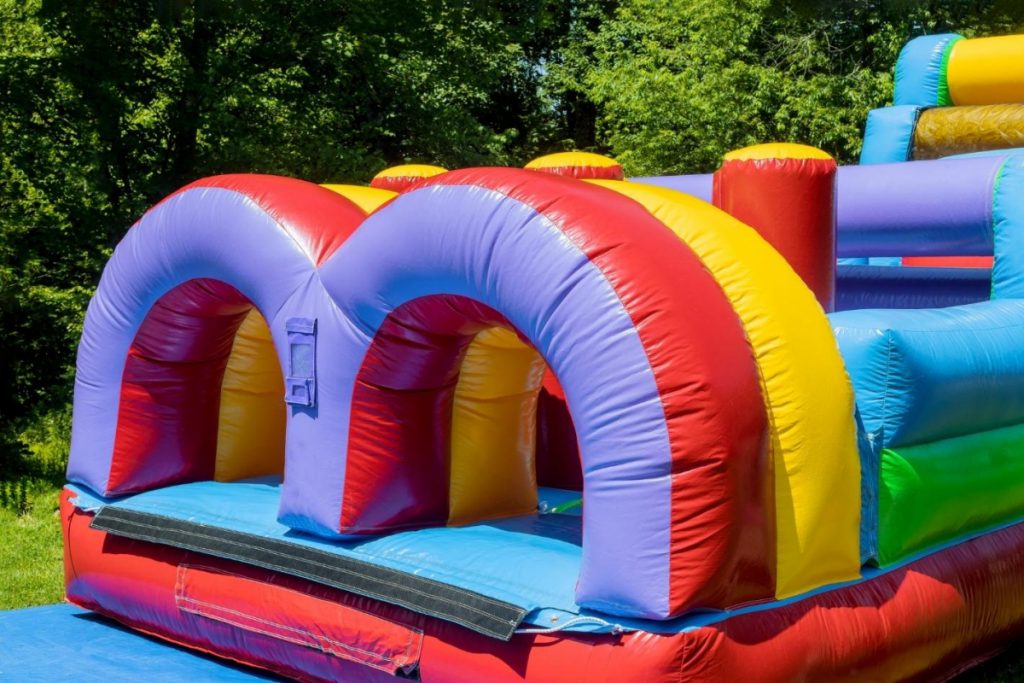 Things to Consider When Buying an Inflatable Slide
The most important thing to keep in mind is whether you have space for it, both outside and in the place you store it. The size of the slide matters and while you might be worried about younger kids, similar to a pikler triangle case, I always recommend getting a higher slide as it's not a toy that you purchase for one season – kids can figure things out or you can help them while they're small.
You also need a blower to inflate the slide and not all sets come with it. You can totally purchase a blower separately if you don't have one already, but you need to calculate the extra cost.
If you are buying the slide for multiple kids, make sure that it has a number of fun-filled additions that don't interfere with others. For instance, not all kids like to be splashed with water guns.
(Fits Most Families – $$)
Best set overall as it has it all: bouncy castle, splash area, water guns, slide, climbing wall and even a ball pit area. Bountech inflatable water slide can fit up to 6 kids.
It can be used with water but also without so it's not just a seasonal toy. It's no surprise that this is one of the top-selling inflatable slides on the market.
If you have a bit more money to spend, don't hesitate to order this model!
✓ Stores small
✓ Puncture-resistant fabric with coat
✓ Allows 6 kids playing at the same time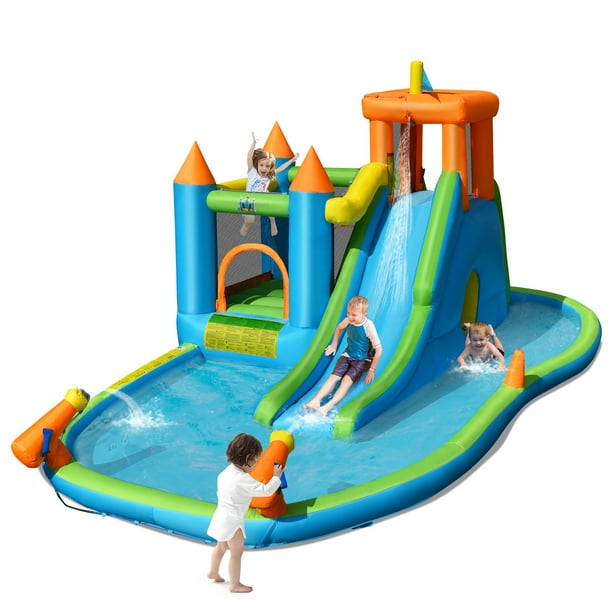 ---
(Longest Slide – $$$)
Hurricane Tunnel Blast inflatable slide comes with a rock-climbing wall, tower peak, tunnel, sprayer at the end of the slide, and a splash pool.
It comes with a blower which is a huge bonus. The climbing wall has grips and a net at the top of the slide for maximum safety of younger kids while not being too small for older kids – even those 12 year old.
The only downside is that the slide doesn't enter the pool, so you need to be fine with water getting into your garden. If you don't want the water getting out you might consider Banzai Plummet Falls instead but it's slightly more expensive.
✓ Blower included
✓ Safety nets
✓ Designed for smaller and older kids
---
(Best for Multiple Kids – $$$)
Blast Zone Pirate Bay is a luxury set as it's the most elaborate one and perfect for parties – fits over a dozen kids on it at the same time!
While big, it's easy to set up within a few minutes. You use this thing twice and it's basically paid for itself considering what companies charge to rent these things as it doesn't really wear off. It's made of commercial-grade vinyl which makes it more durable.
You can hack it by spreading a portable pop-up canopy tent on top of the poolside if you want to use it on sunny days.
✓ Sprinkler on the slide to avoid getting dry
✓ Blower included
✓ Most durable material
---
(Best for Little Toddlers – $)
If your kids are 6 months to 3 years old (I'm aware most reviews say 5 but I can't see it, 3 is the absolute maximum age in my opinion), this slide is a great choice. The Intex Rainbow Ring is designed for younger children and you can tell that from its colorful rainbow colors and the multiple included games.
The set comes with multiple colorful balls and inflatable rings, it also squeaks and the slide offers a soft landing.
We used this particular set for 2 years before I noticed signs of wearing off, but honestly, if I was storing it better it would probably last at least another year.
If you like Charlie and the Chocolate Factory or candies, this set is a great alternative.
✓ No blower needed
✓ Easy set-up
✓ Multiple games included
---
---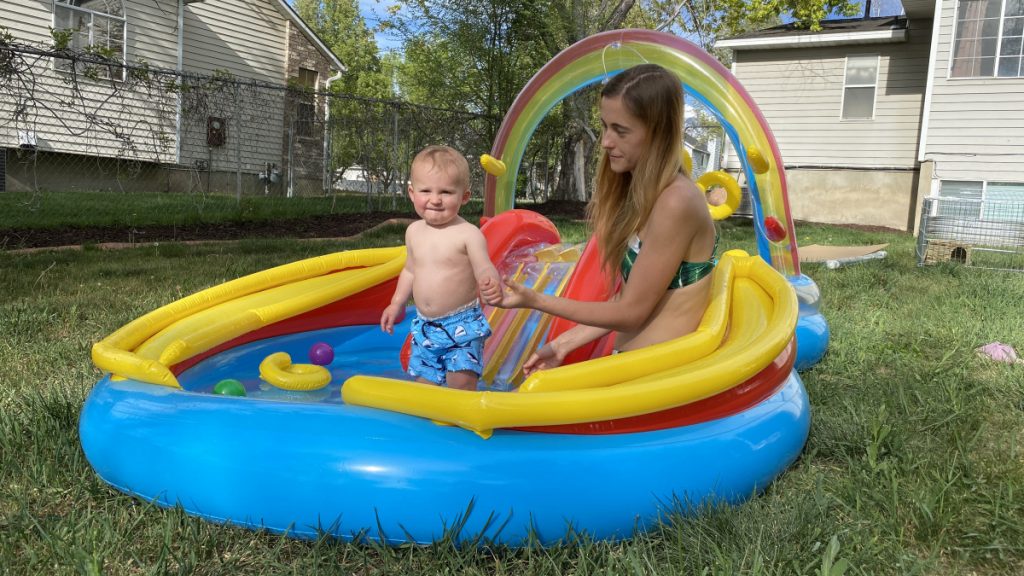 ---
(For Dry & Wet Play – $$$)
Bounceland Jump & Splash Adventure is an improved version of the original Bounceland Jump & Splash. This one comes with a longer side, water gun, basketball hoop and much longer slide.
While it says it can fit up to 4 kids, I've personally seen it holding 8 toddlers without any issues as my son's daycare had the simpler version.
It's made of a heavy-duty puncture-proof material with double to quadruple stitches for a highly durable inflatable bouncer.
✓ Includes repair kit
✓ Blower included
✓ Colorful balls included
---
(Most Affordable – $)
Jambo triple lane slip and slide is a simple concept, but everyone loves it – it can be good even for teenagers!
It's easy to set up and water sprinkles in seconds from starting the hose. There are sprinkler holes all around both sides of the slide that are specially designed to give maximum wetness.
The only downside is that if your kids don't like cold water (like mine 😛 ) they'd not want to use it as it has to be connected to the sprinkler system.
There are cheaper versions out there, but they don't slide as well and fall apart faster, so trust me – the $10-15 makes a huge difference.
✓ No blower needed
✓ Easy set-up
✓ For young and older kids
(Most Affordable – $$$)
Little Tikes slide is a bit pricier for what it may seem, but it's because it's made out of sturdier materials than some others.
The design is made for parents to see the action while kids slide splash or play with a basketball hoop in splash pool area.
The only issue is that the slide needs to stay wet so if you leave it alone on a sunny day you need to pour some water on it before sliding.
If you have more than 3 kids you might want to look at Mountain River Race style as well, as it comes with two sliding options.
✓ Blower included
✓ Easy set-up
✓ Safety nets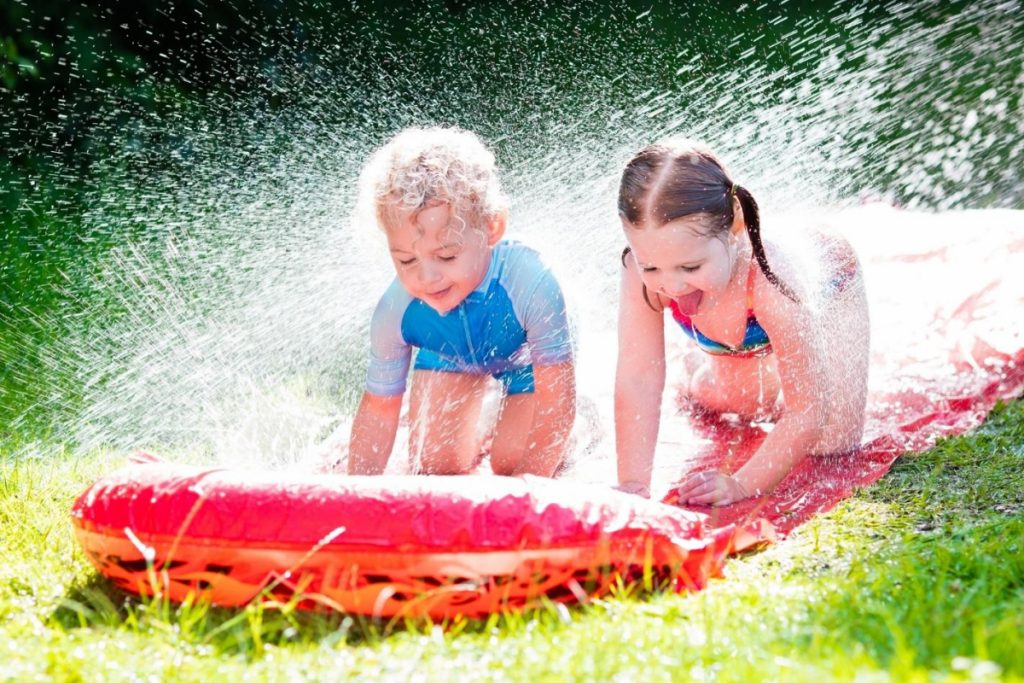 ---
FAQ about Inflatable Water Slides
How long do inflatable water slides last?
If you store an inflatable water slide properly and dry it thoroughly before folding it can last years. An average time is 5 years, but I know people who had their for 10 years and their slides are still fine.
Can inflatable water slides be used without water?
It's not always as warm outside to let the kids play with water all day. You also might want to use an inflatable slide, especially with a bouncy castle attachment, inside in the garage or basement, so having an option to use one without water is important. Some inflatable slides can be used without water, but some aren't meant for it as they're not slippery enough. But, it doesn't mean the kids won't slide without the water making it fun either way so the answe is YES.
How long do inflatable water slides last?
You may think that residential inflatable water slides or bouncy castles would last longer than those for commercial use that are continuously used by many people. But, commercial bounce houses are designed with longevity in mind, but backyard inflatable slides are made from thinner material and are the lowest price.
Our first inflatable slide lasted 2 years before it started to show signs of wearing off. How to increase longevity?
You should clean it after every use – rinse it out and leave it to dry.
Make sure you patch it right after any damage occurs and don't move it while the water is inside the pool area.
How you store the bounce house can become a critical factor in the bounce house's longevity. After rinsing it you must dry it out with a cloth.