Swings for kids will always continue to be a favorite despite how many high-tech toys are invented that engage them. Sure, these gadgets will grab their attention for a short while but toddlers will always find comfort in the arms of a gentle swing.
There are so many swings on the market that picking the right one is a difficult choice. This blog post will show you how to find the perfect kid's swing so you can make an informed decision.
Safety is the biggest consideration with comfort coming in at a close second. An indoor swing for toddlers must have the essential safety features that keep your child safe while providing them with the comfort they so desperately crave.
Keeping that in mind, here are some of the best swings for kids so that you can make an informed choice.
---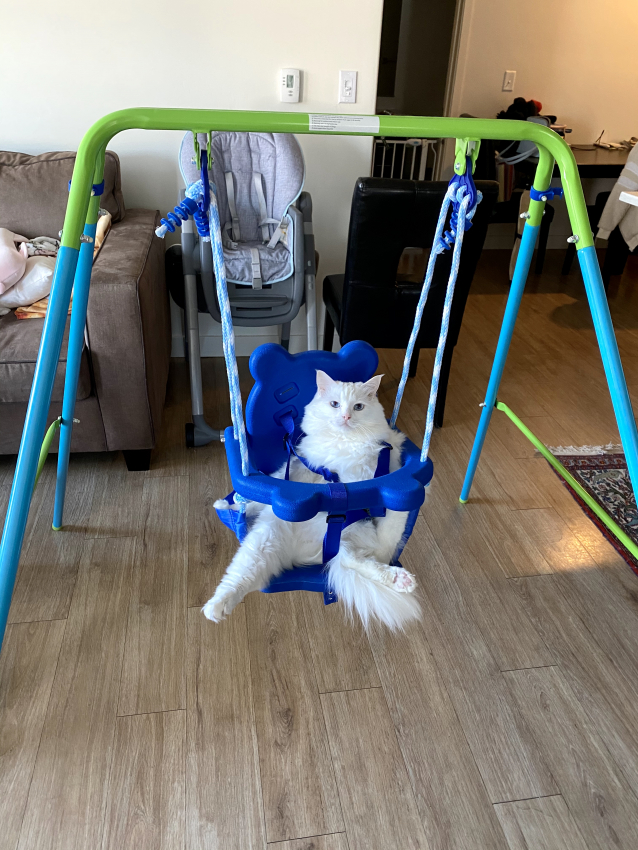 ---
Dimensions: 66 x 59 x 50 inches
Maximum Capacity: 65 lbs
Age: 2 to 6 years
This is an outdoor toddler swing set that comes packed with a small slide and other accessories.
It's designed for physical activity and fun! This swing set is designed with toddler-friendly steps, grips, and a wide slide. In short, its design puts an emphasis on safety.
Even though this set is designed for outdoor use, its design allows for setup indoors with a little extra work. It also ages well with your child because certain toddler features can be removed when your child outgrows them. Therefore, it's a one-time investment that will last for several years and develops with your child.
The only limitation is that the swing only holds approximately 65 pounds, so at that point you will have to upgrade. But you can get many years or multiple siblings out of this swing before that becomes an issue.
PROS
Toddler friendly steps
Good grip
Includes slide and Basketball hoop
Toddler features can be removed when they grow
CONS
Only holds up to 65 pounds
At 46 pounds in weight, storage might be a problem
Costzon Toddler 3 in 1 Climber Slide Playset with
Basketball Hoop
Check other reviews and current prices
---
Maximum Capacity: 100 lbs
Age: 2+
Outdoor & indoor swings from Wiwiurka are gorgeous looking and made of great quality wood.
They help toddlers develop balancing motor skills and strength. Toddlers are able to sit, stand, and even climb around on the disc. The swing is totally safe too using grips that are delicate on their little hands.
Due to the design of this swing, toddlers must be at least 2-years-old to use it.
If you're looking for a comfortable swing to help your kids fall asleep, then you should choose another swing (such as this one). But if you want a swing that develops essential skills in your active toddler, then this is a great choice.
PROS
Competitive price
Strong and safe materials
Adjustable length
Beautiful natural design
CONS
Max height of the climbing rope with the strap is 10 feet
Wiwiurka Swings
Check other reviews and current prices
---
Maximum Capacity: 600 lbs
Age: Kids that can walk + adults
This is another unorthodox swing that is designed for older kids who are looking to mix fun with comfort. Again, it can be used both indoors and outdoors, although outdoor use is recommended for immersion. The name says it all. This is a tent built onto a swing that your kids can use as a hideout, reading nook, anything your kids can imagine!
This swing can hold up to a whopping 600 pounds so parents can spend some quality time hiding away with their kids. Naturally, this swing is designed for kids who are able to walk and climb into it.
PROS
Water resistant fabric
Indoor and outdoor use
Removable tent cover
Spin safe construction
Weatherproof
CONS
Requires a ceiling or good tree to put on
Serenelife Kids Hanging Tent Saucer Swing
with Detachable Tent Cover
Check other reviews and current prices
---
Maximum Capacity: 300 lbs
Age: from birth & adults
Another great choice for parents looking to get the perfect swing for their kids. It can be attached to a door so there's no need to drill holes in the ceiling for indoor use.
You can attach any swing to it, even the little tikes bucket seat or little hammock for a baby.
It's a great investment and will stand up to the testament of time!
PROS
No drilling requires
Easy to store
Works with different attachments
Adults can use it as a gym
CONS
Must understand how to install it properly
Gym1 Swing with Pull Up Bar
Check other reviews and current prices
---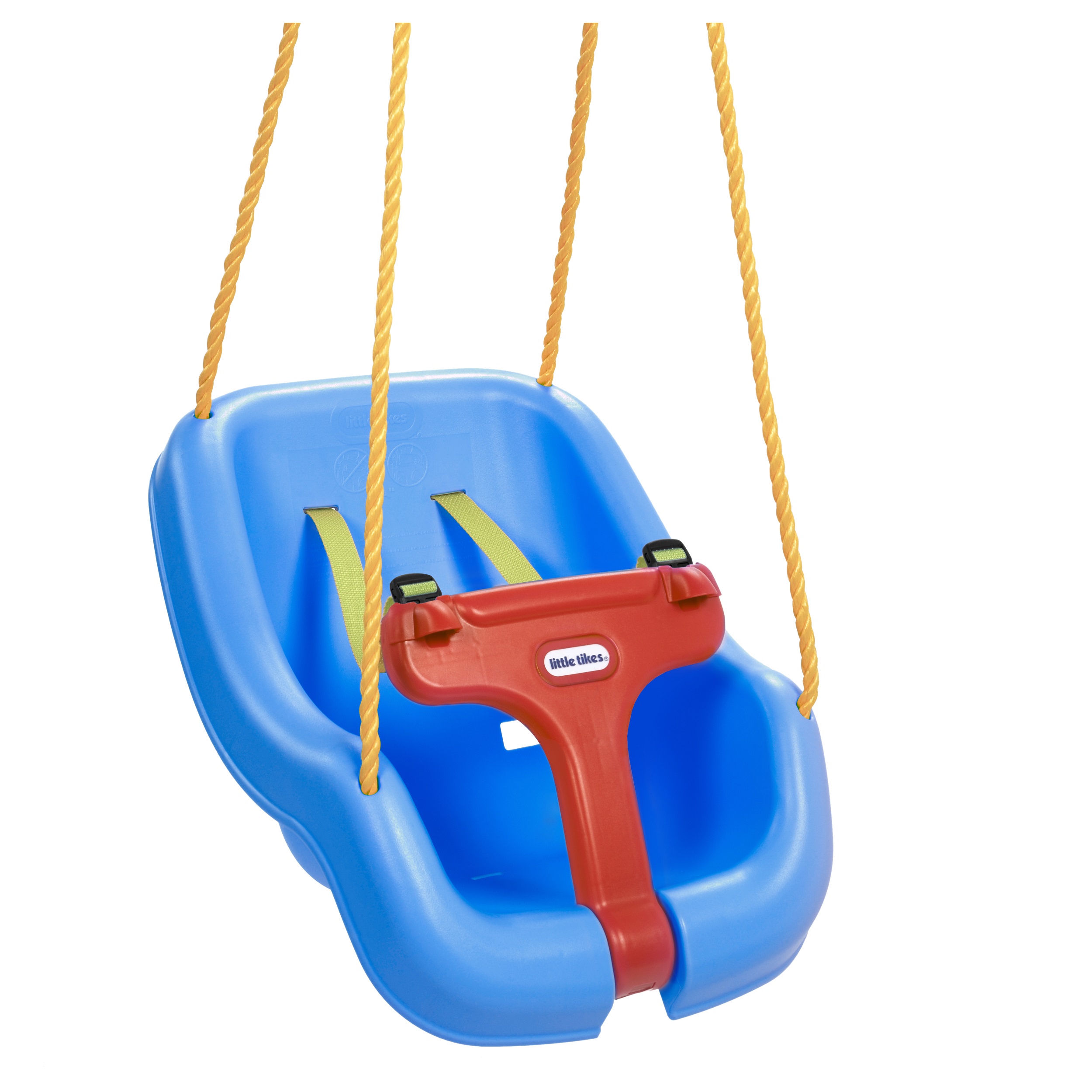 Maximum Capacity: 50 lbs
Age: 6 months to 4 years
The Little Tikes Swing is a perfect choice for toddlers, focusing on both comfort and security in its design. This model has a comfortable t-bar enclosure for comfort and a pair of shoulder straps for security.
It's a great choice for parents who have a baby or young toddler. The t-bar is removable once your child outgrows it, giving it several years of use.
PROS
Comfort and security
Removable T-bar
Sturdy and thick
CONS
Not really a con for recent products, but if you buy from a different store make sure you don't have a piece made between November 2009 and May 2014 that model number 615573 molded on the back of the seat.
Little Tikes FFP 2-in-1 Snug 'N Secure Swing
Check other reviews and current prices
---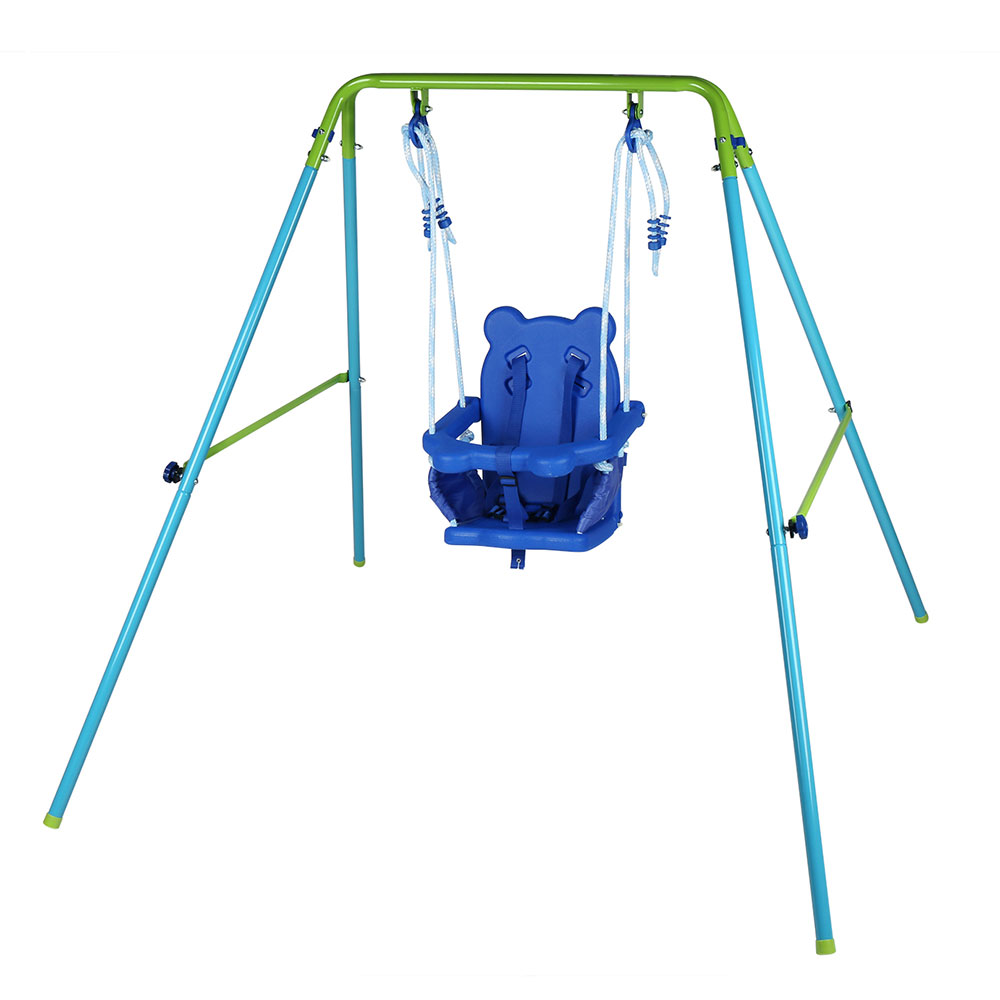 Maximum Capacity: 50 lbs
Age: 9 months +
This swing is one of the most comfortable on the market as it folds flat. It was our the first swing when we were renting an apartment. It's tough, comfortable, and guaranteed to give your family many years of use.
Equipped with a flawlessly designed scooped seat with head support and straps that keeps your baby or toddler from falling out. It can also be set up quite easily and is designed for both indoor and outdoor use.
If you want more cushioning on the seat you can go for the Amazon version of this swing, but that involves an extra cost.
Just keep in mind that if this swing is exposed to sunlight for too long, it will experience slight color fade on the seat.
PROS
Easy to Store
Use indoors or outdoors
Budget friendly
CONS
You cannot swing very high (only issue for 3+ kids)
Sportspower Kids Swing Seats
Check other reviews and current prices
---
Maximum Capacity: 230 lbs
Age: 2+ & adults
Now we've come to a simpler swing for parents who don't necessarily like decorations that are full of vivid colors.
The design of the cotton rope swing is quite simple, yet elegant enough to make any room gorgeous.
It's also built using a safety-oriented design that provides security without sacrificing comfort. In fact, this might be one of the most comfortable swings on the market.
Another amazing benefit of this swing is that it can hold a whopping 230 pounds so it's guaranteed that your child won't grow out of it. With that said, it's not a traditional swing that might deter some buyers. This hammock swing is also not designed for toddlers who are too small to climb into it themselves.
However, if you want a non-plastic swing that provides comfort and security, then this is a great choice.
PROS
Safety oriented design
Looks elegant
Can carry parent and toddler
CONS
Has to be attached to something
Smaller children might have trouble getting into it
Knitted Handmade Macrame Mertonzo
Hammock Swing Chair
Check other reviews and current prices
---
---
Frequently Asked Questions about Swings for Kids
How Healthy is Swinging for Toddlers?
In addition to comfort, toddlers get a lot of amazing benefits from swinging. It helps them develop balance, special awareness, and makes them happy. There's a reason kids are drawn to swings! As long as the swing is developed with safety in mind, then the experience will benefit your child.
Is it Difficult to Install a Toddler Swing Indoors?
The level of difficulty depends on the type of swing. The most common option is to invest in a portable frame to go with the swing. This is the easiest option.
However, you can also attach certain swings to the framework within your home. While this is slightly more difficult, it's still a task that's doable by most people. Just remember to always test the swing for stability before putting your child into it.
How Long Will I Need an Indoor Swing for Toddler?
An indoor swing for toddlers is efficient until they reach a certain weight. However, all kids are different so the exact age and weight will vary.
Once the child has outgrown the swing, then it's time to move past it. When it's probably okay for them to start napping in their bed, you can maybe get a sturdier swing for outdoor playtime.
Conclusion
No matter what swing you decide to invest in for your toddler, your first priority is to ensure that it's installed securely. Safety is always the primary concern. With that said, swings for kids are an amazing source of entertainment and are able to promote essential motor development skills.