Looking for the best multi-functional toddler step stool for the sink, bathroom or to use in the kitchen? The choices can be overwhelming. After trying a lot of them with my two children I can help you pick a safe and stylish step stool.
Why Do Toddlers Need a Step Stool?
Stepstools are a necessary evil when you have children. You might think that adding another piece of equipment to your daily life might not bring any improvement, but this couldn't be further from the truth.
It will teach your toddler independence
Step stools definitely will make your and your toddler's life easier and more enjoyable in many ways. Most importantly, a step stool will help your toddler reach things on their own fostering their independence.
Homes are created for the average height of humans, not little kids. A step stool will literally raise your little one to new heights without having to create everything child-sized (which many toy producers are trying to spin Montessori philosophy into to sell more).
I can't imagine how frustrating it would be to not be able to reach anything in my home, can you? The toilets, sinks, and counters are all out of reach for toddlers and children. The height issue comes in handy for keeping your heirloom China safe – but not so handy when your child cannot wash their hands without help every single time!
With a step stool, they will be able to wash their hands or brush their teeth on their own, freeing more time for you!
It will take the burden off your shoulders
Babies are small, but lifting a toddler every time when he or she is trying to reach a sink or the counter will quickly put pressure on your back, shoulders, and arms and they might not like it. Speaking from experience here. Gifting your child a step stool will double down with carrying less load throughout the day. It's a win-win for everyone!
A step stool will include your toddler in your daily life
Are you preparing meals whilst your kids are watching TV? Why not include them in your daily routine? Every toddler needs a step stool. Thanks to a step stool or learning tower, not only you can spend fantastic time bonding with your little ones over a cookie-baking session, but you will also teach them responsibilities from a really young age.
---
---
Best Step Stools for Toddlers
Before I had kids, I had no idea how many different step stool options are there on the market. I also didn't know how many different features they can be armed with. From foldable ones to step stools with railings and even ones with hidden storage. Without further ado here are a few I recommend.
If I were to purchase a stool specifically for my toddler and not for multi-use – this would be the one I would pick.
I love that it has 2 stools in one. They can be used independently of each other or you can put them together to make 2 steps for those smaller toddlers that need the extra height.
The pieces fit together safely so they won't separate. Once your little one is bigger, you can store the smaller stool under the bigger stool. The smaller stool is 6 inches and the bigger stool is 8.5 inches.
2 step stools in one
Lightweight
Great for siblings due to 2 height options
This is my first choice because it is usable for everyone and everything. Need a step stool for a cute toddler to get on the toilet? This does the trick. Need help reaching the top shelf? This does the trick. Need it tucked away, but accessible, when the company comes over? This one does the trick!
If we could only have one stool in the house, this is the one I would choose. There are lots of different brands that sell the same stool and it comes in 9 inches and 13 inches tall.
We have purchased this from different brands and they all seem the same. I always go with whatever brand has it for cheaper.
Folds up flat
Holds up to 300lbs – good for kids and parents
No-slip grips on top of the stool
Comes in tons of colors
---
---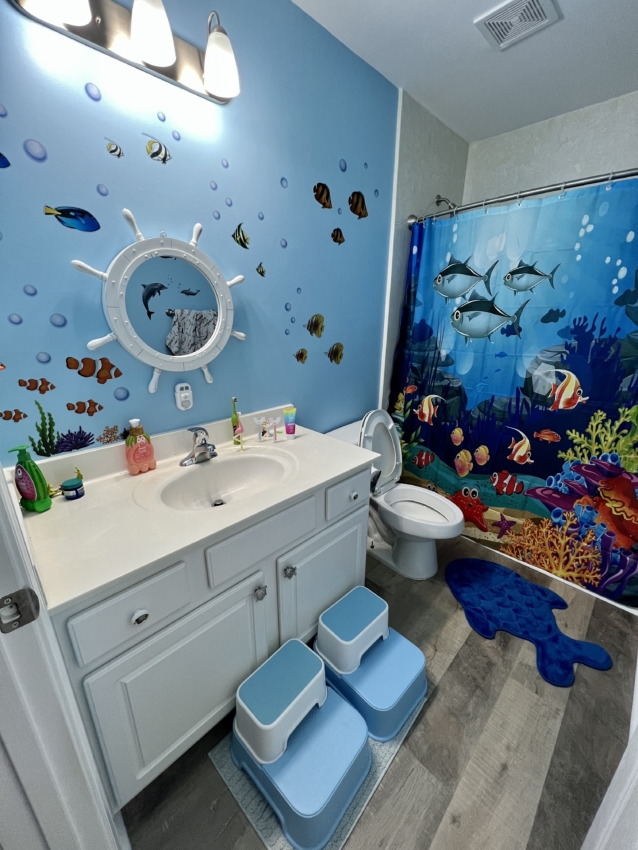 This stool is genius. It's actually 3 stools that can be used together, or they can be used separately. I love how the three pieces can be reconfigured for so many different uses and heights for both toddlers and children.
You can even turn the stools upside down for toy storage – and they have handles! Little details like this add so much value to a seemingly boring product like a step stool.
Need a stool for your toddler? Tada! Whip out the pieces together for a 4.5-inch base step that steps onto a 9.4-inch stool. Need a short stool for a taller child? Separate and use the 4.5-inch step stool. Need toy storage in a pinch? Flip over the stool and fill it up!
Circular so it fits around the toilet
Multifunctional – works even as a toy storage
Can be used as 3 individual smaller stools
Slip-resistant
This stepstool is multifaceted. It's not only a great step stool for a child to get on the toilet, but it's also made of natural wood and is aesthetically pleasing.
The straight design makes it perfect for a cabinet, sink, or wall. My son uses it in his closet to reach higher shelves.
It's perfectly safe due to the non-skid tape on top and can also be used by you, as it can take up to 200 lbs of weight!
Minimalistic & natural design
Can be used as a step stool
Up to 200 lbs
Offers non-skid tape
---
This stool may seem small and simple – but that's exactly the point. It's a great multipurpose step stool. This one is great for toddlers with little legs as it's shorter at 5 inches.
Small & light
Great nonslip design
Circular so fits around the toilet
Inexpensive
---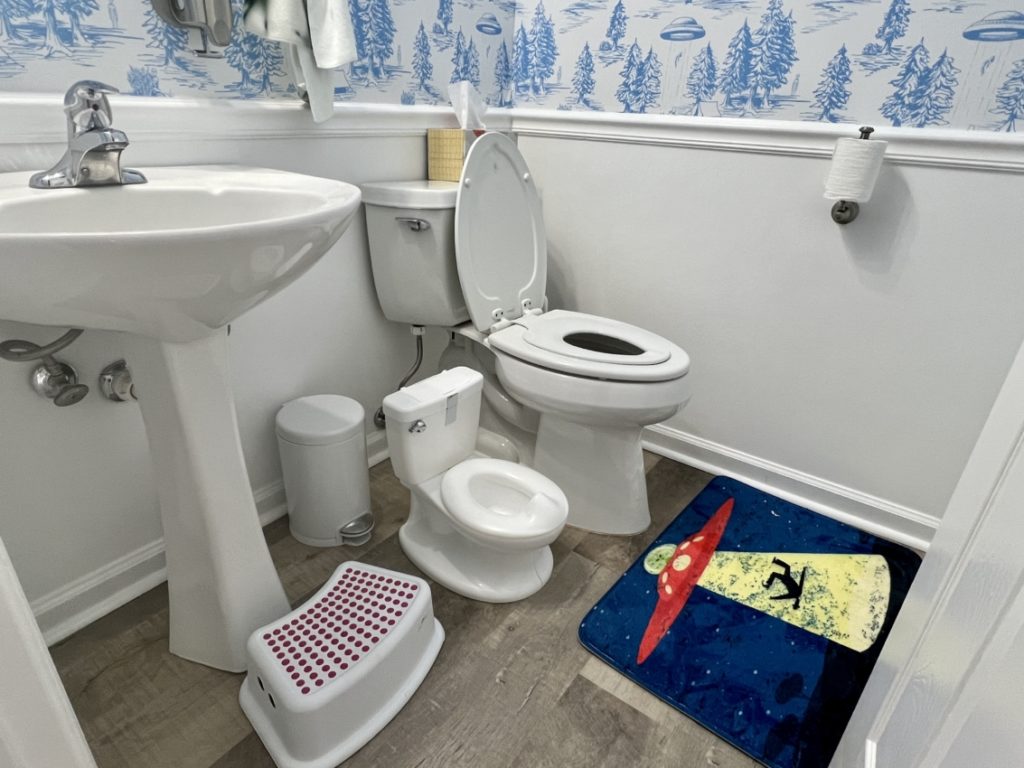 This toilet seat and ladder combo is helpful if your primary purpose in getting a step stool is regarding toilet training.
The toilet seat, which is even padded for your little one's comfort, is attached to the ladder. The cushion and splash guard comes off for easy cleaning.
Includes ladder and toilet seat
Adjustable step on the ladder
Safety handles
Easy to clean
---
This stool enables even the tiniest of helpers to be tall enough to feel a part of the kitchen fun and it also doubles down as a learning tower.
We love putting our toddler in this and we can move him around the kitchen so he feels a part of all that we are doing.
Adds 18 inches of height
The design enables the utmost safety so kids can't fall out
Can be separated into a step stool once kids don't need the full-height
---
When buying any item, I specifically look for items that can be used for multiple purposes or in more than one way so I get the most bang for my buck. I love that each of these step stools is functional and designed very well with great features – depending on what you are looking for.
With that said, the most important thing before buying is to think about the age/height of your children, as well as what your primary needs are. I hope this information helps you make a purchase you are excited about!
---
FAQ about Step Stools for Kids
One would think purchasing a step stool would be pretty cut and dry, but as with all things created for children – there are way more options than you can imagine. When choosing a step stool, ask yourself these questions:
What do I need the step stool for?
This may seem like a really obvious question to start this list with, but here's why it is important. There is a step stool for everything! Literally, everything. If you are having issues with your toddler mounting and staying on the toilet – there's a step stool for that.
If you need a height boost to help wash hands – there are step stools for that. Does your little chef want to start creating kitchen masterpieces but can't reach the counter? They have a step stool for that.
What age can a toddler use a step stool?
Stepstools do not come in a standard height. The ones on this list range from 4.5 inches to 13 inches. What is a comfortable step up for a 1-year-old will not be the same as for a 4-year-old.
The height of the step stool your child needs will not be the same if you need it to function as a step stool to wash their hands as a step stool to get into bed.
Where will you store your step stool?
Do you want the stool permanently in a nice spot tucked under the toilet, or do you want something that can easily collapse and store in your closet?
Are aesthetics important to me?
If you have a child's bathroom, you may not care if there is a toilet seat/ladder combo or a bright pink step stool. If you share the child's bathroom with a guest bathroom, you may want something that looks nicer or functions for adults as well.
Are step stools safe?
Safety is a natural concern to have. Key features to look for are anti-slip grips on the top of the stool for their little feet, as well as on the bottom so the stool does not slide. Most stools come with these features.
Also, consider the height of the step stool and the surface it is on. If you are worried your wobbly new walker will fall off onto hard tile, you may want to select a shorter step stool or consider one of the towers that have support on all sides so they cannot fall out. 
Do I need more than one step stool?
Do you need one stool to serve one purpose – or are you looking for something more diverse? I am admittedly frugal, so the more uses an item has the better I feel about spending money on it. These step stools I specifically picked these because I love the versatility they offer.