Raise your hand if you know someone who got a ton of duplicate or random gifts for a baby shower that they'll never use. Yep, it's pretty common. As a minimalist, I always suggest practical baby shower gifts, and one of the ideas for getting a ton of things that you actually need and will use is hosting a diaper raffle.
A baby diaper raffle is a creative way to have fun at the baby shower while bringing useful gifts for the expecting mom. A diaper raffle involves asking guests who are invited to attend a baby shower to bring a pack of diapers to the event in order to be entered into a diaper raffle drawing.
It's more exciting for both parents and attendees than even bringing a diaper cake (although they can cute too!).
What is the difference between a diaper raffle and a diaper fund?
A diaper raffle and a diaper fund are a bit different. A diaper raffle is where guests of a baby shower bring a pack of diapers to be entered into a raffle drawing of a prize.
A diaper fund is where guests can buy a raffle ticket for a set amount of money, then their ticket gets put into a drawing for a prize. The money from the ticket sales will then go to a diaper fund for the parents to use.
How does diaper raffle work?
Diaper raffles are easy to set up and super fun to play. There are two components of a diaper raffle: tickets and prizes.
One pack of diapers equals one ticket, so if people bring multiple packs they can increase their chances of winning.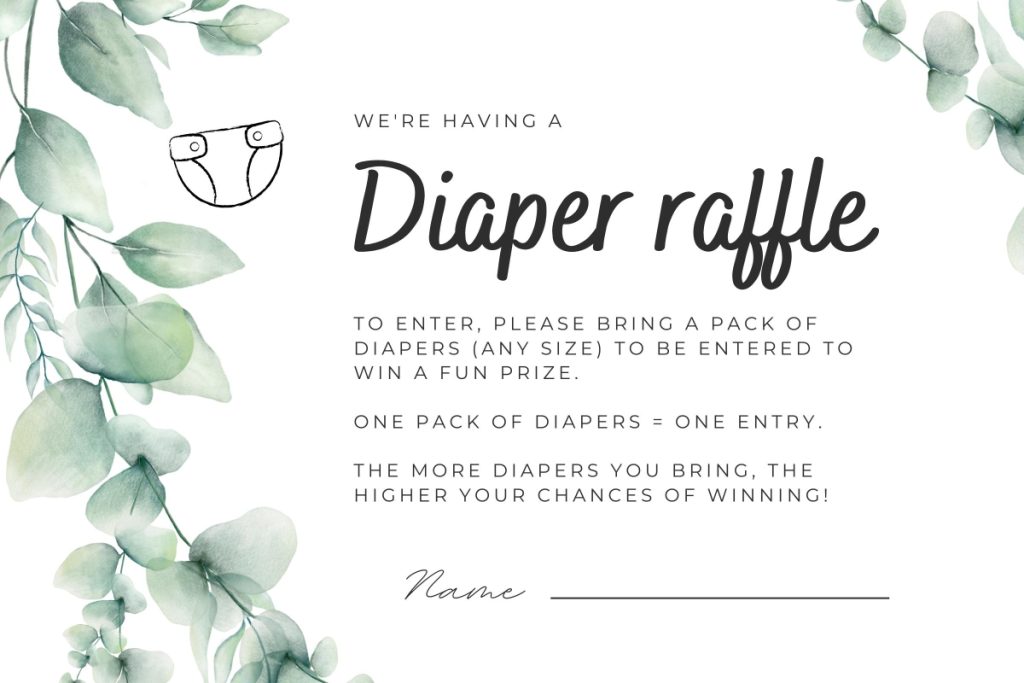 Instructions on How to Host a Diaper Raffle at a Baby Shower
Before your baby shower or even on the invitation, let your guests know that you'll be hosting a diaper raffle. Guest have to know so you can write something like this:
"We're having a diaper raffle at the baby shower! We have one request, we hope it isn't too hard. Please bring a pack of diapers to be entered to win a prize. One pack of diapers = one entry. The more diapers you bring, the higher your chances of winning!"
As every parents might be picky you might specify a brand or type, for example: "Pamper preferred" or "Organic diapers preferred". If you're planning on using reusable cloth diapers you can still host a raffle – simply specify it!
If parents live by the beach or pool you might also get a swim diaper for them! I highly suggest getting mixed sizes, as some babies grow fast.
You can purchase some adorable diaper raffle cards and boxes and you're almost ready to go – almost, as you still need a prize for the winner.
Diaper raffle prizes you may want to consider:
Gift baskets of food or other items
Gift Cards for specific shops or restaurants, even UberEats
Alcohol
Spa coupons
Don't overthink the prize. It doesn't need to be a fancy trip to the Bahamas. The whole thing is more about having fun and useful baby shower gifts. If a lot of people are attending you might want to consider doing a few smaller prizes for a winner, runner up and second runner-up.
If you have a lot of people attending a shower, you might want to put a diaper raffle table with a cute sign. That way, guests can drop off the diapers and get their raffle tickets without getting confused.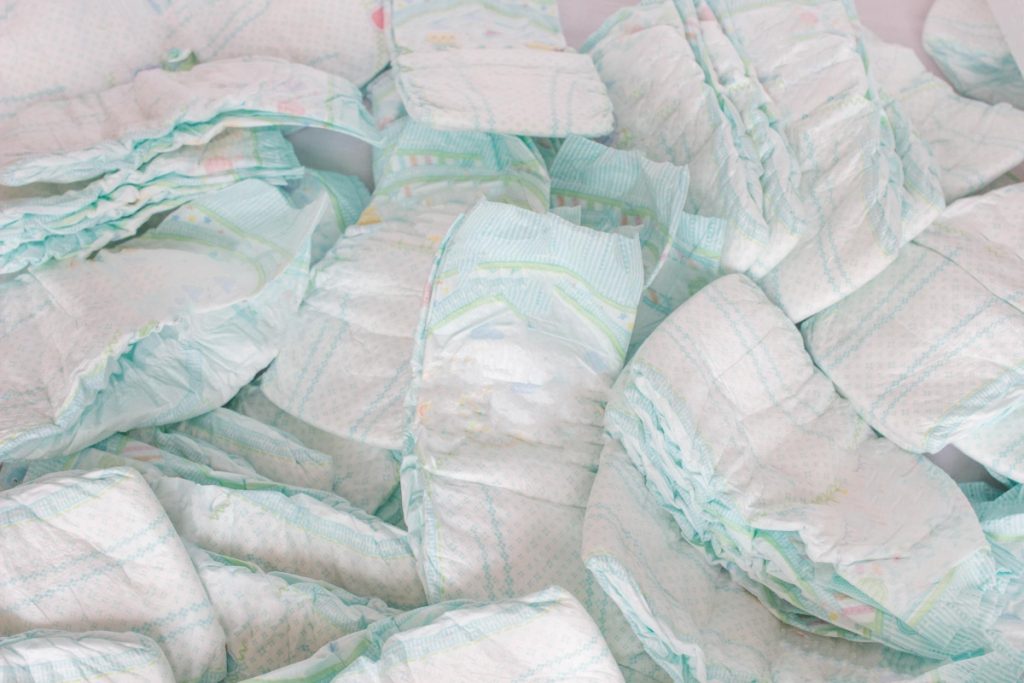 FAQs about a Baby Shower Diaper Raffle
What if the parents have a brand preference?
Parents can specify what type of brand of diapers they prefer. If nothing is specified guests can bring any.
If parents realize that their baby or prefers a specific brand or grew out of the smaller size sooner than expected, don't worry!
If the parents end up with way more of one diaper size than they need, then they can contact a local big box store and ask if they can exchange their unopened boxes of diapers for another size. Target can easily swap sizes of unopened packages for a different brand or size. Most big box stores are understanding when it comes to diaper exchanges.
If the parents have a brand preference, then you can add that to the diaper raffle ticket. For example, "Bring a pack of Huggies/Luvs/Pampers of any size, for a chance to win a prize!"